CMP Competition Center Serves as Gateway to Next Generation of Business Professionals
December 8, 2014
Civilian Marksmanship Program
▸
The First Shot
▸
CMP Competition Center Serves as Gateway to Next Generation of Business Professionals
By Ashley Brugnone, CMP Writer
CAMP PERRY, OH – On October 24, more than 500 local freshman students visited the Gary Anderson CMP Competition Center as a path towards their future careers. The event was part of an effort to encourage workforce development, career preparation and skilled-trade opportunities for the next workforce generation. The Civilian Marksmanship Program (CMP) was proud to serve as sponsor and host.
To celebrate National Manufacturing Month, the Ottawa County Improvement Corporation, sponsored by the Ottawa County Business Advisory Council, assembled a career showcase, compiled of 15 county businesses. There, students from Danbury, Port Clinton, Put-in-Bay, North Point ESC, Woodmore and Oak Harbor were able to mingle with local employers for an opportunity to see just what sort of jobs are available in the area.
A variety of businesses were represented at the showcase, including AdFilm/ACPO, Catawba Island Club, Davis Besse Nuclear Power Station, Day & Zimmermann, Erie-Ottawa International Airport, the Army National Guard, Graymont Dolime, LEAP, Magruder Hospital, Materion-Brush, Inc., Northern Manufacturing, Ottawa National Wildlife Refuge, Soil & Water Conservation District and United States Gypsum Co.
The companies gave the students a look into how many of today's professional careers have evolved into cutting-edge, technological positions that require a wide-range of skills. Students not only learned about the fields themselves, but also the tools needed to get there – including an exceptional education.
Between their visits to each booth, the freshmen were given the opportunity to fire CMP's sporter air rifles in the world-class air rifle range – opening their eyes to a sport some had never seen before.
Hayley Freund of Woodmore High School claimed to have never shot a rifle in her life. After firing consecutive 10's on the target, she answered a bystander's doubts of her inexperience by saying, "I've really never shot before!" and giving a hearty laugh.
"This is a lot of fun," she added, with a smile on her face. Hayley would have expanded more on that thought, but she was too busy realigning her sight for the next shot.
"I went up to my principal and said, 'Can we start a team next year?'" she said with a laugh. "I was surprised at how easy it was. I really walked up and thought I was going to shoot all zeroes and not get anywhere near the target, but it was really safe and a lot of fun."
During an appreciation reception a few weeks later, the business participants in the event were able to fire the air rifles for themselves.
"This is pretty nice. I'm impressed," said Peter Tokarowski, maintenance support/engineering for the power company First Energy. Peter not only tried his hand at the air rifle, but enjoyed shooting so much that he was inclined to test out the air pistol as well.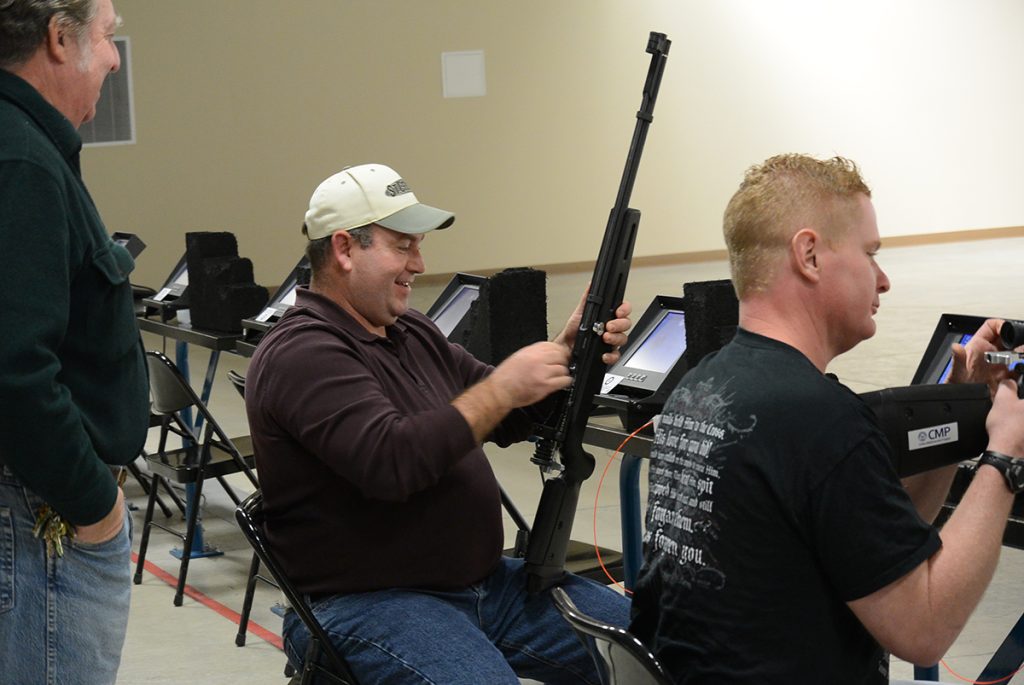 Jim Lippert from Materion, an advanced materials manufacturing company, also took a seat on the firing line and shot a few pellets. Overall, Jim was surprised with his experience.
"I didn't do too bad for a guy who's never shot in his life," he said, with a smile. "I really enjoyed myself. This is a great facility. I'll have to come back sometime."
Hosting the event is just one of the many ways the CMP is staying connected to the area. With the large and accommodating space offered at the Gary Anderson CMP Competition Center, the CMP will be able to introduce the world of air guns to curious visitors who are otherwise unaware of the competitions that go on within its walls – helping to expand community support and the public's perspective on all of the great happenings within the range.