CMP COLLEGIATE RIFLE TEAM FEATURE: The Ohio State University
June 15, 2021
Civilian Marksmanship Program
▸
College Connection
▸
CMP COLLEGIATE RIFLE TEAM FEATURE: The Ohio State University
The Ohio State University Rifle Team can trace its history back to 1920. The Buckeye Rifle Team uses the 25-point Hugh W. Wylie Range, dedicated in 1966 to honor OSU graduate Lt. Hugh W. Wylie who was killed in the Battle of Arnhem in Holland during World War II. Since its beginnings, the rifle team has made four NCAA National Championship appearances (1991, 2016, 2017 and 2018) and has finished as high as third place overall. It has also produced 20 All-American athletes, Olympian Amanda Banta (Furrer) and five Ohio State Athletics Hall of Fame inductees.
---
College Coach
Name: Ryan Tanoue
Hometown: Honolulu, Hawaii
Were you a shooter before coaching? Yes, I was an athlete prior to starting my coaching career. Some of my standout accomplishments include:
2002 NCAA Individual Air Rifle Champion
2004 & 2007 USA Shooting National Champion
2005 World Cup Munich Gold Medalist
2005 World Cup Final Bronze Medalist
2008 Beijing Olympics Quota Place Winner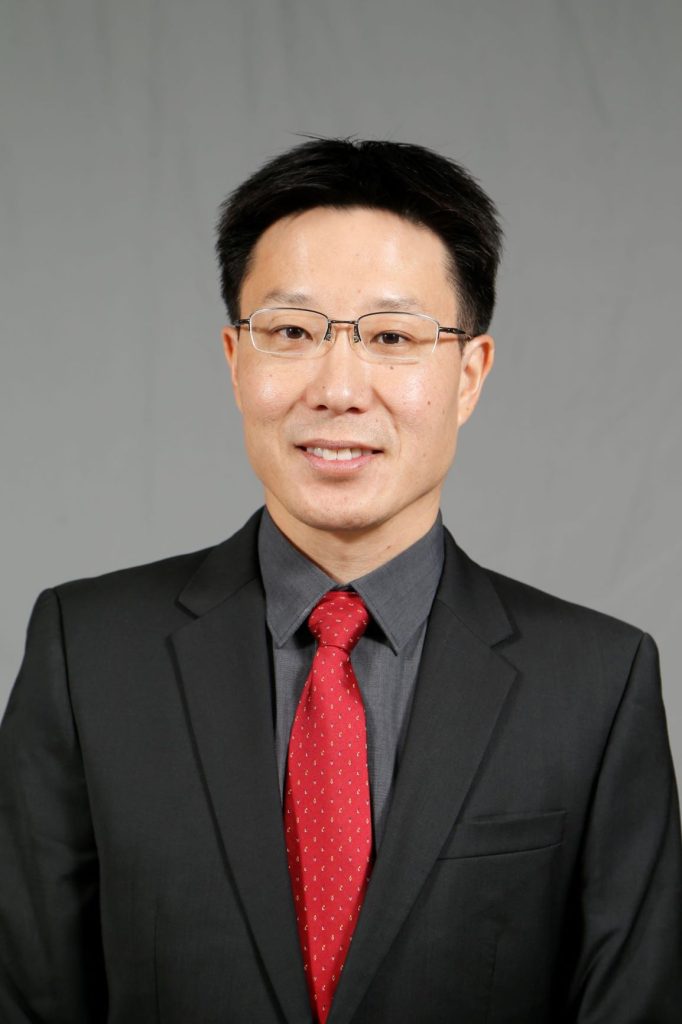 Favorite reason for coaching: The opportunity to teach and engage with student athletes from around the globe and see their growth and development over their collegiate careers and beyond. With Olympic shooting being such a small community, it is really rewarding to get to watch so many athletes' paths throughout their careers. For me, getting to play a role in their college experience is my favorite reason for being a coach.
What is a day as your shooter like? What is your biggest challenge as a coach? A day for our athletes is the balancing of academics, sport and life. Each of them will, of course, have their own individual plan, goals and vision, depending on where they are in their careers – but each day is a chance to move one step forward on that journey.
I would say my biggest challenge is getting to truly know each of my athletes as individuals and finding the connection that is just right for each of them. This will allow me to best convey the information that I feel they need to find the highest levels of success.
Advice for junior shooters wanting to compete in college and for college athletes and graduating college seniors?
For those wanting to compete in college: If competing in college is a goal, go out there and get it! Learn all that you can about the schools and the teams you're interested in and show that interest to those coaches.
College athletes: Work hard, enjoy the ride, but always keep the big picture in mind. As we unfortunately saw just last season, you never know when our opportunity to do what we love to do will be taken away, so enjoy each day!
Graduating seniors: I know it may sometimes be hard to believe, but the next chapter will be even better than the last one!
---
Assistant College Coach
Name: Emily Caruso
Hometown: Fairfield, Connecticut
Were you a shooter before coaching? Yes, I was a four-year All-American at Norwich University, and after college I was a resident athlete at the Olympic Training Center.
Some of my most outstanding accomplishments are:
1998 NCAA Air Rifle Individual Champion
Won five World Cup Medals
Competed at the 2004 (Athens) and 2008 (Beijing) Olympic Games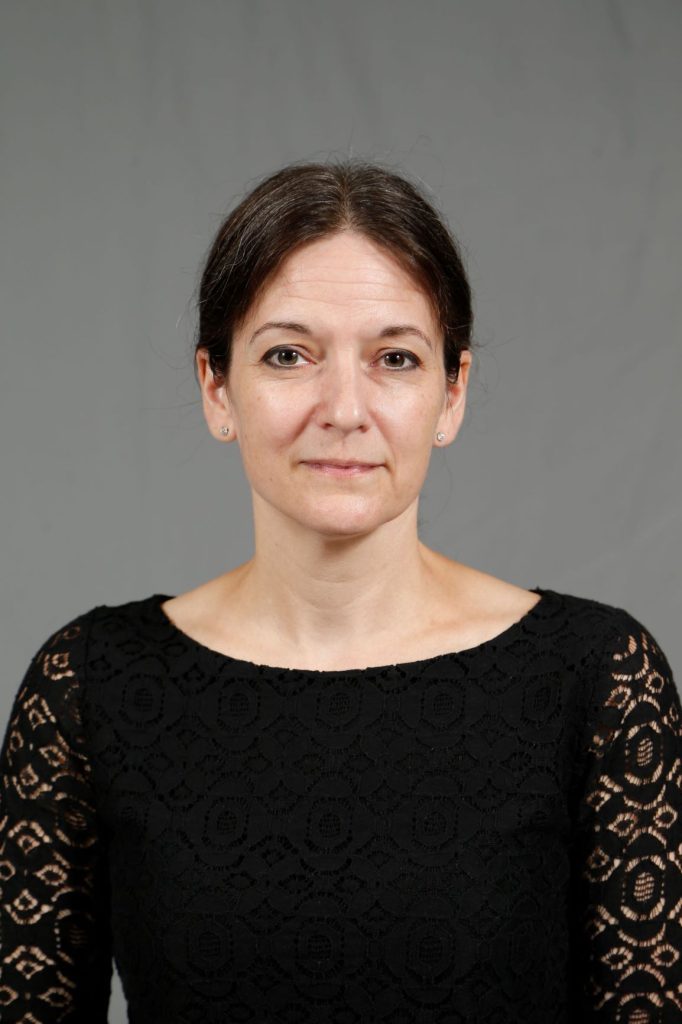 Favorite reason for coaching: I love to get to know the team members and see their growth over four years, on and off the range.
What is a day as your shooter like? Our team members are able to tailor their time to maximize their academic and athletic opportunities.
Advice for junior shooters wanting to compete in college and for college athletes and graduating college seniors? My advice for anyone who wants to be a competitive shooter is to get as much match experience as you can. Local and junior matches are great opportunities to gain experience!
For the graduating seniors, keep in touch with your former coaches. We love to hear how you are doing!
---
Athlete:
Name: Derek Keiser
Hometown/Junior Team: Vienna, West Virginia/Great Trail Musketeers
What is your major? Logistics management because I want to work for a Formula One team.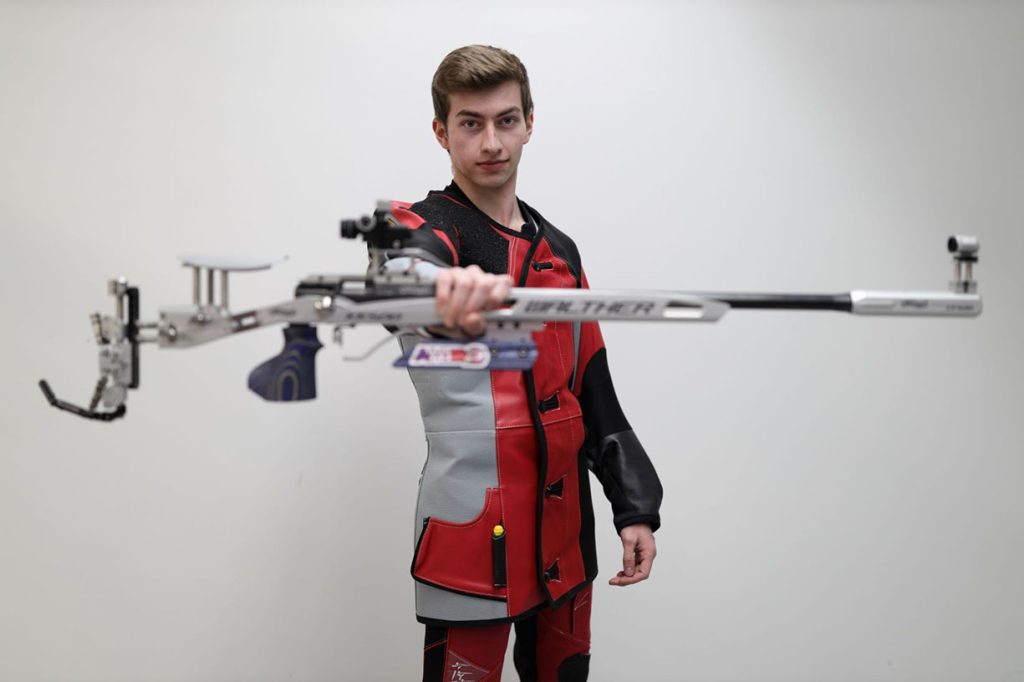 Favorite junior match? USA Shooting Nationals at Fort Benning because I enjoy shooting outside in the summer.
Do you have a lucky charm? I don't have a lucky charm because I don't believe in luck.
What is a practice day like for you? In practice, I like to get in position and pick apart every detail that could be improved.
What has rifle taught you? Rifle has taught me about patience and the importance of attention to detail.
---
Athlete:
Name: Natalie Katsuyama
Hometown/Junior Team: Rocklin, California/Lincoln Rifle Club
What's your major? Medical anthropology – I want to go abroad and help third-world countries (medically).
What other sports were you involved with in high school? I swam!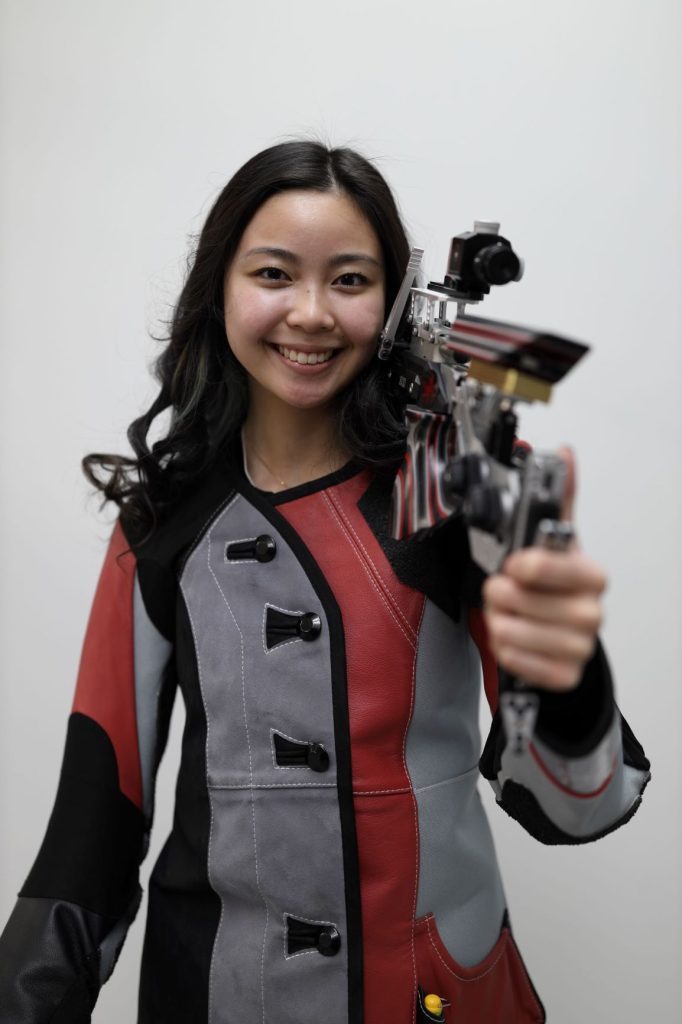 What motivates you? Food!
What is a travel match like for you? Lots of fun! You get to meet old friends and meet new people.
Advice for new competitor joining the sport? Take it easy! Everything takes time, so just trust in the process!
---
Athlete:
Name: Ariel Hall
Hometown/Junior Team: Keller, Texas/Team Shooting Stars Dallas
What is your major? Nutrition, on the pre-med track. I would love to attend medical school and become a physician. My favorite class I've taken is sports nutrition.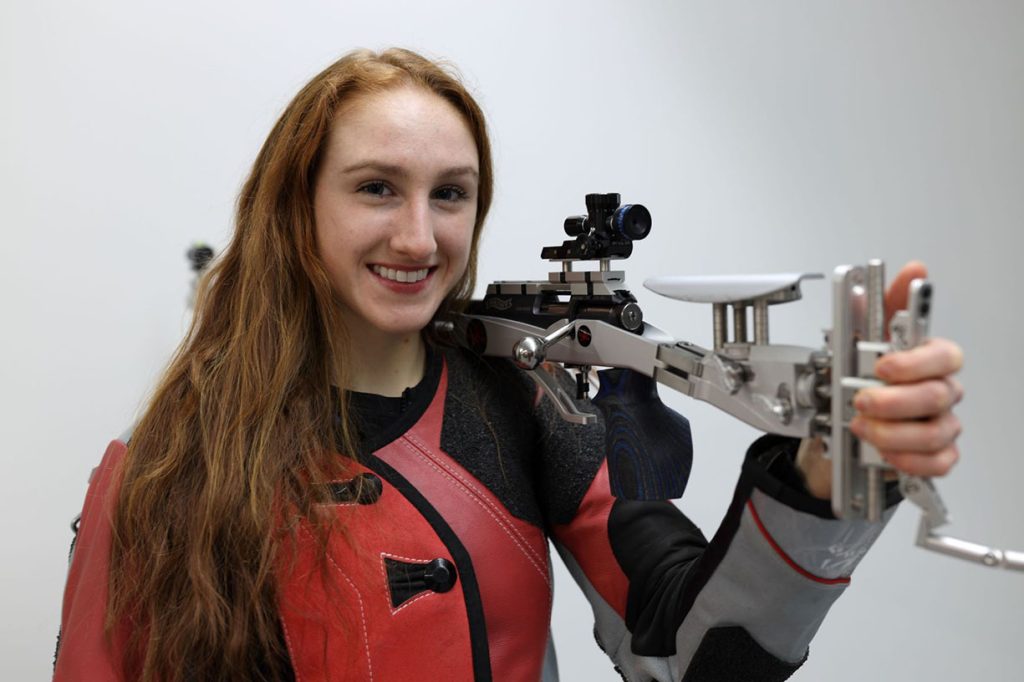 Favorite rifle (air rifle vs .22) and stage (kneeling, prone, standing)? .22 rifle, and I love kneeling!
What do you do outside of rifle to train and better yourself? I love to workout, do yoga and volunteer.
Future plans/goals for rifle and in life? I have one year left and have goals to make NCAAs again next season! After I graduate, I am retiring my shooting career and focusing on school and becoming a physician.
Any additional comments? Don't give up and continue to fight to achieve what you want! Hard work and perseverance WILL pay off!
---
Athlete:
Name: Joel Potts
Hometown/Junior Team: Ephrata, Pennsylvania/Palmyra Jr. Rifle Team
What is your major? Finance. I want to go into personal financial planning. My favorite class is family financial management.
What/who got you involved in rifle? My sisters started shooting before me and encouraged me to start shooting as well.
How much do you practice? I typically practice two to three hours a day, five days a week.
What is a week at college like? I have classes and practice of course, but I spend a lot of time with friends and playing sports.
What is the biggest life lesson you have learned from rifle? I think overall, my mindset in life is just much better thanks to everything I've experienced.