CMP Club News: Granbury Rifle WINS State!!!
February 3, 2021
Civilian Marksmanship Program
▸
Club News
▸
CMP Club News: Granbury Rifle WINS State!!!
Submitted by LtCol Scott Casey, USMC (ret.)
The Granbury Marine Corps JROTC rifle team of Granbury, Texas, claimed the STATE title at the 2020-21 Civilian Marksmanship Program Three Position Air Rifle Championships on January 30, 2021 hosted at the Granbury High School Marksmanship Center.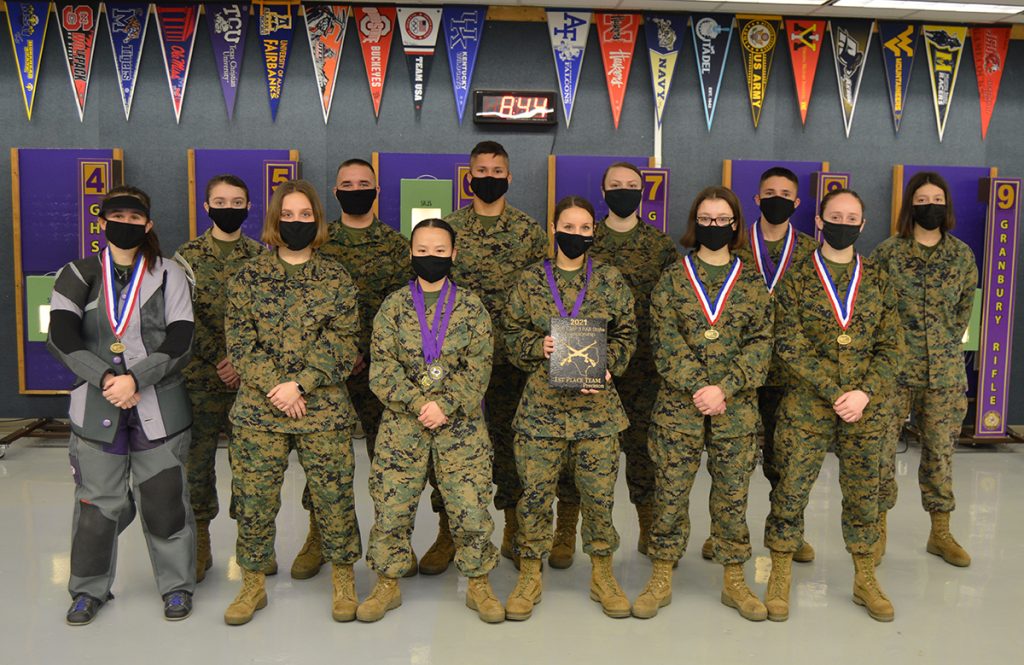 The state-winning precision team was composed of: Parker Haydin, Kaylynn Slaughter, Ashton Arlington, and Sarah Folsom. A second squad placed seventh in state and was comprised of: Sunnee Schumann, Caroline Martin, Kameron Wells and Alexis DeLaPena. Granbury's third team placed tenth in state and was comprised of Tye Foster, Julia Czernick, Cadince McGrath and Jonathan Hutchison
Haydin lead the Pirates shooting a 591-46 out of 600-60 and took third in the individual competition, while Slaughter took home fourth place shooting a 590-44 and rounding out the top eight Arlington placed sixth and Folsom placed eighth.
"Our kids fought for every point in the competition taking home the state title with 14 points separating 1st and 2nd place in the team category above Texas Hill Country Shooters. Also, when you break it down, four of the top eight shooters in Texas are from Granbury – that is huge with such a young squad," commented Lt. Col. Scott Casey, Senior Marine Instructor and Coach. "The momentum we gained at this match should serve us well as we shoot in several national-level matches over the next few months."
The state contest featured over 150 shooters representing teams from across the state of Texas and Louisiana. In addition to claiming the state title the team received a bid to compete in the Regional Air Rifle Championships this spring.
Next Competition: The team will compete this week in the Rocky Mountain Regional CMP Cup Virtual Match.
If you'd like to find your local club, visit the CMP Competition Tracker Page at https://ct.thecmp.org/app/v1/index.php?do=clubSearch to become involved.
Have an article to share or want to highlight your CMP Affiliated Club? Send us your photos, reports and articles to highlight in The First Shot – email [email protected]. We look forward to hearing from you.
A Note from the CMP: At the CMP, we are not only dedicated to an increasing number of those involved in marksmanship within our own programs but are also devoted to supporting the efforts of those who are creating their own legacies in their own ways. Our Club News articles are our way of displaying the successes of our clubs, in the hopes of encouraging others to take the same respectable paths – both in marksmanship and in life. We are proud of our clubs for all of their endeavors and are honored to show them off within our news feed.