CMP Club News: Granbury MCJROTC wins the Orion Precision Champions Division League Championship for the 3rd Time
February 1, 2022
Civilian Marksmanship Program
▸
State Director
▸
Texas
▸
CMP Club News: Granbury MCJROTC wins the Orion Precision Champions Division League Championship for the 3rd Time
Submitted by Lt. Col. Scott Casey, senior Marine instructor, Granbury High School MCJROTC
Granbury MCJROTC defeated Lafayette Gun Club 2449.3 to 2422.2 in the 2021 National Air Rifle Precision Orion Championship Tournament. This championship marks not only Granbury MCJROTC's third league championship but also their third perfect season.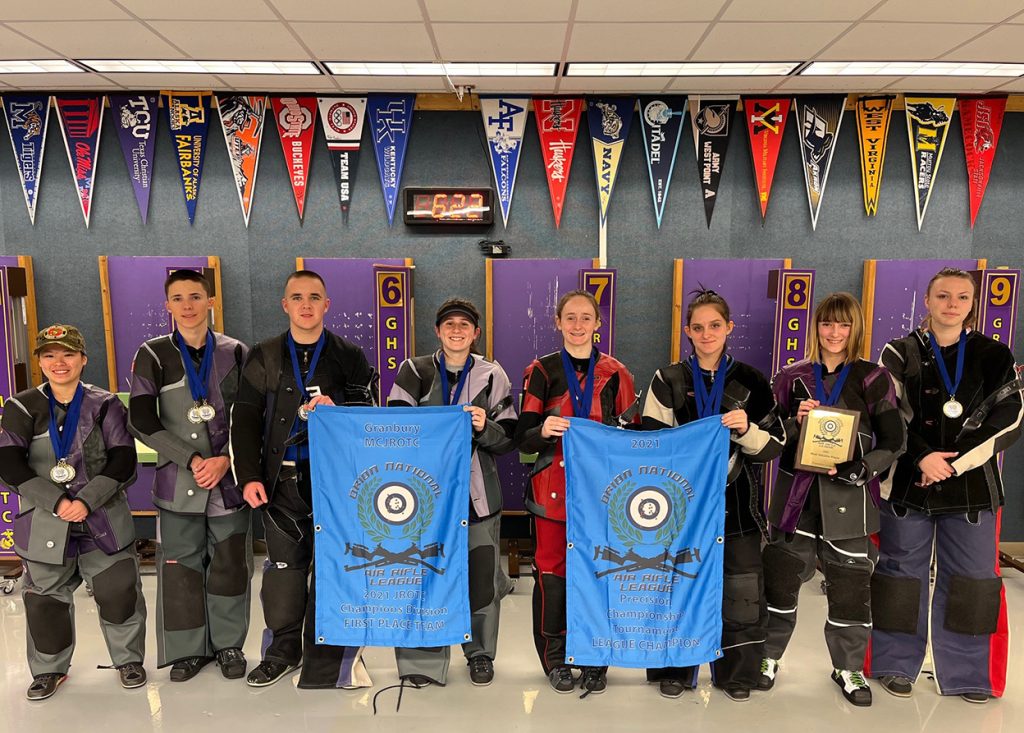 Granbury MCJROTC finished the season in first place overall and first place within their JROTC conference with a perfect 10-0 record. Granbury MCJROTC was led by Parker Haydin, who shot a 618.2. The remaining contributing members were Sunnee Schumann, Tie Foster, Ashton Arlington, Sarah Folsom, Julia Czernik, Caroline Martin, Cadince McGrath, Kaylynn Slaughter, Kameron Wells and Kennedy Wells.
Lt. Col. Scott Casey, senior Marine instructor and coach, said, "This was a good warm up for our Service National Championships next month in Arizona. The team is hitting on all cylinders – shooting some of the best scores in the past 10 years."
Also, during the tournament, Martin earned the Most Valuable Player award for having the highest average on the winning team during the postseason, averaging 614.7.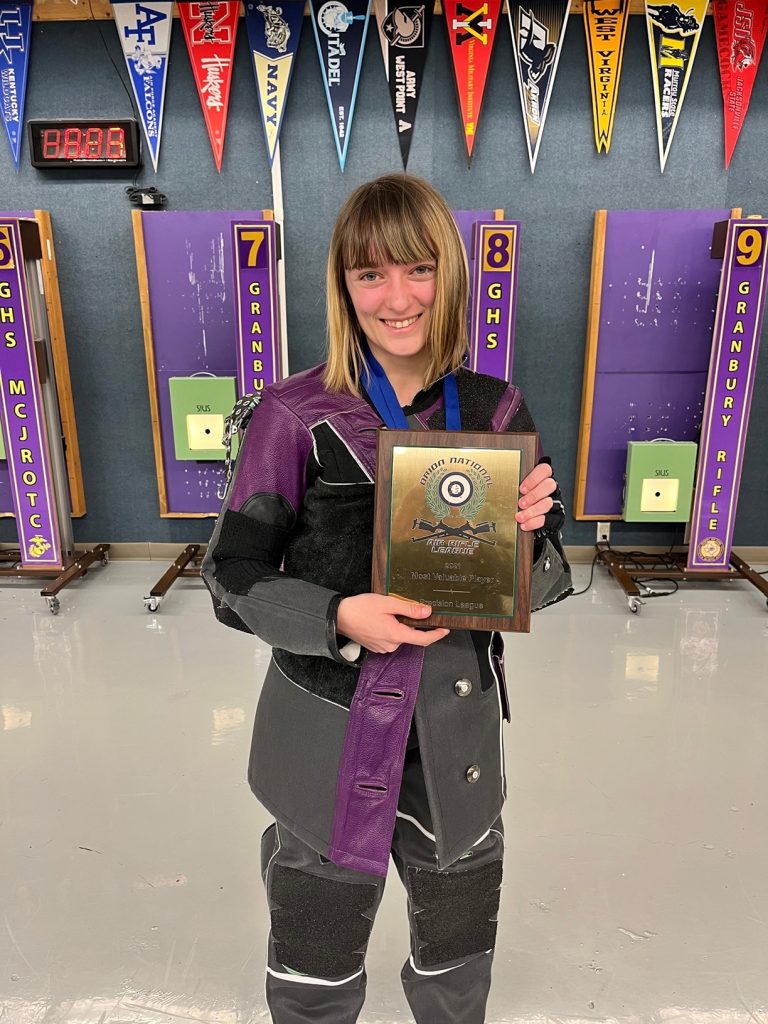 Casey went on to say, "I'm very impressed with how Martin has shot. She has been working hard in the range on her time off and it is showing. She is an anchor for the team as we get ready for Service and All Service Nationals."
The JROTC Service Championships are set to be fired Feb. 3-5 on the Civilian Marksmanship Program's (CMP) Mobile Range in Arizona and at the CMP South Competition Center in Alabama for Army, Air Force and Marine Corps cadets. Navy, Army and Air Force athletes will also travel to the Gary Anderson CMP Competition Center in Ohio and return to the South Competition Center in Alabama Feb. 10-12 to wrap up the Service Championships before moving on to the JROTC Nationals for all services at Camp Perry in March.
If you'd like to find your local club, visit the CMP Competition Tracker Page at https://ct.thecmp.org/app/v1/index.php?do=clubSearch to become involved.
Have an article to share or want to highlight your CMP Affiliated Club? Send us your photos, reports and articles to highlight in The First Shot – email abrugnone@thecmp.org. We look forward to hearing from you.
A Note from the CMP: At the CMP, we are not only dedicated to an increasing number of those involved in marksmanship within our own programs but are also devoted to supporting the efforts of those who are creating their own legacies in their own ways. Our Club News articles are our way of displaying the successes of our clubs, in the hopes of encouraging others to take the same respectable paths – both in marksmanship and in life. We are proud of our clubs for all of their endeavors and are honored to show them off within our news feed.