CMP Club News: Adult, Junior Pair Earns Separate CMP Distinguished Badge Milestones at Ohio Rifle Match
June 16, 2021
Civilian Marksmanship Program
▸
Club News
▸
CMP Club News: Adult, Junior Pair Earns Separate CMP Distinguished Badge Milestones at Ohio Rifle Match
On Saturday, June 5, and Sunday, June 6, the Miami Rifle & Pistol Club near Cincinnati, Ohio, held a weekend of outdoor rifle competitions, where a pair of marksmen discovered both ends of the Excellence-In-Competition (EIC) point spectrum in their journeys toward a coveted Distinguished Rifleman Badge.
A total of 39 competitors participated in the Saturday 80 Round National Rifle Association (NRA) match, while 36 competed in the Civilian Marksmanship Program (CMP) EIC match on Sunday. The conditions Saturday could accurately be described in one word: HOT. Temps of the day topped out around 87 degrees, with heavy humidity thickening the air. The weather somewhat improved on Sunday – still hot, but less of that Ohio mugginess.
"Miami R&PC runs a great match," said Dave Schnelle, who competed in the event. "At the end of each day, they cooked burgers and brats for all competitors."
Dave, 65, had reason to celebrate. Along with finishing second overall in the Distinguished category of the EIC Match, he was able to watch his granddaughter, Madelyn Schnelle, gain her very first EIC points.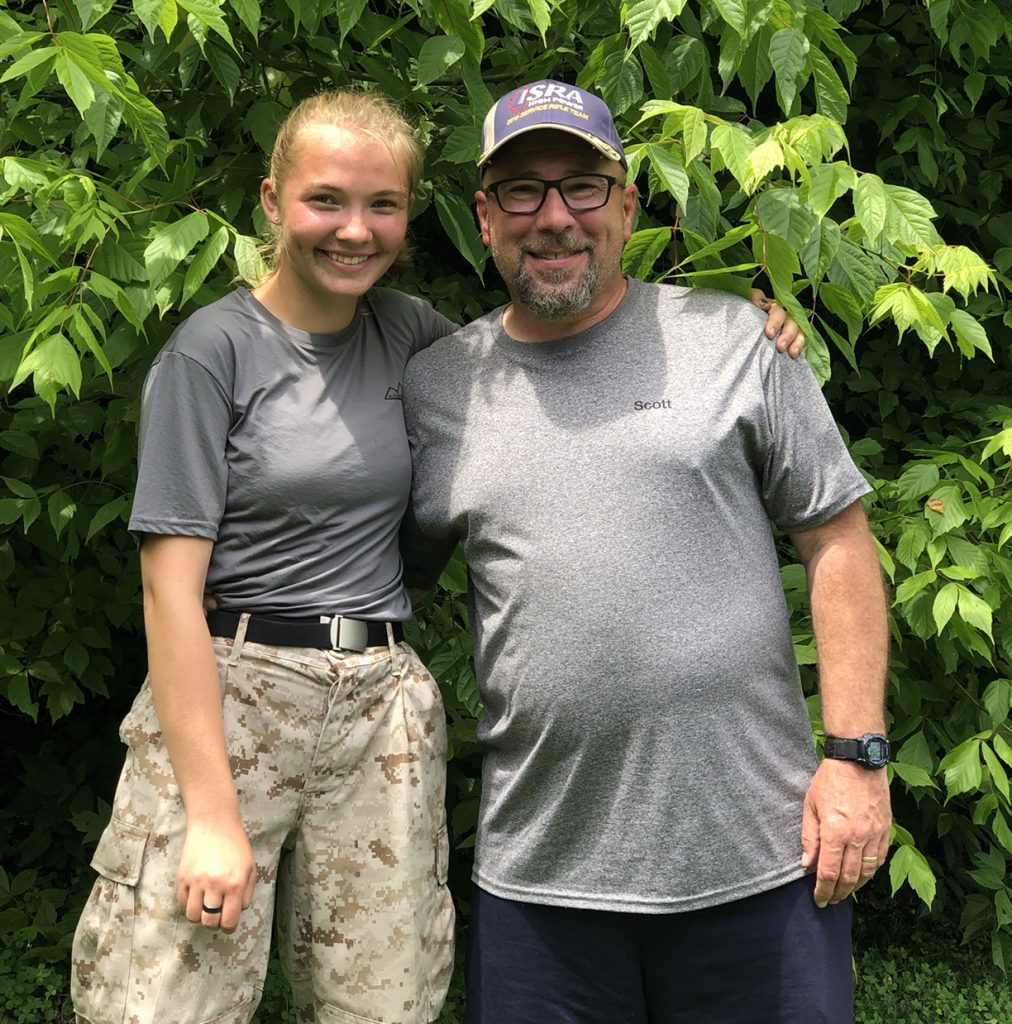 The 14-year-old from Crawfordsville, Indiana, placed second in the Non-Distinguished group of competitors with a score of 480-14X – landing behind her new comrade, Scott Schneider, 54, who claimed a score of 482-12X for the overall spot. With his placing, Schneider was able to secure his final EIC points to obtain his own Distinguished Rifleman Badge.
Madelyn and Scott have gained a kinship from shooting alongside one another over the last year, making their individual feats at the Miami Rifle & Pistol EIC Match even more special to share.
"We all thought it was appropriate to capture the moment two people who have become friends get their last points and first points in the same match," Dave said.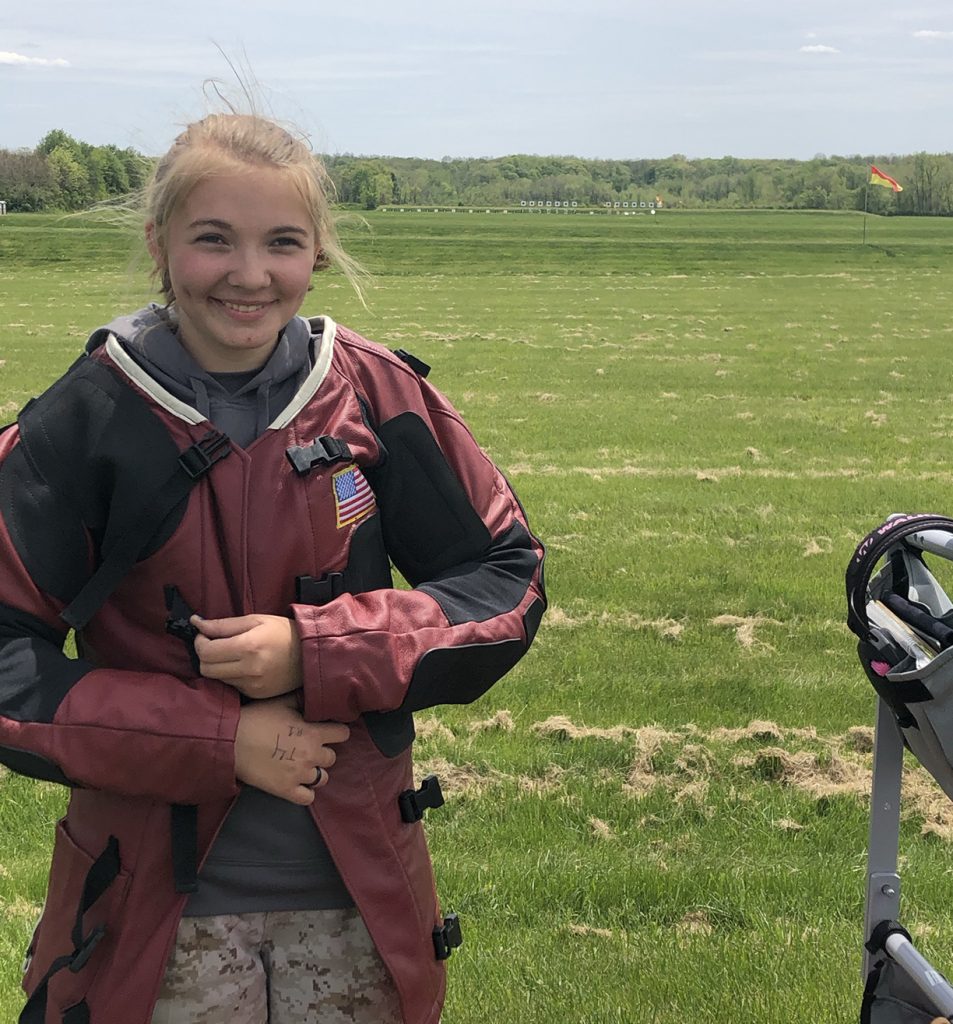 Scott, who lives in Mahomet, Illinois (just over the border from Indiana), received his initial EIC points during the 2013 National Matches at Camp Perry, Ohio, while finishing 14th within a group of 650 participants in the M16 Match held as part of the Small Arms Firing School. He returned to the National Matches in 2018 and 2019 where he earned an additional 10 EIC points each year. Scott fired the second highest score of the day at the Miami Rifle & Pistol match to claim his final points.
The Distinguished Badge is a distinct honor for any marksman. A badge, available for a variety of disciplines, is awarded after scoring within the top percentage of participants in an EIC designated event and netting the accompanying EIC points – with 30 points needed overall.
Having earned his own Badge in 2006, Dave is thrilled to be able to watch his granddaughter in the hunt for her own.
"In my 22 years of shooting highpower, I've never had so much fun!" Dave said of his time competing with Madelyn. "Her progress is a testament to the fact that this is a learned skill, and with dedication, hard work and some good coaching, you can achieve remarkable results."
Dave and Madelyn often practice and travel together as members of the Wildcat Valley Rifle & Pistol Club in nearby Brookston. Madelyn competed in her first marksmanship match in May 2020 and has gone on to reach "Expert" classifications for both the CMP and the NRA.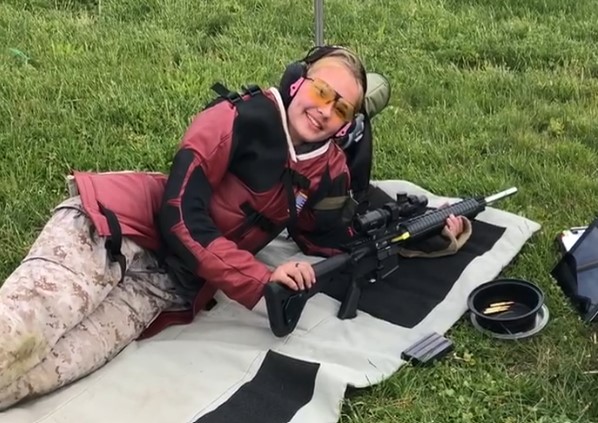 "She is a VERY upbeat person," Dave added. "She really brings a ray of sunshine to the firing line, and competitors love her lightheartedness and joking."
Madelyn is the oldest of six kids. Living on 80 acres of woods and trails, she is a lover of the outdoors – hunting, fishing and riding dirt bikes with her siblings. Her father, Matthew Schnelle, also occasionally shoots highpower matches.
During the winter, Madelyn trained using SCATT and a Compass Lake .22 Rimfire upper. Since getting back into competition in the spring of 2021, she has maintained a Master-level average. Her personal best occurred in May during her club's Tuesday Night NRA league when she achieved a score of 788-25X for the 80 shot event. She went on to compete in the NRA Midrange Prone match at Wildcat Valley R&PC, where she fired 598-26X to win the match.
This July, she'll be making her debut at the annual National Matches in Ohio – competing in practically everything, including the Small Arms Firing School, team matches and CMP Games events. Scott is also set to return to the 2021 National Matches, this time as a Distinguished Rifleman.
The Miami Rifle & Pistol Club, located in Batavia, Ohio, facilitates several marksmanship disciplines for both adults and juniors. Find more about the Miami Rifle & Pistol Club, including range info and an event calendar, by visiting their website at http://miamirifle-pistol.org/.
Learn about the CMP's Distinguished Badge Program at https://thecmp.org/competitions/distinguishedbadges/.
A Note from the CMP: At the CMP, we are not only dedicated to an increasing number of those involved in marksmanship within our own programs but are also devoted to supporting the efforts of those who are creating their own legacies in their own ways. Our Club News articles are our way of displaying the successes of our clubs, in the hopes of encouraging others to take the same respectable paths – both in marksmanship and in life. We are proud of our clubs for all of their endeavors and are honored to show them off within our news feed.
If you'd like to find your local club, visit the CMP Competition Tracker Page at https://ct.thecmp.org/app/v1/index.php?do=clubSearch to become involved.
Have an article to share or want to highlight your CMP Affiliated Club?  Send us your photos, reports and articles to highlight in The First Shot – email  abrugnone@thecmp.org. We look forward to hearing from you.
– By Ashley Brugnone, CMP Writer