Butler Claims Wins in Air Rifle and New Smallbore Event at 2021 Camp Perry Open
June 2, 2021
Civilian Marksmanship Program
▸
The First Shot
▸
Butler Claims Wins in Air Rifle and New Smallbore Event at 2021 Camp Perry Open
CAMP PERRY, Ohio – Bremen Butler, 16, of Fort Wayne, Indiana, made herself known at the Camp Perry Open marksmanship event (held Friday, May 21, to Sunday, May 23) by earning wins in both the Three-Position Air Rifle portion and the newly added 3×40 Smallbore match.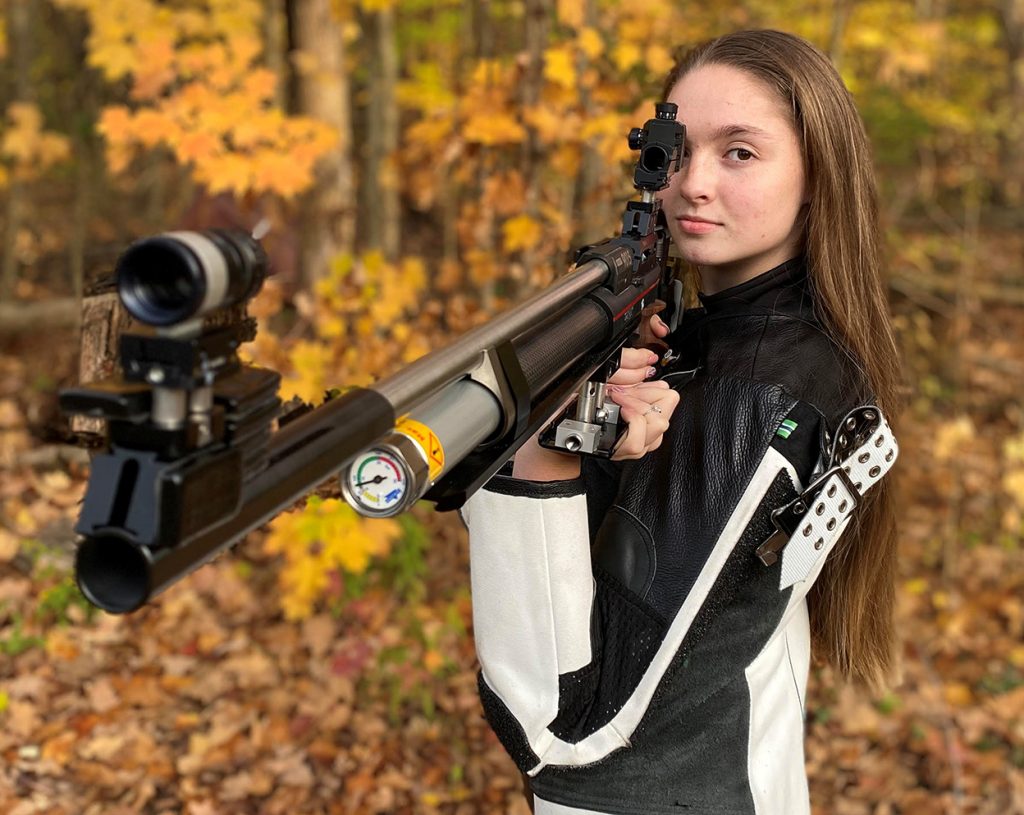 The 2021 Camp Perry Open attracted more than 250 athletes from around the nation in Three-Position (3PAR) and 60 Shot Air Rifle, 60 Shot Air Pistol and 3×40 Smallbore Rifle competition. The annual event is conducted by the Civilian Marksmanship Program (CMP) at the Gary Anderson CMP Competition Center – located on the Camp Perry National Guard Training Base (CMP Headquarters) in Ohio.
"I was happy with my performance in all three of this year's disciplines," she said. "I enjoyed shooting the 3PAR Match. I felt confident and was pleased with my performance."
Typically fired in January, the 2021 Camp Perry Open was strategically moved to May in order to allow the 3×40 Smallbore Rifle portion to be added to the schedule for the first time. Over 60 competitors took to the firing line on Camp Perry's Petrarca Range to take advantage of the additional competitive opportunity, with Bremen coming out on top.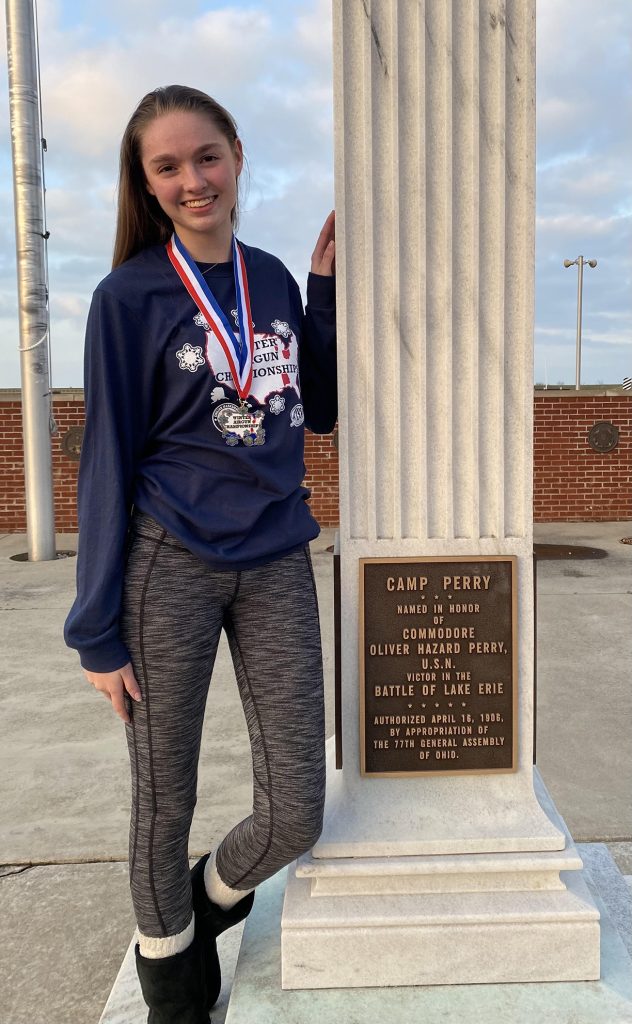 "I feel any opportunity to boost the number of matches for shooters is a fantastic and welcome idea," she said."I was excited to be shooting on Petrarca. My first experience shooting Smallbore was on that same range during the 2019 CMP Summer Camp."
"I felt like I had come full circle after winning this competition," she went on, "I enjoy shooting Smallbore and like the extra challenge the wind brings when shooting outdoors.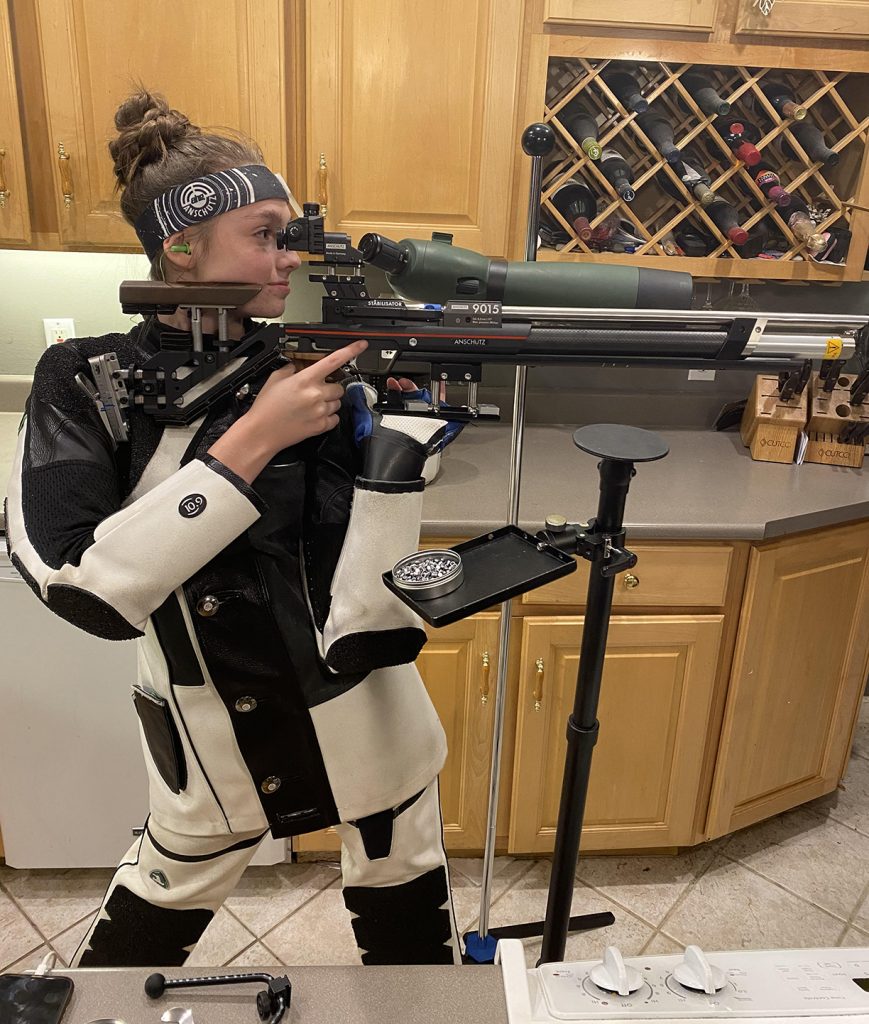 Once the inaugural Camp Perry Open Smallbore event was completed, Bremen went on to claim the overall win in the 3PAR match, fired the same day. She also finished eighth overall in the Open 60 Shot rifle event.
"I had a rough first day," she said of her performance in 60 Shot. "However, I was able to recover on Day Two by shooting a new PR (personal record) of 625.2, which was personally very exciting for me."
Bremen had signed up for her first Camp Perry Open last year, but an ear infection made shooting difficult. When the event came back around again in 2021 – she was ready.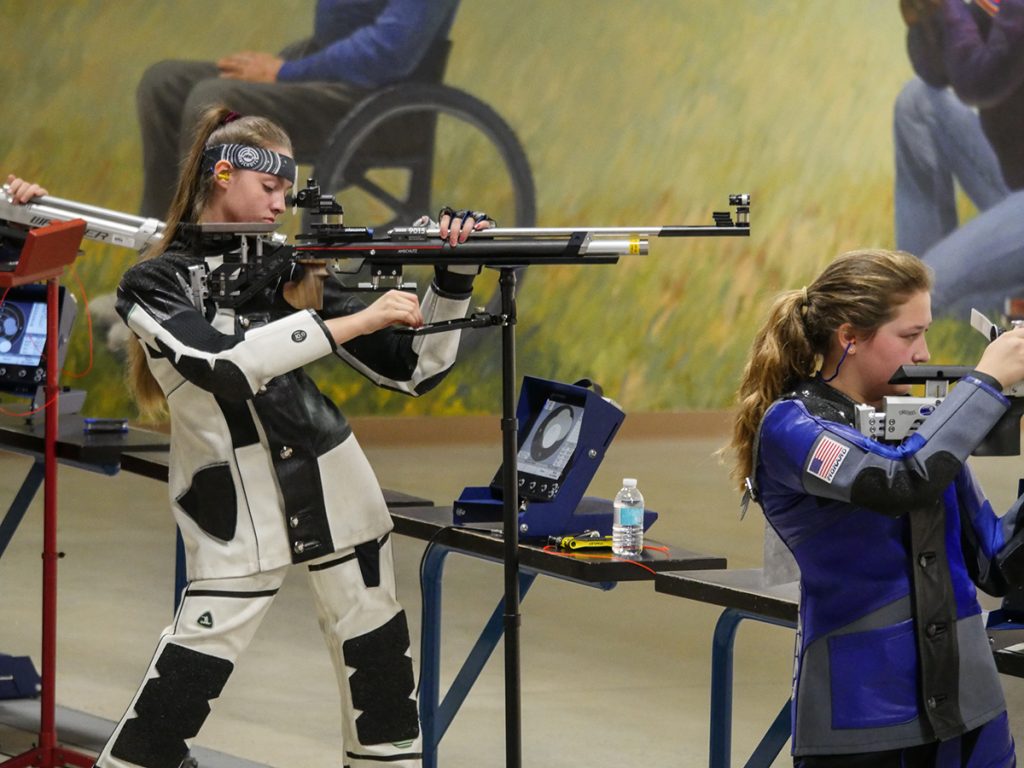 "I was looking forward to it and made it my goal to stand on the podium," she said. "I was equally, if not more, ecstatic to find out that Smallbore and 3PAR were included in this year's Open."
The week before the Camp Perry Open, Bremen shot at USA Shooting's Junior Olympics and brought home silver medals for both Smallbore and Air in the J2 age group. She also qualified for the Smallbore Finals and finished sixth overall in the discipline.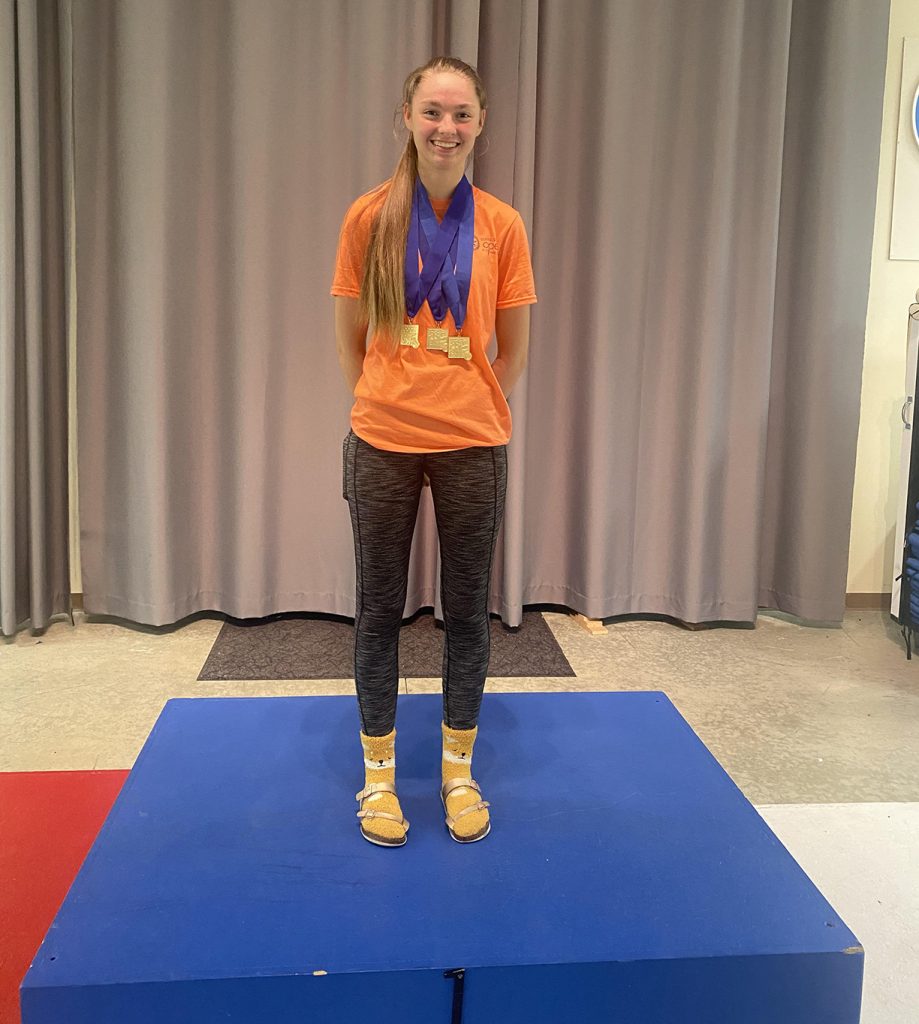 Last year, she traveled to CMP's South Competition Center in Alabama to fire in the annual Dixie Double air gun event and competed in the USA Shooting Winter Airgun event (held at CMP's air gun facilities) where she won gold for the J2 age group. It was her first national medal in only the second event of that level in her career.
"My family has been very supportive as we travel to as many matches as possible," she said.
Bremen began competing in Precision Air Rifle and Smallbore almost two years ago. In July 2020, she began training remotely with Olympian and current rifle coach Jayme Shipley via WebEx and utilizing SCATT. She uses her laptop and a separate phone to allow for multiple-angle views for her coach to observe.
To train, she stands in front of her kitchen stove and shoots through the living room into a trap sitting on the family's fireplace mantel. She uses a single paper bull with the SCATT attached to her rifle to score a 60-shot match each day. Bremen says she trains four to six days a week, which has helped her scores steadily improve.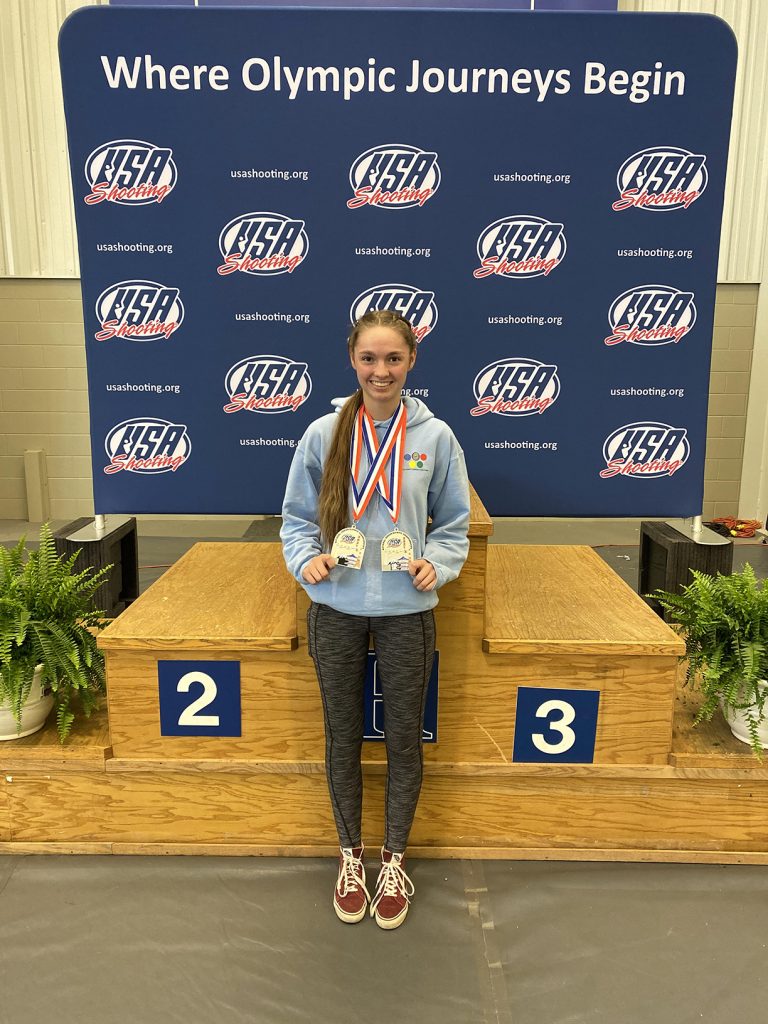 She uses the nearby Eel River Gun Club and Fort Wayne Izaak Walton Rifle/Pistol ranges for Smallbore training. Bremen tries to make it to as many CMP Monthly Air Gun Matches as she can as well as USA Shooting competitions and competes in several state and local CMP and NRA matches on the weekends.
When she finds time, she and her family make the trip to Camp Perry to practice air rifle within the Gary Anderson CMP Competition Center. Now when she makes the trip, she can think back to her 2021 Camp Perry Open memories as she works toward even more marksmanship successes.
"I love the CMP ranges and enjoy visiting it whenever possible for training," Bremen said.
Plan Your Visit to the CMP Competition Centers. The CMP operates two indoor air gun ranges equipped with electronic targets. Plan your visit to our Anniston, Alabama, or Port Clinton, Ohio, ranges by calling (419) 635-2141, ext. 704. Both ranges are open to the public and offer rental equipment for your visit.