AiR 15 Challenge Grows Over 100 Entries at 2015 National Match Air Gun Events
July 24, 2015
Civilian Marksmanship Program
▸
The First Shot
▸
AiR 15 Challenge Grows Over 100 Entries at 2015 National Match Air Gun Events
By Ashley Brugnone, CMP Writer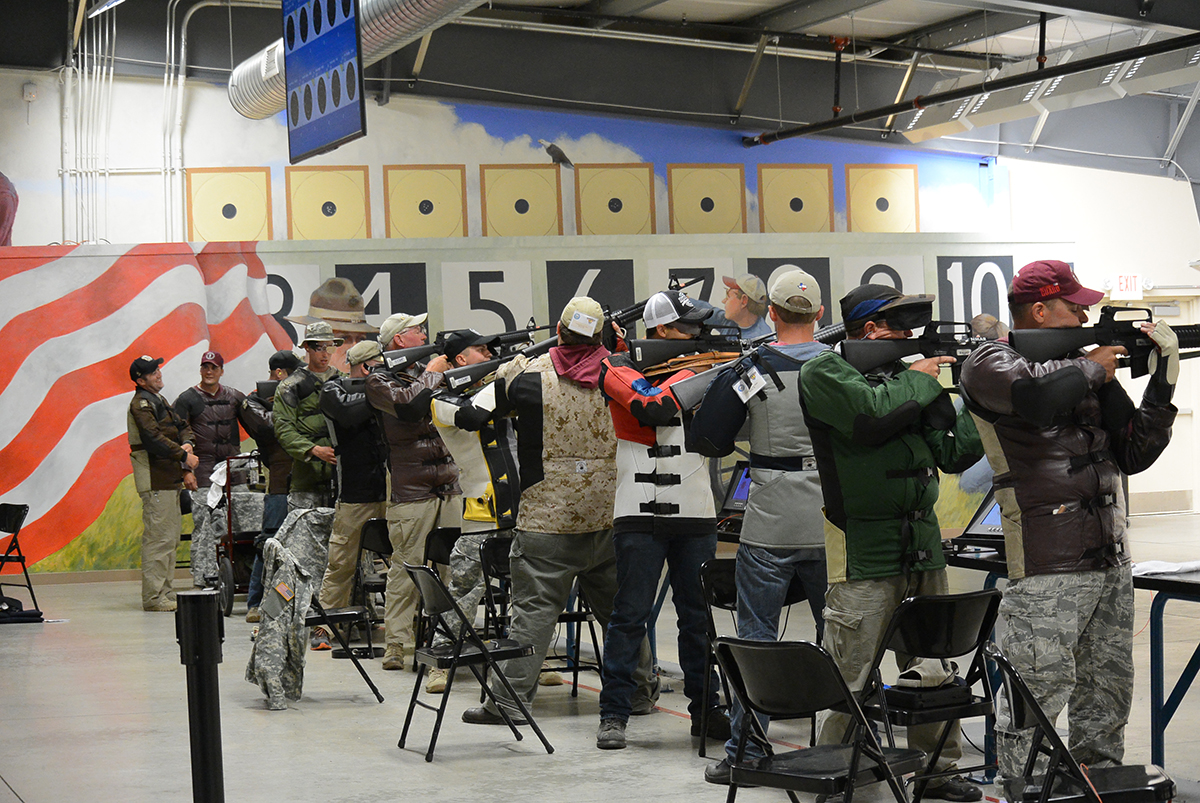 CAMP PERRY, Ohio – The Top 20 competitors of the AiR 15 Challenge met on the firing line at the world-class facilities of the Gary Anderson CMP Competition Center for a Shoulder-to-Shoulder shoot-off and a chance to earn prize money. With 100 more entries into this year's Challenge than last year's, the popularity of the event is clearly growing.
Competitors qualify for the shoot-off in a 20 Shot re-entry match. During the final, shooters receive a 5 minute sighter period, followed by 20 record shots in a time limit of 22 minutes. The marksman with the highest score derived from those 20 shots is deemed the winner of the shoot-off.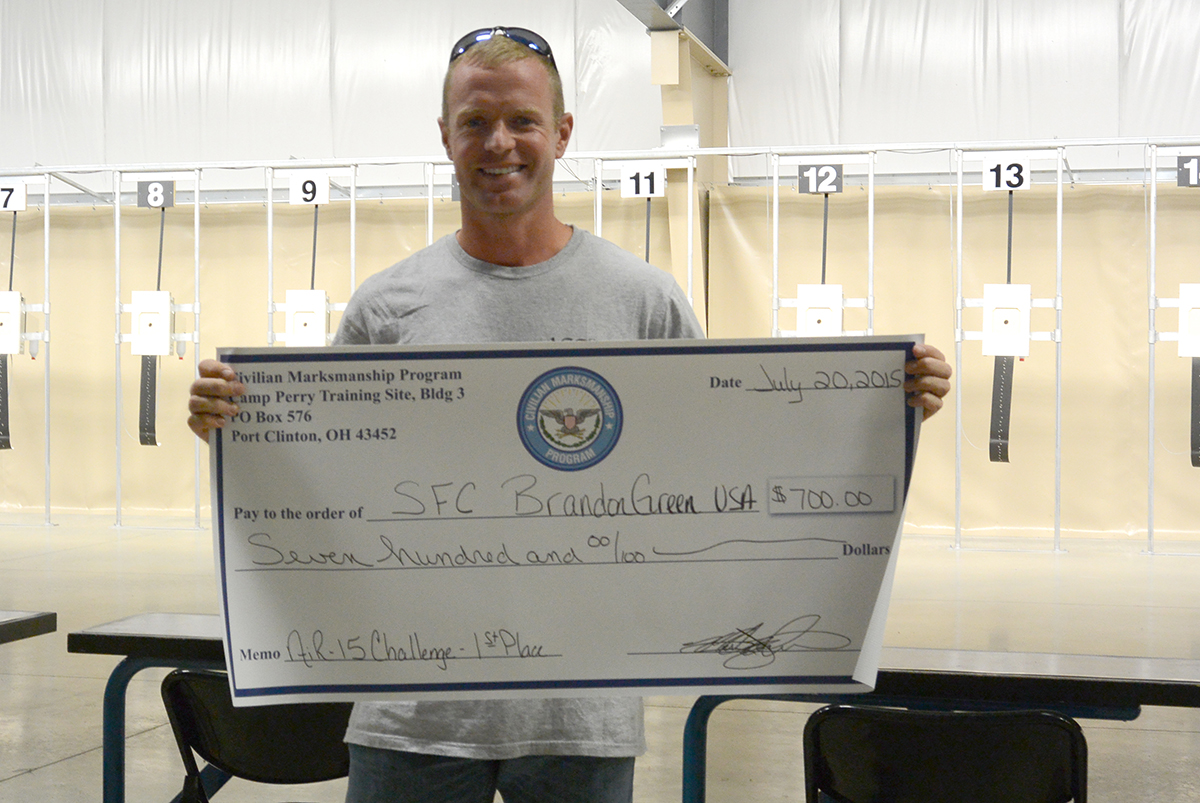 This year's winner, with an outstanding score of 199-7x, was SFC Brandon Green, 30, of the Army Marksmanship Unit. With his win, Green also received a check of $700 from the CMP.
An accomplished Service Rifle competitor, SFC Green actually got his start in competitive shooting in sporter air rifle for a JROTC unit in Louisiana. After shooting sporter for a few years, he switched to precision in high school before joining the Army and becoming a member of the Service Rifle Team, which he has now done for the past 12 years.
Often seen on the line during the AiR 15 Challenge at the National Matches, he has placed every time he's shot the match – giving him hundreds of extra dollars during his trips to the National Matches.
"I think, mainly, people come in here to train," Green explained. "It's convenient to train and compete – get a little of that match pressure. That's the reason that I come in to do it. Just to get time on the sights – time on the gun. Plus, it's exciting to come in and shoot for a little bit of money."
"Come out and try it," he added. "It's a good time."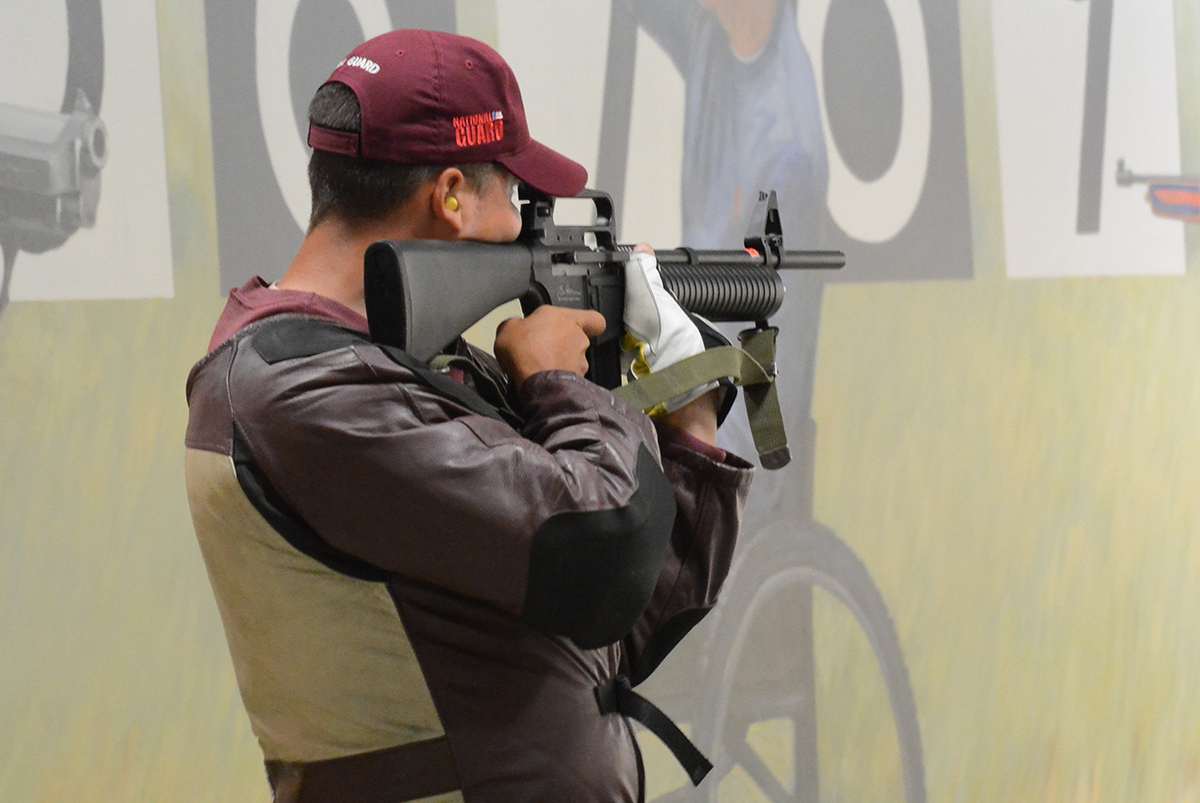 Coming in second place and receiving $500 was SSG John Coggshall, 30, of the Army National Guard, with a score of 197-9x. Civilian Thomas Holm, 46, of Sioux City, IA, claimed the third place spot with a score of 196-4x. Holm received $350 from the CMP. Monetary awards were also given to competitors in fourth, fifth, sixth and seventh place.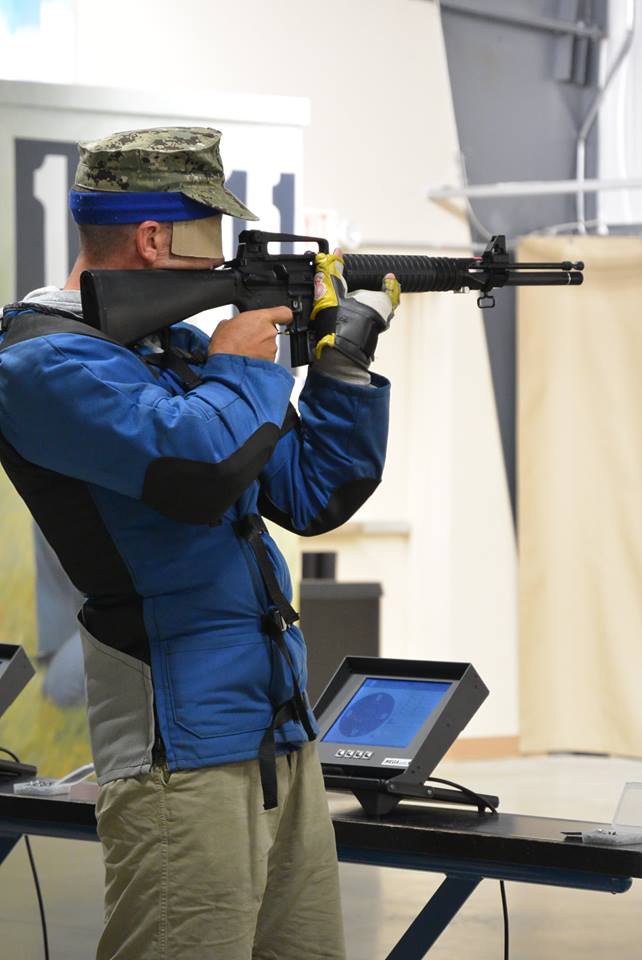 A Top Center Shot was awarded during the 20 Shot Re-Entry Sporter Match to the competitor who fired the closest shot to center. Out of 86 competitors, this year's winner was Chris Mollis, 70, of Fremont, OH, who fired a 10.9 within 6.2718 mm of center. For his win, Mollis will receive a monetary prize from the CMP, based on the number of entries. The next seven closest competitors will also receive money for their efforts.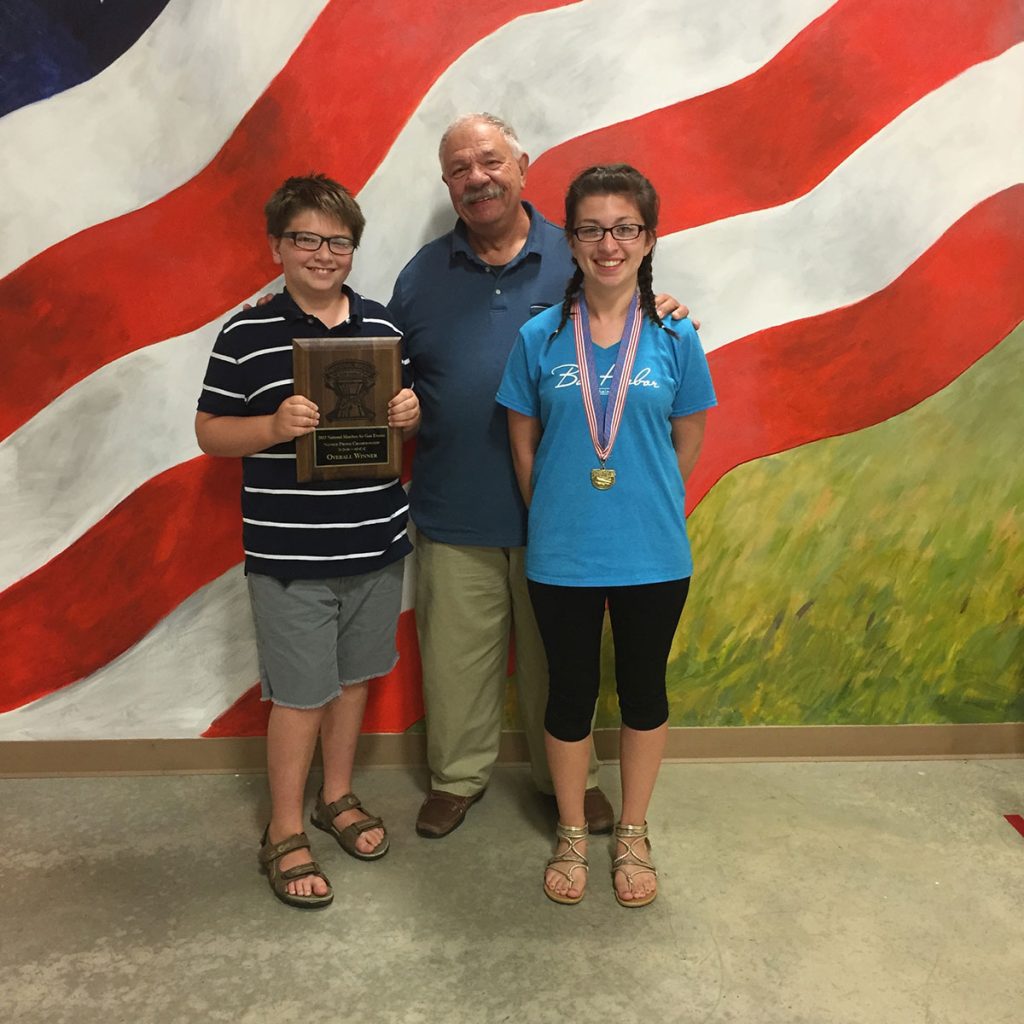 Jaren Nofzinger, 11, of Fremont, OH, won the Novice Prone Sporter Match – cleaning the phase with a score of 200-5x. The event is designed for young shooters aged 8-12 who are just beginning their shooting careers. Novice Prone introduces them to the exciting world of competitive shooting in a safe and fun way.
Winning the 60 Shot Air Pistol event was Alexander Chichkov, 21, of Tampa, FL, with a score of 579-1x. Chichkov also won the event at last year's National Match Air Events as a junior.
High woman of the event was Lyudmila Andrianova, 21, of Schaumburg, IL, with a score of 517-3x. Gary Peterson, 67, of Levittown, NY, fired a score of 548-8x to become the high senior, while Robert Yarrito, 18, of Phoenix, AZ, shot a 520-6x to earn the spot as high junior.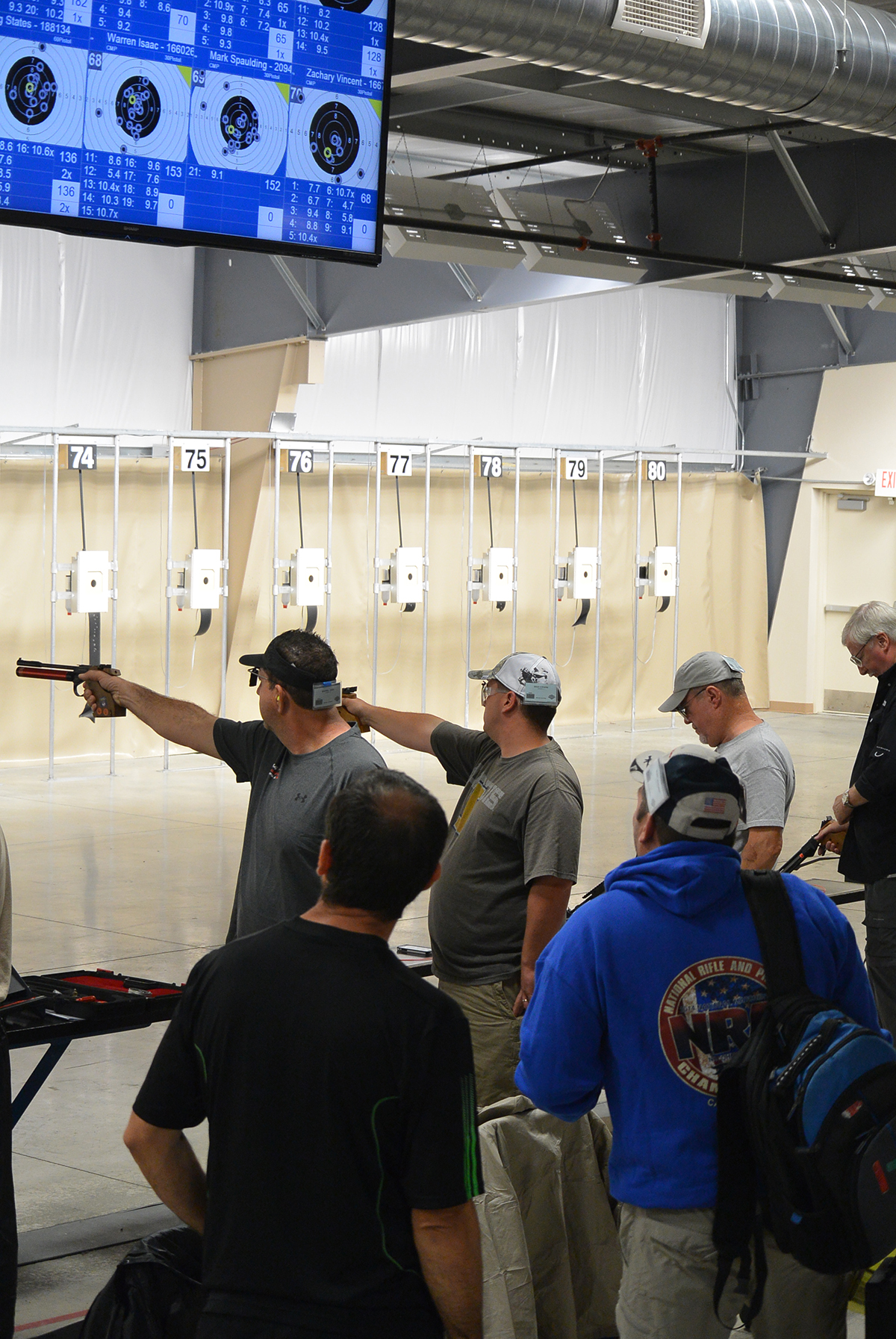 A Top Center Shot is also awarded during the 30 Shot Air Pistol Match to the competitor who fired the closest shot to center. As with the 20 Shot Sporter Match, the top eight competitors closest to center will receive monetary prizes. Winning the Center Shot Contest was Konstantin Pitsoulis, 45, of Brooklyn, NY, who fired a 10.9 within 0.1140 mm of center. With 377 total entries, Pitsoulis will receive nearly $200 for his win.
For a complete list of results, visit http://ct.thecmp.org/app/v1/index.php?do=match&task=edit&match=13159.