4-H National Champion Air Rifle Team
August 11, 2016
Civilian Marksmanship Program
▸
The First Shot
▸
4-H National Champion Air Rifle Team
Submitted Article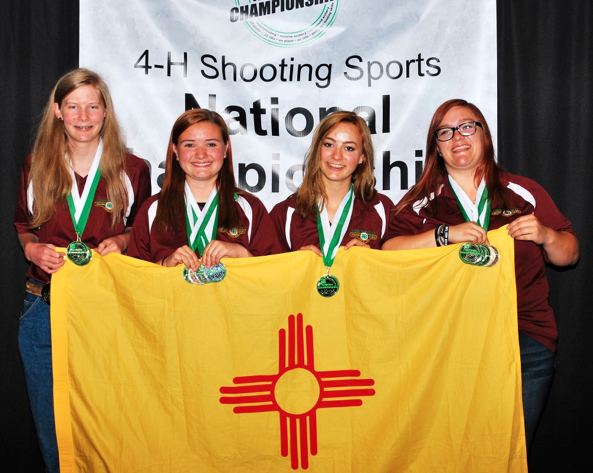 NATIONAL CHAMPIONS!!!!
Team motto " Shoot like a girl….if you can"
The National 4-H Shooting Sports competition was held in Grand Island, Neb., June 26 through July 1. Attending were teams representing 36 states and made up of 685 participants competing in eight disciplines. The air rifle team from San Juan County, N.M., competed with 21 other teams (93 competitors) from across the country.
The 4-H air rifle/pistol and .22 rifle/pistol shooting program, headed up by volunteer leaders and coaches, differs from most other junior shooting programs in the diversity of the type of targets the competitors are up against. Therefore, the skills needed to be proficient are more demanding.  Many state level 4-H competitions include a separate standing event and a silhouette target course in addition to the familiar 10-meter, three-position event.
The course of fire at Nationals included 10-meter, 3×20 three position (off-hand, kneeling and prone), a separate 10-meter 40 round off-hand event and a 40-target off-hand silhouette course at distances ranging from 20 to 45 yards. CMP provided the Megalink scoring system for the air rifle and air pistol events, which contributed greatly to the success of the event.
New Mexico's four-girl team received 15 individual and team medals. As a team, they earned sixth in 3-P, third in standing and first in silhouette. Kimberly Hull won overall High Point Individual, and Michaela Langlitz placed second, Rashel Korte 14th and Jeana Dolan 34th.
San Juan County 4-H shooting sports is CMP affiliated and has received fantastic support over the past few years. The knowledge base, training camps and clinics, and access to equipment that this affiliation has provided have been instrumental in our team growing to this point.
This year marks the first time that New Mexico has won the 4-H National Air Rifle Title.The team would like to thank everyone at CMP for their support throughout the year which contributed greatly to make this dream possible.
View full results at http://unl.app.box.com/s/43gmsfozist5twopzyzart1ar0kf8kms/1/8668668569.