2017 Tennessee State Cowboy Action Shooting Match
March 7, 2018
Civilian Marksmanship Program
▸
The First Shot
▸
2017 Tennessee State Cowboy Action Shooting Match
Article submitted by Terry Webb
The Wartrace Regulators hosted the 2017 Tennessee State Championship – The Regulators Reckoning at their range outside Wartrace, Tennessee October 12th – 14th. We had 210 Shooters sign up from 17 states. And the weather could not have been more accommodating.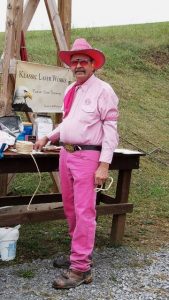 Thursday was a day for looking over the various match stages, meeting folks and friends and partaking in the various side matches. This was also the day shooters were encouraged to show their colors in support of cancer research by wearing pink. Of course, none could even come close to out-pinking Randy St. Eagle, who has for a long time strongly supported this endeavor.
The day also included the Black Powder and Wild Bunch matches. Additionally, various side matches were also held, which included cut-the-rope, speed rifle, speed shotgun, speed pistol and long range, to name a few, with the man-on-man and team-on-team matches closing out Thursday's events followed by the traditional chili cooking contest.
Friday started the serious event of the State Match, with a welcome by Chapter President Whiskey Hayes and a safety meeting conducted by Papa Dave, followed by a prayer, the pledge of allegiance and a hearty Yee-Haw before the ten posses headed to their shooting stages. This year's stages included the Depot, Death Valley, the Trestle, the Livery, the KO Corral, the Jail, Jersey Lilly's, Wells Fargo, Grafton's and the Gallows.
Friday night a true south of the border meal was served by Rollin' Chopstix, followed by awards being presented for the events held Thursday. Closing out Friday's activities a drawing was held for assorted fine beverages compliments of the Jack Daniels Distillery.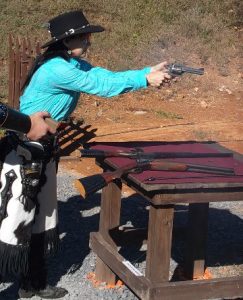 Saturday dawned with the ten posses resuming shooting their remaining five stages for the State Match. It was another fine day with more serious and truly fine shooting. The shooting started to wind down around 2 o'clock with shooters heading out to prepare for the awards banquet being held that evening at the Bell Buckle Café Banquet Hall in Bell Buckle, Tennessee.
Whiskey Hayes hosted the banquet and awards ceremony, and following an excellent meal, was the moment everyone was looking forward to – the presentation of this year's winners. Kicking things off was the induction of Shamrock Sadie as a Jedi Gunfighter. Randy St. Eagle was proud to announce that well over $5,000 was raised for cancer research this year!
This years Puppy Posse had five members – Nicki – alias Black Diamond Nicki, Brandy, Sam, Allie and Casey. All were exceptionally well-behaved and obeyed all the rules of the range.
[ngg_images source="galleries" container_ids="14″ sortorder="316,317,318,319,320,321,322,323,324,325,326,327,328,315,329,330,331,332,333,334,335,336,337″ display_type="photocrati-nextgen_basic_slideshow" gallery_width="800″ gallery_height="600″ cycle_effect="wipe" cycle_interval="5″ show_thumbnail_link="0″ thumbnail_link_text="[Show thumbnails]" order_by="sortorder" order_direction="ASC" returns="included" maximum_entity_count="500″]
The results: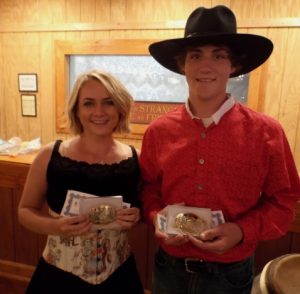 Overall 1st Place
Cowboy – Prestidigitator
Cowgirl – Shamrock Sadie
Overall 1st Place Tennessee Shooter
Cowboy – Boxx Carr Kid
Cowgirl – Slick's Sharp Shooter
Top Ten Cowboys
Prestidigitator
Duke Skywalker
Indiana Loose Cannon
Vaquero Jake
Fast Eddie
Boxx Car Kidd
Christian Mortician
Blackhawk Henry
Hurricane Charley
Cumberland Drifter
Top Ten Cowgirls
Shamrock Sadie
Slick's Sharp Shooter
Renegade Roper
Dixie Pistol
Taco Belle
Dew R Dye
Running Doe
Elpaso Susie
Iron Maiden
Anita Margarita
Top Shooter by Category
Cattle Baron – Trail Bandit
Conventioneer – Ricohet Ruthie
Elder Statesman Duelist – John Derringer
Frontier Cartridge Gunfighter – Jackalope
Grand Patron – Papa Dave
Ladies Cattle Baron – Two Ponies Gal
Ladies Senior Duelist – Witch Doctor
Ladies Senior Gunfighter – Mean Mary
Ladies Steam Punk – VIX-N with Vaquero
Outlaw – Whiskey Creek John
Senior Gunfighter – Widowmaker Hill
Steam Punk – Rolan Kraps
Silver Senior Duelist – Amaduelist
Young Guns Boy – Boxx Carr kid
Buckarette – TN Missy
Buckaroo – Mustang Lewis
Grand Dame – Two Step Net
Elder Statesman – Swift Stoney
Ladies Senior – Garnet Gal
Senior – Cumberland Drifter
Ladies Silver Senior – Elpaso Susie
Silver Senior – Fast Eddie
B Western ladies – Perfecto Vaquera
B Western – Blackhawk Henry
Senior Duelist – Randy Saint Eagle
Ladies Frontier Cartridge – Alchemist belle
Frontier Cartridge – Risin' Outlaw
Frontier Cartridge Duelist – Bill Carson
Frontiersman – Fire N Fallback
Classic Cowgirl – Dr Slick
Classic Cowboy – Shaddai Vaquero
Ladies Gunfighter – Shamrock Sadie
Gunfighter – Vaquero Jake
Ladies Duelist – Iron Maiden
Duelist – Potshot Parker
Ladies 49'r – Dixie Pistols
49'r – Double Nickel
Wrangler – Duke Skywalker
Cowboy – Prestidigitator
Cowgirl – Slick's Sharp Shooter
Ladies Wrangler – Renegade Roper