2015 CMP COMPETITION RULES
January 12, 2015
Civilian Marksmanship Program
▸
The First Shot
▸
2015 CMP COMPETITION RULES
By Gary Anderson, CMP Director Emeritus
The CMP has two primary competition rulebooks, the CMP Competition Rules for Service Rifle and Pistol and the Competition Rules for CMP Games Rifle and Pistol Matches.  The first rulebook governs traditional CMP Service Rifle and Pistol EIC, National Trophy and other sanctioned matches.  The second rulebook governs the CMP Games Matches for As-Issued Military Rifles, As-Issued Pistols and Rimfire Sporter.  Both have now been updated for the 2015 competition season and are posted on the CMP website at https://thecmp.org/competitions/cmp-competitions-rulebooks/.    Competitors and match sponsors should download the rulebooks they need to be prepared for the 2015 shooting season.
The CMP rifle disciplines including Service Rifle, all of the As-Issued Military Rifle events and Rimfire Sporter have only a few minor changes.  There are, however, significant rule changes in the CMP Pistol Program.  The Pistol Program changes were made to address a long-term decline in participation and to modernize the program and provide a foundation for future growth.   The CMP Rules Committee established a 15-member CMP Pistol Program Review Panel comprised of experienced competitors, match sponsors and pistol armorers to make recommendations.  Their proposed changes were publicized and nearly 200 comments were received with big majorities of shooters and match officials saying they were in favor of the changes.    The CMP Rules Committee and Board of Directors subsequently approved those recommendations during their fall meetings.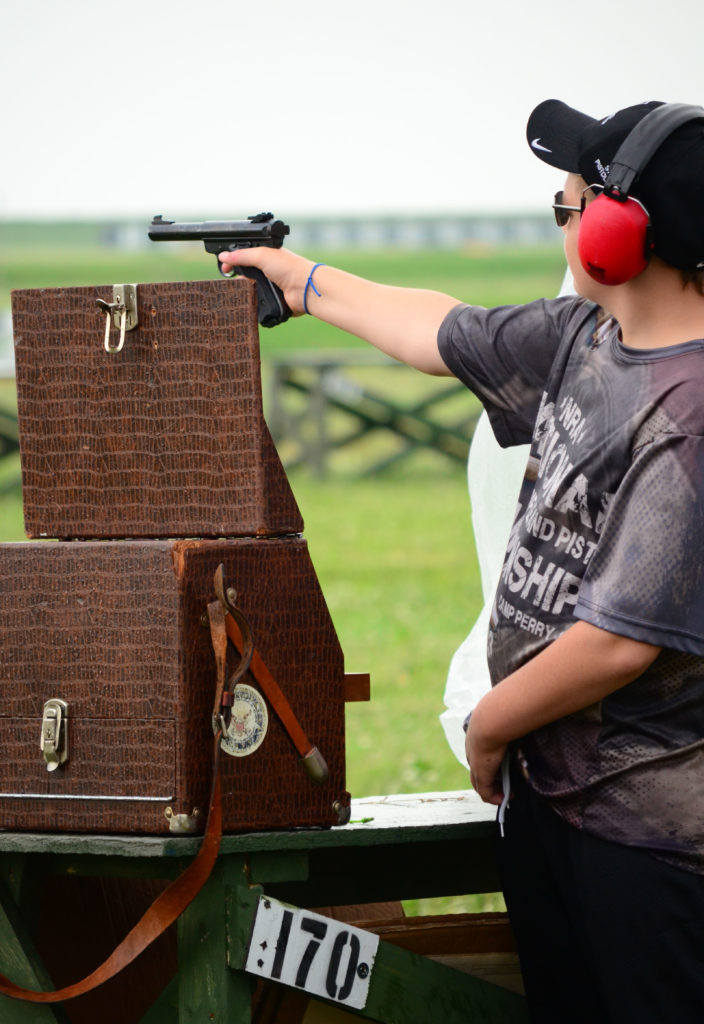 The approved 2015 pistol rules provide for 1) allowing pistols with additional, popular match conditioning modifications, 2) broadening CMP Service Pistol Rules to permit the use of a wider variety of service-type pistols, 3) the establishment of a detailed list of "approved service pistols," 3) the limited expansion of permitted ammunition, 4) the creation of a new Distinguished 22 Rimfire Pistol Badge and EIC program, 5) the adoption of minimum credit scores for earning EIC points and 6) an increase in the number of EIC matches Non-Distinguished competitors can shoot in one year.
An announcement with full details about the 2015 Pistol rules changes was posted on the 30 December 2014 edition of the CMP Shooters' News.  A link to this article is also posted on the CMP website's "Service Pistol" webpage at https://thecmp.org/cmp-pistol-program-rule-changes-for-2015/.  Service Pistol shooters and match sponsors will also want to be familiar with the official list of "CMP Approved Service Pistols" that is accessible from this same page at https://thecmp.org/wp-content/uploads/CMPApprovedServicePistols.pdf.     Everyone interested in the CMP Pistol Program should study those documents.
The Pistol rules changes are in effect in 2015, starting in January.  The original intent stated on the cover of the 2014 CMP Competition Rules was that those rules would be in effect for two years through 2016.  However, CMP Rulebooks also state that the rules remain in effect "until they are replaced by the next edition of the rules."   Since the changes in the CMP Pistol Program were publicized and approved, the decision was made to issue the next 2015 edition of the rules in January 2015.
The immediate impact of the Pistol rules changes is that competitors who wish to use any of the Service Pistols included on the expanded list may now do so.  If there are questions about a pistol, match sponsors should have a copy of the official list to use in checking.  Match sponsors should also make sure the manufacturer, model and caliber of the pistols used in EIC Pistol Matches are recorded on competitors' scorecards.
There is a change in the ammunition rule that Service Pistol competitors should note.  The rules still require all ammunition to have jacketed bullets (FMJ, JHP, SWC, HAP, TC, etc.), but specific bullet weights are no longer mandated.  This change to the previously impossible-to-enforce bullet weight rule should enable many shooters with pistols that were not custom-built for competition to develop an ammunition and pistol combination that will produce sufficient accuracy to get started in EIC competition.
The expansion of the number of pistols that are legal for use in Service Pistol Matches offers an exceptional opportunity for match sponsors and competitors to grow their sport.  Everyone interested in promoting pistol shooting is encouraged to make a special effort to inform other pistol shooters that they can now use pistols they probably already own in EIC matches.  The CMP Pistol Program's central focus on classical bulls-eye pistol shooting with its traditional one-handed shooting stance has not changed, but these changes open the door to challenging all pistol shooters, whether they are shooting one or two-handed, to try this uniquely challenging pistol game.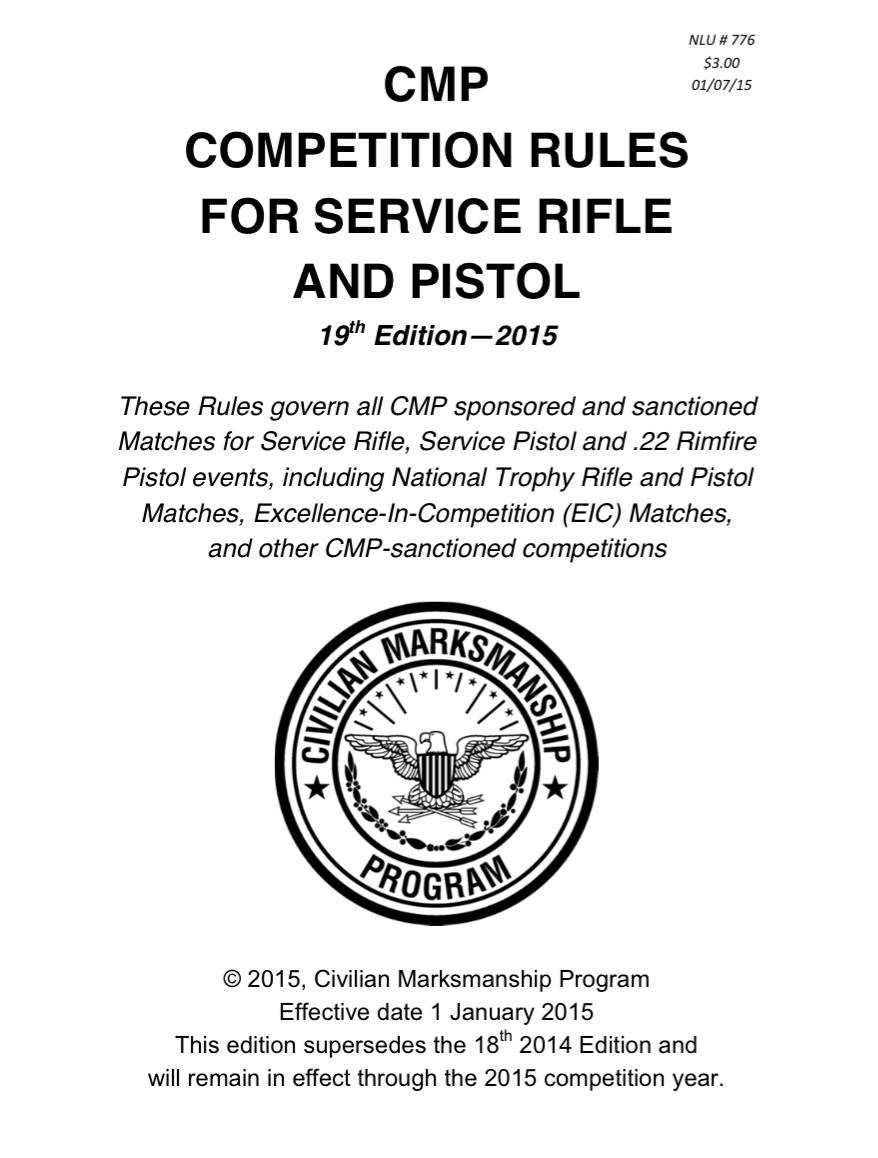 One of the most exciting changes will not take effect until April of this year.  The 2015 Rules created a new Distinguished 22 Rimfire Pistol Badge.  The first 22 Rimfire Pistol EIC Match will take place during the CMP Oklahoma Games at Oklahoma City, Oklahoma on 11 April so pistol competitors in the Midwest should be thinking about participating in that historic event.  Match sponsors that want to offer 22 Rimfire Pistol EIC Matches may not schedule them until after that date, but they may submit applications to conduct 22 Rimfire EIC Matches now.  The CMP will also offer 22 Rimfire EIC Matches in the Eastern Games at Camp Butner, North Carolina and the National Matches at Camp Perry, Ohio.  Check those programs for details when they come out.
.22 cal. rimfire pistols that can be used in this new EIC event must have conventional, non-optical sights and a sight radius of no more than 10 inches.  The course of fire will be the same National Match Course used for Service Pistol except that timed and rapid-fire series must begin from a low-gun start position. Many pistol shooters are already familiar with low-gun starts from their experiences in USA Shooting, collegiate or junior competitions, but those who are not will want to practice starting timed and rapid-fire series with loaded pistols at either a 45 degree angle or, if the bench height does not permit this, from a position where the loaded pistol just clears the bench.
Competitors and match sponsors need to be aware of a couple of other changes in the EIC program.  The number of EIC matches that a Non-Distinguished competitor can fire in a calendar year has increased from three to five plus one National Trophy Match.  This change applies to Pistol as well as Rifle EIC Matches.  Match sponsors will not need to check whether EIC competitors have reached their limit, however, because the computer that records EIC scores and points will do that.
A second change that also applies to all Rifle and Pistol EIC Matches is a measure designed to keep it from becoming easier to earn a Distinguished Badge by allowing more EIC matches to be fired.  There are now "minimum credit scores" that must be fired before EIC credit points can be awarded.  Service Pistol competitors must fire at least 250 x 300 to receive EIC credit, 22 Rimfire Pistol competitors must fire at least 260 and Service Rifle competitors must fire a minimum of 455.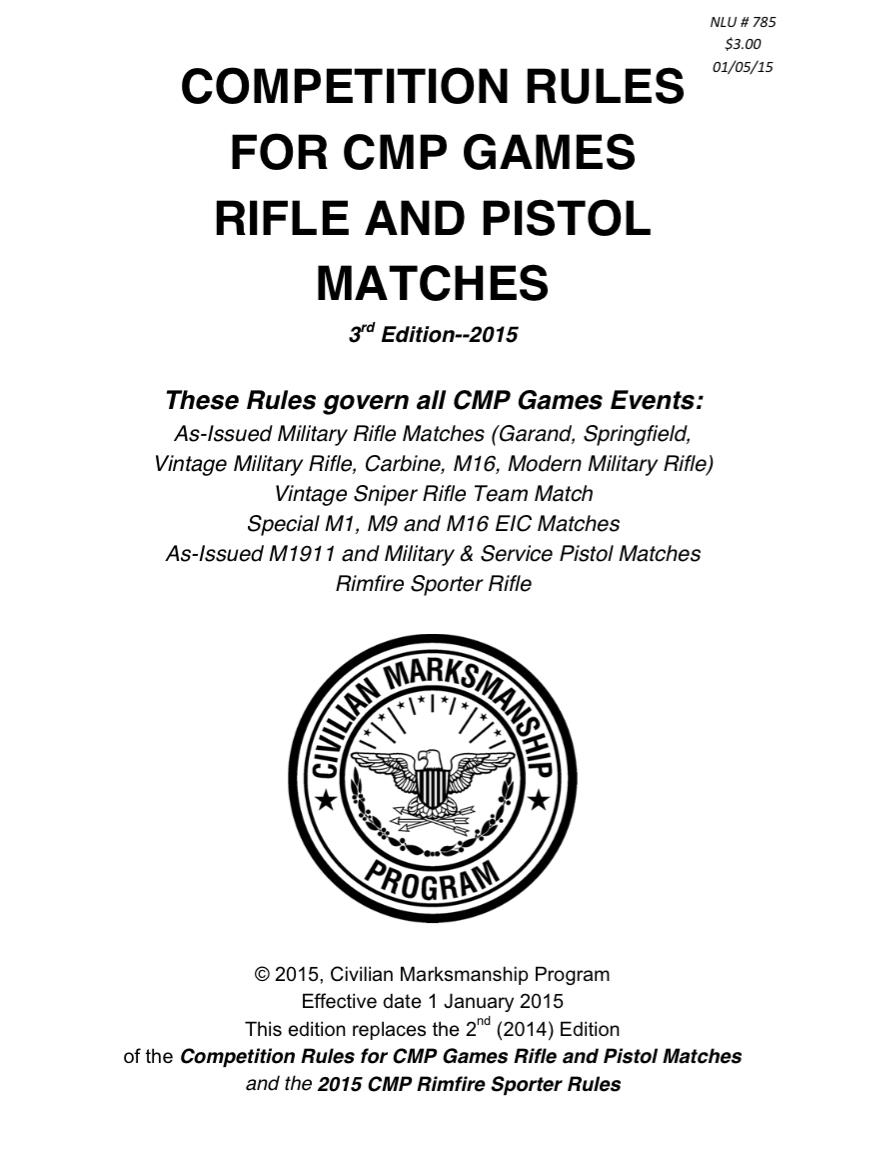 There will be a new incentive for more shooters to compete in Rifle and Pistol EIC Matches.  Rifle and pistol competitors who are not yet at a level where they can consistently place in the top 10 percent and earn EIC credits can now compete to earn CMP Achievement Pins.  This program that has been so popular with As-Issued Military and Rimfire Sporter Rifle club match sponsors has now been adapted for Rifle and Pistol EIC Matches.  CMP Achievement Pins will be awarded to all competitors who equal or exceed cut scores for the bronze, silver and gold awards.  This means 40-50 percent of EIC Match competitors will receive award recognition from the CMP rather than the former top three only.  The EIC Match Award Pin cut scores that will be in effect in 2015 are:
2015 EIC Matches Achievement Award Scores:
| | | | |
| --- | --- | --- | --- |
| Event | Gold | Silver | Bronze |
| Service Rifle EIC NMC | 474+ | 462-473 | 450-461 |
| Service Pistol EIC NMC | 256+ | 245-255 | 230-244 |
| .22 Rimfire Pistol EIC NMC | 265+ | 250-264 | 235-249 |
The second rulebook, Competition Rules for CMP Games Rifle and Pistol Matches, includes updated Achievement Award cut scores for the As-Issued Military Rifle, As-Issued Pistol and Rimfire Sporter events.  Check Annex G in that rulebook to see all of the updated scores.  Many are the same as in 2014 or have gone up or down a point or two, but there are no major changes.  Note that Achievement Medals and Pins are now available for the popular new Vintage Sniper Rifle Team Match.  In that case, the team score earns the awards that are given to both team members.
There is a change in the rules for "Competitors with Medical Conditions or Impairments" (Rule 2.6 in the CMP Games Rules and Rule 4.5 in the Service Rifle and Pistol Rules).  Competitors whose medical condition or impairment prevents them from firing in regular shooting positions must obtain a written "special authorization" from CMP Competitions.  Competitors with medical conditions or impairments are welcome and encouraged to compete in CMP Matches and are eligible to win CMP Achievement Awards in all CMP events as well as many other awards.  Competitors with special authorizations may also shoot in EIC matches, but they must shoot in regular, legal positions and start rapid-fire stages from standing to be eligible to earn EIC credit points.
If they have not already done so, shooters with medical conditions or impairments that want to compete while using adaptive devices or positions need to apply to CMP Competitions at competitions@thecmp.org for their Special Authorizations.  They must submit a description of their disability, proposed adaptive devices or positions and photographs, if possible.
Rimfire Sporter competitors and match sponsors should note that the Rimfire Sporter Rules are now contained in the Competition Rules for CMP Games Rifle and Pistol Matches.  The primary rules covering Rimfire Sporter are Rules 3.0 and 8.0 as well as Annex F that provides "Rimfire Sporter Firing Procedures" to be used as a Range Officer script.  Rimfire Sporter Rules are no longer in the CMP Guide to Rimfire Sporter Rifle Shooting, but a completely revised version of that Guide will be posted in the next few days.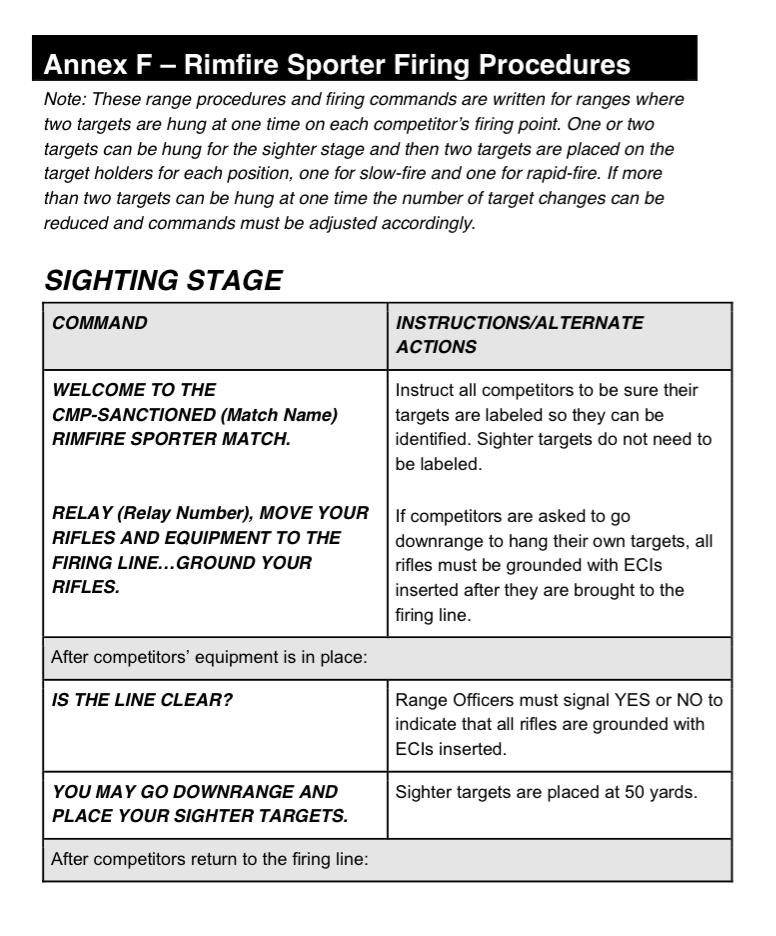 All match sponsors should note that the two rulebooks now contain "Range Officer Procedures and Commands" for all CMP events.  These scripts can also be downloaded from the CMP website so that Range Officers can have standardized range commands and instructions to follow.
Anyone with questions or comments about the new CMP Pistol Rules is invited to contact CMP Competitions at competitions@thecmp.org.