Spots Still Available at CMP's Talladega 600 – Sign Up Soon!
September 16, 2016
Civilian Marksmanship Program
▸
The First Shot
▸
Spots Still Available at CMP's Talladega 600 – Sign Up Soon!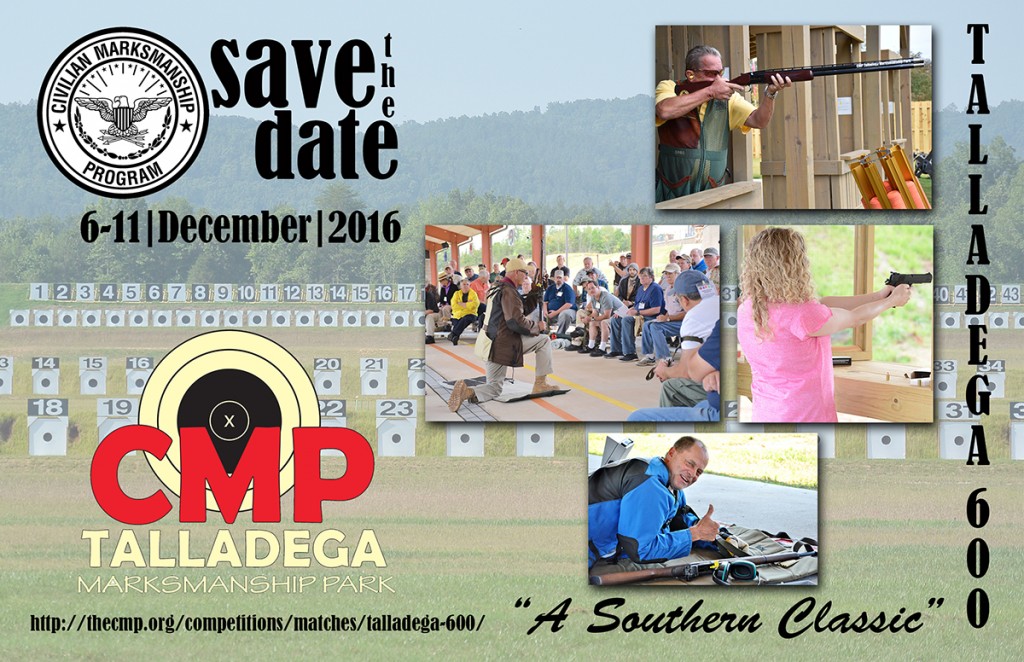 TALLADEGA, Ala. – Be a part of the new "Southern Classic" as The Civilian Marksmanship Program (CMP) hosts its second Talladega 600 – the perfect getaway for rifle, pistol and shotgun enthusiasts. The event will begin Tuesday, Dec. 6, 2016, and concludes Sunday, Dec. 11, at CMP's ground-breaking Talladega Marksmanship Park.
"We are thrilled to welcome back our competitors who competed last year and are also excited to introduce our new individuals to the most advanced marksmanship park in the nation, here at Talladega," said Mark Johnson, CMP chief operating officer. "We're looking forward to yet another week of fun on our ranges."
Events at the Talladega 600 include popular CMP Games Matches and versions of prestigious National Trophy Matches. Hands-on training courses will also make an appearance, as pistol and shotgun matches are set to fire on the manicured ranges and fields around the park. Individuals of all ages and skill levels are encouraged to attend!
 About Talladega Marksmanship Park:
The CMP Talladega Marksmanship Park is one of the most innovative outdoor facilities in the country. Boasting the latest technological advances in the realm of marksmanship, including electronic targets and scoring monitors, the 500-acre grounds is a must-see destination for firearm supporters across the country. The park is open to the public, year round.