Gulfport Outdoes Jinx to Earn Gold at 2016 CMP National Air Rifle Championship
July 7, 2016
Civilian Marksmanship Program
▸
The First Shot
▸
Gulfport Outdoes Jinx to Earn Gold at 2016 CMP National Air Rifle Championship
By Ashley Brugnone, CMP Writer
CAMP PERRY, Ohio – "At national competition, we always end up in second or third. And this year, we pulled it off – somehow," said Gulfport MCJROTC coach LtCol John Owens, with a smile.
Though full of talent, Owens admits that his team from Mississippi has been plagued with a "Always a bridesmaid, never a bride" sort of jinx over the past few years when it comes to clinching a National Title. With a taste of victory at the Junior Olympic competition in 2014 as the overall winning team, Gulfport has yet to climb back to the top – finishing in second place the last two years at JROTC Nationals and left with a third and fourth place finish at the last two CMP Air Rifle Nationals, respectively.
But this year, Gulfport stayed focused and overcame their affliction to bring home gold at the 2016 CMP National 3P Air Rifle Championship after topping second place finisher National Ford High MCJROTC of South Carolina in an extremely tight match. Gulfport squeaked out their win with a score of 2208-83x – just less than 10 x's above Nation Ford, which ended with 2208-75x.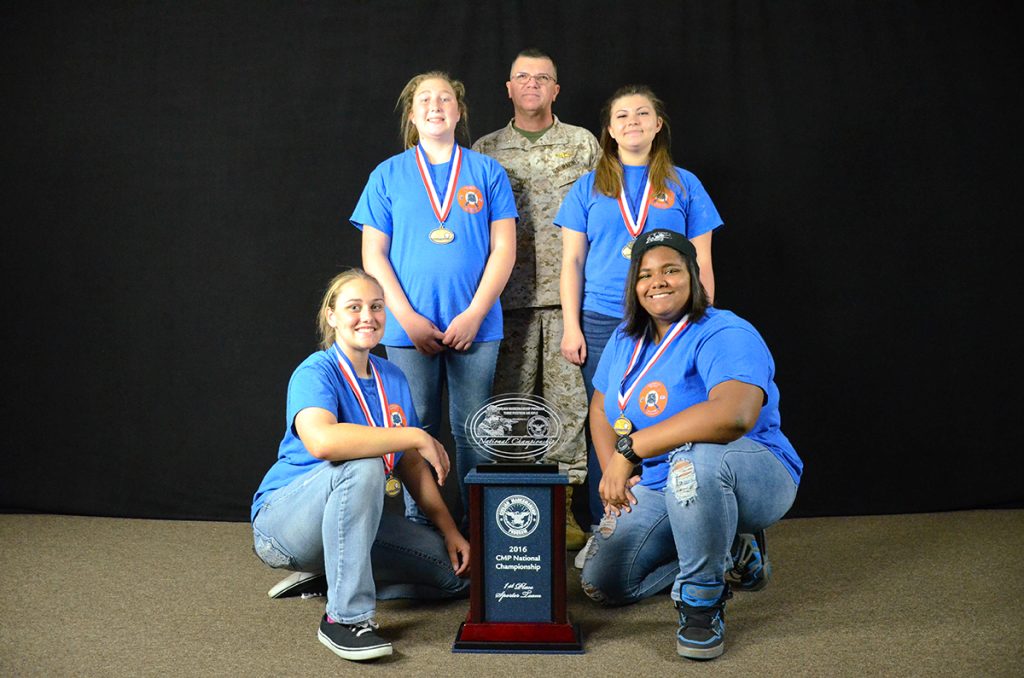 After losing one of the team's best shooters, Brittany Robins, to the Air Force before the National competition at Camp Perry, the team was unsure about how they'd fare against some of the best young marksmen in the country. With confidence, the all-female team of Rebecca Cook, Gabrielle Phelps, Katy Nevins and Jillian Tyler came together to post outstanding scores to finally bring the National Championship Trophy home to Gulfport.
"We've been waiting for this moment – it's been a culmination," said Owens. "We tried to make it to the top, and we finally did it. We're happy."
Jillian Tyler has been a member of the Gulfport team for the last four years. A graduated senior, the 2016 CMP National Championship served as the last match she would ever fire with her Gulfport teammates – and, for her, it was the perfect ending.
"It's really exciting," she said. "I was really happy that we were finally able to pull it through because we've been trying every year, we come so close, but not quite close enough – so this year, I was really happy that we were able to do it."
With plans of shooting for Ole Miss in the fall, Tyler has an exhilarating future ahead of her. Moving forward with a CMP National Title attached to her list of growing accomplishments, she will always be able to look to her past and remember how she helped carry her team to a gratifying victory.
"I'll always have memories of this – this great time on my high school team," she added.
Zion Benton Team Gold of Illinois finished one "10" shot away from beating Gulfport and Nation Ford in the sporter competition – landing in third place for the second consecutive year, with a score of 2200-62x.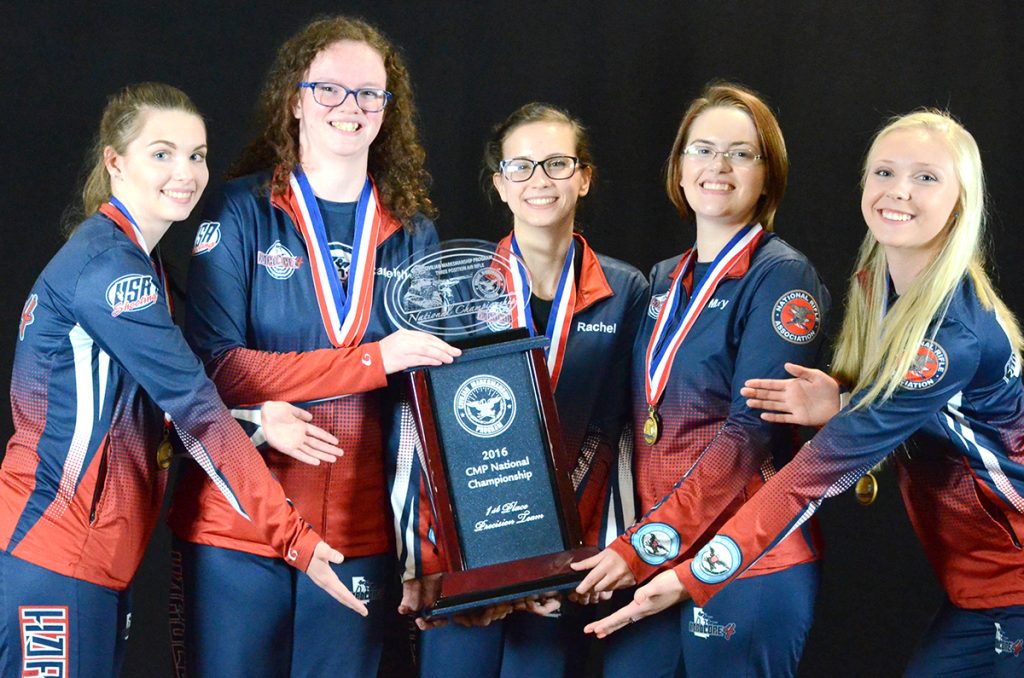 The CMP National Air Rifle Championship for sporter and precision was held June 28 and July 1 at the Gary Anderson CMP Competition Center, located on the grounds of Camp Perry. The event was conducted along with the National Junior Olympic 3PAR Championships (held June 27 and 30) and brought together the talents of some of today's most remarkable junior athletes.
Leading the sporter class individual competition in first place overall was Emma Thompson, 16, of Freeport High School, IL, with a score of 655.2. Graduated senior and last year's Junior Olympic Champion, Brian Hampton, 18, of Charlotte Jr. Rifle, followed closely in second with a score of 652.7. This year's Junior Olympic Champion, Levi Carlson, 17, of Nation Ford High School MCJROTC, SC, landed in third with 648.6.
In precision, Sarah Osborn, 17, of Patriot Shooting Club, VA, led overall with her outstanding score of 695.2. Samantha Peterson, 18, of Minnesota Centershots impressively fought her way up to second place, finishing with a score of 694.6, as Taylor Gibson, 15, of North Salem High School Sniping Vikings, OR, recorded a score of 693.5 for third. All three ladies were also the Top 3 Individuals in the Junior Olympic match – ending first, third and second, respectively.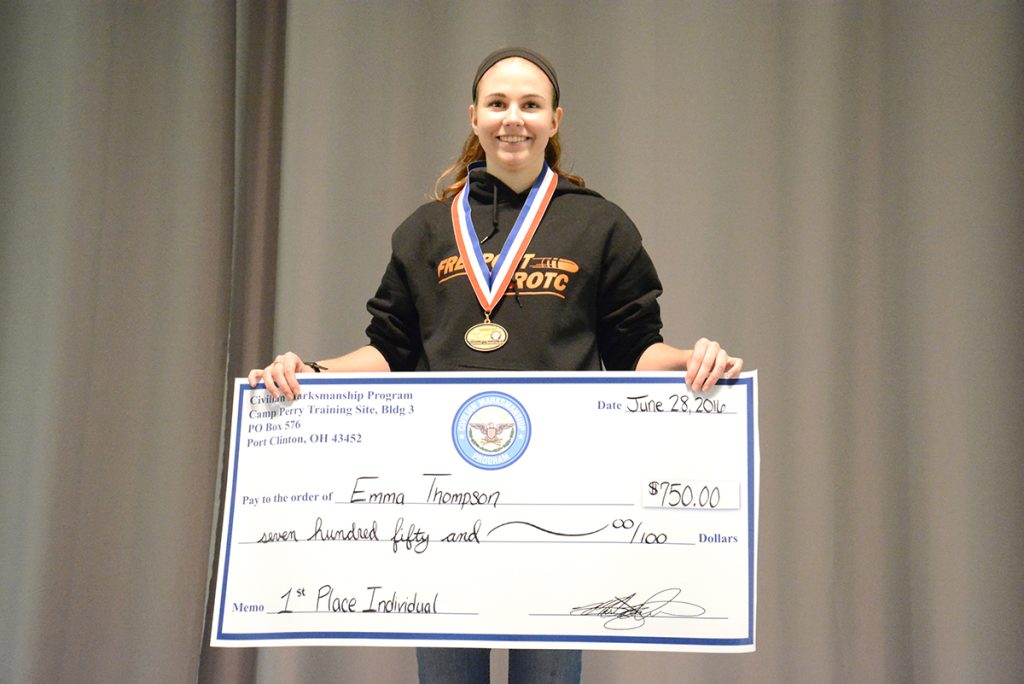 Hardcore 4 of Georgia won the overall precision team match for the second consecutive year, with a score of 2353-170x. Team members are Carleigh Peters, Mary Pratt, Dana Bowen and Rachel Kimbell. The team is coached by Al Bowen.
Minnesota Centershots earned the second place position with a score of 2347-158x, followed by the Buffalo Sharp Shooters of North Dakota in third, with a score of 2345-147x.
In addition to awards given each day to winners of the Junior Olympics and CMP 3P Championship, an aggregate of each athlete's best final of the two days was used to determine the high male and female shooters. Winners of the aggregate were presented with a USA Shooting team jacket and a spot on the junior team.
This year, Antonio Gross, 16, of Webster Junior Marksmen, NY earned his jacket for the first time as the high male, while Sarah Osborn, already a USA Shooting jacket recipient, reinstated her place on the team as the high female.
Additionally, three $1,000 Scholarships were awarded to the top three graduating seniors of each discipline. This year's sporter recipients were Jillian Tyler of Gulfport MCJROTC, Lexis Smith of Des Moines North MCJROTC and Brian Hampton of Charlotte Jr. Rifle. Samantha Peterson of the Minnesota Centershots earned a scholarship on the precision side, along with Carleigh Peters and Mary Pratt, both of Hardcore 4.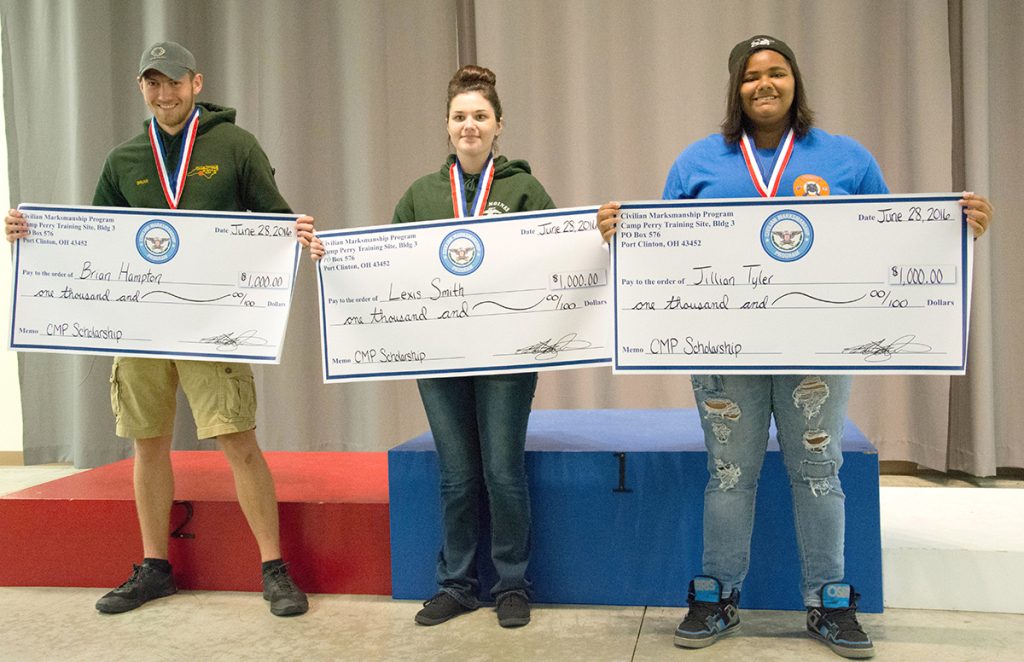 Further displaying the level of talent at the National Championship, a total of 21 marksmen earned Junior Distinguished Badges during the week: 12 in sporter and 9 in precision.
As in years past, Larry and Brenda Potterfield, co-founders of the MidwayUSA Corporation, provided generous fund donations to winning teams of the National Championship and its preceding matches. First place teams at the National competition received $6,500, with second and third earning $4,000 and $5,000, individually.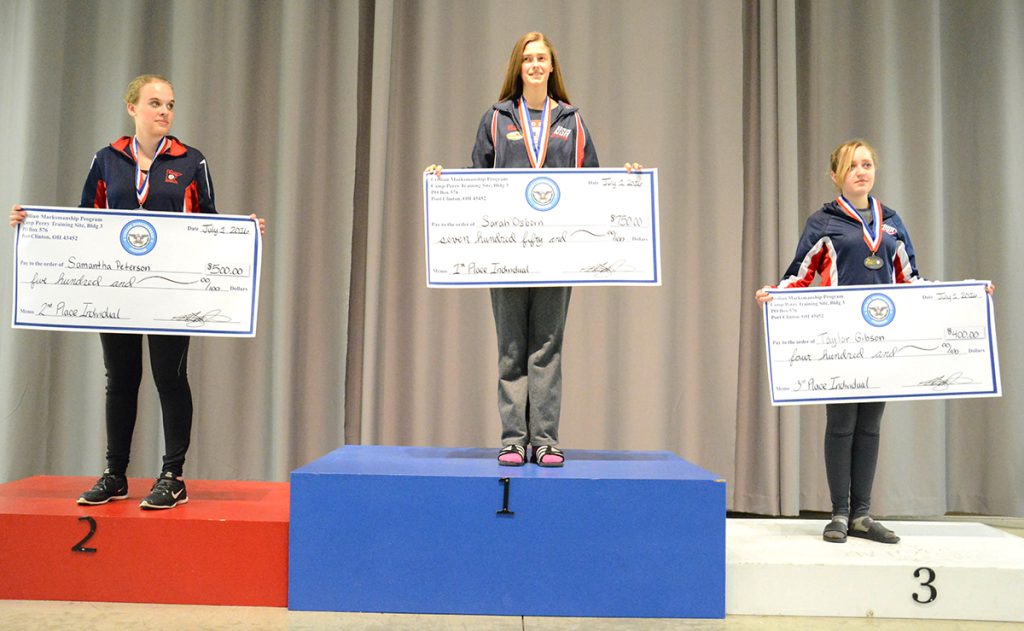 The funds will be placed in each team's endowment account with the MidwayUSA Foundation. The MidwayUSA Foundation is a 501c(3) public charity that helps communities and organizations raise funds to support youth shooting teams and activities. The Foundation is an endowment that helps fund team expenses today and into the future.
The CMP also provided monetary awards, including to individuals in the Top 8 places of each discipline: $750 for first, $500 for second, $400 for third and $200 each for fifth through eighth place. Winning teams at Nationals received $4,000 for first, $2,500 for second and $1,500 for third.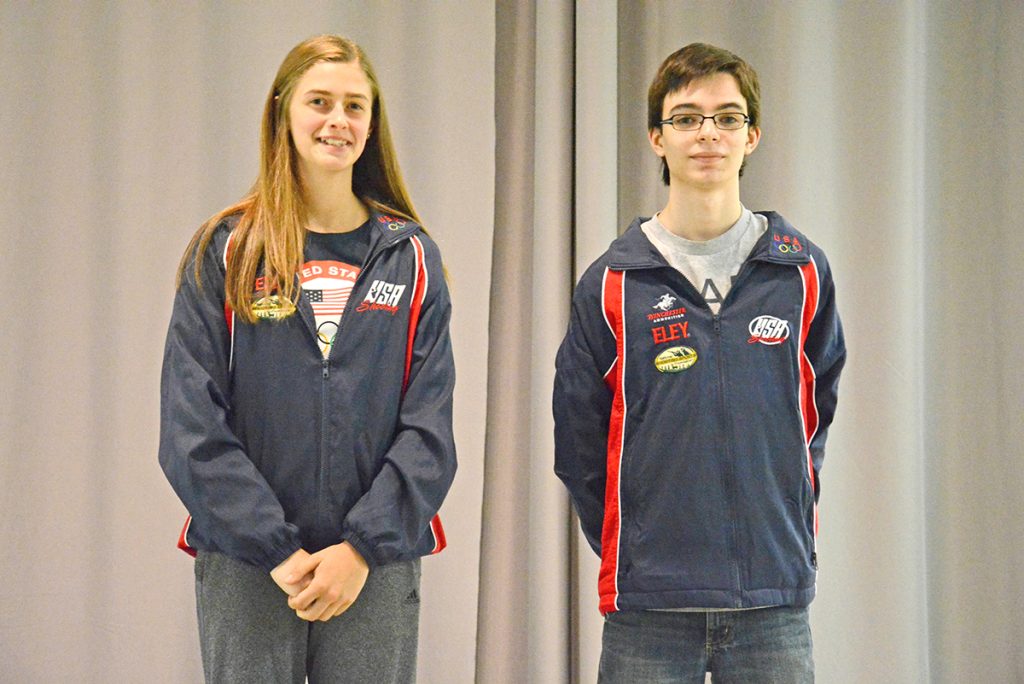 The National Championship is a 3×20 air rifle match, meaning competitors fire 20 record shots from three positions: prone, standing and kneeling. Junior JROTC, 4-H and club team precision and sporter marksmen involved in the competition began their journey with the CMP Postal Competition in November, where CMP-issued targets were mailed into Headquarters in Ohio for official scoring. Top shooters in the Postal Competition were invited to compete in the Regional Championships in March and April, with the overall high individuals and teams from that match qualifying for the National Championship.
Congratulations to all winning teams and individuals! We hope to see you next year!
National Junior Olympic Championship Winners:
Sporter:
Gold: Levi Carlson, 17, of Nation Ford High School MCJROTC, SC – 652.1
Silver: Alyssa Hornung, 17, of Freeport High School NJROTC, IL – 650.1
Bronze: Rebecca Cook, 16, of Gulfport MCJROTC, MS – 648.5
Sporter Team:
Gold: Freeport High School NJROTC, IL – 2213-73x
Team Members: Lindsay Strohacker (captain), Alyssa Hornung, Emma Thompson, Elizabeth Woitynek; Coached by SgtMaj Michael Dechy
Silver: Nation Ford High School MCJROTC, SC – 2192-64x
Team Members: Levi Carlson, Marcus Stallings, Morgan Tench, Patrick Daniels; Coached by Col Sean Mulcahy
Bronze: Lebanon High School JROTC, OR – 2187-65x
Team Members: Lara Lewis (captain), Emily Knight, Jasmine White, Alexander Eikelenboom; Coached by LTC Mark Smith
Precision:
Gold: Sarah Osborn, 17, of Patriot Shooting Club, VA – 696.6
Silver: Taylor Gibson, 15, of North Salem High School Sniping Vikings, OR – 693.8
Bronze: Samantha Peterson, 18, of Minnesota Centershots – 693.5
Precision Team:
Gold: Minnesota Centershots – 2356-165x
Team Members: Samantha Peterson, Abigail Buesseler, Elizabeth Ewert, Kamilla Kisch; Coached by William Buesseler
Silver: Arlington Optimist Acorns, VA – 2349-169x
Team Members: Elena Kim (captain), Amity Ermarth, Grayson Wheeler, Rebecca Lamb; Coached by Douglas Lamb
Bronze: Black Swamp Jr. Rifle, OH – 2348-153x
Team Members: Joseph Hoover, Sean Roehrs, Justin Kleinhans, Sarah Sutton; Coached by Fred Sutton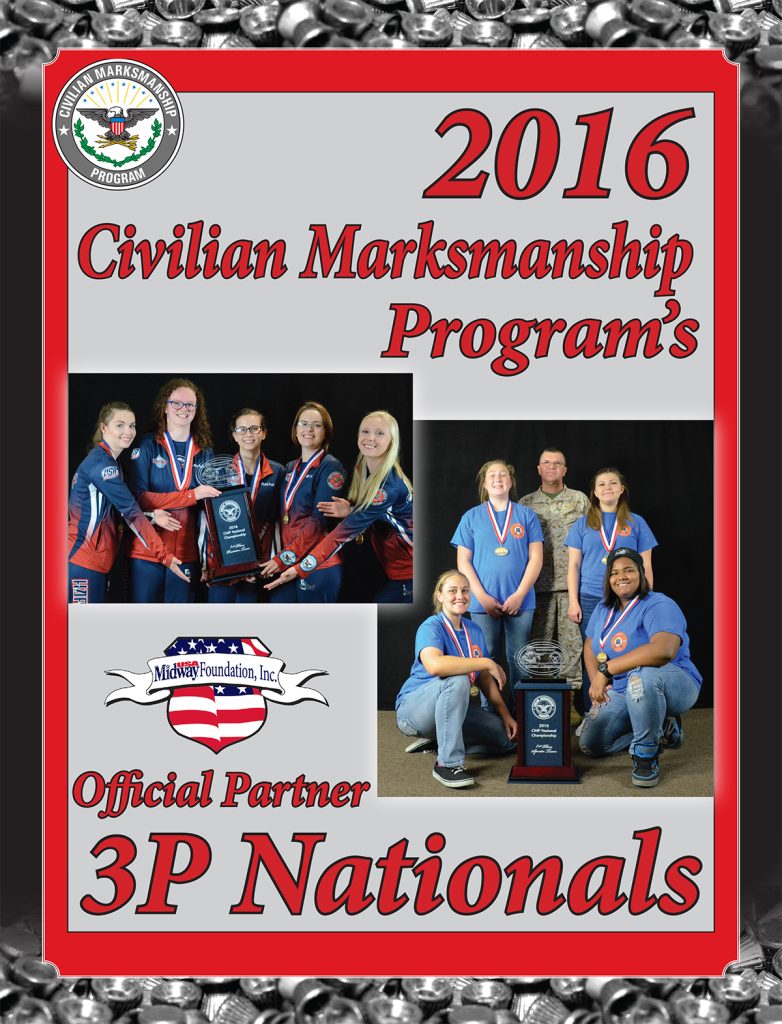 For a complete list of results of the National Junior Olympic Championship as well as the CMP National Championship, visit http://ct.thecmp.org/app/v1/index.php?do=match&task=edit&match=14292.
Photos can be viewed online and downloaded for free on CMP's Zenfolio page: http://cmp1.zenfolio.com/.