Competitors Display Marksmanship Excellence During NTI, NTT and Junior Team Matches
August 2, 2014
Civilian Marksmanship Program
▸
The First Shot
▸
Competitors Display Marksmanship Excellence During NTI, NTT and Junior Team Matches
By Ashley Brugnone, CMP Writer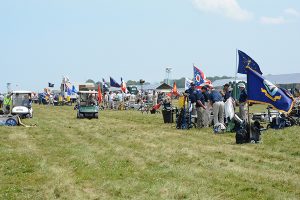 CAMP PERRY, OH – Each year, the National Trophy Individual (NTI), National Trophy Team (NTT) and National Trophy Junior Team matches become three of the most telling events during the competition season: sifting out which teams and individuals have earned the right to be named the best of the year.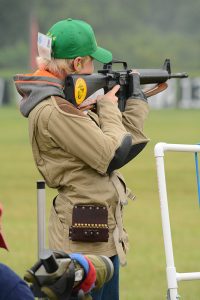 The NTI first began in 1904 and quickly became one of the most sought-after events of the National Trophy Matches. The overall marksman of the match receives his or her name etched into the famous Daniel Boone Trophy, on permanent display at Camp Perry. During this year's National Matches, 928 competitors fought on July 23 for their chance to be named champion.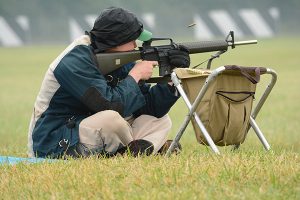 Winning the NTI was Navy CDR Matt Bartel, 42, of Severna Park, MD, who fired a 494-22x. Following closely in second place was Army SGT Kevin Trickett, 26, of Phenix City, AL, with a score of 494-19x, while civilian Eric Sundholm, 32, of Hillsboro, AL, fired 494-17x for third. CDR Bartel also received a MT6700 rifle donated by Colt Manufacturing.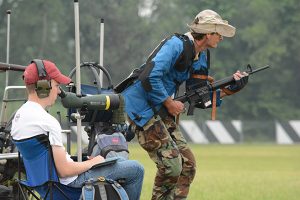 Sundholm, as High Civilian, also earned the coveted Nathan Hale Trophy. Forrest Greenwood, 18, of Ceres, CA, fired a 483-15x to receive the Golden Eagle Trophy, awarded to the High Junior of the match.
The NTT was first fired at the inaugural National Matches in 1903. Six-person teams follow a National Match Course of Fire from 200, 300 and 600 yards.
Winners of the match receive such coveted trophies as the Soldier of Marathon for Civilians, the Pershing Trophy for the High Individual and the National Trophy for the overall team. This year, over 50 teams competed in the match, fired on July 21.
Winning the NTT and claiming the National Trophy was United States Army Marksmanship Unit Team Praslick, with a score of 2957-109x. Firing members are SSG Brandon Green, SPC Joseph Hall, SGT Augustus Dunfey, SGT Amanda Elsenboss, SFC Joel Micholick and SPC David Bahten. SFC Emil Praslick serves as coach, with SFC Robert Scoup as captain.
In second place was United States Marine Corps (USMC) Reserve team with a score of 2944-107x, followed by USMC Gold, with a score of 2933-101x.
The highest-scoring civilian team of the match, earning the Soldier of Marathon Trophy, was TSRA Gold, with a score of 2907-90x. Members are Justin Utley, Kyle Hoelscher, Randall Scheibel, John Hefner, John Ilzhoefer and Keith Stephens. The team was coached by Stephens and team captain was Kenneth Gaby. Stephens was also the highest overall individual of the match, firing a 495-23x. For his impressive score, Stephens received his name engraved on the Pershing Trophy.
Winning the Minuteman Trophy, for the highest junior team, was CA – Coalinga Thumpers, with a score of 2853-71x. Members are Jacob Nelson, Morgan Owen, Lane Ichord, Forrest Greenwood, Joshua Bick and Kasey Nelson. The team was coached by Dirk Seeley and team captain was Lane Ichord. The team also received an A2 Service Rifle donated by Rock River.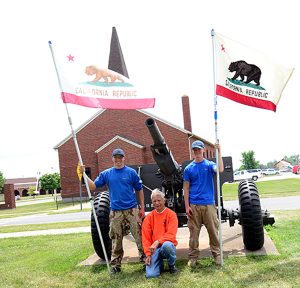 The National Trophy Junior Team Match is a two-person team match, following the same Course of Fire as the NTT. This year's match, fired on July 18, included 84 teams vying for the Freedom's Fire Trophy.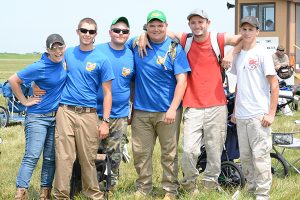 The winning overall team was CA Hodgdon, with a score of 970-28x. Team members are Morgan Owen, 18, of Sonora, CA, and Jacob Nelson, 16, of Escondido, CA. The team is coached by Jim O'Connell.
In second place was Verne Conant, 18, of Billerica, MA, and Olivia Fabrizio, 19, of Lynn, MA, a.k.a. Reading Rifle & Revolver #1, with a score of 963-30x. Conant was also the highest overall individual of the match, firing a score of 490-17x.
Daniel Hall, 18, and Josh Hanrahan, 16, of Green Bay, WI, WI Force Cheddar, recorded a score of 963-21x for third.