Gregg & Diane Rice
COLUMBIA CITY, INDIANA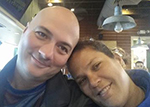 State Director Info
Background
Gregg: • Precision Rifle Coach since 2006 • Licensed by the ISSF • The X Count – President/Head Coach/Co-Founder – (March 2011 – present) • Bishop Dwenger Rifle Team – Head Coach – (September 2010 – present) • Rifle Merit Badge Counselor – Boy Scouts of America (August 2002 – present) • 4H – Rifle Instructor – (October 2005 – present) • Certifications: Chief RSO, NCDS, USA Shooting Certification, Advanced Rifle Coach, Level 1 Rifle Official • Shooters\\\' Accomplishments: 50+ Junior Olympians – Numerous State Champions is Small Bore, International Air, and 3P Precision Air - Numerous Teams and Individuals Qualifying for the US AMU Junior Air Rifle Nationals. • Collegiate Athletes – (2) University of Akron, University of North Georgia Diane: • The X Count – Vice President/Co-Founder – (March 2011 – present) • Indiana State Rifle and Pistol Association – Northeast Indiana Director • Rifle Merit Badge Counselor – Boy Scouts of America (August 2002 – present) • NRA Certifications: Chief RSO, Level 1 Coach • Instructor – Refuse to be a Victim
Personal Info
Gregg and Diane were married in 1992. They have three children, all of whom have participated in precision rifle competition. Gregg began coaching in 2006 when their oldest son began in 4-H.
Reasons
Gregg and Diane became State Directors as they had already been doing the work of expanding youth programs and emphasizing safety. It was a natural outgrowth of their work.
Goals/Hopes
We would like to see competition programs in schools to expand 50% by 2025. Our focus is the schools because it allows for youth to compete and receive recognition with their classmates as that is where they want to compete. National data suggests that participation in the "big sports" is declining and cottage industry sports are replacing the big sports for young athletes. We would also like safety programs to begin in daycare centers and expand to all elementary schools. In furtherance of this goal is the pursuit of a collegiate team in Indiana. The dream for our facility is to have a 50+ lane, state-of-the-art facility with 50 meter capacity that will house resident athletes.
---
Junior Madelyn Schnelle Captures Distinguished Rifleman Badge in One Year
After only two years of rifle competition, Madelyn Schnelle, 15, of Crawfordsville, Indiana, has accomplished a feat that many spend a lifetime pursuing – claiming her own coveted Distinguished Rifleman Badge.
Madelyn was 13 years old when she started in marksmanship, beginning as scorer for her grandpa, Dave, at a few matches. She was also his "brass rat" – helping to collect the brass casings that fall to the ground after firing is complete.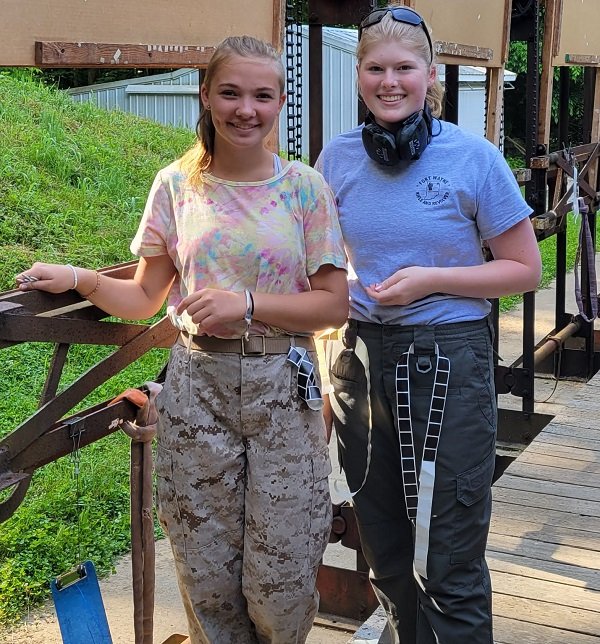 She soon realized she wanted to compete for herself, so Dave lent her his own shooting coat, to help stabilize her stance, and placed his rifle in her hands.
"When I took that first shot at 600 yards – that's when I really got hooked," Madelyn said. "It was a lot of fun. I really enjoyed it."
Since then, Madelyn has stuck with service rifle and is equipped with a Compass Lake upper, Geissele trigger, Creedmoor coat and a Nightforce scope. She stays involved with every process of competition, including loading her ammo and dissembling her rifle to clean it.
She practices at home, in the kitchen and living room using a SCATT trainer to work on her sight hold. She earns additional training outdoors with a shooting bench and shelter that Dave constructed by hand. The pair also participates in a Tuesday Night league and matches at the nearby Wildcat Valley Rifle & Pistol Club and shoots with the ISRPA (Indiana State Rifle & Pistol Association).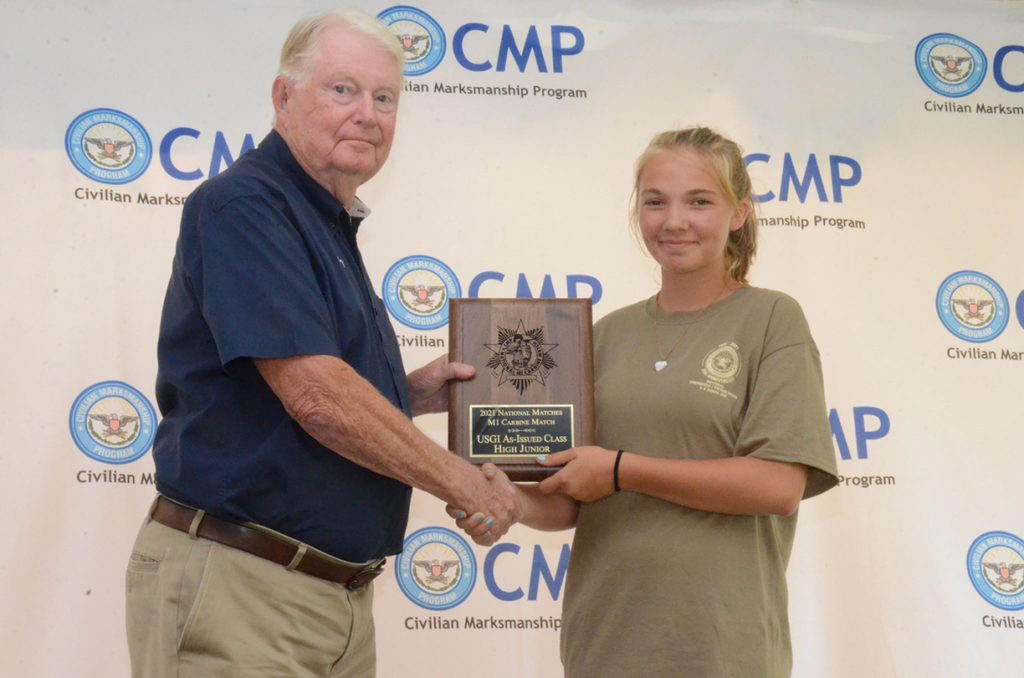 When Madelyn first began her competition career, the Distinguished Badge wasn't a goal. In fact, at the start, she didn't even know what it was.
"I just thought I was going to shoot a few shots and improve, but I didn't think I was going to improve that much to accomplish it," Madelyn admitted of the Badge.
"When I got better and grandpa told me about it, 'I said, hey, I can do that,' – and I did," she said with a smile.
Her first six points toward her needed 30 for the Distinguished Badge came on June 6 2021 at the Miami Rifle & Pistol Club in Batavia, Ohio. There, she finished as the second-highest non-Distinguished competitor. A year later, she needed only six more points to reach her goal, so she returned to the place where it all began – Miami Rifle & Pistol.
Her skills were strong at the match, feeling confident at 200 and 300 yards before taking the necessary trip to the pits to pull targets, as is part of rifle competition. Once she returned to the firing line to finish with her 600 yard string, the butterflies set in.
"That's when it all came rolling over me," she admitted. "I started shaking real bad, got kind of nauseous."
Despite her anxieties, she completed the match to the best of her abilities. When they called her name and announced she had achieved her last points, she was overcome.
"I started crying – tearing up," she said, thinking back to the moment. "It was very overwhelming and emotional."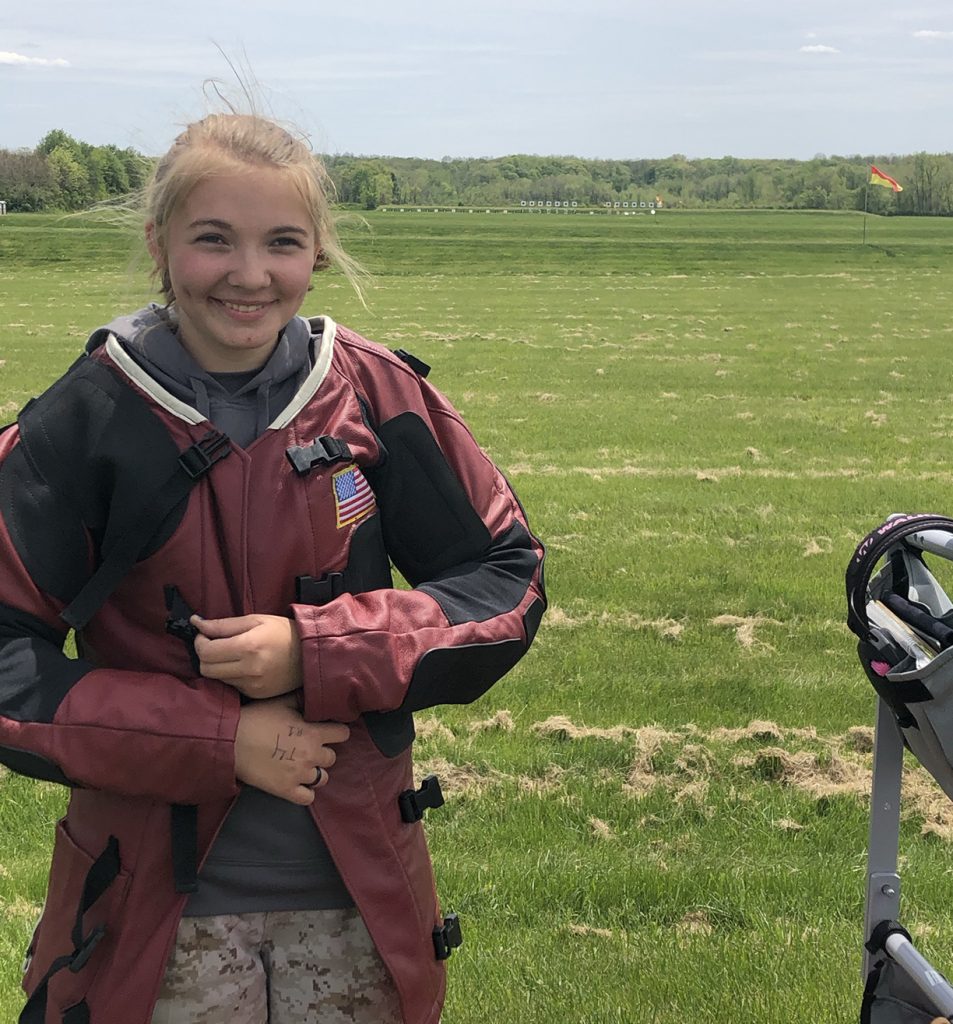 There to see her reach her big moment was her grandpa – one of many who have supported her along her marksmanship journey.
"I wouldn't be a shooter without a rifle, and I wouldn't have had a rifle without Grandpa," she said. "He encouraged me, he helped me accomplish so much. He's helped me through the times I couldn't figure something out and helped me get through all of it. All of the years that I've shot, he helped me with all of it. And I really, greatly appreciate that."
Dave has been alongside Madelyn for many of her career highlights, including when the two traveled to her first National Matches in 2021. The month-long event has been held annually at the Camp Perry National Guard Training Facility in Ohio since 1903 and features thousands of visitors each year for both rifle and pistol competitions as well as educational courses.
"It was exhausting considering I had to wake up at five o'clock (in the morning) for 12 days, with mayflies swarming, but I did learn a few things from it," Madelyn said.
She learned how to keep calm on the range, even against some of the best shots in the country, while other lessons were discovered the hard way…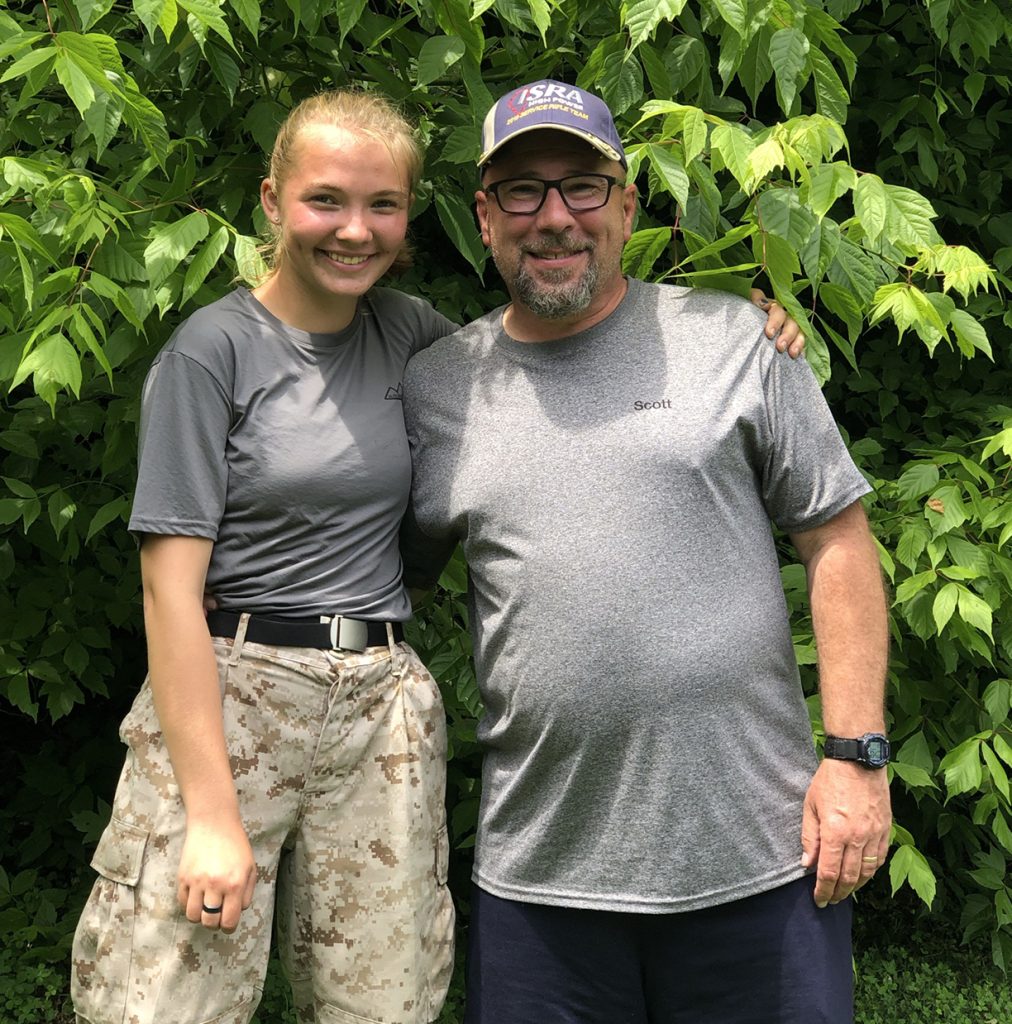 After finishing the esteemed President's Rifle Match, one of the most popular events of the National Matches, Madelyn came off the 600-yard line feeling ecstatic – thinking she had just accomplished something truly remarkable in her rifle career. She arrived back at the range the next day to shoot the National Trophy Individual Match (NTI), another significant competition, full of positivity and confidence from the day before.
She boldly took her first shot when she realized her scope was a whopping 13 minutes off her usual settings. Though her shot was perfectly aligned, it landed well above the center of the target. She quickly adjusted and embedded the lesson into her memory.
"Now I never forget it," Madelyn said. "It's better to learn from your mistakes than to having to have someone keep telling you. It sticks in your head better."
Though a few hiccups, she finished the NTI as the 32nd highest junior out of nearly 130. Her first appearance in the President's Rifle Match saw Madelyn placing 55th out of 838 competitors, earning a place in the prestigious President's Hundred as one of the 100 highest adult and youth marksmen of the event. She was also the sixth highest junior athlete in the match.
She'll return to the National Matches in 2022 with a goal of reaching the President's Hundred again and maybe even participating in the Top 20 Shootoff – a sought-after honor of the match.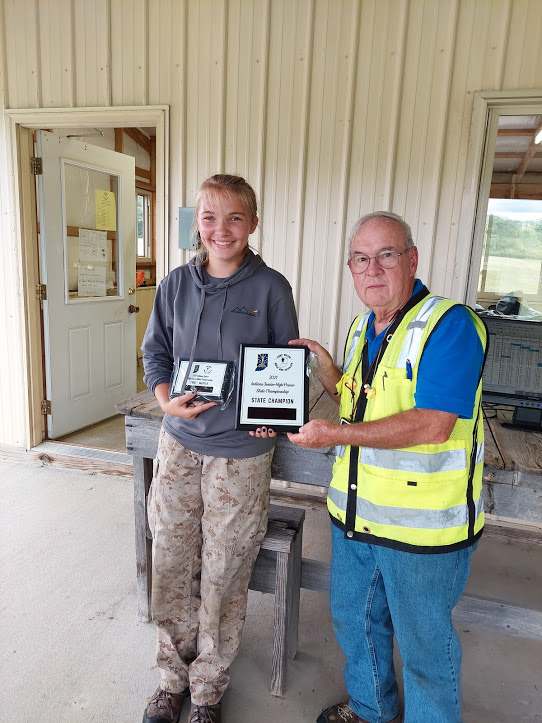 "I'm going to keep with it," she said of the sport. "Try harder to see if I can accomplish any more and try to help some of my friends."
It's more than scores and awards for Madelyn when it comes to marksmanship – it's also about bettering herself, with the immeasurable support of those around her.
"The thrill of being able to accomplish more than the average person," she said. "And the people, because they've helped me accomplish much more than I would've done by myself."
For other junior athletes who have their own marksmanship goals, Madelyn has some advice.
"Work. Work hard. If you don't work and you don't practice, you won't achieve," she said. "Even though you can't figure something out – if you have a problem with a position or it's not working, don't get frustrated. Get patient and figure that problem out. Zone in on it. Just practice, and practice and practice."
"Don't practice until you get it right, practice until you can't get it wrong," she added. "And then you'll achieve much greater than you will ever achieve. And that's with anything."
Distinguished Badges are the highest individual awards authorized by the U.S. Government for excellence in marksmanship competition. Badges are presented by the Civilian Marksmanship Program (CMP) after an individual receives at least 30 Excellence-In-Competition (EIC) points at qualifying matches.
Currently, the CMP offers Distinguished Badge programs for Service Rifle, Service Pistol, .22 Rimfire Pistol, International competition, Smallbore Rifle, 60 Shot Air Rifle, 60 Shot Air Pistol, Revolver Pistol, Junior Air Rifle and for impaired adaptive athletes. Learn more about the Distinguished Badge program by visiting the CMP website at https://thecmp.org/competitions/distinguishedbadges/.
Beaver Claims Overall Win, First EIC Points in 2021 Camp Perry M16 Match
Junior Andrew Beaver, 19, of Indianapolis, Indiana, earned his first service rifle Excellence-In-Competition points during the Civilian Marksmanship Program's (CMP) 2021 National Rifle Matches M16 competition, held as part of the annual Small Arms Firing School in August.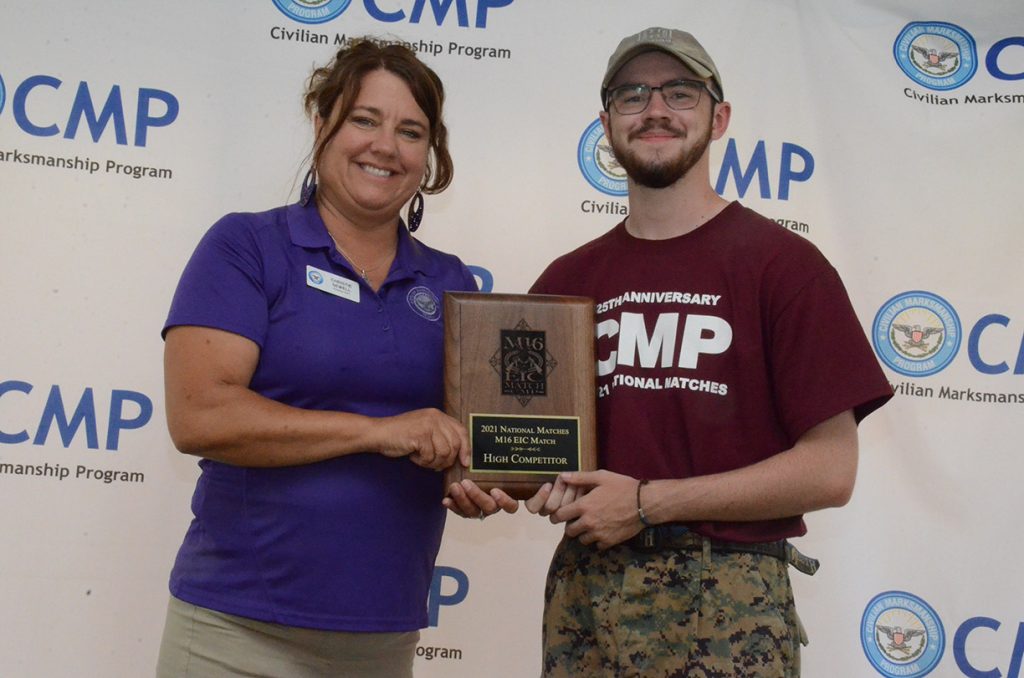 Attaining his first four Excellence-In-Competition, or EIC, points in the match means he is on his way to claiming a Distinguished Rifleman Badge – the highest honor given by the CMP to a rifle athlete. An individual receives a badge after competing in CMP EIC events and earning at least 30 points overall.
Marksmanship competition is a family affair for Andrew – competing with multiple relatives back in Indiana and at Camp Perry. He watched his brother, Matthew, become Distinguished as a junior and has been eager to follow in Matthew's footsteps to nab a Badge of his own ever since.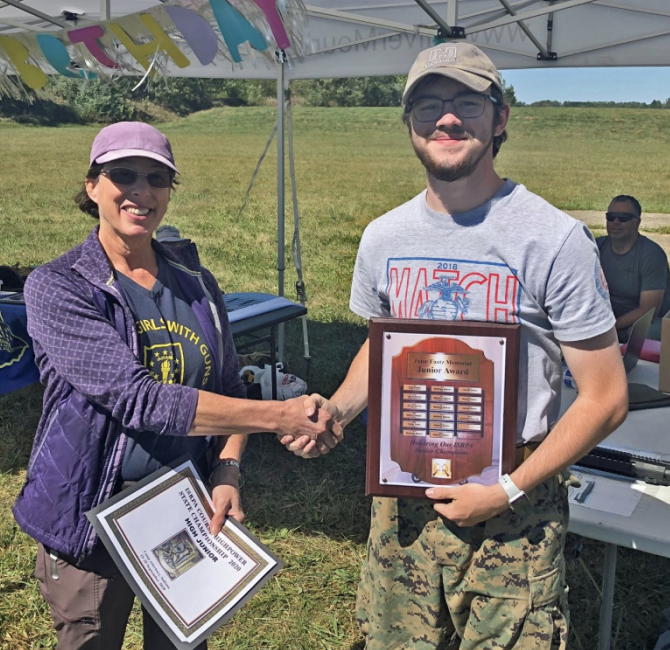 "It's always been something I've looked forward to," Andrew said of earning a Distinguished Badge. "I've always thought it was something cool to reach for."
He admitted that his initial goal for the M16 event was to break the current record score of 394-12X, fired a decade ago in 2011. He felt good going into the competition day, but being on the third relay meant he was first to be sent to the pits. The free time pulling targets downrange left him to think about the match ahead and caused his nerves to build.
"Once we got up, I kind of got into the zone and calmed myself down – a lot of breathing," he went on. "Through it all, I really tried to not get too nervous and just really try to do my best."
In the end, he was less than 10 points short of the record score yet managed to become the overall winner above the field of more than 300 Distinguished and Non-Distinguished competitors in the M16 Match, with a score of 387-12X. He continued to compete in the weeks that followed, entering many other National Rifle Matches and CMP Games events. There, he earned the High Junior honor in the Modern Military Match after obtaining a combined score of 279-3X.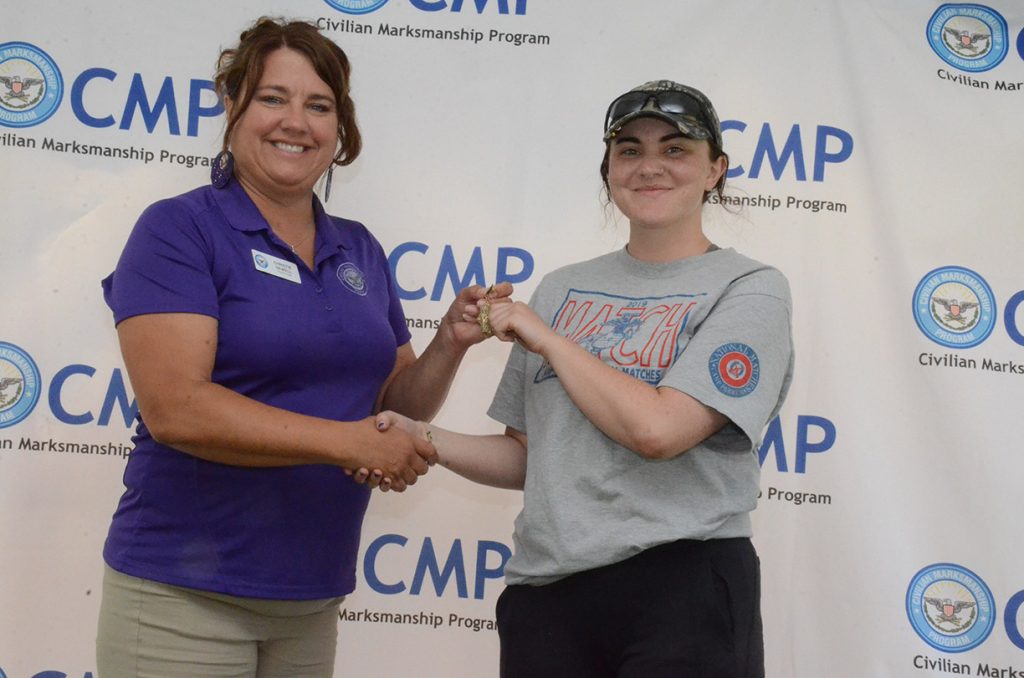 "I try not to think about what my final score will be," Andrew confessed. "I make sure I'm eating, make sure I'm drinking water, making sure I'm not thinking about the match too much. I try to think about other things going on."
Andrew first started shooting when he became involved with smallbore rifle around age 10 and has been shooting ever since. This year was his seventh competing at Camp Perry, where he signed up for pretty much everything throughout the National Trophy events and the CMP Games series.
He's attended a few Small Arms Firing Schools over his lifetime, led by current members of military teams like the Army Marksmanship Unit (AMU). He revels in their guidance and has even thought of becoming a member after watching them on the range and respecting the excellence they have come to cast in prestigious National Matches like the National Trophy Individual (NTI) and President's Rifle competitions.
"Seeing a lot of the AMU be top performers in a lot of the matches definitely sets a goal of what I would like to do," he said.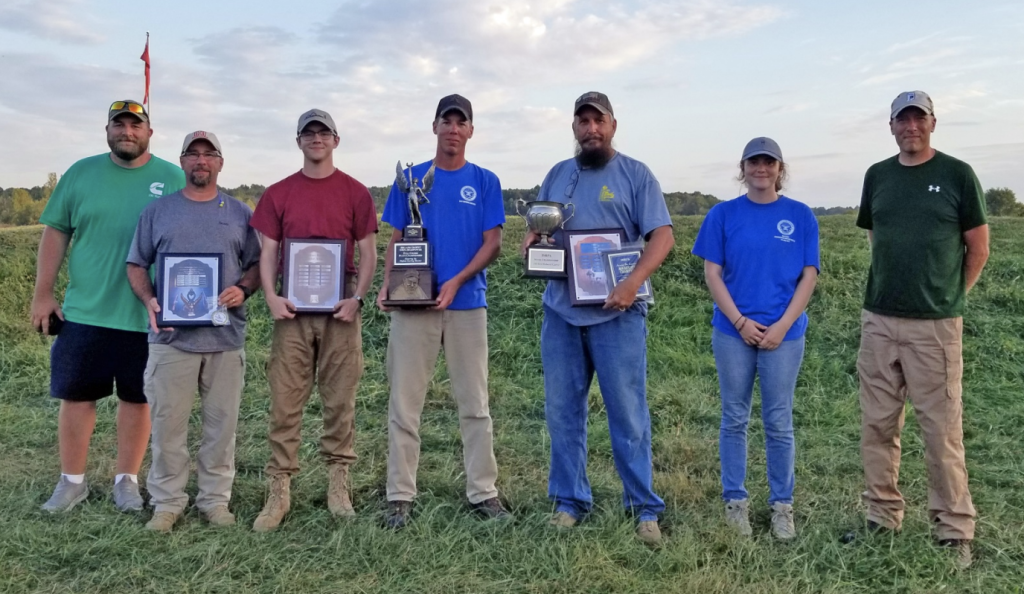 A member of the Indiana State Rifle and Pistol Association, Andrew claimed the Indiana Junior State Champion title for highpower in 2020. Someday, he'd like to reach the President's 100 as one of the top 100 competitors in the President's Rifle Match and eventually compete in the accompanying shootoff – an esteemed feat.
And, he's certainly working hard to earn more points in the hunt for that coveted Distinguished Badge.
"I've been shooting a lot and moving my way up," Andrew said. "I come out to have fun. Shooting good scores really makes me feel good about myself – kind of boosts some self-confidence. And being happy is one of my main goals."
His sister, Meghann Beaver, 22, is also an accomplished competitor – achieving the third-highest female score in the 2021 M16 Match, 24th overall and her own service rifle EIC points. She also earned the High Woman title in the Vintage Military Match during the Games events. No stranger to success, she has claimed several High Junior and High Woman designations throughout her career at local and national levels.
"It's just fun in general because it's not the AR-15s all the time," Meghann said of competing in vintage rifle matches. "It feels like a part of history."
She admits that she doesn't practice the vintage rifles any more than others and chalks up her achievements to, simply, "a stroke of luck."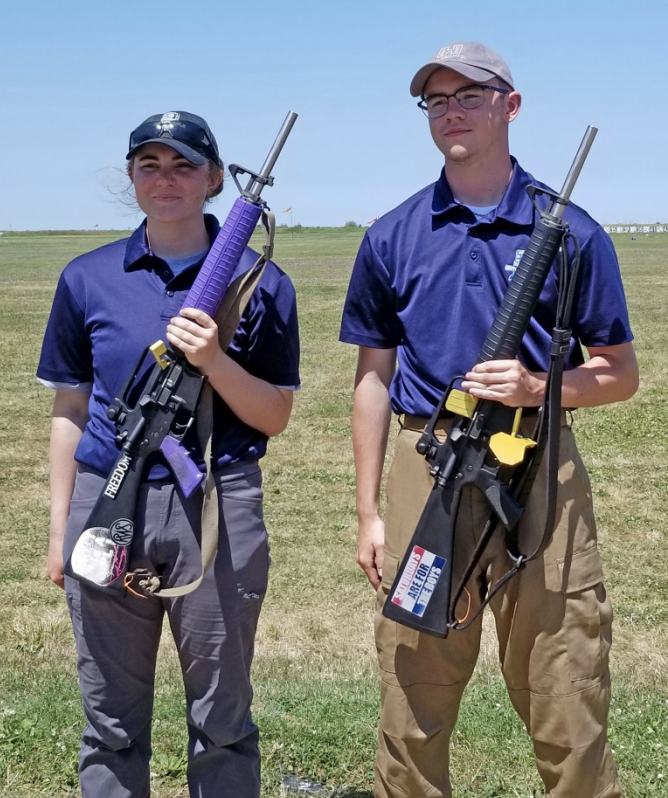 In the end, one of the most enjoyable parts of competing in marksmanship matches for the Beaver siblings isn't just the chance to improve on the firing line – it is, of course, about outshooting the other.
"I think a lot of what I enjoy is the competition with my sister," Andrew said with a smile.
Meghann shares the sentiment, saying, "I always tell everyone if I think I'm doing poorly, 'Well, as long as I can beat my brother, that's all that matters."
CMP Club News: Indiana State Junior High Power Championship
Submitted article
The Indiana State Junior High Power Championship at the Fort Wayne Rifle & Revolver (FWRR) Range was held Saturday, July 10, 2021.
The Fort Wayne Rifle and Revolver Club had worked on the event since spring 2021. Anticipation for the match was like waiting for Christmas when you were a kid – wanting it to hurry up and get here, yet feeling a nagging doubt that you might not get what you wanted. Or, in this case, things just might not turn out as well as you had hoped.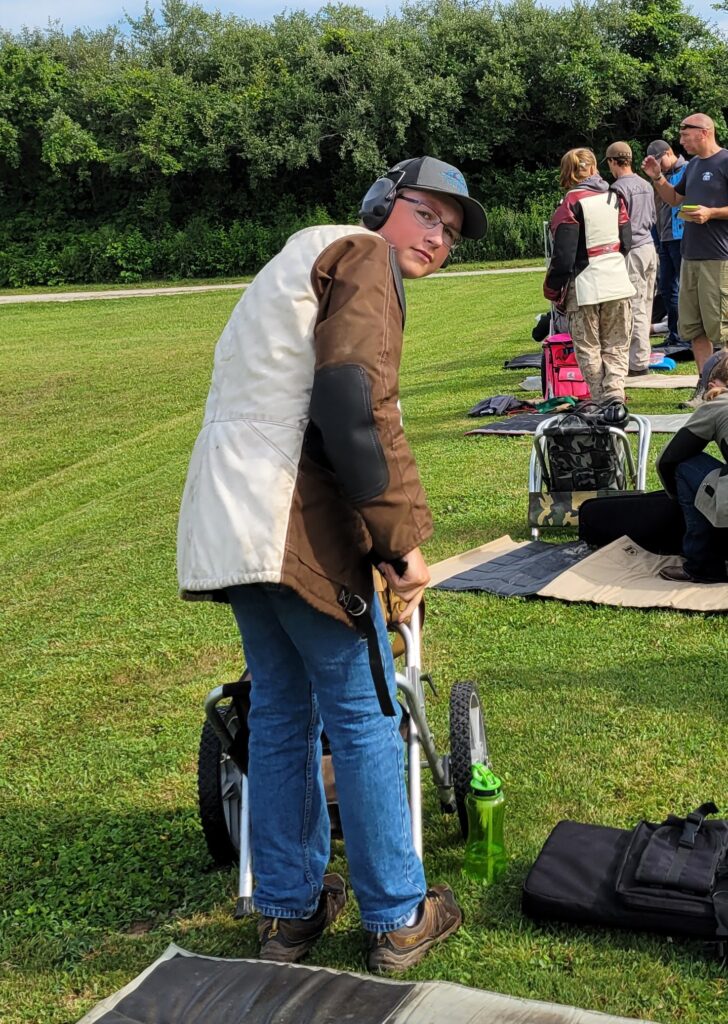 But, not to worry! This was a day to remember.
Relays for the match filled up early, with more and more juniors registering. The last juniors joined the match Friday evening at about 6 p.m. when their dad found a way to get a day off work so he could bring them. Since they were driving up from French Lick, way down in southern Indiana, it wasn't a quick trip, either.
Eleven juniors in total from as far as Lafayette, Maumee (Ohio), McCordsville and, of course, the Fort Wayne Juniors participated in the event. Interestingly enough, none of them are old enough to drive yet (most are 14 or 15), with one of the FWRR Juniors recently turning thirteen. The group is a great building base for a statewide Junior High Power program.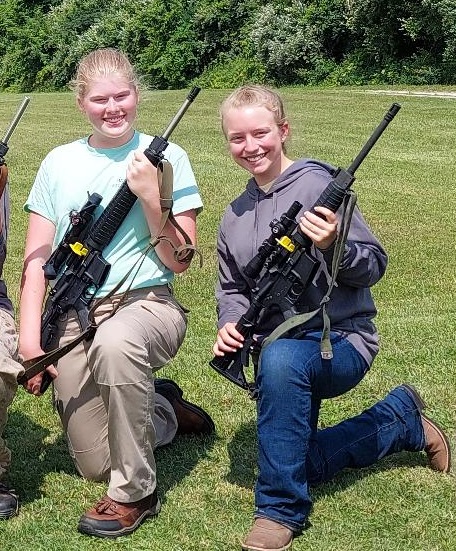 The day of competition was perfect for shooting. As the week went on, the weather prospects improved steadily, and by Saturday morning, conditions were perfect. A First Shot Ceremony was held where Sue Mogle, the Indiana State Rifle and Pistol Association vice president for high power, fired the first shot. It gave guests a hint of what the day could bring when her offhand shot from 200 yards showed up as an X on Target 6!
The Championship featured a National Match Course in three relays. Since 10 of the 11 competitors were Marksmen (some shooting their first match), coaching was allowed. One young lady, who is shooting at a CMP Master Classification level, had to rely on herself.
The match went very well – the most important thing was that the juniors had fun. All were supported by a large group of parents, grandparents, brothers and sisters as well as several shooters who just stopped by to see how the match was going.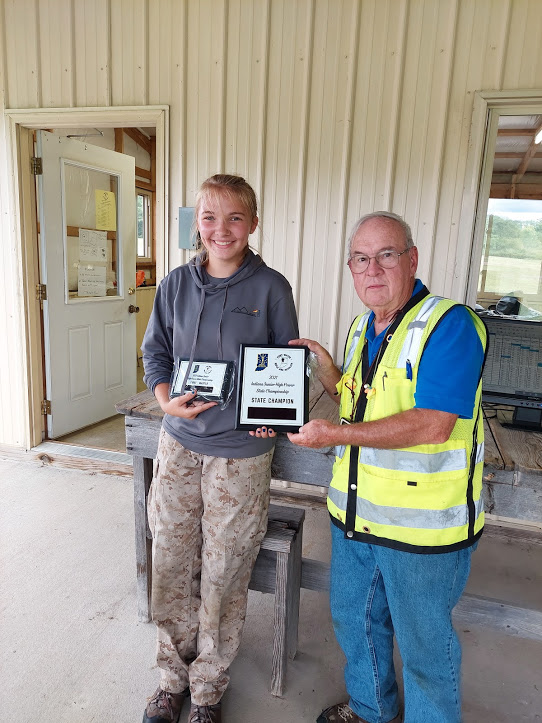 There were 17 "Old Folks" shooting as well. They had fun too, but the day was about the juniors.
Madelyn Schnelle outshot "Old Folk" Mike King by a point and out "X-ed" him. Marshall Rohrbach "Creedmored" Mike in his offhand stage, 95-1X versus 95-0X. Mike had a pretty good day – but the juniors came with their game on!
Junior State Championship Match results are:
State Junior High Power Champion: Madelyn Schnelle 489-23X
Classification Winners:
Master Madelyn Schnelle 489-23X
Marksman Robert Stevens 466-14X
Match Winners:
Offhand Marshall Rohrbach 95-1X
Sitting Rapid Alex Becker 95-3X
Prone Rapid Logan Becker 96-1X
Prone Emma Branson 182-6X
The top six "Old Folks" results were:
Mike King 488-13X
Mark Walters 481-19X
Pete Yarbro 480-13X
Eric Becker 479- 7X
Randy Jahn 477-16X
Geoff Branson 473- 8X
After the match, lunch was served. Michelle and Mark Walters acted as caterers and laid out a spread of burgers, chicken, hot dogs, mac and cheese and just about anything you could have asked for to go with it. If you went home hungry, it was your own fault.
The day closed out with a quick Blind Draw Team Match, where the juniors drew team partners and a coach out of a hat. The Garand Course match fired on the MR-52 target (600-yard target reduced for 200 yards) proved to be a challenge.
By the end of the day, everyone was exhausted but filled with such elation that no one realized it until they slowed down and sat for a while. Visitors had nothing but praise for the range, with several commenting that it looked more like a golf course than a typical rifle range. One individual from Wildcat Valley said, "These are the nicest firing points I've ever shot on. I've played on worse putting greens."  Even the Porta-Pots were bragged about! Congratulations to everyone who worked so hard to make the range particularly nice for the day.
About the Fort Wayne Rifle and Revolver Club:
The Fort Wayne Rifle and Revolver Club in Indiana supports a variety of firearm shooting disciplines, including High Power Rifle and Action Pistol. Shooting competitions are open to the public, and club membership is not required to participate in scheduled matches. A calendar of shooting events as well as other information can be found on the club website at https://fwrrclub.org/.
CMP Club News: CMP Master Instructor Gives M1 Guidance at Fort Wayne Rifle
On May 1, the Fort Wayne Rifle and Revolver Club CMP Highpower Clinic participants watch closely as CMP GSM Master Instructor Larry Beardsley demonstrates the proper way to close the bolt on an M1 rifle. All of the participants successfully demonstrated their ability to close the M1's bolt, and no "M1 Thumbs" were experienced.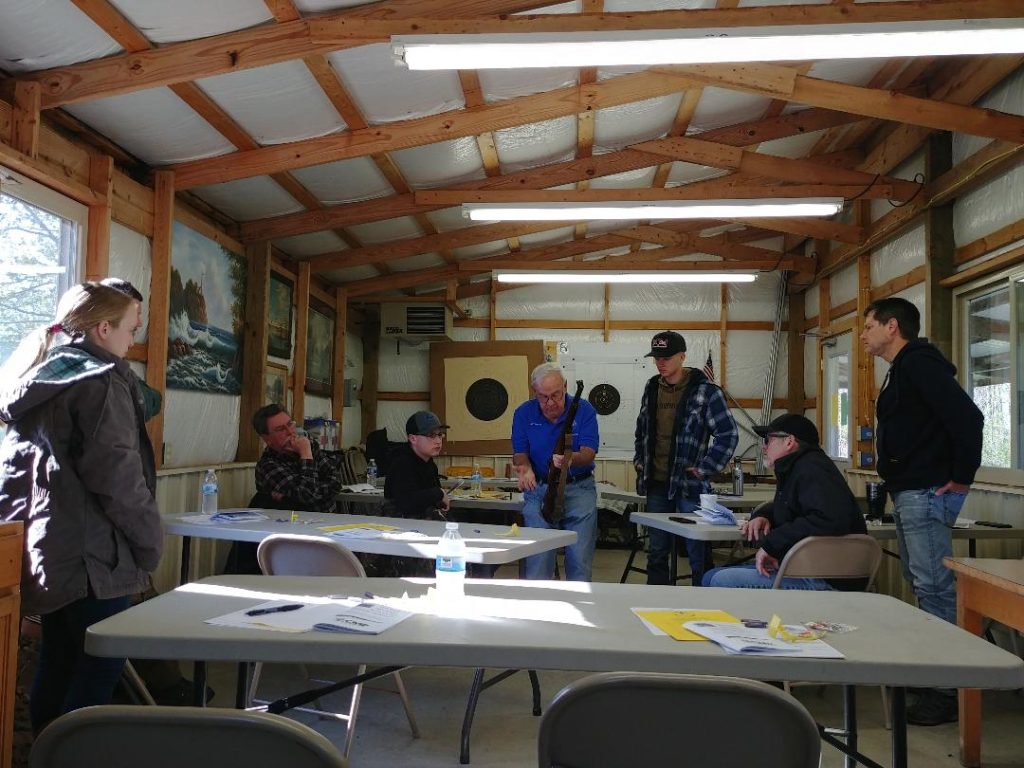 CMP Clinics:
All year long, CMP affiliated clubs host several clinics that highlight marksmanship basics, safety and advanced practices. These clinics provide opportunities to both adults and juniors around the country, led by certified individuals. Along with skills education, the CMP also offers courses focused on guiding others toward becoming their own lead instructors at their home clubs. See all of the CMP Clinic possibilities on the CMP website at https://thecmp.org/training-tech/clinics/.
Find upcoming clinics on the CMP's Competition Tracker page at https://ct.thecmp.org/app/v1/index.php?do=matchRegistrationListUpcoming&filter=event_type&filter_value=CLINIC.
About Fort Wayne Rifle and Revolver Club:
Located in Harlan, Indiana, the Fort Wayne Rifle and Revolver Club supports a variety of firearm shooting disciplines. The club hosts highpower rifle and action pistol competitions that are open to the public, without club membership required. Learn more at https://fwrrclub.org/.
Indiana CMP State Directors Gregg and Diane Rice, Columbia City, Ind.
By Ashley Brugnone, CMP Writer
In order to help ensure the cultivation of marksmanship at the ground level, the CMP appoints State Directors to oversee programs in each of the 50 states. The mission of the State Directors is to provide leadership, resource and program information, coordination, networking, motivation and publicity for junior shooting within his or her state. Find out who your CMP State Director is by visiting https://thecmp.org/training-tech/state-director/. Feel free to contact your State Director at any time with questions, comments or concerns.
Gregg and Diane Rice from Columbia City, Ind., are the duo that leads CMP programs in Indiana. As State Directors, the two extend combined personal experience and motivated drive to the Hoosier State. Gregg has been a precision rifle coach since 2006, a 4-H rifle instructor and is certified in a number of areas, including Level 1 Rifle Official, Chief RSO and Advanced Rifle Coach. Diane's qualifications include director of the Northeast Indiana sector of the Indiana State Rifle and Pistol Association, and she is also certified as a Chief RSO and Level 1 Coach. Additionally, she is an instructor for the NRA's Refuse To Be A Victim program, which gives tips and techniques on how to be alerted to dangerous situations and on how to avoid criminal confrontation. The pair also co-founded "The X Count" shooting team and have witnessed the development of 50+ Junior Olympians and several national-level athletes from the state of Indiana.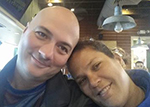 How important is fundraising towards youth shooting, and what are some things you do to fundraise? What has been most successful?
"It is critically important to have a fundraising coordinator in every club. In smaller clubs, this can also be the coach, but the best thing to do is to share the responsibility and play to the strengths of your volunteers.
The greatest things that a fundraising coordinator can do is to: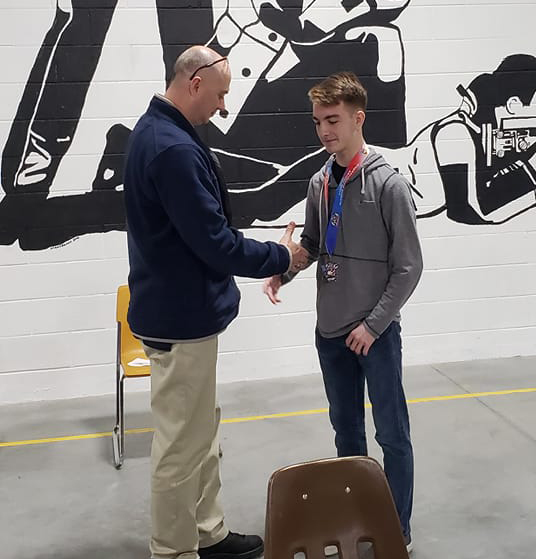 1. Know your market – realize what goes best with the community or communities in which you are raising funds. Don't try to copy other clubs whose community has significant demographic differences. I have seen clubs from the poorest of communities raise more funds more quickly than I have. I have also seen clubs from wealthy communities be more successful and raise funds with little effort. The success of both of these is that they know their market. They are playing to the demographics and habits of their community.
2. Take the greatest advantage of the programs that exist. Don't be afraid to ask permission to be creative and utilize the programs that exist, to their spirit. Program administrators actually enjoy hearing your creative ideas, and programs have altered their rules because of the suggestions I have made.
3. You will hear this often from our program. Always strive to be better. Never stop learning. Our community foundation offers extensive workshops of varying lengths to help you network and improve your fundraising skills."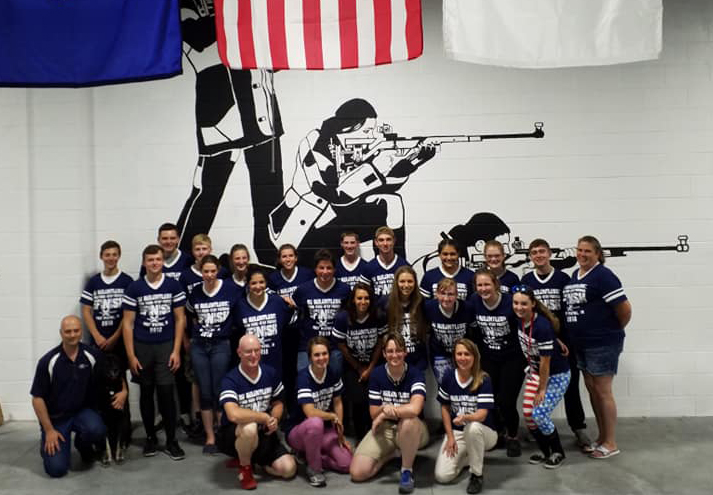 On that note, what do you think gives Indiana programs an edge in the shooting sports world? What do you do that you're especially proud of?
"The best thing Indiana has is a great rifle facility. The ability to host matches that are held to the same standard as the international competitions improves the image of the sport and brings in more participants.
Indiana is, by far, not the top. There are a number of states like Pennsylvania, Georgia, Virginia and others that have more high school teams and clubs than Indiana. Indiana also has a supportive political environment. This comes back to knowing your market. We don't face the same resistance as other states might in starting new teams."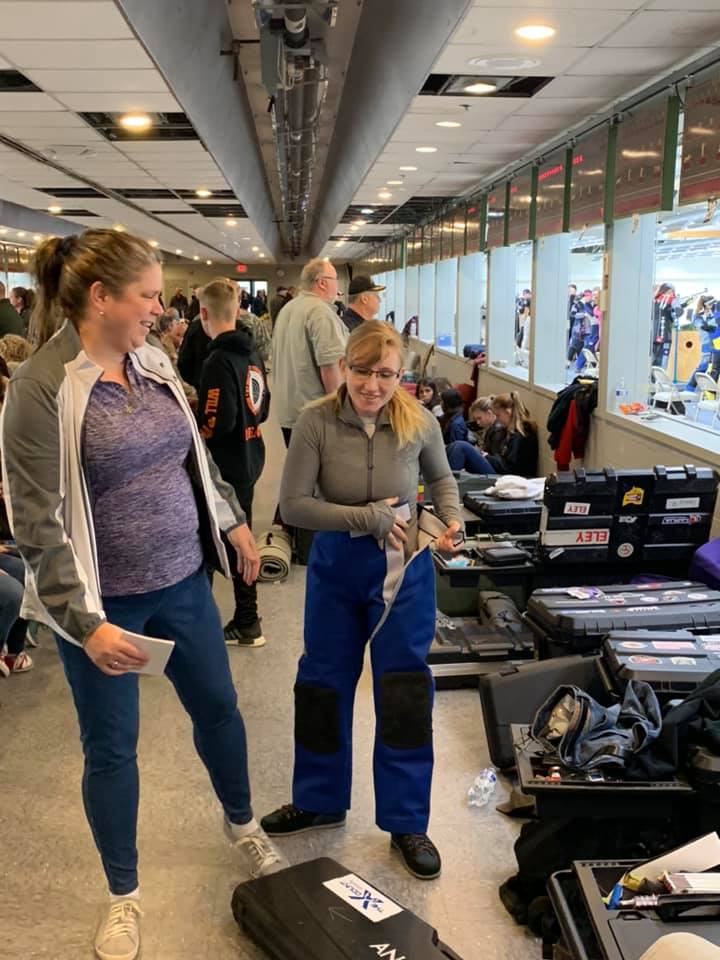 What kind of relationship do you have with the MidwayUSA Foundation (an organization focused on helping to raise funds for youth shooting activities), and how do you use contributions from them?
"We have a very personal relationship with the MidwayUSA Foundation. Two important points in building this relationship are to work closely with your state partner and to know your regional program manager. These are Jon Linquist, Northwest; Sara Hall, Southwest; Jeff McClure, Southeast; and Jay McClatchey, Northeast. We use every resource they have to offer and try to maximize the gain. The harder you work, the harder they are willing to work for you."
What are some ideas you have for keeping juniors interested in shooting sports? How do you get other juniors interested in joining?
"We advertise. We use yard signs. We use social media. We make sure our athletes are talking to their friends and family. We make sure celebrations of accomplishments by our clubs and athletes are shared publicly. We do press releases. When you do press releases, you must follow up by phone or have a direct email connection to a reporter or manager. Use any connection you have to get to know someone in the press. Write the story for them. They are pressed for time, and when you can do most of the work, you make it easy for them. Juniors stay interested for two reasons: one, their friends are there, and two, they are working towards something bigger.
Belong to all the shooting blogs or Facebook Groups (i.e. 10.9 it's what we train to do, American Competitive Smallbore and Air Rifle League, and Coaching and Positive Insights) that are giving free seminars and regular tips by discipline.
In addition, USA Shooting has offered a library (https://www.usashooting.org/11-resources/usas-online-library). Work on your mental game by reading books, such as:
13 Things Mentally Strong People Do
The Champion's Mind: How Great Athletes Think, Train, and Thrive
Evolve Your Brain: The Science of the Changing Your Mind
The Sports Gene: Inside the Science of Extraordinary Athletic Performance
Performing Under Pressure: The Science of Doing Your Best When It Matters Most
Multipliers Revised and Updated: How the Best Leaders Make Everyone Smarter
Mindset: The New Psychology of Success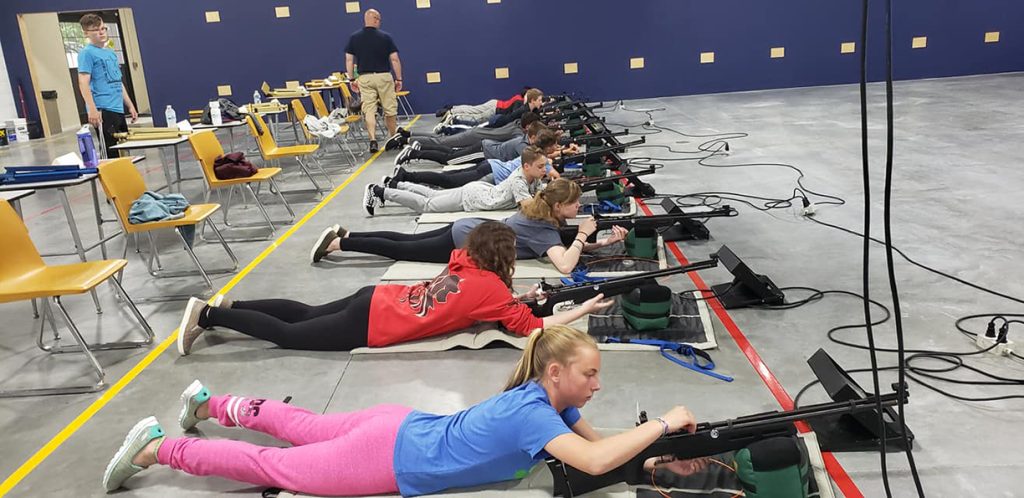 Any other advice?
"Involve as many helpers as you can. Play to the strengths of the volunteers available to you, but set good limits."
To learn more about Gregg and Diane Rice and to view their contact info, visit the CMP website at https://thecmp.org/cmp-state-director/in/.
Welcome to Indiana's CMP State Director Page
Follow this page for the latest updates and news in the state of Indiana.