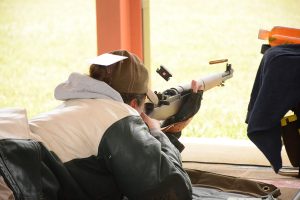 The Travel Games, which have been a regular part of the CMP schedule for the last decade, are regional competitions created to give competitors the chance to participate in beloved CMP events found at the National Matches, but on a much smaller scale.
Events fired at the Travel Games include the John C. Garand, Springfield, Vintage Military, Rimfire Sporter, Carbine and Vintage Sniper Matches. The Travel Games also feature a growing field of pistol opportunities, to provide guests with even more competitive avenues, and also include the recent addition of a Small Arms Firing School for new and experienced marksmen. Other informative clinics are conducted throughout the Games Matches by qualified CMP staff members as well.
Please visit the links on the bottom of the page to find out more information about a specific location.
Popular Travel Games events are also featured at some of our other matches throughout the year, including the Talladega D-Day Matches and Talladega 600 at our new state-of-the-art outdoor facility – Talladega Marksmanship Park in Talladega, Alabama. Competitors may also sign up for Games Events during the National Rifle Matches, held each year on the historic ranges at Camp Perry, Ohio.