1911 Information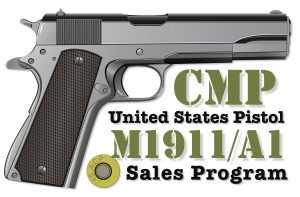 The latest information on the 1911's will be posted on this page. We are not accepting orders for 1911s at this time.
CMP 1911 is an FFL-governed operation and has its own record keeping operation with no ties to existing CMP records. Every applicant will be treated as a new customer.
If you have already purchased a 1911 whether from the previous Random Number Generator system or the Auction site, YOU ARE NOT ELIGIBLE TO PURCHASE ANOTHER 1911 at this time.
If you would like to sign up for our Sales Email Updates, please visit thecmp.org/email/.
---
UPDATE MAY 14, 2021
1. Please do not email or call requesting your RGN (random generated number). We are working diligently to resolve the emails that bounce back as undeliverable. We will not respond to email and calls concerning unreceived RGNs. Just because you have not yet received your RGN does not mean you won't be contacted if your packet is correct and complete. Customers may becontacted before they received their number. During the first round, some did not receive their number at all and still received their pistol. We know it is frustrating but please bear with us.
2. Please remember that just because you received an RGN, it does not mean you will receive a pistol. Until the packet is pulled, we have no way to know if it is complete and correct. If it is not, you will be notified of the issues.
3. Please remember that we process orders in sequential order, if you have a high RGN number it may be a year or more before you are contacted. There are numerous reasons why it may appear that we have skipped your number, but weassure you that unless there is a problem, we have not. If there is a problem, we will let you know.
4. If you have moved since you submitted your packet, please wait until contacted by the 1911 staff before sending any paperwork. At that time, our 1911 staff will instruct you what to do.
5. Do not send FFL information until told to do so by our 1911 staff.
---
UPDATE MAY 7, 2021
CMP 1911 has just sent out approximately 1,700 new RGN emails with approximately 400 still being kicked back. Since April 30th, we have received over 500 emails requesting RGN numbers along with hundreds of phone calls. Most of our Round 2 customers have now received their RGN numbers. We are working to see why the 400 or so emails were kicked back and will correct the problem or will inform the customer by telephone their RGN number. PLEASE DO NOT CALL OR EMAIL ASKING ABOUT YOUR RGN NUMBER UNTIL AUGUST. YOU WILL RECEIVE AN RGN NUMBER OR THE REASON WHY YOU DIDN'T. We need time to work through the problems and our staff is busy processing Round 2 orders. During the first round some people did not receive their RGN number until a year or so after they had submitted their packet. Please just bear with us and have patience. Thank you.
UPDATE APRIL 8, 2021
The majority of Round 2, 1911 RGN's numbers have been sent out and we have begun processing Round 2 Order Packets. If you did not receive an RGN number, you may have unsubscribed from our email system or your email address was illegible, not provided on the paperwork, mistyped or your server will not except an email from our server. As stated during the first Round, there are a number of email addresses that will not accept our emails. We had approximately 1,700 emails that bounced back to us and 143 emails that have previously unsubscribed to our emails. Our staff will work to contact these customers with the RGN but they are also starting to process Round 2 orders.
Once we get to your order, you will be contacted by a member of the CMP 1911 Staff in order to obtain payment and FFL information. Please remember that due to COVID-19, we will only ship to FFLs that maintain normal business hours. This is because of FedEx's new policy of not requiring a signature. Our staff will attempt to contact you by the telephone number listed in your packet, if unable to contact you, they will leave a message if your mailbox is set up or not full. The call will come from a 256 area code. If we do not hear back, you will be sent an email to the email address in your packet giving you 5 business days to respond. When contacted, you will be offered what is available at that time. If we do not have the Grade you want, you must select from what we have. When contacted you must make the selection at that time. We cannot give you a day or two to think about it. If we did this for one, we would have to for everyone, and would never process an order.
Thank you for your support.
---
CMP 1911 CUSTOMER SERVICE:
CMP 1911 customer service number is (256) 770-4744. We only have 7 phones in our building and we receive 100's of calls a day, leave a message and we will get back to you.
CMP 1911 customer service email: [email protected]. As we have a small staff and we receive 100's of telephone calls each day, the best way to contact us is through email.
CMP 1911 RGN Questions: [email protected]
The Random Number Generator will provide a list of names in sequential order through the random picking process. Customers will be contacted in the sequence provided by the Random Number Generator. The CMP 1911 customers will select their grade of pistol (Service, Field or Rack) from available inventory at the time of order notification. Customers with higher numbers may have fewer grades from which to choose. When the allotment of 1911s is exhausted, the remaining orders will be held in the existing sequence for all future allotments of 1911s. The CMP does not know what future allotments might be.
---
CMP 1911 FFL CONTACT INFORMATION DETAILS:
At the time a customer is contacted they will be asked to submit a current FFL where their pistol will be sent. All 1911's will be shipped to a 01, 02 or 07 Federal Firearms License. Customers will have 5 business days from when contacted to provide CMP 1911 with a signed FFL.
Only FFLs with normal business hours may be used. Due to COVID 19, CMP 1911 can only ship to an FFL that is opened during normal business hours in order to lessen the possibility of the pistol being stolen. Pistols cannot be "held" at a Fed Ex location and, if not delivered, will be returned to CMP 1911.
CMP 1911's dedicated fax number 256-831-2354 for FFL dealers to fax their FFLs with the customer's name attached.
CMP 1911's dedicated email address is [email protected] for FFL dealers to send their FFLs with customer's name attached.
CMP 1911 is currently accepting FFL contacts pursuant to FFL requirements.
Please Note: We are still having pistols returned because their chosen FFL has gone out of business, closed for vacation, not opened during normal business hours and so on, it is the responsibility of the customer not CMP 1911 to make sure their FFL is available to receive the pistol. If the pistol is returned to CMP 1911 due to no fault of CMP 1911, the customer will be charged $25.00 for reshipment of the pistol.
Before contacting CMP 1911 asking where your pistol is, please CALL your FFL to make sure they are not sitting on it. We have had numerous customers call after 60 days asking where their pistols is, and it has been sitting for 59 days at their FFL.
Note: 1911 type pistols purchased from CMP 1911 cannot be transferred to 03 FFL (curio and relic) license holders. CMP's legislation contained in the 2018 NDAA specifies FFL licensed dealers. BATF and the United States Army prefer the second background check be performed by the FBI on an FFL licensed dealer's premises.
WE WILL NOT GIVE TRACKING INFORMATION TO CUSTOMERS.
---
CMP 1911 PRICING:
CMP has priced the 1911 type pistols at fair market value in accordance with CMP's enabling legislation. No 1911s will be available in the CMP stores.
Service Grade $1050. Pistol may exhibit minor pitting and wear on exterior surfaces and friction surfaces. Grips are complete with no cracks. Pistol is in issuable condition. Pistols may contain commercial parts.
Field Grade $950. Pistol may exhibit minor rust, pitting, and wear on exterior surfaces and friction surfaces. Grips are complete with no cracks. Pistol is in issuable condition. Pistols may contain commercial parts.
Rack Grade $850. Pistol will exhibit rust, pitting, and wear on exterior surfaces and friction surfaces. Grips may be incomplete and exhibit cracks. Pistol requires minor work to return to issuable condition but is functional. Pistols may contain commercial parts.
Auction Grade (Sales will be determined by auctioning the pistol). The condition of the auction pistol will be described when posted for auction. Visit the CMP Auction site at https://cmpauction.thecmp.org. CMP 1911 paperwork and payment must be received by 3:00 pm CST, the following Friday from date of auction close out. CMP 1911 paperwork will be emailed to the winning bidder. ALL CMP 1911 requirements must be met. It is the responsibility of the winning bidder to furnish a copy of the FFL where they wish the pistol to be sent. Again, we can only ship to a 01, 02 or 07 FFL holder. If you won both a pistol and another auction item (rifle), you must submit both the CMP 1911 Form for the pistol and the CMP Universal Order Form for the rifle (along with all required documents with both order forms). You may direct any questions to: [email protected].
Some are asking why we are listing pistols on our Auction site instead of filling orders, the pistols placed on the Auction site are rare, odd, special, commercial pistols that have found their way into the Army's system and do not meet C & R requirements and other such reasons.
Note: If you have already purchased a 1911 from CMP you will not be allowed to purchase an auction 1911. If you purchase an auction 1911, your name will be pulled from the sequenced list. Pistols may contain commercial parts.
All pistols are inspected and test fired by the CMP. The shipping cost is included in the price.
Please Note: Some customers have complained about the "light gray" color of the pistols. This is most likely due to the Parkerizing drying out due to storage. We have found that by oiling the pistol, the color will darken. It may take several coats oil. Remember some of these pistols have set in storage since the 60's.
We have had numerous complaints from customers upset that "someone" has scratched their name or initials and unit on the pistols (PFC Lead or Butter bar OB / OA 8/78). These are not names or initials & unit, LEAD is for LETTERKENNY Army Depot where the pistol went through a rebuild and OB / OA is for where the USMC rebuilt the pistol (OB for Barstow & OA for Albany) and 8 / 78 is the month and year it was rebuilt).
---
ADDITIONAL CMP 1911 DETAILS:
Potential purchasers will have to provide CMP 1911 with a set of CMP 1911 documents exhibiting: 1) proof of U.S. Citizenship, 2) proof of membership in a CMP affiliated club, 3) proof of participation in a marksmanship activity, 4) a completed 1911 order form, including a new form 2A with notary. All qualifying documents must be included in your order packet. Click here to view the CMP Eligibility Requirements for ordering.
A NICS background check on each customer will be performed by the FBI to assure the customer is eligible to purchase prior to shipment to the FFL licensed dealer. The customer must receive a "proceed" from NICS prior to shipment of the pistol to the FFL licensed dealer.
The CMP1911 customer will be required to complete a Form 4473 in person at the FFL dealer's place of business and successfully pass a NICS check, in which the information is provided by the FFL holder to NICS, before the pistol can be transferred. This is a second NICS check performed on the customer. Note: The FFL licensed dealer in which the pistol is retrieved from will have to follow all federal, state, and local laws.
1911s from CMP 1911 are allowed in California because they meet the California definition of Curio and Relic. They will ship to 01, or 02, or 07 FFLs in California. At this time, only the state of Massachusetts will not allow the sale of the 1911/1911A1 pistol. We will not sell or ship to Massachusetts.
We have had a large number of customers that when contacted by CMP 1911 staff, think it is a SCAM and either say they are not interested or hang up. Then anywhere from an hour to weeks later call back and are upset because their order was rejected due to no response. All staff members when calling will identify themselves as being with CMP 1911. If for some reason you do not believe them, ask them a question or for information that is on your order packet, and only someone from CMP 1911 would be able to answer. Calls from CMP 1911 will originate from a 256-area code and may have a 770 or 835 prefix. As there are numerous staff members making calls from different telephone numbers, we cannot say which number you will be contacted from.
If you have moved since you submit your order packet, you must submit a new 1a, 2a & 3a. Just send an email to: [email protected], and they will send you another packet. You do not need to resubmit the supporting documents. If you moved out of state you must include a new FFL where the pistol is to be sent.
---
REASONS FOR THE TWO NICS CHECKS:
First Reason: The first NICS conducted by the FBI for the CMP 1911 makes sure the customer can legally possess the 1911 type pistol prior to shipping it to the local 01, or 02, or 07 FFL dealer. The CMP, Congress, and the United States Army do not want the 1911 to have to be returned to CMP 1911 if the purchaser is not legal to possess. The more time the pistol is in transit, the more likely it is that it could be lost or stolen. The second NICS check is performed by the FBI for the local 01, or 02, or 07 FFL in accordance with their standard transfer procedures and all federal, state, and local laws.
Second Reason: CMP's enabling legislation mandated by Congress specifies that the purchaser "successfully pass a thorough and complete background check", i.e. NICS. CMP 1911 cannot turn any firearm over to the purchaser until it receives a "proceed" from NICS; the local FFL can turn the pistol over after 72 business hours have elapsed if they have not heard back from NICS. Turning the pistol over after 72 hours and not getting a "proceed" does not satisfy CMP's enabling legislation mandated by Congress. This leaves CMP no choice but to have a NICS check performed by the FBI and to get a "proceed" to satisfy its enabling legislation, before shipping to the local 01, or 02, or 07 FFL dealer.