GSSF CMP National Challenge

The GSSF CMP National Challenge will be held on Saturday, July 15, 2023. Participants must be current GSSF members to qualify for plaques and prizes.
If you are not currently a member, you may join online at https://gssf.pro or upon registration CMP. A 1-year GSSF membership is $35 and all 1 year renewals are $25 and it allows you to compete in any GSSF match.
Competitors may shoot ANY GLOCK pistol in the GSSF CMP National Challenge with the exceptions of the G36, G42 & G43.
Information Links:
Participants may shoot more than one pistol at each event. The course of fire may be shot more than once per pistol. For each division ONLY the first course of fire will be placed in the rankings.
MATCH FEE
Adults: $25.00 each, re-entry $20.00
Juniors: $20.00 each, re-entry $15.00
COURSE OF FIRE OPTION A
EASE AND EFFICIENCY FOR RANGE OFFICER
Competitor faces NRA "D1" paper targets at distances of 15, 25, 30, 50, and 75 Feet OR 5, 7(21ft), 10, 15 and 25 yards, with firing timed as follows:
**500 CLUB qualifying course of fire**
| | | | | |
| --- | --- | --- | --- | --- |
| D-1 | 10 rounds | 15 feet OR | 5 yards | 15 seconds |
| D-1 | 10 rounds | 25 feet OR | 7 (21ft) yards | 15 seconds |
| CHANGE TARGETS NOW | | | | |
| D-1 | 10 rounds | 30 feet OR | 10 yards | 15 seconds |
| D-1 | 10 rounds | 50 feet OR | 15 yards | 15 seconds |
| D-1 | 10 rounds | 75 feet OR | 25 yards | 15 seconds |
SCORING TARGET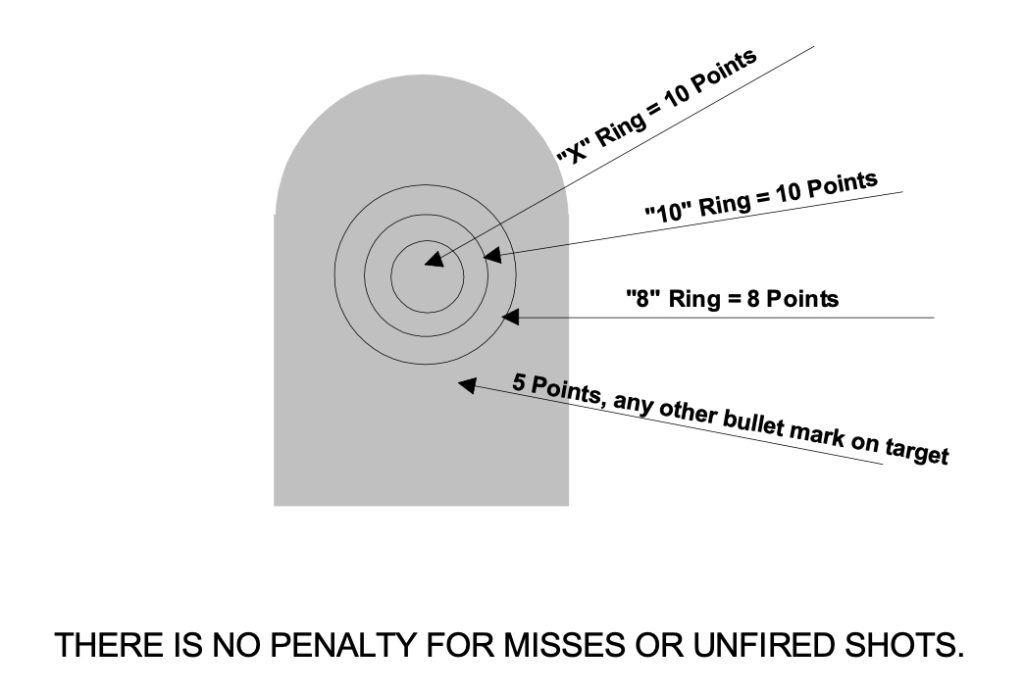 SCORING
Allocate points for each shot as follows:
10 points = X Ring
10 points = 10" Ring
8 points = 8" Ring
5 points = any other bullet mark on the target
If a shot cuts the line, the higher point value is given.
There is a maximum of 500 points.
DIVISIONS
GLOCK firearms are divided into four divisions – Stock, Unlimited, Rimfire and the new MOS division.
Stock Division
GLOCK Firearms are considered to be "Stock" if all firearm components are or ever have been available from GLOCK, Inc. Additional allowable modifications are specified below:
"Hogue-Grip" type sleeves, "A-Grip" panels, "skateboard tape" or other grip-enhancing materials that do not materially alter the function of the stock firearm
Slide and barrel stripping and/or refinishing
Pearce Grip, Inc. grip extenders only on subcompact and slim line models.
Aftermarket replacement non-metallic base plates on magazines, Post and notch sights ("patridge" sights) excluding any sight requiring slide modifications. Please note that fiber-optic and express sights are approved.
Any combination of GLOCK produced firearm parts that do not, in the sole opinion of the Range Master, result in a significant competitive advantage in the stock division are safe to utilize.
Unlimited Division
The following modifications will necessitate placement of the firearm in the Unlimited Division:
Any non-post and notch sights including, but not limited to, "Ghost Ring" or laser, electronic and optical sights.
Wrap-around "grip sleeves" on magazines
Aftermarket component parts and barrels
Recoil spring guide/recoil reducer assemblies
Aftermarket extended slide stop levers
Firing pins (modified/aftermarket)
Connectors (modified/aftermarket)
Metallic magazine well "funnels" or "slugs"
Lights or other barrel weights
Any modification deemed by the Range Master to create an unfair competitive advantage.
G36, G42, G43 and G44 pistols are excluded from Unlimited Division
Rimfire Division
The Rimfire Division is for the GLOCK model 44.
New MOS division
GLOCK Modular Optic System (MOS) Configuration
GLOCK engineers have developed the Modular Optic System (MOS) configuration to simplify mounting of popular optical sights.
Optical sights improve the accuracy at both long and short range, enabling faster target transition and quicker sight acquisition of your target. The MOS configuration is the best choice to hit your target.
ADDITIONAL INFORMATION
All scoring disputes will be determined by host range
Winners will be posted on the GSSF website at https://gssf.pro under the Indoor League tab
Go to https://gssf.pro for the GSSF Indoor League Match nearest you and come join us for some fun on the range.
AWARDS
A pistol certificate will be awarded for the top shooter in each of the four divisions – STOCK, UNLIMITED, RIMFIRE, and the new MOS division.
There will also be one random pistol giveaway. Each entry for each competitor will count as a chance to win so the more you shoot, the more chances you get.
The Overall Match Winner (Stock division) will receive the big personalized GLOCK Trophy.
Plaques will be awarded for the following:
Unlimited Glock
Rimfire
MOS
Guardian
Senior (GSSF Senior is 55+)
Woman
Junior
Pistols Available for Match!
In order to encourage even more participation and to promote competitive shooting, GLOCK has offered to bring extra pistols to the National Matches to be used by those who may not have access to a pistol but are interested in competing in the match.
Though free to use, those who borrow pistols will still need to purchase their own 9 MM ammo to fire in the National Challenge match. Those using a loaned pistol must bring or purchase ammo necessary for the event – limited quantities may be available on the range during the competition. Participants may sign up to fire in multiple relays.
For additional information, contact CMP Competitions at competitions@thecmp.org or call (419) 635-2141, ext. 714 or 706.