Junior Highpower Support Program
What is the Junior Highpower Support Program?
The Civilian Marksmanship Program (CMP) provides financial assistance for eligible members of junior highpower rifle teams sponsored by state associations, or CMP clubs that compete in the National Trophy Rifle Matches during the National Matches at Camp Perry.
This program was developed to promote junior participation in the National Matches and to encourage junior competitors to become actively involved in highpower service rifle competition.
The funding provided is intended to be partial support to help offset travel, entry fee and accommodation expenses for the club or individual. Sponsoring state associations, clubs and teams are strongly urged to provide additional support for their juniors to help them attend the National Matches.
Support provided is limited by the total funds in the CMP budget for this program, the age of the junior participants, as well as the number of times a junior can receive support. Junior competitors who have received support for two previous National Matches are not eligible for additional support. The purpose of these limitations is to provide funding to junior competitors who have not attended the National Matches before.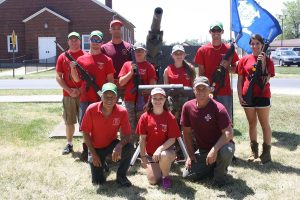 Who is eligible to receive assistance from the program?
The state association, club, or team applying for support from the CMP is required to have the following:
A status of GOOD with the CMP
Completed a 2023 Annual Report (or be a new affiliate in 2023) and have paid its 2023 annual dues
To participate in the National Matches as a junior competitor, the individual must meet the following eligibility criteria:
Must be between 12 and 20 years of age by August 1, 2023

Junior competitors under the age of 14 with previous match experience must apply for an Age Restriction Waiver in accordance with the CMP Competition Rules.

Must have a signed CMP Parent Consent Form, as well as the consent and release statement that is incorporated in the Junior Competitor Registration Form on file with the CMP.
To receive support from the CMP, the following matches and clinics are required of each individual competitor:
Attend and participate in either the CMP-USMC Junior Highpower Clinic or the USAMU Rifle Small Arms Firing School
Compete in the Presidents 100 Rifle Match
Compete in the National Trophy Individual Match (NTI)
Compete in the National Trophy Junior Team Match (NTJT) or the Hearst Doubles Team Match *Competing as a member of a team in the National Trophy Team Matches is not required but is strongly encouraged.
How to Apply
State Associations, clubs or affiliate teams that wish to apply for Junior Highpower Support must complete a CMP Junior Highpower Support Program Application Form. The Application Form must be received at CMP Headquarters by July 15, 2023.
State Associations, clubs or affiliate teams must also provide a completed CMP Junior Highpower Support Program Registration Form for each participating junior. Registration forms may be sent with the application form if they can be completed at that time, or will be accepted at CMP Headquarters Building 3 until August 1, 2023.
Forms can be mailed to:
CMP Competitions – NM Junior Support Program
P.O. Box 576
Port Clinton, OH 43452
Applications and Registrations can also be emailed to dbacak@thecmp.org.
Application deadline is July 15, 2023.
For questions about this program, contact Dana Lynd at (419) 635-2141, ext. 723 or email dbacak@thecmp.org.
Forms: