The National Matches were first held in 1903, moved to Camp Perry, Ohio, in 1907 and continue to take place every summer at Camp Perry. The National Matches have become a huge, national shooting sports festival with well over 6,000 annual participants. School students and competition event shooters range from beginners to many of the world's best.


The Matches
The National Matches include Small Arms Firing Schools that are mandated by law and a series of CMP National Trophy Rifle and Pistol Matches and CMP Games Events as well as several National Rifle Association national championships that are held in connection with the National Matches. The 2019 CMP schedule also includes CMP Smallbore and Long Range Matches. The CMP fulfills its responsibility to conduct the National Matches through a working partnership with the Ohio National Guard. The NRA National Pistol Championships are also held at Camp Perry.
The First Shot Ceremony is the official "opening ceremony" of the National Matches. Each year an invited special guest makes brief remarks to assembled competitors, match officials, volunteers and state and local military and government leaders. Several hundred people attend the ceremony each year. After the First Shot Speaker makes their remarks, the First Shot Speaker has the honor of firing the ceremonial "first shot" of the National Matches.
CMP Targets at petrarca range
CMP Targets at Petrarca Range--located at Camp Perry in Port Clinton, Ohio. This range features new electronic rifle and pistol targets, marketed by CMP Targets, with technology provided by Kongsberg Target Systems (KTS) on Petrarca Range at Camp Perry. Visit our website for dates and times the range will be open to the public throughout the year and the special times open throughout the National Matches.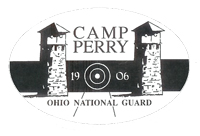 Questions?
Contact the CMP Competitions Department at [email protected] or (419) 635-2141, ext. 706 or 714.