CMP Presents Open Public Activities For All Ages During Fall Months
September 1, 2023
Civilian Marksmanship Program
▸
State Director
▸
Alabama
▸
CMP Presents Open Public Activities For All Ages During Fall Months
By Ashley Dugan, CMP Staff Writer
TALLADEGA; ANNISTON, Ala. – If you're in Alabama and searching for entertaining activities during the fall months, the Civilian Marksmanship Program (CMP) has plenty of options to explore!
With two locations within 25 miles of each other – the Talladega Marksmanship Park and the Judith Legerski CMP Competition Center – there are several opportunities for indoor and outdoor marksmanship learning and fun. Whether a youth or adult, a first-time marksman or an experienced shot, the CMP has something for you.
TALLADEGA MARKSMANSHIP PARK EVENTS:
Talladega Marksmanship Park is a worthy destination for enthusiasts and guests looking for practice, competition and mindful learning opportunities on the range. Featuring CMP electronic targets and scoring monitors, the 500-acre facility regularly hosts rifle, pistol, shotgun and archery competitions, trainings and events all year long. The park also holds an Unknown Distance Range for practice. The public is welcome to check out the ranges, along with the fully stocked Pro Shop within the Club House. View a full calendar of upcoming Talladega events at https://thecmp.org/ranges/talladega-marksmanship-park/.
Premier Shooting Expo:
The CMP Premier Shooting Expo tradeshow event is set for Wednesday, Oct. 18, 2023, from 9 a.m. to 5 p.m. Open to the public as well as to retailers, the Expo will feature an assortment of marksmanship and non-marksmanship vendor booths, food trucks and more extended throughout the Talladega Marksmanship Park. Consumers will have the chance to walk the grounds and engage in various interactive displays – free to test out products in a hands-on environment, while business have the opportunity to expand their outreach. Tickets are on sale for $75 per person. All attendees will receive a free range pass ($90 value) as well as a $200 off certificate for a pair of Hunters HD Gold glasses. Learn more at https://thecmp.org/ranges/talladega-marksmanship-park/cmp-premier-shooting-expo/.
Archery/Shotgun:
Each month, the CMP offers both Archery and Shotgun events – open to new and experienced individuals.
Likewise, Talladega's Monthly NSCA (National Sporting Clays Association) Registered Target Sporting Shotgun Shoots feature 100 targets for score. Individuals will be required to shoot registered targets to qualify to shoot in the NSCA Alabama State Championship. The final NSCA shoots of 2023 are: Sept. 9-10, Oct. 14-15 and Nov. 18-19. More info on Talladega's Shotgun area, including the 15-station Sporting Clays loop, may be found at https://thecmp.org/shotgun/. 
Monthly Rimfire Sporter Rifle Matches:
The Rimfire Sporter rifle match, perfect for beginners, features three classes: O-Class for open sights, T-Class for telescopes and TU for tactical/unlimited. The course of fire begins at 50 yards, with a sighting or practice series, followed by shots for record in slow- and rapid-fire prone. The course of fire also includes the sitting/kneeling position and standing at 25 yards. The next Monthly Rimfire Sporter matches will be held Sept. 16, Oct. 21 and Nov. 11. Learn more and register at https://thecmp.org/cmp-matches/talladega-rimfire-matches/.
Talladega 600:
CMP's "Southern Classic," the annual Talladega 600 features a full schedule of rifle and pistol events. Offerings at the 600 include a Benchrest Garand Match, Rimfire Sporter Benchrest, Springfield, Vintage Sniper, Carbine, Excellence-In-Competition (EIC) events and more. Register and see a full schedule at https://thecmp.org/cmp-matches/talladega-600/.
JUDITH LEGERSKI CMP COMPETITION CENTER:
Located down the road from Talladega in Anniston, the Judith Legerski CMP Competition Center includes the CMP South Store, fully stocked with equipment and memorabilia needs, and an 80-point electronic air gun range. The venue regularly hosts local, state and national competitions as well as weekly public events. To learn more, visit https://thecmp.org/air/cmp-competition-centers/.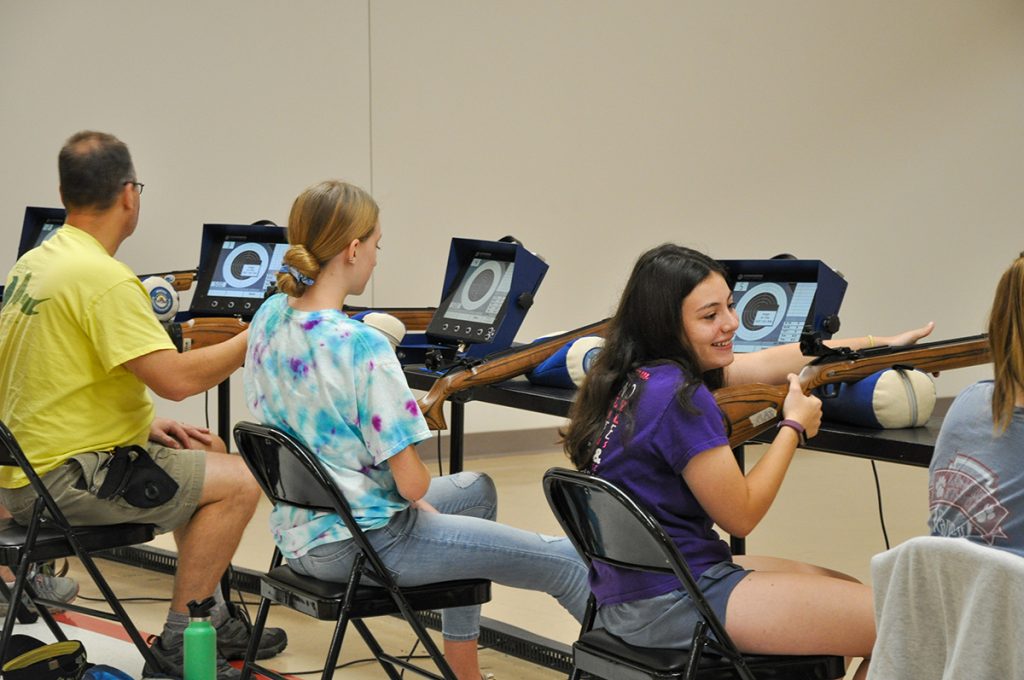 Weekly Indoor Air Gun Range Events:
Each week, the Judith Legerski CMP Competition Center hosts open timeslots where the public is welcome to try air rifle or air pistol for themselves. The air guns are propelled by compressed air, expelling virtually no kick back and little sound and making them ideal for young and old participants alike. Guests may bring their own air guns (as long as they are .177 cal. with muzzle velocities of 600 fps or less) or rent from the CMP. The facility may also be rented for parties, group building sessions and more!
Monthly Air Gun Matches:
The CMP Monthly Air Gun Matches schedule, featuring air rifle and air pistol events for a variety of ages and experience levels, offers staple events like a Junior 3×10, 60 Shot Air Rifle Standing, 60 Shot Air Pistol and 3×20 (3P) Air Rifle for Adult and Juniors. Remaining events for 2023 are Sept. 16, Oct. 14 and Nov. 18. For more on the Monthly Matches and registration info, visit https://thecmp.org/ranges/cmp-competition-centers/monthly-air-rifle-and-air-pistol-matches/.
Dixie Double:
Gary Anderson Invitational:
Learn about these opportunities and more by visiting the CMP website at https://thecmp.org/.