Upcoming Marksmanship Events at Camp Perry
February 1, 2023
Civilian Marksmanship Program
▸
The First Shot
▸
Upcoming Marksmanship Events at Camp Perry
CAMP PERRY, Ohio – Whether an experienced marksman or a beginner who has never fired before, the Civilian Marksmanship Program's (CMP) wide variety of programs provide something for everyone throughout the year on the grounds of Camp Perry – located in northern Ohio. Utilizing advanced facilities and qualified professionals for indoor air gun and outdoor rifle and pistol events, there's no shortage of marksmanship opportunities to enjoy in 2023.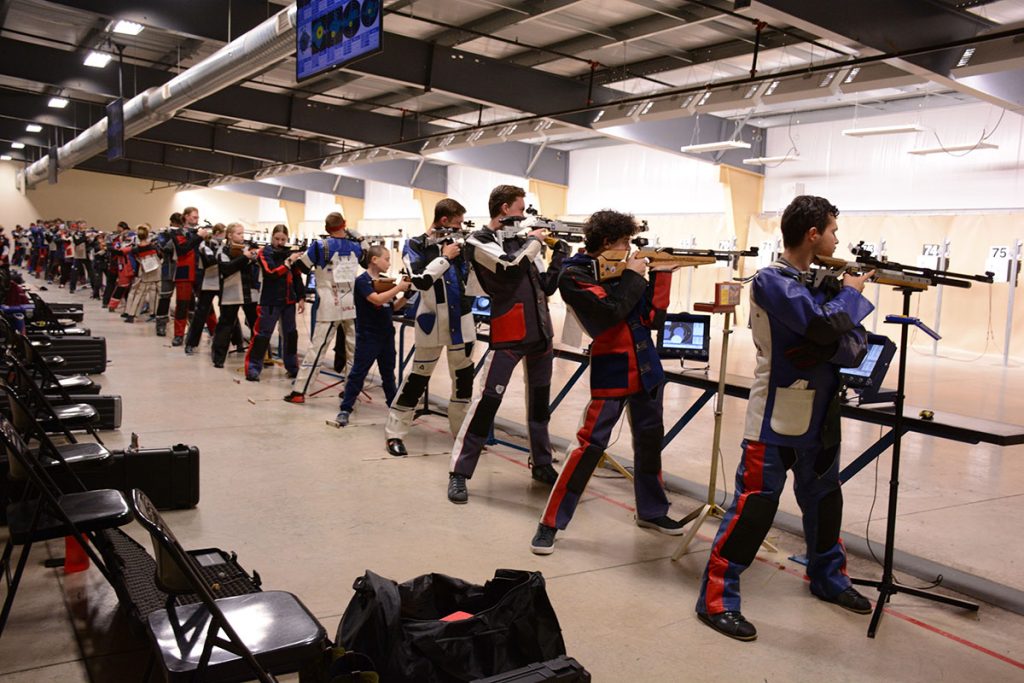 Monthly Air Gun Matches – Gary Anderson CMP Competition Center:
Each month, the CMP hosts Monthly Air Rifle and Air Pistol Matches within the Gary Anderson CMP Competition Center's 80-point electronic air gun range. The event includes Junior 3×10, 60 Shot Air Rifle Standing and 60 Shot Air Pistol as well as 3×20 Three-Position Air Rifle competitions for adult and junior athletes.
The 2023 Monthly Matches are scheduled for March 11, April 29, Sept. 16, Oct. 14 and Nov. 18.
Outside of Monthly Matches, the Gary Anderson CMP Competition Center features authentic Olympic memorabilia and other items from the career of renowned American marksman, Gary Anderson. The air range is open for public use Tuesdays and Thursdays from 5 p.m. to 8 p.m. and by appointment Monday through Thursday, 9 a.m. to 3 p.m.
No equipment? No problem. Those new to the sport or who may not own an air gun are welcome to rent one from the CMP during their visit. To learn more about the Gary Anderson CMP Competition Center, visit https://thecmp.org/air/cmp-competition-centers/.
Camp Perry Open Air Gun Event – Gary Anderson CMP Competition Center:
The annual Camp Perry Open is set for May 19-22. The event offers a junior 3×20 air rifle match and 60 Shot air rifle and air pistol competitions for adults and juniors, along with a 3×20 smallbore rifle match that will take place on Camp Perry's Petrarca Range. Both matches will utilize electronic targets. Adding even more excitement to the Camp Perry Open will be the celebrated Super Final – highlighted by costumes, music and other attention-grabbing effects that bring fun to the match.
To register for the Camp Perry Open or to learn more, visit https://thecmp.org/cmp-matches/camp-perry-open/.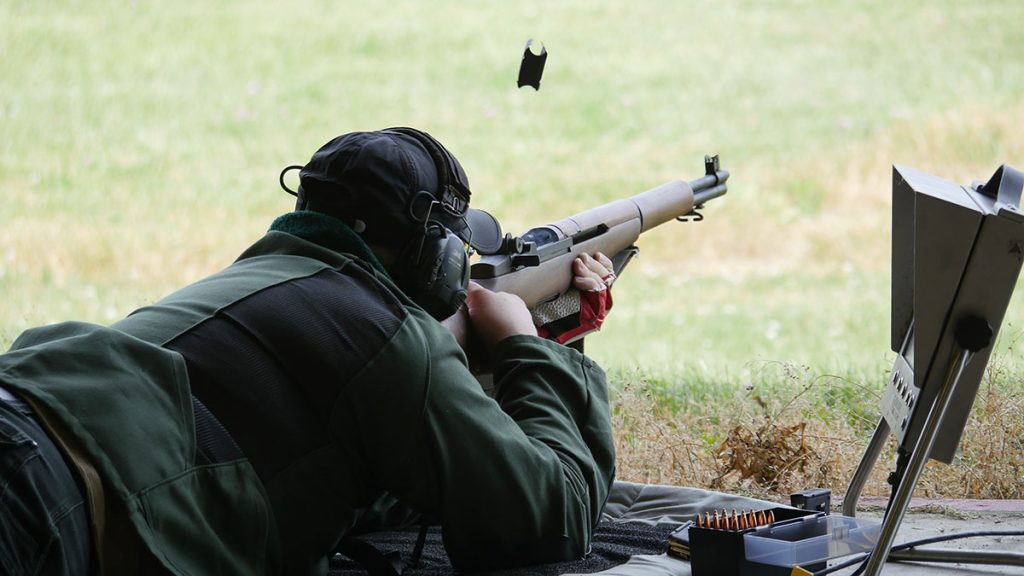 GSMM Rifle Matches, EIC Events – Petrarca Range, Viale Range:
Camp Perry's outdoor Petrarca Range is home to 10 electronic rifle targets set at 100 yards (able to be simulated up to 600 yards) and five cardboard pistol targets at 50 feet or 25 to 50 yards. The range occasionally hosts modern and vintage rifle competitions, such as Garand/Springfield/Modern Military/Vintage Military (GSMM) matches. Upcoming GSMM events will be April 15, June 24 and Sept. 23.
The weekend of June 24-25 also includes 800 Aggregate, Rifle EIC and 3×600 competitions – all held on Viale Range, just a few hundred yards from Petrarca.
Beginning March 20, Petrarca Range will be open to the public on Mondays from 8 a.m. to 4 p.m. and other designated timeslots. View the full open schedule and learn more at https://thecmp.org/ranges/cmp-targets-at-petrarca-range/.
Several opportunities for novice as well as experienced marksmen are available during the historic Camp Perry National Matches, scheduled this year July 10-Aug. 5.
The National Matches are a major marksmanship event comprised of rifle, pistol and air gun competitions and clinics throughout the summer months. Held at Camp Perry since 1907, the event is marked by distinguished, timeless matches that have been conducted for over 100 years as well as modern events to attract upcoming marksmen and women to the sport.
The Small Arms Firing Schools, offered for Rifle, Pistol and .22 caliber Rimfire Sporter and Smallbore rifles, are a combination of classroom education and hands-on instruction on fundamentals, competition basics and safety. Both new and experienced individuals may attend these valuable courses, led by members of military marksmanship teams as well as certified CMP instructors. This is a great class for beginners as equipment and ammunition is provided for the class.
The National Matches also hosts Commercial Row, where industry vendors provide a variety of supplies and other necessities, available for purchase.
Read about all the 2023 National Matches by visiting the CMP website at https://thecmp.org/cmp-national-matches/.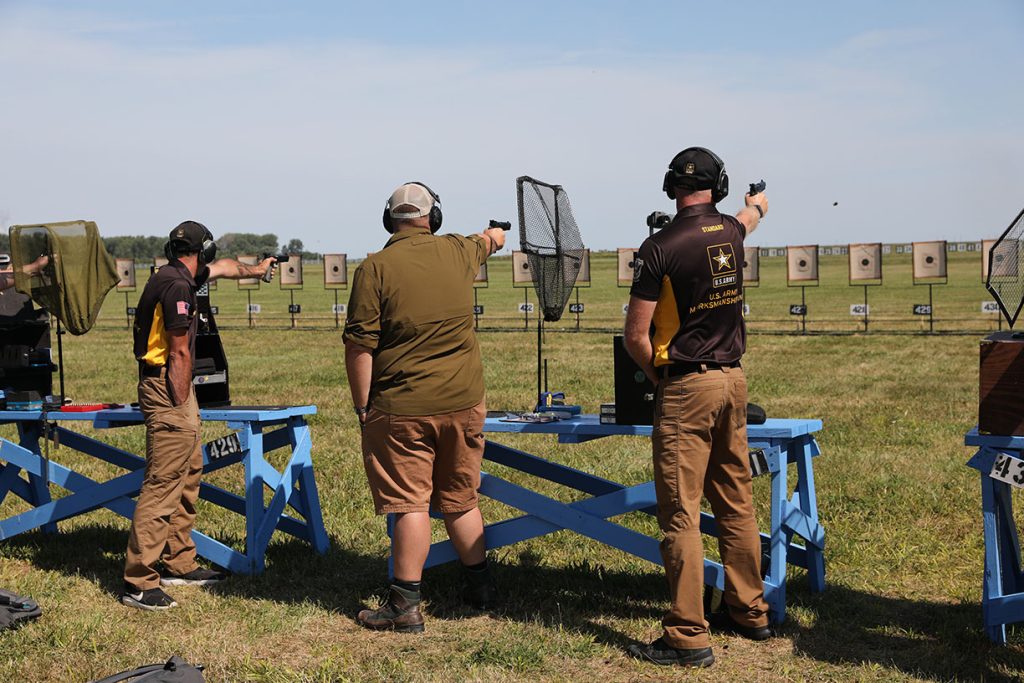 While at Camp Perry, guests are free to visit the CMP North Store – attached to CMP's headquarters building on base. The store offers firearm sales, marksmanship equipment, CMP memorabilia needs and much more. The CMP North Store is open Thursday – Saturday, 8:30 AM – 4:00 PM.
Ready to get started? Visit the CMP website at https://thecmp.org/ to view all the available programs offered throughout the year! CMP's educated staff members are always on-site to ensure safety and to welcome everyone to the sport. Please give us a call with any questions at (419) 635-2141.