Rifle and Pistol Marksmanship 101
"Although it is CMP's hope to hold our upcoming events, please keep in mind that we may have to cancel due to COVID-19 issues. For those events that we do conduct, we will follow the appropriate state's guidelines and recommendations. We continue to monitor the venue states' guidelines and adjust our procedures based on those guidelines and common sense. As always, the safety of our customers and employees is our priority."
About
The CMP, along with the U.S. Army Marksmanship Unit and CMP Master Instructors, have expanded its outreach to other areas of the country through CMP's Games matches and Marksmanship 101 classes held at CMP Affiliated Clubs.
The classes are structured toward teaching new shooters (both adults and youth alike), so no past firearm experience is required, though intermediate and advanced marksmen are also welcome to participate. During the course, students will learn basic instruction and firing practices, competition skills and live range firing, as well as compete in a real EIC Match.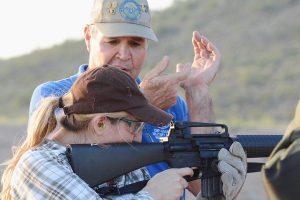 Equipment, including rifles or pistols and ammo, will be provided. Personal equipment, such as a shooting jacket or glove, will be permitted during the course as well. Participants are required to bring hearing and eye protection.
These classes area great opportunity to learn more about the marksmanship world in a safe and comfortable setting.
Upcoming Rifle Marksmanship 101 Classes & M16 EIC Match
Click on the name below for more information.
Upcoming Pistol Marksmanship 101 Classes & M9 EIC Match
Please note: The Pistol Marksmanship 101 class allows competitors to shoot two-handed.
The CMP's Pistol Marksmanship 101 Classes are taught by Jim Henderson, CMP Pistol Coordinator. A member of the USAMU as competitor and instructor for over 30 years, Henderson has compiled several prestigious accomplishments as nine-time winner of the National Matches President's 100 Pistol Match and current National Record holder of the event, four-time winner of the National Trophy Individual and current National Record holder, two-time NRA National Outdoor and Indoor Pistol Champion and as nine-time Pistol Inter-Service Champion and record holder. He's also held positions as member of the USA Shooting Board of Directors and Pistol Athlete Representative and has successfully realized a number of training programs within the Army over the course of his tenure.
The CMP also holds the Pistol and Rifle Small Arms Firing Schools during the National Matches at Camp Perry.
For more information or ask additional questions, please contact Amy Cantu at [email protected] or (419) 635-2141 ext 602.