Zermeno, de Jesus Earn National Titles at 2023 JROTC Air Rifle Championships
March 30, 2023
Civilian Marksmanship Program
▸
The First Shot
▸
Zermeno, de Jesus Earn National Titles at 2023 JROTC Air Rifle Championships
CAMP PERRY, Ohio – Danjela (Jordan) de Jesus, 17, of the Camden County High School Navy JROTC in Georgia is a national champion. At the 2023 JROTC National Three-Position Championship, she not only led the precision air rifle class but finished a perfect run – attaining the leading scores in all three phases of the competition series.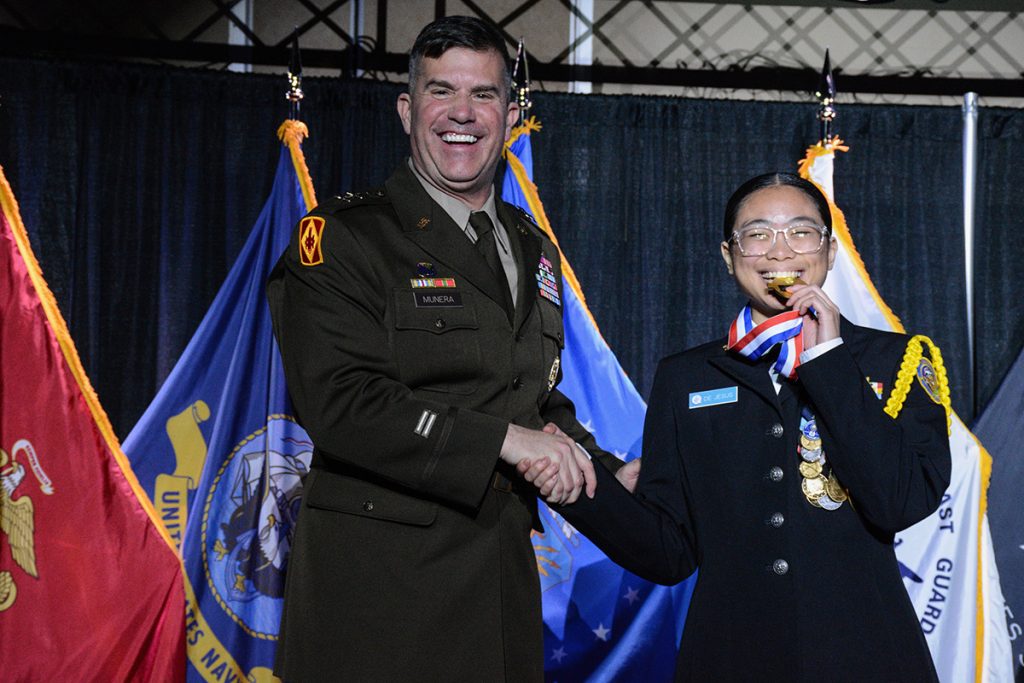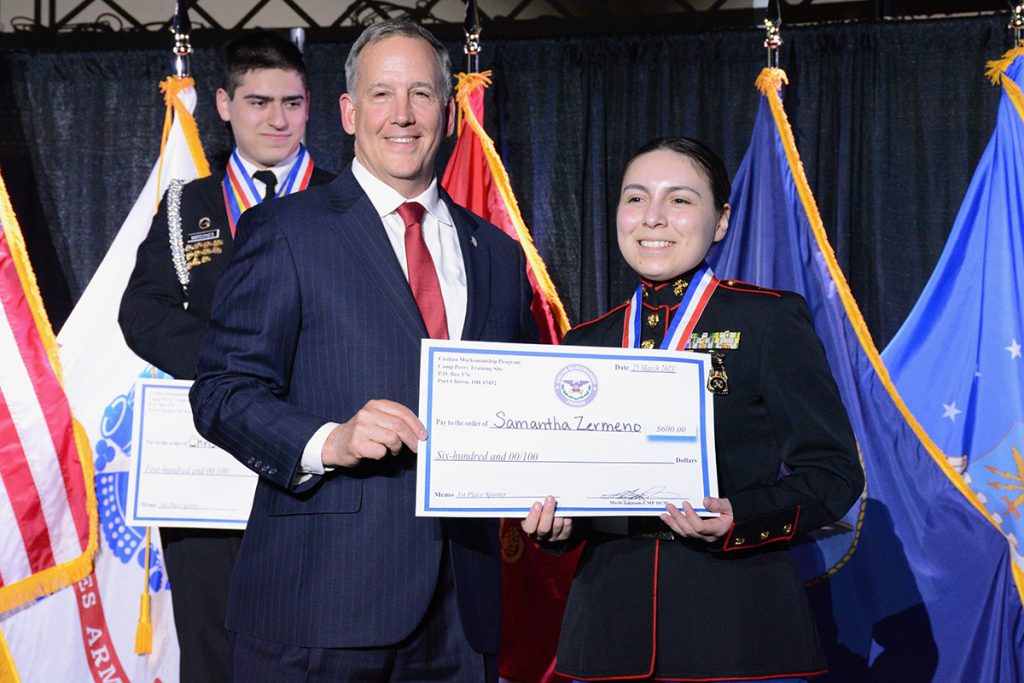 "I thought I would do well, but I didn't give myself any expectations. I didn't want to disappoint myself," de Jesus said of the match.
The JROTC National sporter and precision air rifle event for high school athletes was held March 23-25 at the Gary Anderson CMP Competition Center in Ohio. Along with Nationals, the JROTC Championships also included a Postals Match along with Regional Service competitions – all facilitated by the Civilian Marksmanship Program (CMP).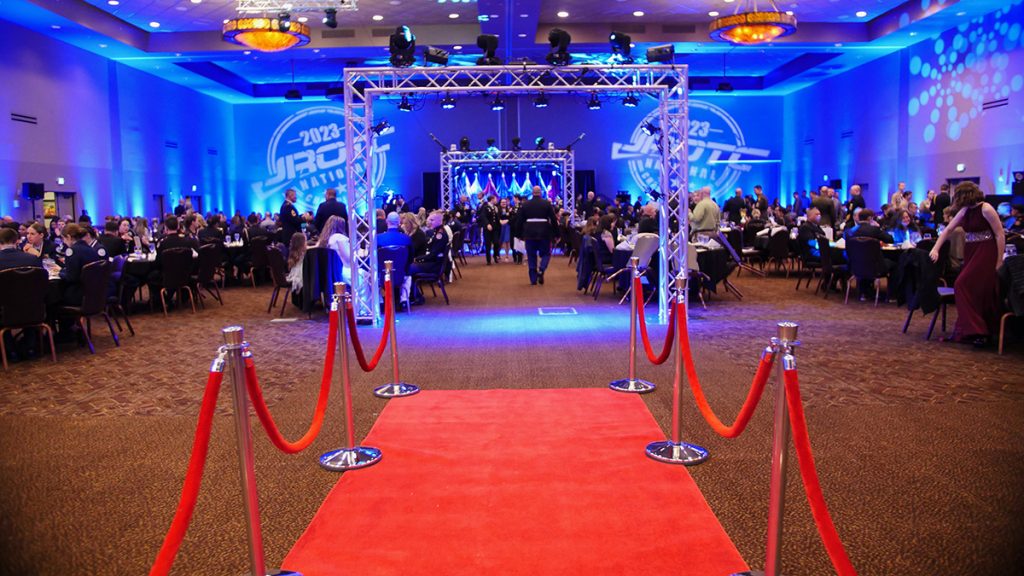 Dodging disappointment back in September 2022, de Jesus was the overall precision competitor in the Postal event after dropping only one point to reach an incredible score of 299-29X. She went on to fire the highest cadet score by an eight-point margin in the February Regional Service Championships with 1290-91X. With her performance, she claimed the top spot in the Navy competition by more than 20 points over the second place individual.
She admitted the two qualifying rounds of the JROTC Nationals (featuring prone, standing and kneeling positions for record) didn't go the way she wanted. Despite her woes, de Jesus narrowly reached the concluding final used to determine overall winners, marking the eighth and final spot on the firing line.
"I just wanted to make the final – I knew I could shoot a good final," she said of her competitive strategy. "I went in as if I had nothing to lose."
She kept calm on the line, repeating a song in her mind to help retain her focus. It was enough to maintain her lead through the entire final, including on the last shot where she hit 10.5 to preserve a 0.1-point lead over the second place athlete – granting her the overall win in the match.
Following the final, with a gold medal secured, de Jesus confessed her true feelings, saying with a laugh that she was "Relieved. Sweaty. Tired."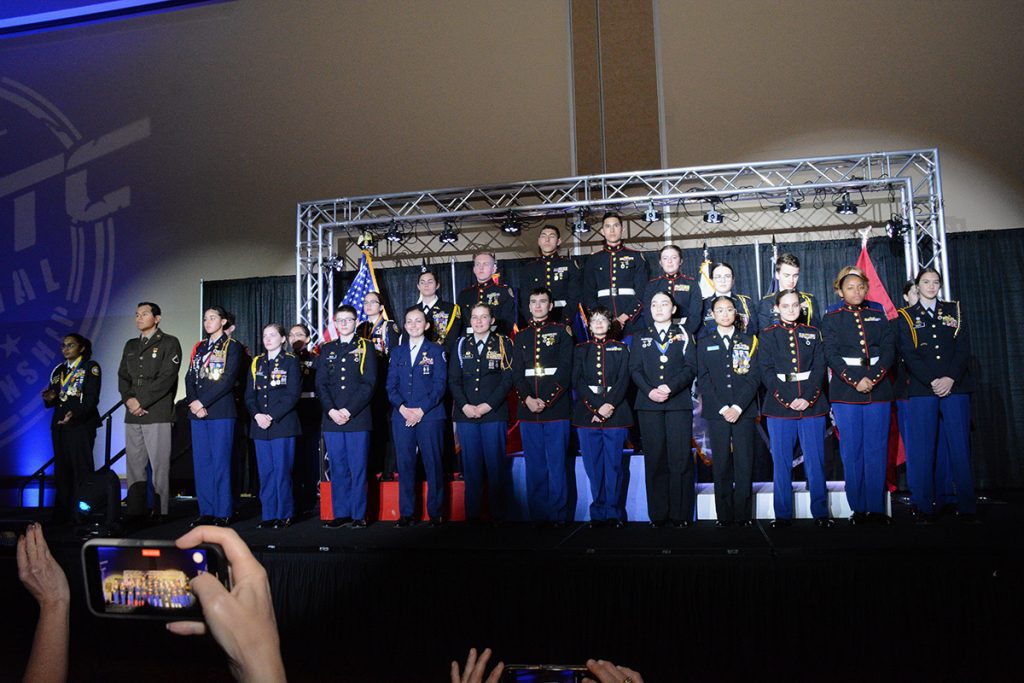 On the sporter side of the JROTC Nationals, senior athlete Samantha Zermeno, 18, of the Nation Ford High School Marine Corps JROTC in South Carolina, earned the top of the podium after impressive JROTC Championships performances. Like de Jesus, Zermeno led overall at the Service Championships (by 10+ points over the closest competitor) as the top Marine Corps cadet.
"My entire team and I, we train for weeks for this – in the mornings and afternoons. So, all I could really do was my best, and that's what I did!" she said of the JROTC Championships.
Zermeno had fired the third-highest sporter score during the qualification round – more than enough to earn herself a place in the final. There, she consistently led and kept a cool confidence on the line, thanks to the advice of her coach, Col. Sean Mulcahy. Mulcahy, who saw his last JROTC Nationals in 2023, with plans to retire at the end of the season, has undoubtedly left a lasting impression on his cadets.
"He's taught my team and myself something called 'protective mental thinking,' where all we tell ourselves on the line is, 'We're a good shooter – forget the last shot, forget the future shot – focus on the shot right here and right now. There's nothing you can do about the last shot, but there's something you can do about this shot. Just stay positive and keep telling yourself that you're a good shooter. You've trained for this,'" Zermeno explained.
After sending her last pellet downrange, she positioned her monitor so she couldn't see the score. Although she didn't know what she had shot, she heard the screams of her teammates as they saw her recorded shot of 9.3 to claim the final and ultimately the sporter title by a 1.5 margin.
"It was definitely exhilarating," she said with a smile.
Next year, she plans on majoring in IT (information technology) and computer sciences – hoping to become a programmer. Though her career in marksmanship may be over, she has many lasting memories to look back upon and remember with joy.
"I will treasure the years that I've spent here and in this sport," she said. "I know it'll carry me throughout my life."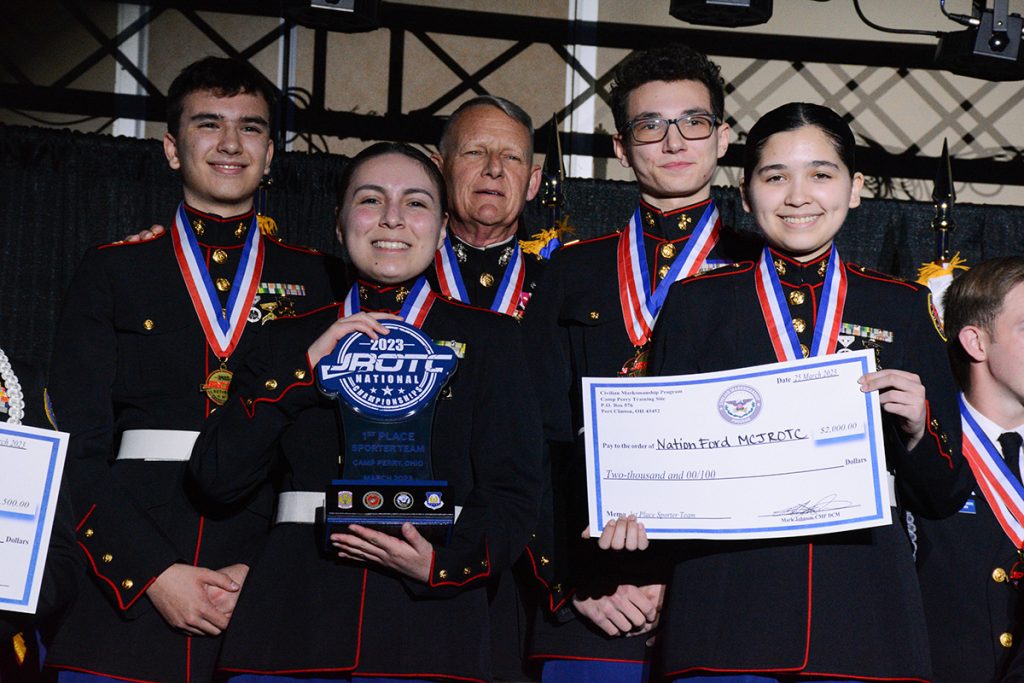 Zermeno's Nation Ford went on to overtake the sporter team title for the fifth consecutive year at Nationals, with six wins overall in the match. Team members included Zermeno, Kees Vandergriff, Lachlan Harris and Abril DeCastro.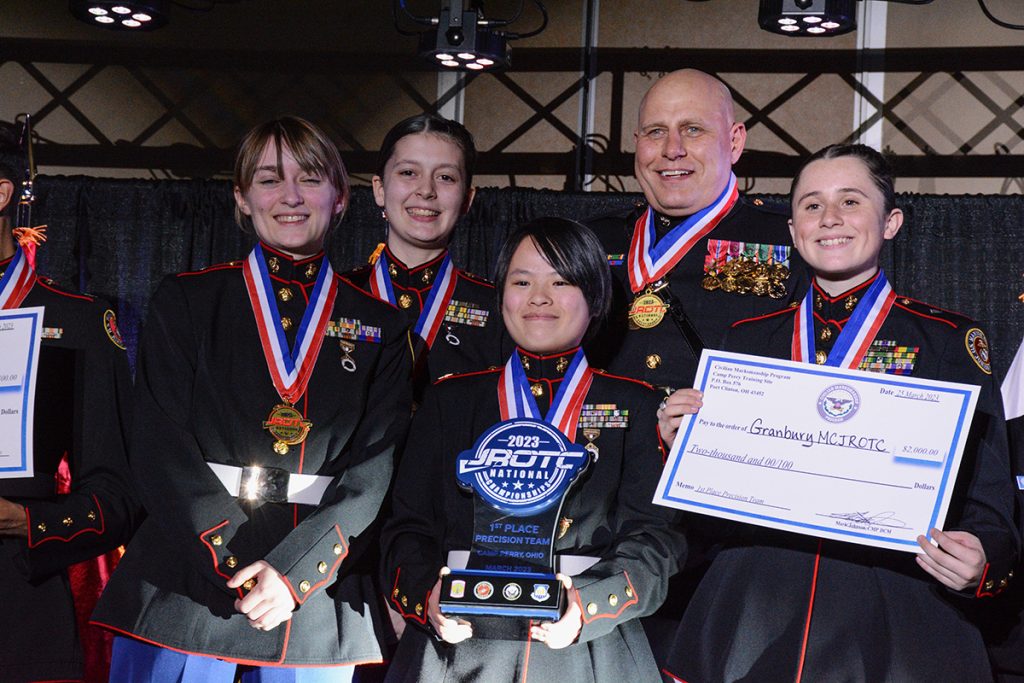 Also marking a repeat team win for the sixth consecutive year was Granbury High School Marine Corps JROTC from Texas. Team members were Ashton Arlington, Sunnee Schumann, Caroline Martin and Kameron Wells.
Each team dominated within their classes, with Nation Ford leading by nearly 55 points and Granbury by almost 20.
Finding second in the precision team competition was East Coweta High School Marine Corps JROTC in Georgia, as Camden County High School Navy JROTC found third. Navy JROTC programs Zion Benton High School from Illinois and Pascagoula High School from Mississippi earned second and third, respectively, in the sporter team event.
Following behind de Jesus in the precision individual match was Granbury's Ashton Arlington, 18, in second, while Liv Lusky, 17, of Lumpkin County High School Army JROTC in Georgia landed in third. In sporter, Christopher Mardones, 18, of Patuxent High School Navy JROTC in Maryland claimed second behind Zermeno, with Samuel Nason, 17, of Pascagoula taking third.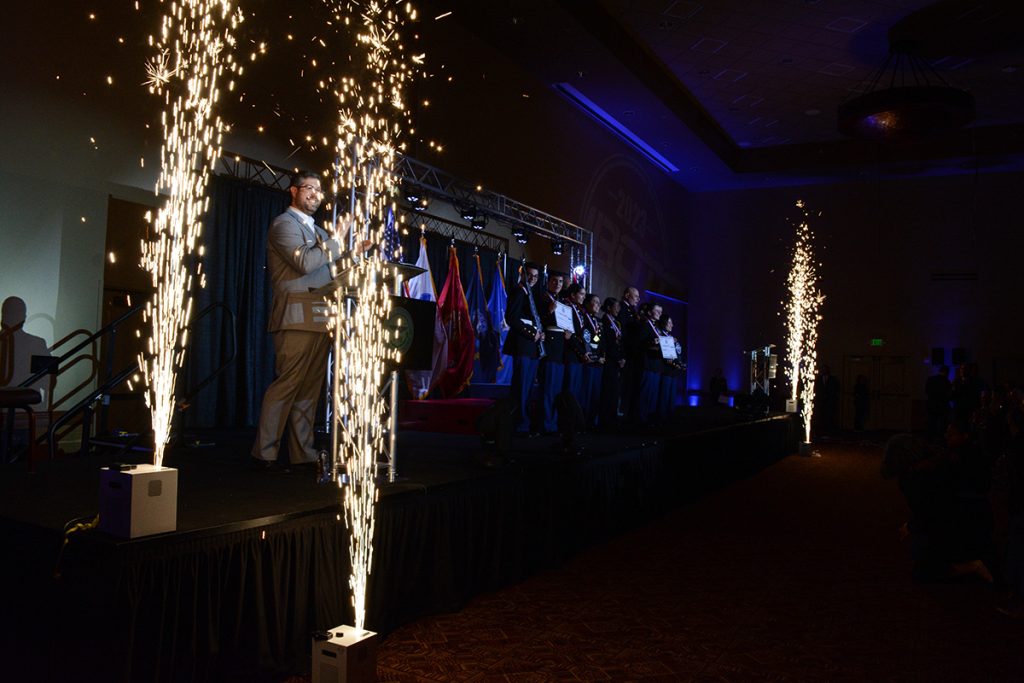 See a full list of results of the 2023 JROTC National Championship at https://ct.thecmp.org/2023JROTCNatResults. Photos of match are available for viewing and free download at https://cmp1.zenfolio.com/f18494471.