CMP National 3PAR Championship
About the CMP National Three-Position Air Rifle (3PAR) Championship
The CMP National Championship is the final event in the CMP Three-Position Air Rifle Championships. Qualification for this match comes from the CMP Regional Championships (in 2021 the CMP Regional Championships will be replaced with the Virtual Championship) as well as the State 3PAR Junior Olympic matches.
Each match will consist of one 3×20 with finals for the top eight competitors in sporter and precision. All championship events will be informal. Please be sure apparel is appropriate at all times.
If you have questions regarding the National Air Rifle Championships, contact CMP Competitions, (419) 635-2141, ext. 731 or [email protected]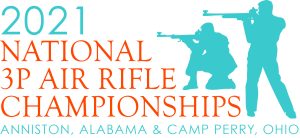 Location
Gary Anderson CMP Competition Center
Camp Perry Training Site, Bldg #5042
Port Clinton, OH 43452
Map of Camp Perry
AND
CMP Air Gun Competition Center – South
1470 Sentinel Drive
Anniston, AL 36207

Match Programs
Schedule
The dates of the sporter competition are 24-26 June 2021 and the dates of the precision competition are 17-19 July 2021. The CMP will also be conducting a smallbore competition July 20 – 28, 2021 during the National Matches at Camp Perry, Ohio. Athletes that are interested can find more information by going to the Smallbore Page.
Changes for 2021
There are a few changes for 2021 due to Covid-19. Please review the Covid-19 safety precautions below. In addition the following changes were made:
No equipment control will be conducted, but range officers will conduct spot checks during the training relays and throughout the matches.
There will not be a cookout before the awards ceremonies.
About Qualification
Qualifying teams and individuals for the National 3PAR Championship are derived from participants of the CMP Virtual Championship and the State Junior Olympic 3PAR Championships. Due to space limitations, the number of qualifiers has been reduced for 2021.
CMP Virtual Championship – Qualifiers posted April 23, 2021
-Top 20 Teams
-Top 20 Individuals (not on qualifying teams)
State 3PAR Junior Olympic Championships – Qualifiers posted May 12, 2021
Automatic Qualifying Scores
| | | |
| --- | --- | --- |
| | Individual | Team |
| Sporter | 540 | 2100 |
| Precision | 585 | 2300 |
Due to Covid-19, and the uncertainty of range capacity, the automatic scores were increased for 2021. Additional teams and individuals will be invited as range capacity allows.
Confirmation
Please complete the online registration to confirm entry. Please let us know if a team or individual cannot attend by emailing [email protected] or by filling out the declination form. Registration for each event will close when capacity has been reached and/or two weeks prior to the match. A waitlist will be started if necessary.
Matches will be fired in two locations. Space is limited at each location, so register early to insure your preferred location. Priority will be given to teams according to the chart below.
*All that register before 19 May will have first choice in location.
Registration will close 2 weeks prior to match, or when the match is full.
Teams
Each qualifying team may bring up to five athletes to the competition. If a team brings five competitors, they must designate four team members and one alternate at the time of check-in. Before the team fires, changes can be made to the team members counting for the team score.
Individuals
The four members of each unit team, all individual qualifiers, and all alternates will compete for individual awards.
Safety and Covid-19 Precautions
To ensure the safety of all guests to the CMP air gun ranges, the following precautions will be followed:
Every other firing point will be used.
Competitors will only be permitted in the building 30 minutes before their scheduled relay time.
No one is permitted in the building with symptoms of Covid-19. A CMP Staff member will ask health screening questions and perform a temperature check to all that enter.
Masks will be required while within the facility and may only be removed by athletes on the firing line. Those not competing must wear masks at all times.
Spectators will be limited. Each competitor is allowed one individual in the range during his or her relay. Competitors under the age of 18 may have one coach and/or one parent/guardian. Bleachers normally placed within the range have been removed, but a limited number of chairs are provided.
Competitors will be asked to exit through a side door of the building immediately following each relay.
All firing points, common areas and restrooms will be sanitized between each relay.
Frequently Asked Questions about Qualification
Q: My team qualified at the CMP Regional Championship (or CMP Virtual Championship) and during the State Junior Olympic 3PAR Championships. Does that mean I can bring two teams?
A: No, not if the team had one or more of the same team members in both competitions.
Q: So, how can I bring two teams?
A: If two or more 4-person teams from one club or school qualify during the CMP Virtual Championship, or two or more teams from the same club or school qualified (by either firing the automatic score or by being an at-large qualifier) at the 3PAR State Junior Olympic matches additional teams are invited from the same organization. Secondary teams from the same team organization must be comprised of different competitors than the first team.
Q: An individual or individuals on my team qualified, does that mean I can bring 6 or more competitors?
A: Only if the individuals do NOT fire for the team score. The individual can represent the team, however you will not be permitted to substitute that individual for a member of the team and still bring more than 5 competitors.
Q: One or more of the original team members cannot attend, can I replace them?
A: Yes, you may replace those team members with other members of your team, even if those members did not fire in the qualifying competitions.
Q: Three or fewer individuals from my team can attend. Can the individuals still come and compete as individuals?
A: If their individual scores would have qualified them on their own, they may still compete. If this is not the case, then he/she will not be permitted to attend as an individual.
Q: I had individuals qualify at the CMP Regional, and our team then qualified during the State 3PAR Junior Olympic match. Can that person fire as an individual and not part of the team?
A: If the team does not attend, yes, he/she may attend the match as an individual.
If the individual was not part of the team that qualified during the State Junior Olympic 3PAR match, yes, that individual may still fire on his/her own. However, if the team brings more than 5 competitors and this individual, the individual should NOT fire for the team score.
If that individual was part of the team that qualified during the state Junior Olympic match, then they would now be considered a team member, and should be part of the 5 people competing with the team. No additional invite is permitted. For instance, bringing the individual and 5 additional competitors for a total of 6.
Where to Stay
Entry Fees
The entry fee is $50 for each team member, alternate or individual competitor. There are no additional team entry fees. Please note, full refunds will be issued up to two weeks prior to the match. Cancellations within two weeks will receive a 50% refund, and no refunds will be issued the day of check-in.
Forms
Liability Form: All coaches and instructors, athletes or chaperones over the age of 18 must complete a CMP Liability Release Form. It may be completed, notarized and returned to the CMP at the time of check-in at the CMP Competition Center. This form can also be completed and notarized at time of check-in. A notary will be on duty during check-in.
Parental Consent Form: All participating athletes under the age of 18 must submit or bring a signed Parental Permission Form at the time of check-in. A copy of this form is also included with this program.
Relay Squadding
Squadding will be posted on the championship website by 14 June (Sporter) or 1 July (Precision). Team squadding will be done randomly. Special requests to change team member firing order will not be accepted.
Team Check-In and Equipment Control
At check-in, teams must confirm final entries, identify alternates (if any).
No equipment control will be conducted in 2021. Spot checks on the line will be conducted.
Prone mats will be provided.
Spotting scopes are not permitted, and are not needed for electronic targets.
Air Cylinders, CO2, and Shipping Air Cylinders
It is the competitor's responsibility that any air or CO2 cylinder has been certified as safe and is within the validity date.
Compressed air and CO2 gas will be available at the range.
The Transportation Security Administration has increasingly denied transport of air and CO2 cylinders in checked baggage. Teams that plan to travel by air are advised to ship air or CO2 cylinders in advance to the address below. Cylinder packages should have the name of the team printed on the outside of the package.
Civilian Marksmanship Program
Attn: National Air Rifle Match
Camp Perry Training Site, Bldg #3
1000 N. Lawrence Rd.
Port Clinton, OH 43452
It is recommended that you ship via FedEx or UPS so that you have a tracking number for your packages, and that you ship a RETURN LABEL to ship them back.
Electronic Targets
The matches will be fired on KTS Electronic Targets. Competitors should not bring spotting scopes because the exact shot locations are shown on electronic monitors at each firing points.
Shooting Mats
Shooting mats will be available but are not required to be used.
Score Posting
All scores fired will be displayed on the CMP Competitor Tracker results system. Scores and competitor rankings will be displayed electronically on the range throughout the competition. Preliminary and final printed results bulletins will be posted on the bulletin board.
Although it is CMP's hope to hold our upcoming events, please keep in mind that we may have to cancel due to COVID-19 issues. For those events that we do conduct, we will follow the appropriate state's guidelines and recommendations. We continue to monitor the venue states' guidelines and adjust our procedures based on those guidelines and common sense. As always, the safety of our customers and employees is our priority.