Utley Wins TSRA State Service Rifle Championship for Eleventh Time
January 18, 2023
Civilian Marksmanship Program
▸
State Director
▸
Texas
▸
Utley Wins TSRA State Service Rifle Championship for Eleventh Time
By Justin Burns & Ariana Perry
The annual Texas State Rifle Association (TSRA) State Service Rifle Championship was held Oct. 28-30, 2022, at the Panola County Gun Club, in Carthage, Texas. The event was facilitated by Jerry Iliff, the current TSRA Service Rifle Director, and marked the completion of the highpower season.
The weekend started with a team match on Friday morning, followed by the 800 Aggregate State Service Rifle Championship on Saturday and ended with an Excellence-In-Competition (EIC) match on Sunday.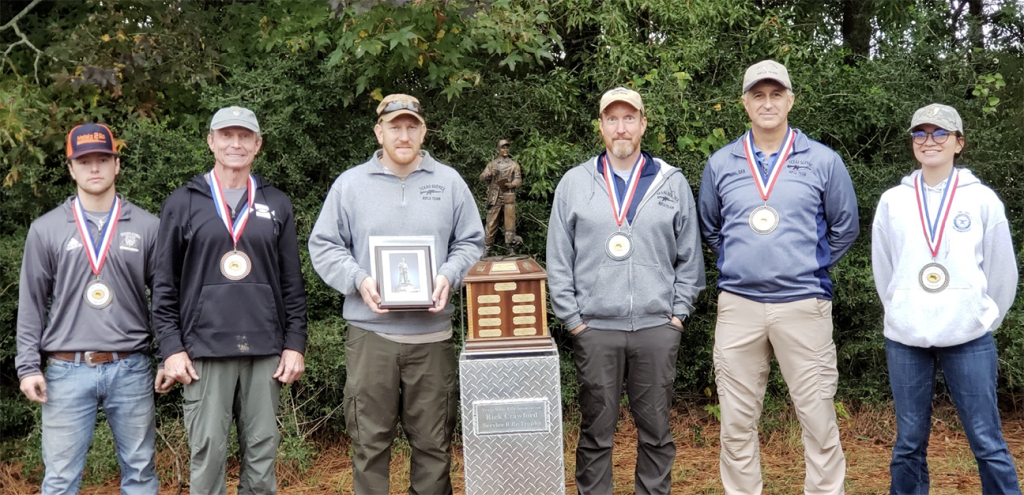 This year, the event saw 37 shooters in attendance for the Texas State Service Rifle Championship. The top shooter of this match wins the Richard P. Crawford Excellence in Service Rifle Competition trophy, while the top 20 shooters from Texas are awarded a "Governor's Twenty" pin.
This year's winner was Justin Utley with a 793-45X. Utley has won the Texas State Service Rifle Championship 11 times. Second place was Gary Troxell with a 790-35X, and Michael Cameron was third with a 788-26X. High Senior was Dan Pate with a 778-31X. High Woman was Ariana Perry with a 745-11X. High Junior was Blackston Fisk with a 776-23X.
On Sunday, a CMP EIC match was held to finish up the weekend. The overall match winner was Justin Burns with a score of 491-16x. Tying Burns but finishing in second was Dan Pate. The tie was broken by the 600-yard slow fire scores. Chance Cavin finished third with a 489-16x. EIC LEG points were awarded on Sunday to Bruce Finley with a score of 481-13x and Ariana Perry with a score of 478-8x.
Overall, this was a successful weekend of matches in Carthage and a great way to end the 2022 season.
The TSRA State Service Rifle Championship will be held again on April 1, 2023, at Panola County Gun Club near Carthage, Texas. Start making plans now to attend. For more information go to http://epcgc.com.
About the Richard P. Crawford Excellence in Service Rifle Competition Trophy:
Beginning in 2010, the Richard P. Crawford Excellence in Service Rifle Competition Trophy has served as a symbol of excellence to service rifle competitors. It was first unveiled at the Service Rifle Championship in Camp Swift, Texas, and is presented to the top competitor at the State Service Rifle Championship.
It was named and bears the likeness of Rick Crawford who was a former TSRA Officer, TSRA Service Rifle Director, Captain of the Texas Service Rifle Team and long-time highpower competitor in Texas. Rick earned his Distinguished Rifleman badge in 1989 and was a driving force for highpower in Texas from the 1990s up until his death in 2011.
This trophy was commissioned by David Wilson, Robert Langham and Alan Wilson, who wanted a national level trophy for Texas Service Rifle Shooters. It was paid for entirely by donations from highpower shooters.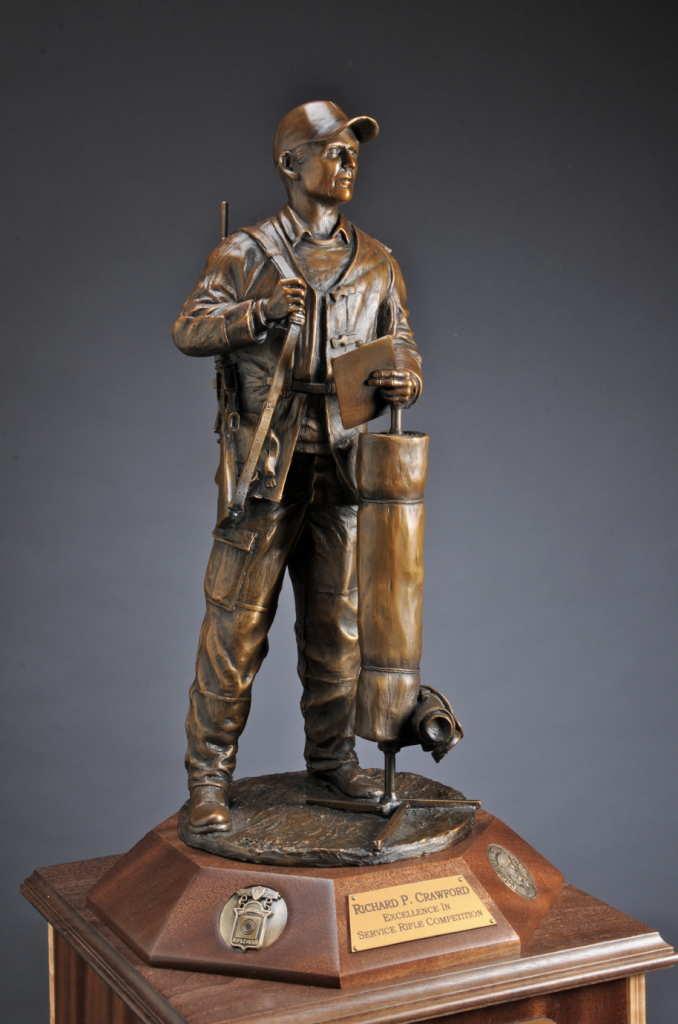 If you'd like to find your local club, visit the CMP Competition Tracker Page at https://ct.thecmp.org/app/v1/index.php?do=clubSearch to become involved.
Have an article to share or want to highlight your CMP Affiliated Club? Send us your photos, reports and articles to highlight in The First Shot – email abrugnone@thecmp.org. We look forward to hearing from you.
A Note from the CMP: At the CMP, we are not only dedicated to an increasing number of those involved in marksmanship within our own programs but are also devoted to supporting the efforts of those who are creating their own legacies in their own ways. Our Club News articles are our way of displaying the successes of our clubs, in the hopes of encouraging others to take the same respectable paths – both in marksmanship and in life. We are proud of our clubs for all of their endeavors and are honored to show them off within our news feed.