Smallbore Prone Matches Make History Utilizing Electronic Targets
July 15, 2023
Civilian Marksmanship Program
▸
The First Shot
▸
Smallbore Prone Matches Make History Utilizing Electronic Targets
By Sheri Trusty, CMP Feature Writer
The first time Mark Del Cotto of Lexington, Kentucky, stepped onto the grounds of Camp Perry, he was just a kid tagging along while his father competed in the National Matches. From 1971 to 1983, Del Cotto joined the ranks of competitors at Camp Perry, but then he graduated college and life got in the way. In 2008, Del Cotto decided it was time to return to his early passion for competing at the National Matches, and on July 8, he came in third in the Civilian Marksmanship Program (CMP) Smallbore Prone Iron Sight Championship.
"I was an early shooter, and I love it," he said.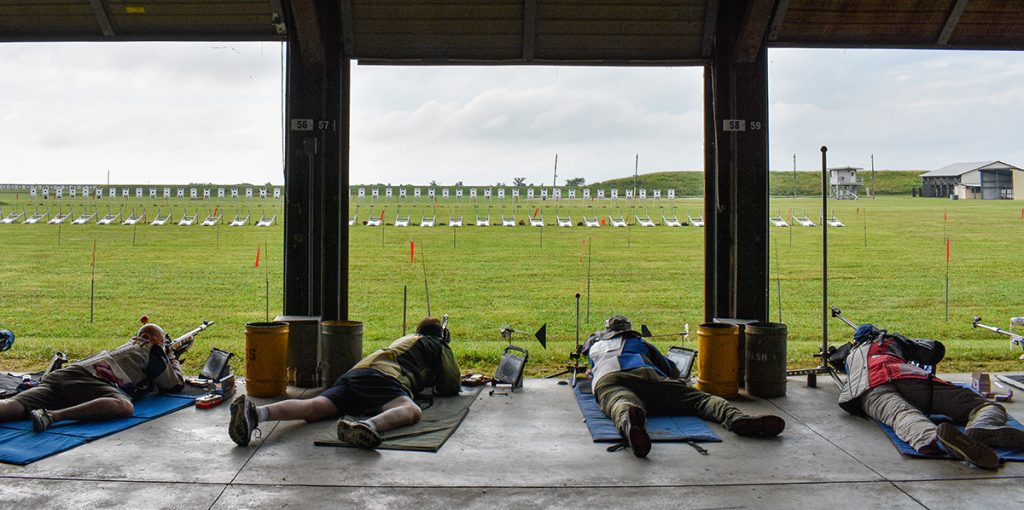 Del Cotto is a two-time NRA Smallbore Prone Champion. When he first returned to the sport, he competed in CMP Service Rifle Matches and NRA Highpower Championships, but he found he couldn't devote space in his busy life to everything. He chose to focus on Smallbore.
"I didn't have time to do Highpower and Smallbore, so I picked Smallbore Prone," he said. "Smallbore is a better experience for me. You get to shoot more shots in a day."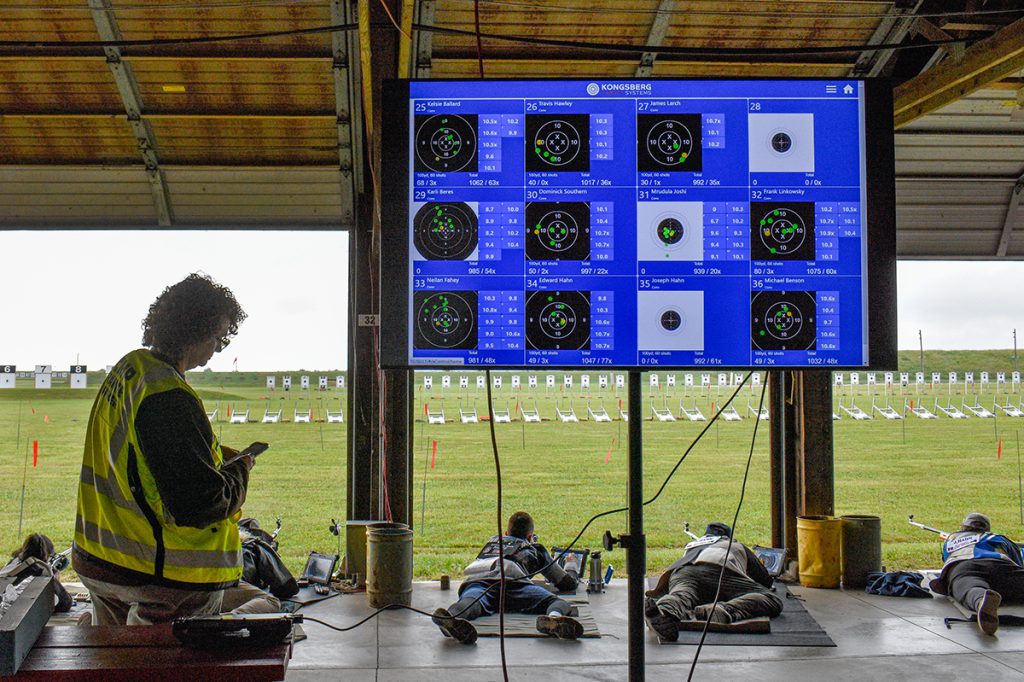 The CMP Smallbore Prone Iron Sight Championship is part of a four-day competition that includes two days of Iron Sight Championship Matches and two days of Any Sight Matches.
"Each day, competitors shoot 160 record shots, all fired from prone position," said CMP Smallbore Program Manager Brad Donoho. "They do a 40-shot match at 50 meters, a 60-shot match at 50 yards, and a 60-shot match at 100 yards."
The competitors are vying for the top score of 6,400 possible points. Due to a USCG search, the last day of the Smallbore Prone Matches was cut short and the match was condensed to a 5,200 points aggregate.
"This is a big prone match," Donoho said. "It's like a marathon, and they're trying to make as few mistakes as possible."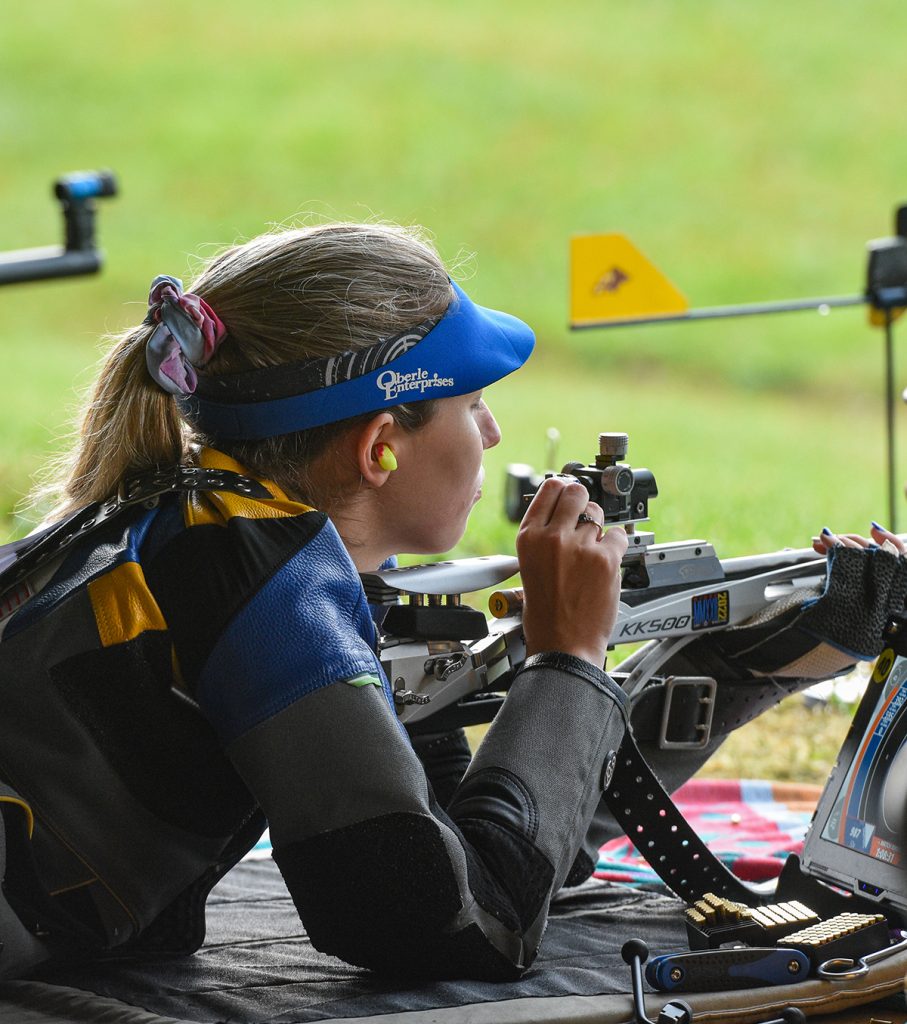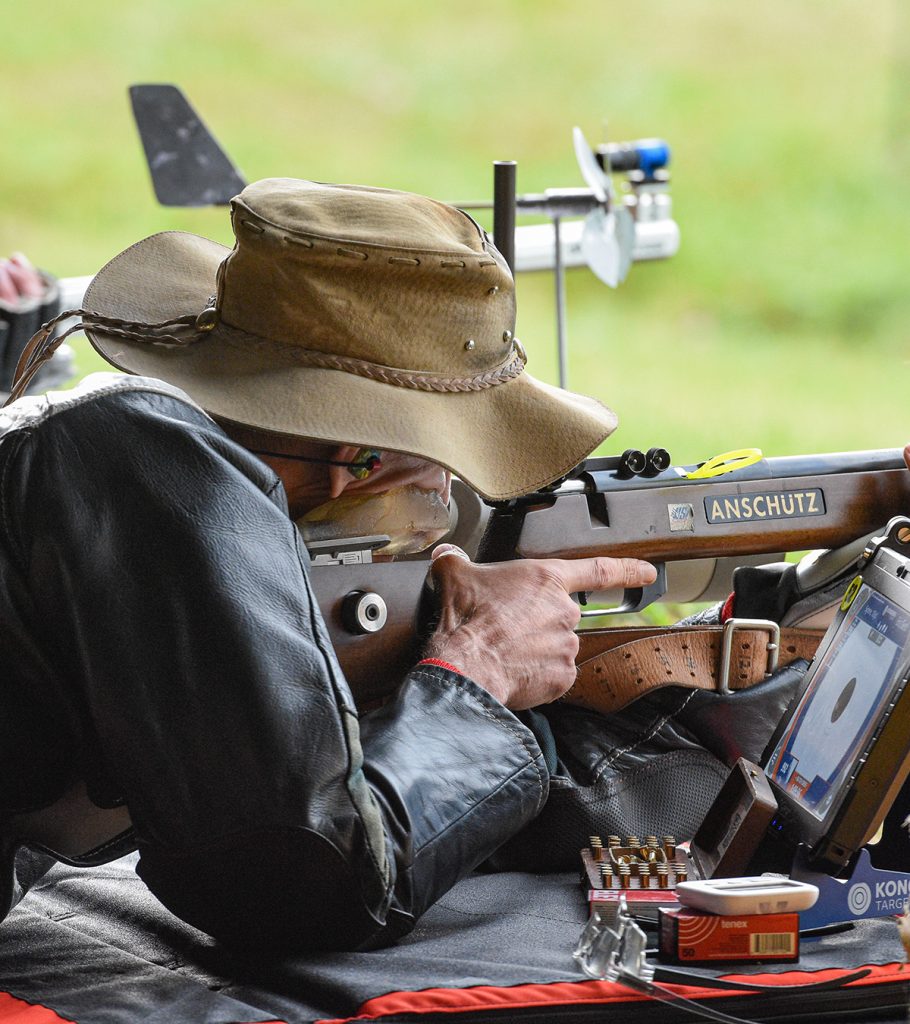 Camp Perry is a favored competition site for marksmen due to the challenges created by the camp's proximity to Lake Erie. Lake weather can be varied and unpredictable, all in the same day.
"We had classic Camp Perry conditions today," Donoho said on day one of the Smallbore Prone Iron Sight Championship. "It started out a little overcast, nice and warm, and then a thunderstorm rolled in. We had pretty blustery conditions and a downpour. Here at Camp Perry, we're accustomed to 60s and chilly and 90-degree days."
Del Cotto said marksmen were disappointed when the NRA moved the National Smallbore Rifle Championship to Bristol, Indiana, so many of them asked CMP to create its own smallbore competition.
"It was like moving the Masters from Augusta," Del Cotto said. "Ninety-percent of competitors wanted to come back to Camp Perry. When they moved it, the level of participation went down and down."
This year, CMP competitors had the added benefit of scoring with Kongsberg Target System (KTS) technology which relies on acoustics to determine shot location. Scoring is instantly displayed on user-friendly, touch screen monitors at the shooter's side.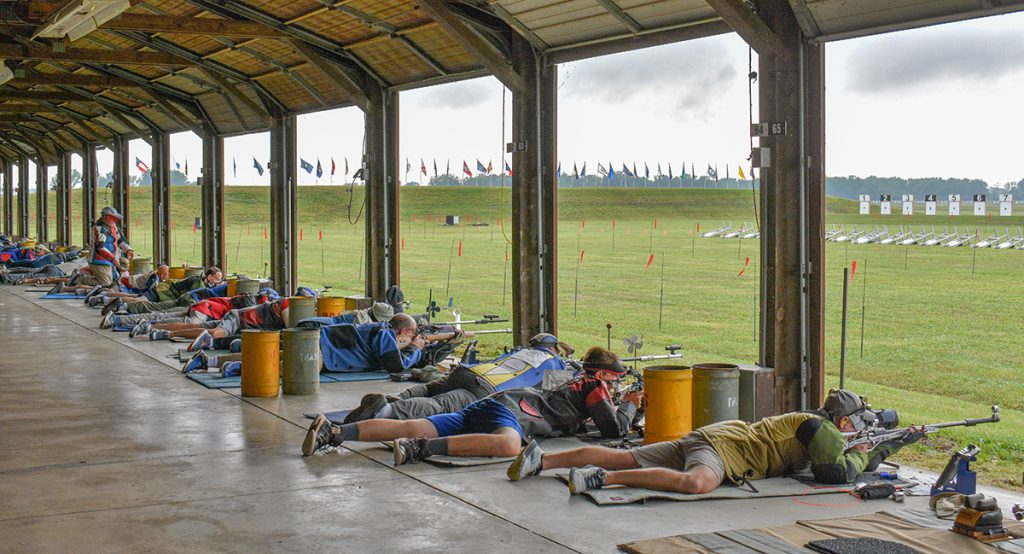 "This is a really nice setup for electronic targets," Del Cotto said. "It's much easier to shoot the match. It's quicker, it saves money on paper targets, and there are no rain delays. This is an absolute treat to get to shoot like this."
Kevin Nevius of Gibsonburg, Ohio, brought 30 years of shooting experience and six national titles to CMP's Smallbore Prone Matches. He said Smallbore Prone competition has its own unique appeal.
"The course of fire is longer. You shoot more shots per day," Nevius said. "There's an element of endurance."
Nevius is accustomed to the challenge of shooting at Camp Perry, but he said day one of the Any Sight Prone Championship was difficult.
"We just came off the line, and that last match at 100 yards was tough," he said. "It's really hot, and it's really breezy. It was a hard day today, but that's Camp Perry."
Nevius placed second in the Smallbore Iron Sight Prone Championship and the Overall Prone Aggregate, and he had fun doing it.
"What I like about the National Matches is that I get to see all my friends. When you shoot for this many years, you meet a lot of people, and you miss them," Nevius said. "The competition here is fantastic."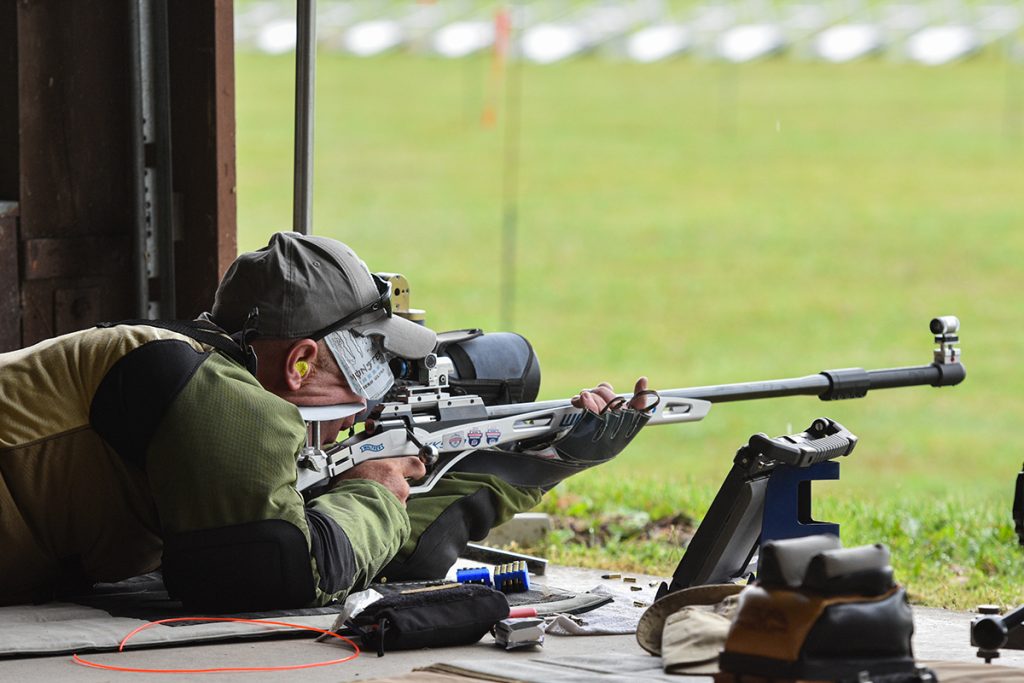 Claudia Muzik is no stranger to Camp Perry. The Air Rifle Junior Olympian has been practicing and competing at the camp for years. She won the Smallbore Prone High Junior Iron Sight Championship and U18 Championship. She had to push through challenges that are particular to Camp Perry to seal the win.
"The wind was definitely a challenge during the match, especially at 100 yards, but that's what Camp Perry's known for," Muzik said. "There were multiple cease-fires from eagles on the range and boats coming into the impact zone. You have to get off the line and then get back in and readjust the focus."
As one of the younger competitors at the National Matches, Muzik enjoys the opportunity to shoot with a wide range of marksmen.
"The National Matches are definitely my favorite match of the year because of all the different types of people you see. I'm usually shooting with people my age," she said. "I'm going to shoot until I can't physically shoot, so it's cool to see older shooters here doing what I want to do one day, and I learn from them. They share all their tips."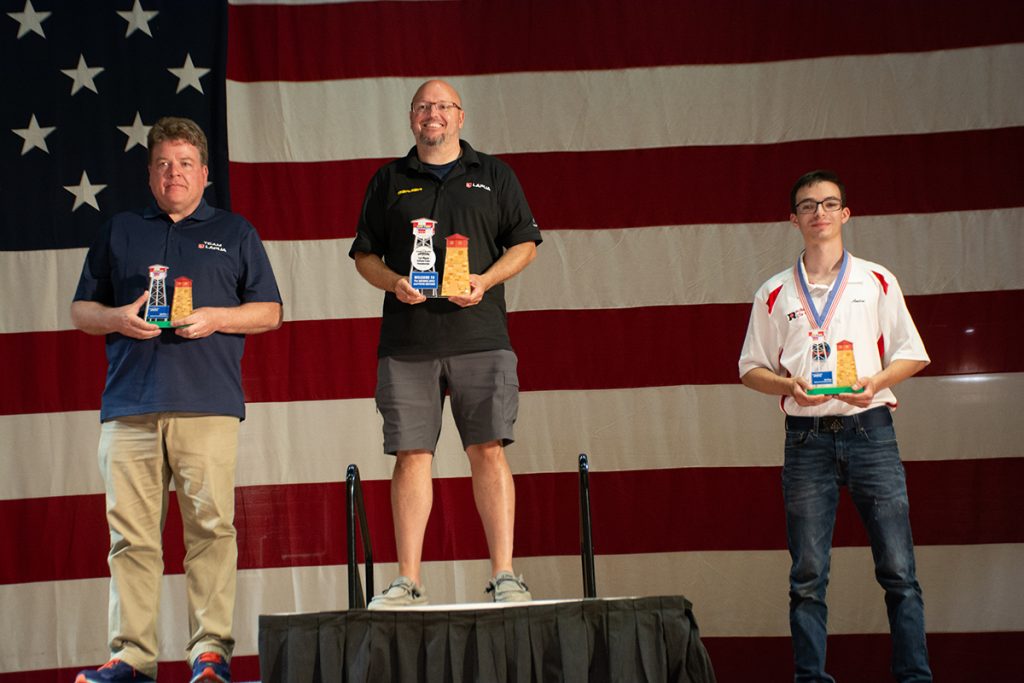 Smallbore Prone – 5200 Aggregate Championship
Open Results: SFC Shane Barnhart, USA, Cardington, OH, 5,188 – 401
F-Class Results: Daniel Pagliari, Chandler, AZ, 5,129 – 313
Junior Results: Joseph Hahn, Middle Grove, NY, 5,159 – 289
Sub Junior Results: Kent Wingard, Pawnee, AL, 4633 – 77 
High Senior: Philip Latzgo, Birsboro, PA, 5174 – 331 
High Grand Senior: Terry Glenn, Auburn, NY, 5151 – 301
High Woman: Abigail Donovan, Brockport, NY, 5167 – 340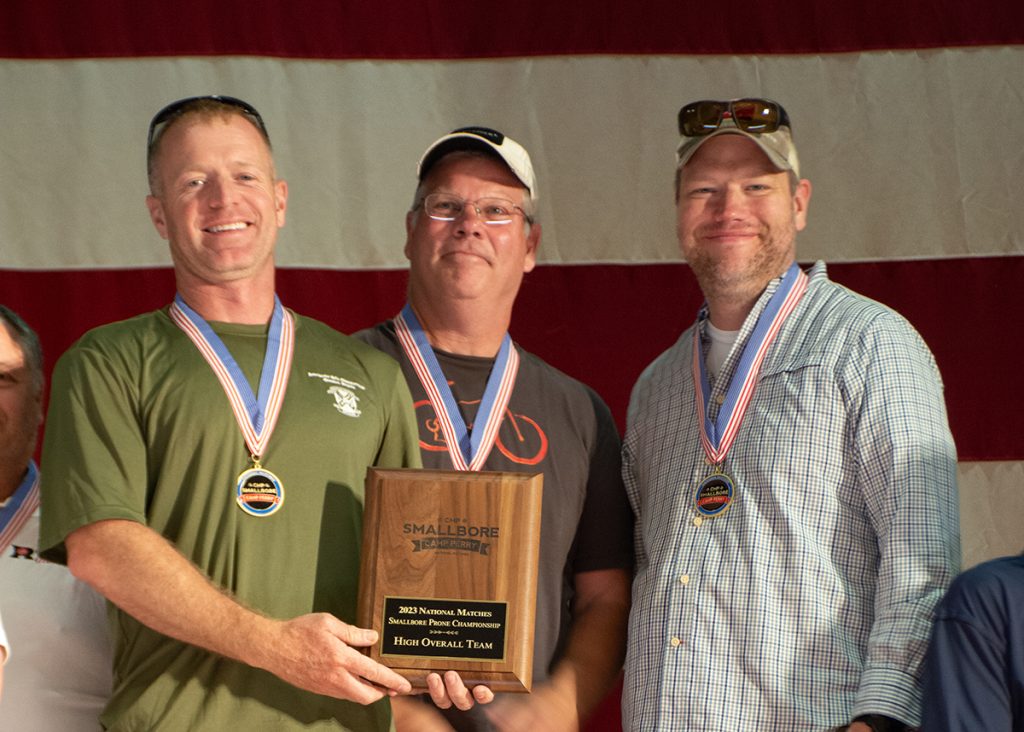 Smallbore Prone – Team Championship
Open Team Results: Misfit Love – 1,592 – 99
Team Members: SFC Brandon Green, USA, Lewis Makison, PO2 Philip Latzgo, USN and Thomas McManus
Club Team Results: Rochester Rifle Club Team A – 1,591 – 108
Team Members: Abigail Donovan, Antonio Gross, Joseph Hahn and Edward Hahn
State Association Results: Ohio Rifle & Pistol Assn. – 1,591 – 100
Team Members: Jeffrey Perry, Paul Gideon, Garald Wise and Michael Naylon
View full results at https://ct.thecmp.org/app/v1/index.php?do=match&task=ajaxTab&tab=Results&MatchId=24909. Photos may be viewed and downloaded at https://cmp1.zenfolio.com/f533177503.