Smallbore Junior Casey Hollenbeck gives Highpower a Shot at Camp Perry
August 11, 2023
Civilian Marksmanship Program
▸
State Director
▸
Wisconsin
▸
Smallbore Junior Casey Hollenbeck gives Highpower a Shot at Camp Perry
By Sheri Trusty, CMP Feature Writer
Three weeks before the 2023 National Matches, Casey Hollenbeck made the switch from smallbore to highpower shooting. He practiced only three times in the new discipline, and yet he cleaned the first three stages of the M16 EIC Match and ended with a second-place finish.
The 17-year-old from Marathon, Wisconsin, who was shooting with the Wisconsin Junior Rifle Team, said his years of smallbore put him in a good place entering the match.
"I just started shooting highpower three weeks ago, but I was excited. With shooting smallbore, I had a lot of the good fundamentals down," he said. "I just had to learn a few things."
He also needed the tools to compete. Hollenbeck walked into Camp Perry with virtually no highpower gear but a tremendous amount of support.
"Since I just started in highpower, I didn't have equipment at all. I started with my smallbore jacket and my glove. That's it," he said. "My smallbore coach, Randy Gregory, let me use his shooting cart, shooting box, mat and spotting scope. While I was here, I bought a highpower jacket. My highpower coach, Spencer McGowan, let me use his gun."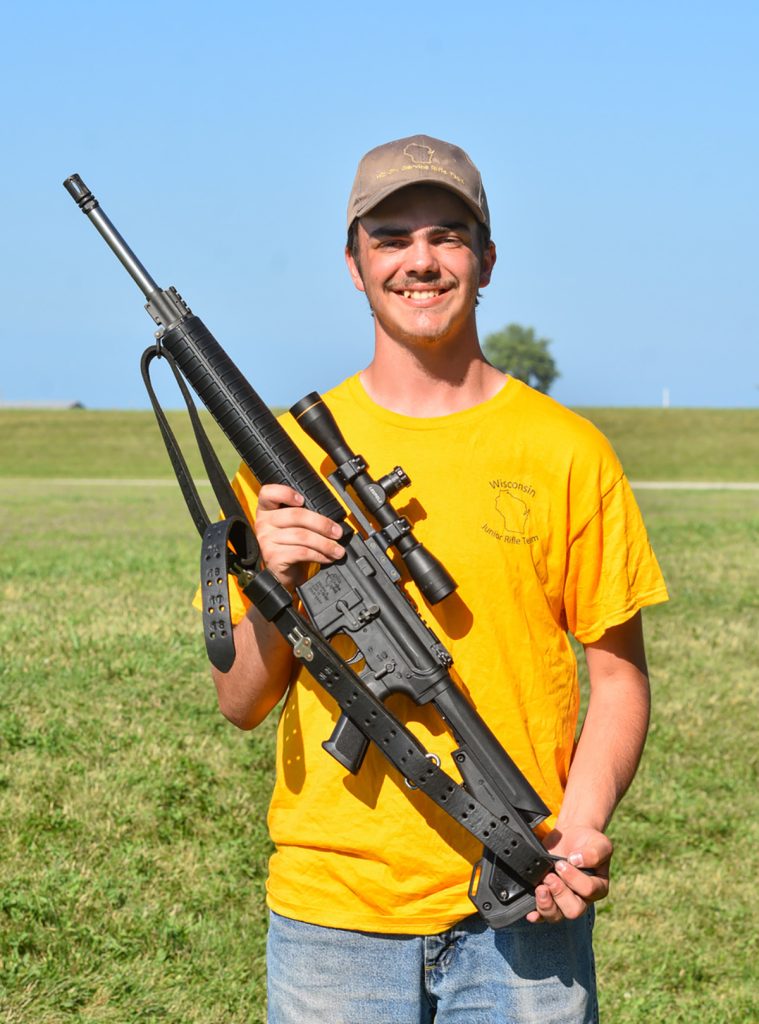 Hollenbeck is grateful for all the support that brought him to his first highpower match.
"I want to thank Randy and Spencer, all the other coaches, and the Wisconsin Junior Rifle Team," he said.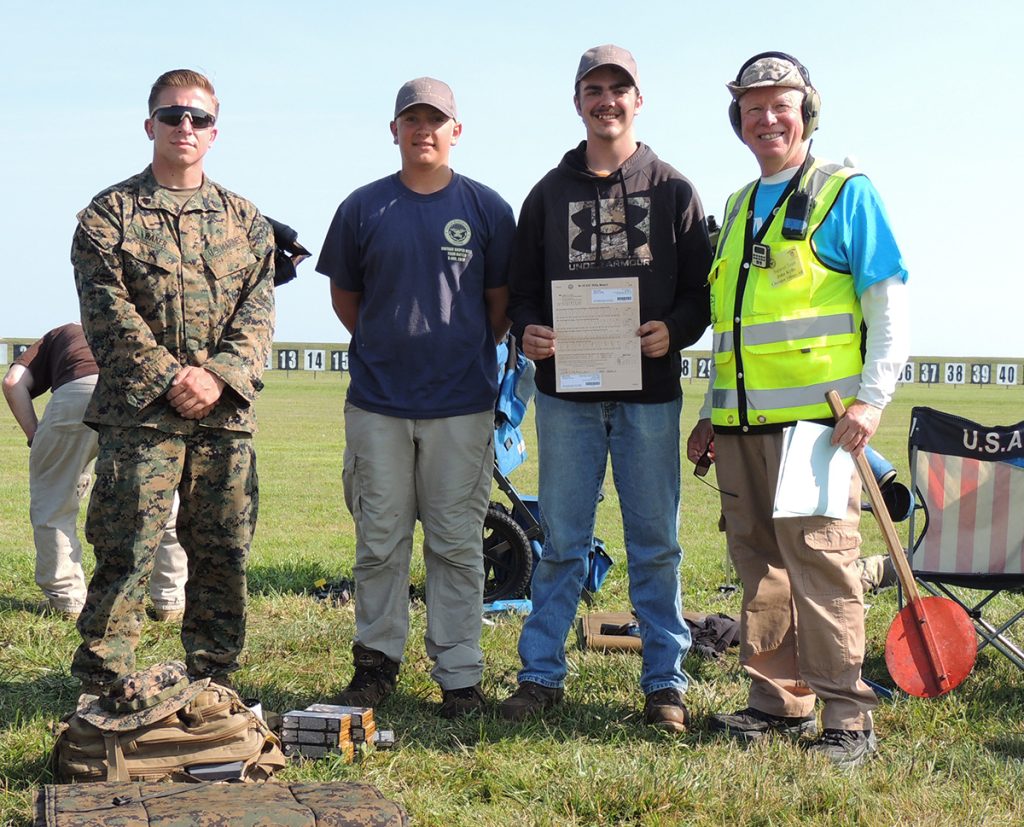 Hollenbeck made the last-minute switch to highpower by the request of McGowan.
"I shot smallbore for five or six years, and Spencer mentioned needing people to shoot highpower. Randy said he had just the guy," Hollenbeck said.
Hollenbeck said he was likely chosen because of his commitment to the sport.
"He recommended me because he knows I like shooting, and it would pique my interest," he said.
As McGowan trained Hollenbeck in highpower, he built on Hollenbeck's already strong shooting skills.
"Most of the stuff I learned in smallbore transferred over, things like breathing, taking your time between shots, and making sure I'm taking a good shot. I had three practices before coming to Camp Perry, basically to get my zeros down," Hollenbeck said. "It's a lot of the same fundamentals – just a bit quicker pace. It's a lot of little things, but it's pretty much the same."
Those skills played out well in the M16 EIC Match.
"I cleaned the first three stages. I was excited about that. I didn't know my scores were that good until somebody started telling me," he said. "I came in second overall. I lost by one point. I think I lost that point in standing. I shot an eight."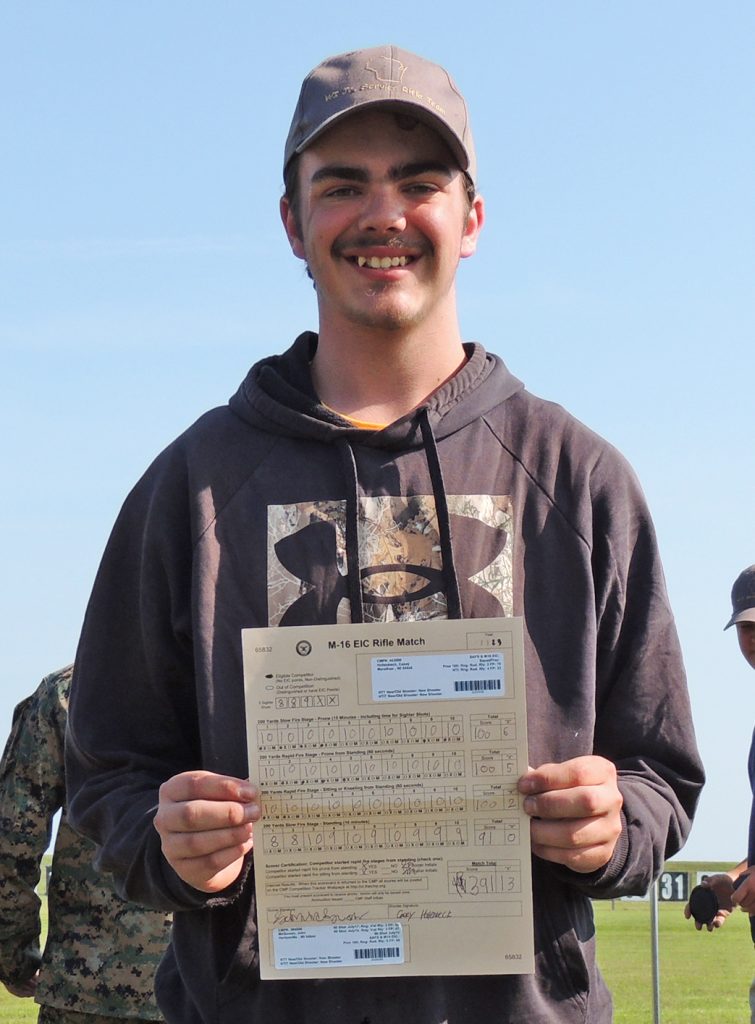 Hollenbeck said he believes the mistake developed in the few, brief moments he forgot his training.
"My coaches taught me to breath in between each shot and take my time. I didn't do that today, and my score was not as good. Then I changed back, and I shot better," he said.
Most of the time, Hollenbeck naturally shoots from a place of seasoned experience. He walks into a match with a mind clear of everything but the next shot.
"When I'm shooting, I forget the score and who I'm competing against, and I focus on shooting," he said. "I don't think about the other people. I just shoot."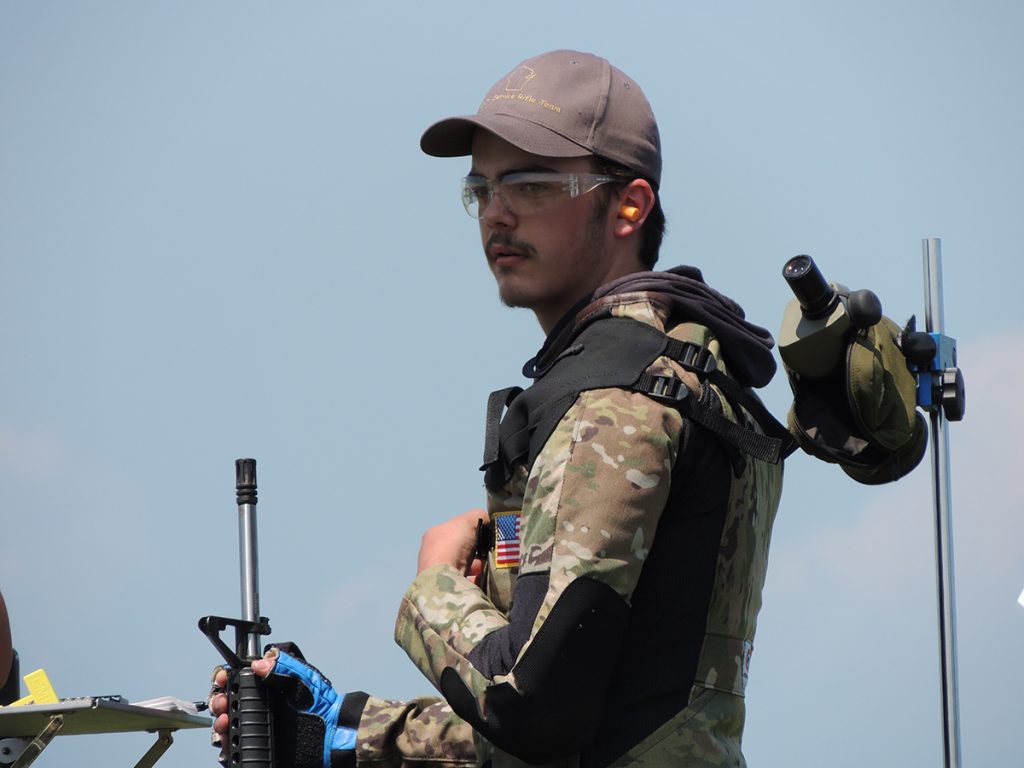 Competing at Camp Perry manifested into a highpower learning experience for Hollenbeck.
"There was a lot of wind during the match, and it was pushing me around in standing. I was having a lot of trouble with that. The wind switched around a lot, but I'm learning how to watch for that. This has been a big learning experience," he said. "I've learned a whole bunch just shooting here. Random people helped me and gave me tips. You can ask almost anybody a question, and they'll answer it truthfully."
Hollenbeck enjoyed his first competition at Camp Perry.
"I love it here. This is awesome," he said. "I'll come back next year. I like how everyone is always willing to help."
Hollenbeck stumbled into marksmanship in junior high when he "was looking for something to do," he said. He shoots smallbore and trap with the Medford Rifle Club.
"The Medford Rifle Club has a lot of people. It's a good size club," he said. ""I just started trap this year. A couple of friends talked me into it. I like it."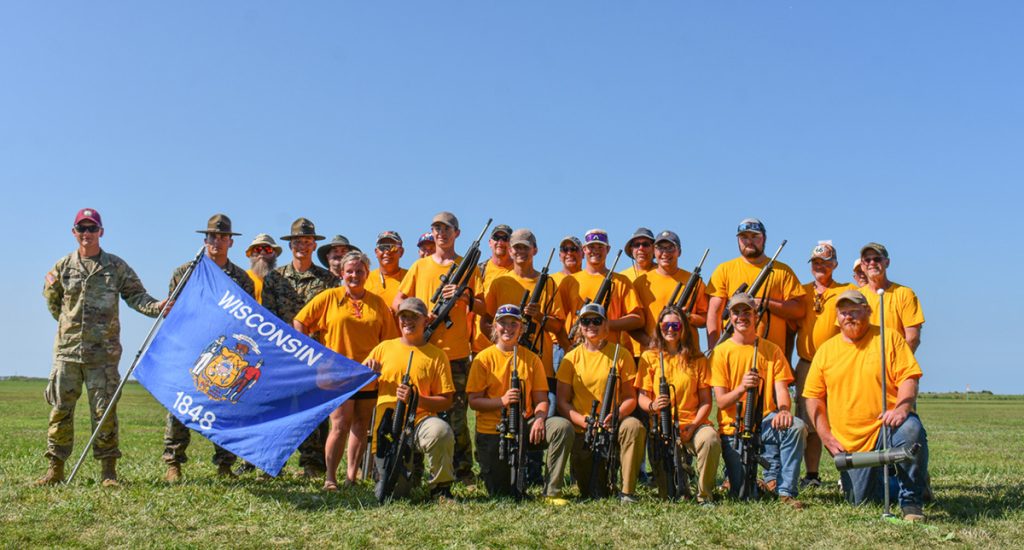 After he graduates high school, Hollenbeck plans to learn welding, and he has a future goal of becoming a fabricator.
"But I'll shoot as long as I can," he said.
He hopes other teens will shoot as well.
"I would encourage them to try it. It's a lot of fun," he said. "It's definitely different from other sports. Rather than physically challenging, it's mentally challenging. People don't realize how much you think about your bad shots and your good shots. There are lows and highs, but it's a lot of fun."
Find a local CMP affiliated club by visiting the CMP website at https://thecmp.org/clubs/search-clubs/.