Plan Your Visit: Top 5 Areas to Explore Outside of Camp Perry
July 14, 2023
Civilian Marksmanship Program
▸
The First Shot
▸
Plan Your Visit: Top 5 Areas to Explore Outside of Camp Perry
By Ashley Dugan, CMP Writer
While visiting Camp Perry, Ohio, for the Civilian Marksmanship Program's (CMP) annual National Matches, don't miss out on the opportunity for your family or even for yourself to discover the many offerings along the shore of Lake Erie! There are countless dining, artistic, outdoor, historical and other activities available in the area, so be sure to plan ahead! Here, we've marked the Top 5 areas you need to explore outside of Camp Perry this summer. For the Top Things to do on Camp Perry, visit https://thecmp.org/plan-your-visit-top-5-things-to-do-on-camp-perry/.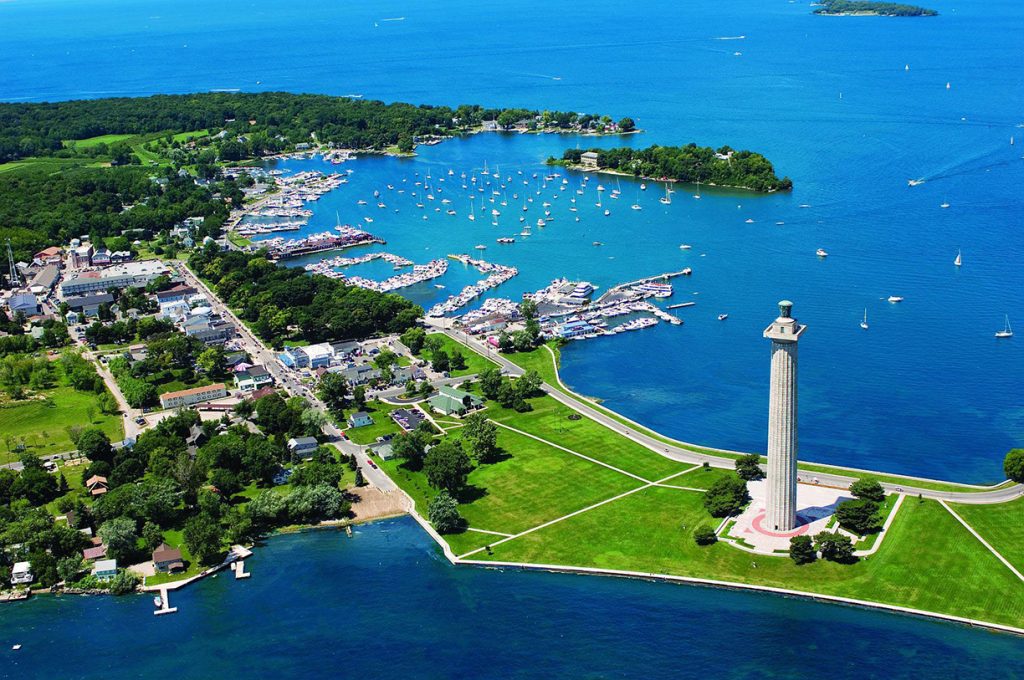 1. Lake Erie Islands:
The Western Basin of Lake Erie, where Camp Perry is located, is home to several unique islands – open to visitors all year long. Just a short ferry ride away, guests may rent golf carts, bikes or take their own transportation over to explore the many happenings the islands present.
Such islands include South Bass, home to Put-In-Bay. The town is full of history and entertainment suitable for the whole family, like Victorian-era buildings, parks, restaurants, a candy store, butterfly house, putt-putt and more! The island is also home to Heineman Winery, a Put-In-Bay staple since 1888. While at the winery, explore Crystal Cave, one of the largest geodes in the world, and Perry's Cave, a limestone cavern discovered in 1813. Families may also travel up inside Perry's Victory & International Peace Memorial – one of the tallest monuments in the United States at 352 feet. The site commemorates long-lasting peace between Great Britain, Canada and the U.S. after a victory by Commadore Oliver Hazard Perry and the U.S. Navy during the War of 1812. At night, the island comes alive with a row of historical taverns (including the world's largest bar) and features live bands, a sand-floor bar and other exciting spots. See more about Put-In-Bay at https://putinbay.com/.
Larger in land mass and viewable from South Bass is Kelleys Island, another fun and fascinating destination in Lake Erie. The island offers beautiful historic homes, bed & breakfasts and a state park for camping that includes its own scenic sand beach where families may sunbathe, swim or even rent kayaks. Right across the street from the beach is the Glacial Grooves – a 400-foot long natural phenomenon created when a massive glacier moved through the area millions of years ago, forming the Great Lakes. Visitors are able to walk right alongside the grooves, making it one of the most accessible geological destinations in the world. The island provides a series of restaurants (with world-famous fried walleye and perch), a general store and other shopping opportunities, as well as a variety of island wineries. Adults – don't forget your Brandy Alexanders! Learn more about Kelleys Island at https://kelleysisland.com/.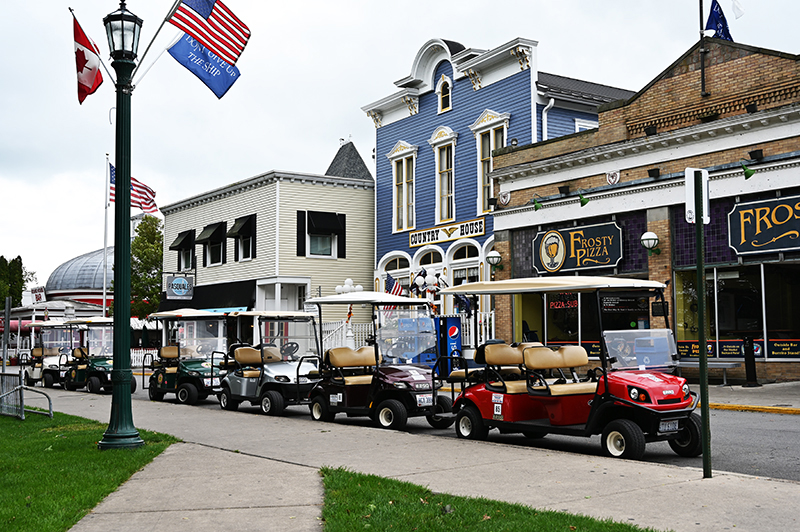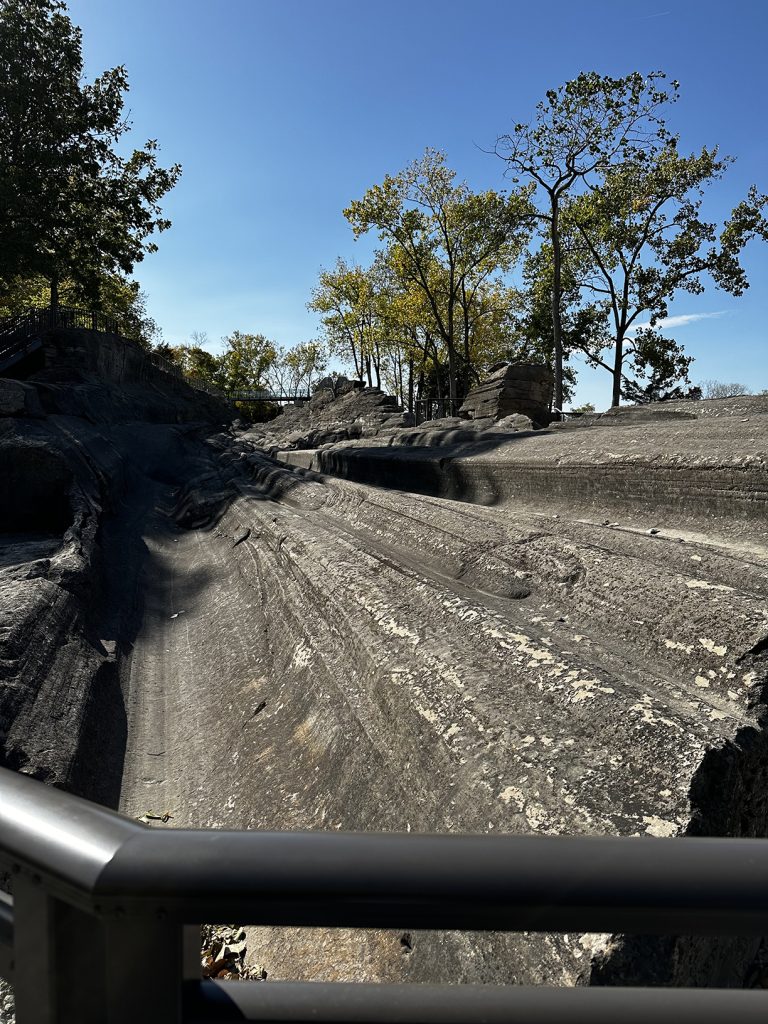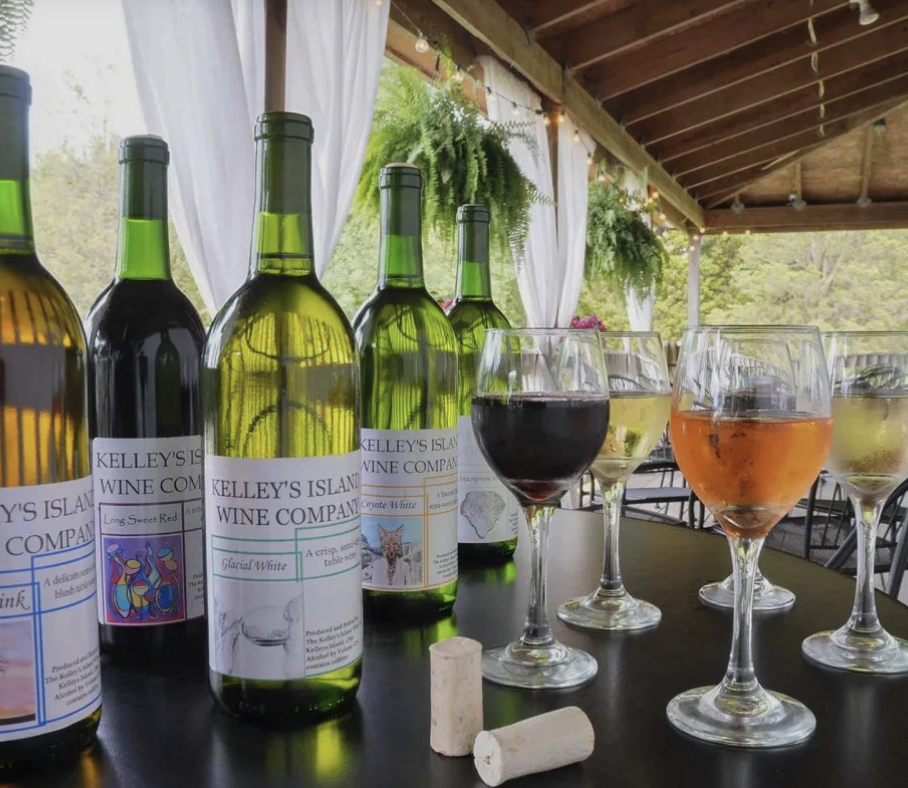 ---
2. Lakeside Marblehead:
Marblehead is a small village about 18 miles east of Camp Perry. The downtown area offers a strip of quaint shops and restaurants along with an eclectic array of artist galleries and events. Here, catch the Kelleys Island ferry or drive slowly down the picturesque coastline of the peninsula to reach the Marblehead Lighthouse – a state park with the oldest continuously operating lighthouse on the Great Lakes (since 1822). The spot is known to be one of Lake Erie's most photographed landmarks and holds a captivating nautical museum on the grounds. Fish off the rocks, have a picnic or take in views of the world-famous amusement park, Cedar Point, located just across the bay.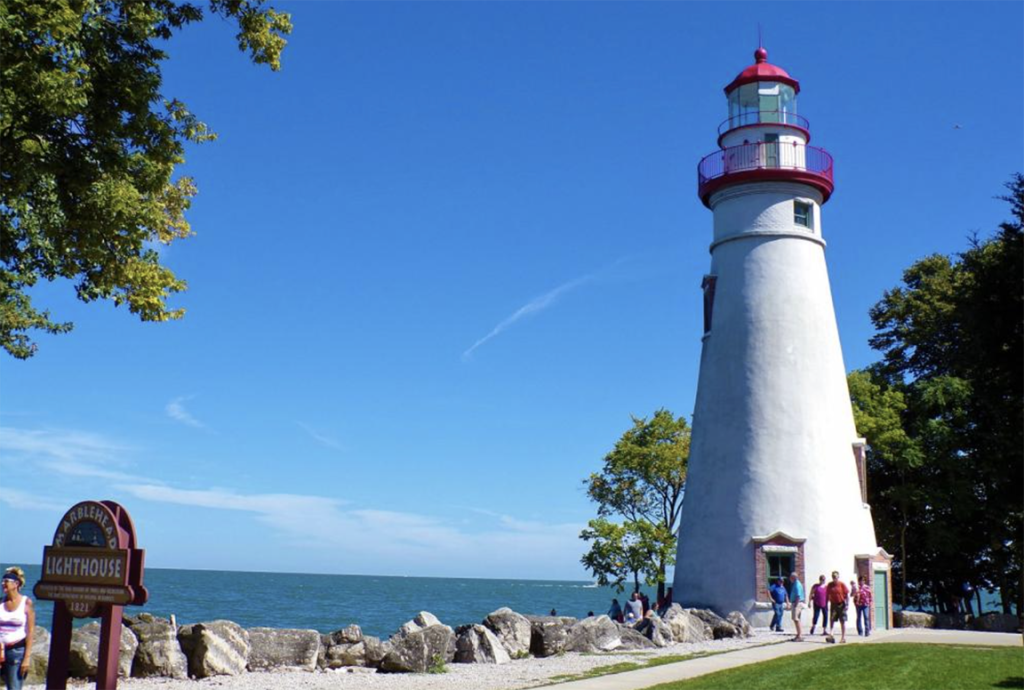 Don't forget to grab your goodies from Mutach's Market, a full-service grocery store that has served the area since 1907. For more outdoor activities, Marblehead holds East Harbor State Park, with a public beach, a marsh pond, camping and breathtaking views. For American History enthusiasts, the peninsula allows access to Johnson's Island – Ohio's most significant Civil War site. Drive across the causeway to tour the Johnson's Island Museum with several images, stories, artifacts and letters all covering the history of the site, which served as a Prisoner of War Depot for Confederate Soldiers.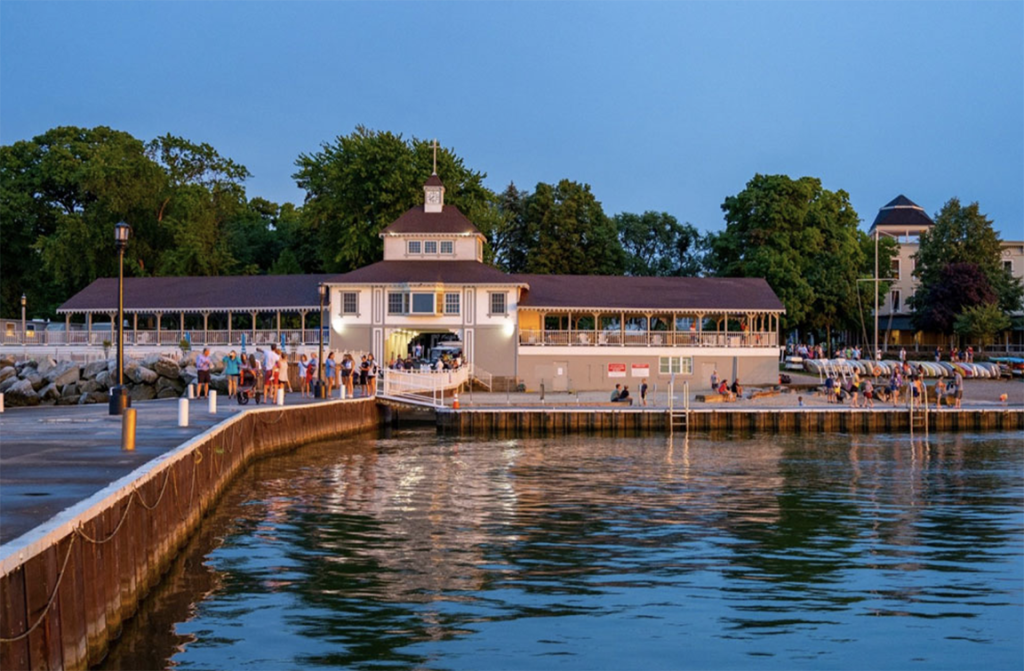 Near Marblehead on the peninsula is Lakeside Chautaqua – a historic gated community that offers cultural arts and recreational activities like fishing off the pier, swimming, boating and more! Play shuffleboard in the park or give the mini putt-putt course a try. Buy a partial day, daily or weekly pass to explore more about Lakeside. See all it has to offer at https://lakesideohio.com/.
---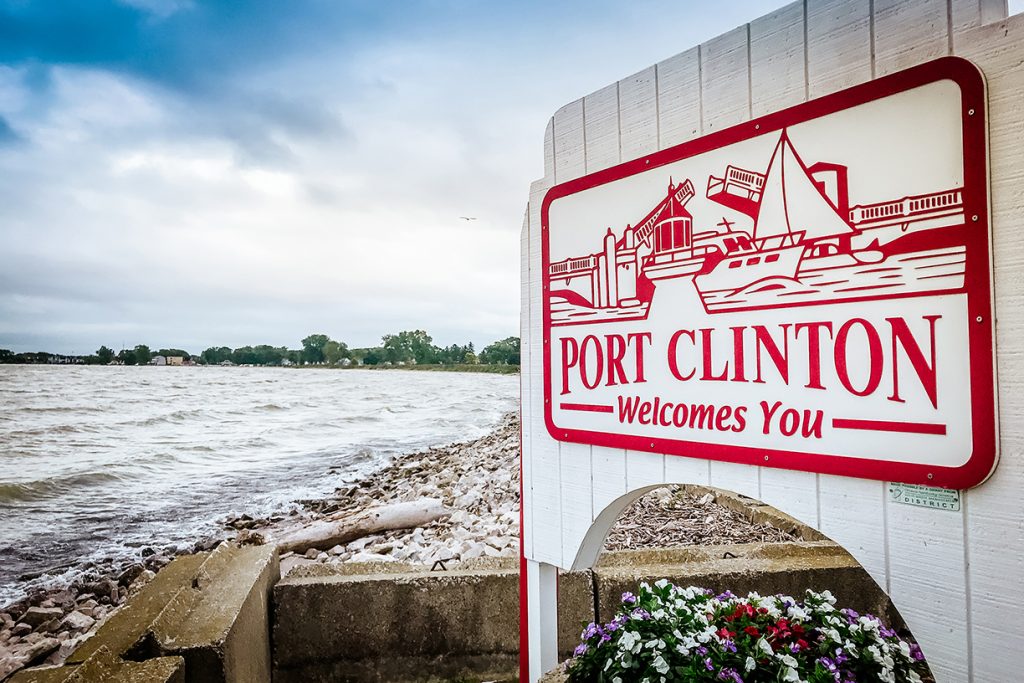 3. Port Clinton:
Port Clinton is the city where Camp Perry is located. Nestled along the shore of Lake Erie, Port Clinton presents a number of activities for individuals and families like public beaches, downtown restaurants, festivals and live outdoor music during the summer months. Ride the fast, Jet Express catamaran ferry to Put-In-Bay, visit the old Port Clinton Lighthouse, reserve your spot on one of the many charter fishing boats or grab a basket of fried Lake Erie perch and a bag of gourmet popcorn. Visitors may also visit the Liberty Aviation Museum, which showcases several authentic World War II aircraft and a flyable Ford Tri-motor "Tin Goose" plane (one of only a few air-worthy left in existence).
Keep your eye out for Wylie the Walleye, the city mascot, who can be found around town to remind visitors that Port Clinton is indeed the "Walleye Capital of the World." Learn more about Port Clinton at https://www.portclinton.com/ or through the Chamber of Commerce website at https://www.portclintonchamber.com/.
---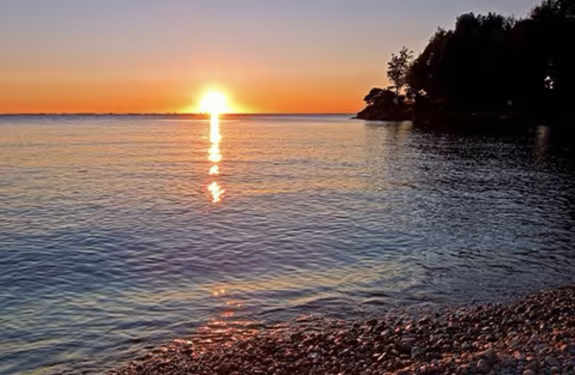 4. Catawba Island:
No more than a 10-minute drive from downtown Port Clinton is Catawba Island, which offers several options for those looking for a delicious night out. The Gideon Owen Wine Company serves up many local wines, with roots dating back to the 1870s. Interestingly, the original lower wine cellar is still used today for wine production. Just down the road, find The Orchard, a restaurant offering farm-to-table options in an upscale atmosphere. Try fresh seafood or Wagyu beef, listen to the live entertainment or sample the charcuterie boards (featuring jams and other local goods) on the outdoor patio. Visit the farm stand next door for a salad or hot honey & whipped feta dip, or simply sip on some wine in the garden area.
If you're more of a beer lover, Twin Oast Brewing is a farm-to-fermenter location on 60 acres of family-owned orchard – with many of the beers in the taproom brewed with harvested produce right from the grounds. Try their signature jumbo Bavarian pretzel or stone oven pizza as you enjoy a pint on the beautiful stone oast patio or next to the large pond and water feature. If you find you'd rather stay in and cook, no problem. Head down to Bassett's, a grocery market that houses several local and Amish goods as well as a huge selection of wine, cheese and other produce.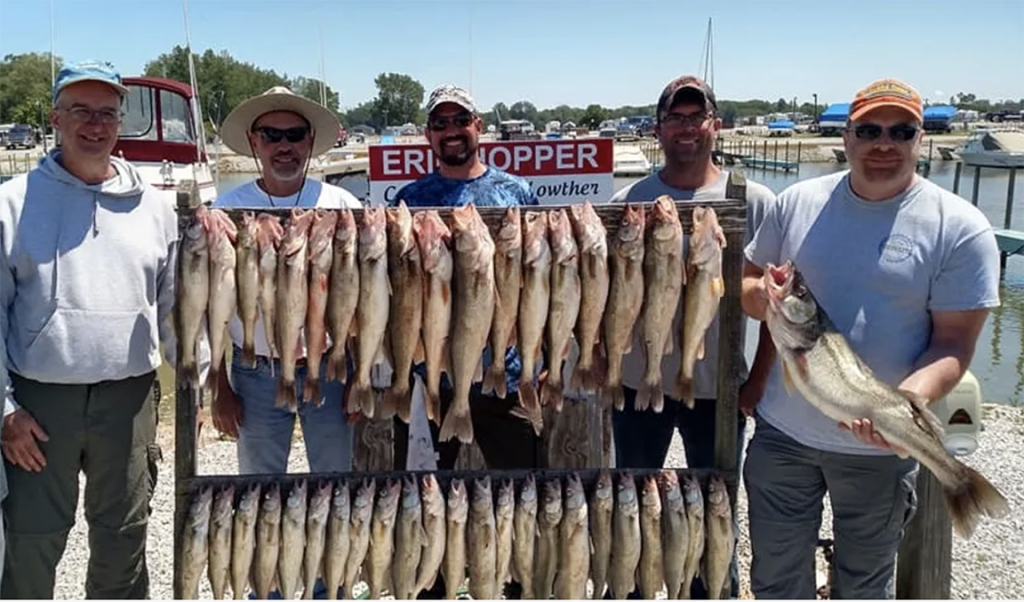 As far as activities are concerned, take a walk or watch the gorgeous sunset over the lake at Catawba Island State Park, find yet another ferry to Put-In-Bay, play putt-putt or maybe even take a tour of African Safari Wildlife Park, a member of the Zoological Association of America and home to many exotic animals and drive-through encounters.
---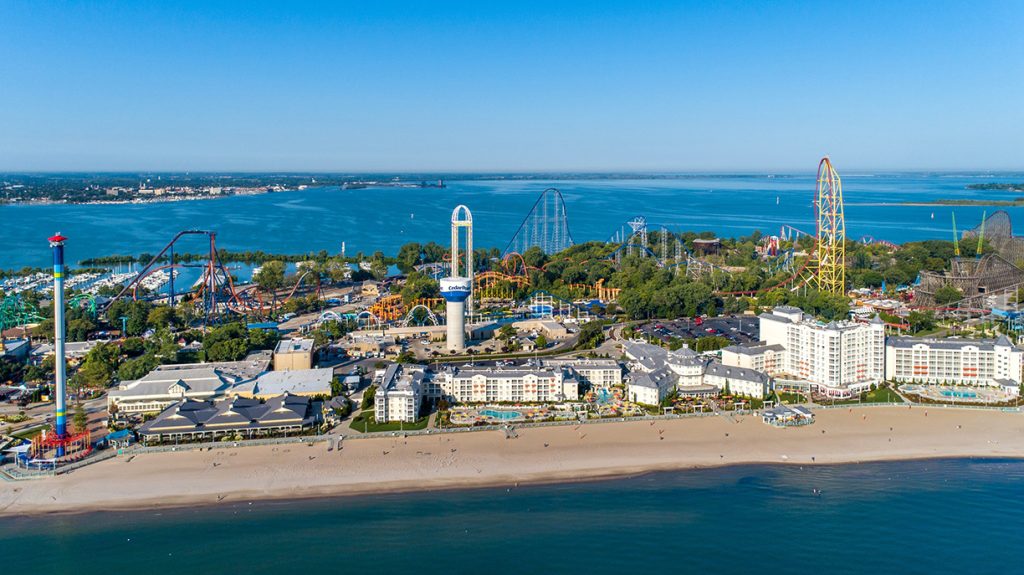 5. Sandusky:
Just a short drive across the bay, you'll find Sandusky – a city known for its many thrilling activities. Sandusky is home to Cedar Point, a world-famous amusement park built in 1870 and now housing over 70 thrill rides, including 18 roller coasters (many with record-breaking features). The park is built within its own peninsula and holds a mile-long sandy beach and water park. Speaking of water parks, Kalahari Resort & Convention Center, located in Sandusky, is Ohio's largest indoor water park adorned with an African theme. Buy a day pass to the many pools and water slides, play in the arcade or rent one of the many rooms on the grounds to fully immerse yourself in the #1-voted indoor water park by USA Today in 2023.
Other Sandusky amenities include the Sandusky Mall, a Merry-Go-Round Museum, Toft's (the local dairy and ice cream shop), a speakeasy bar and the Jackson Street Pier with a variety of restaurants to enjoy. Learn more about Sandusky at https://www.cityofsandusky.com/.
There's so much to do! Find even more fun activities through Shores & Islands Ohio at https://www.shoresandislands.com/.