Over 100 Guests, New Products Connect at CMP's Inaugural Premier Shooting Expo
November 1, 2023
Civilian Marksmanship Program
▸
State Director
▸
Alabama
▸
Over 100 Guests, New Products Connect at CMP's Inaugural Premier Shooting Expo
By Ashley Dugan, CMP Staff Writer
TALLADEGA, Ala. – On Oct. 18, 2023, the Civilian Marksmanship Program (CMP) hosted its inaugural Premier Shooting Expo – an interactive event for vendors and consumers, set across the 500 acres of CMP's Talladega Marksmanship Park in Alabama.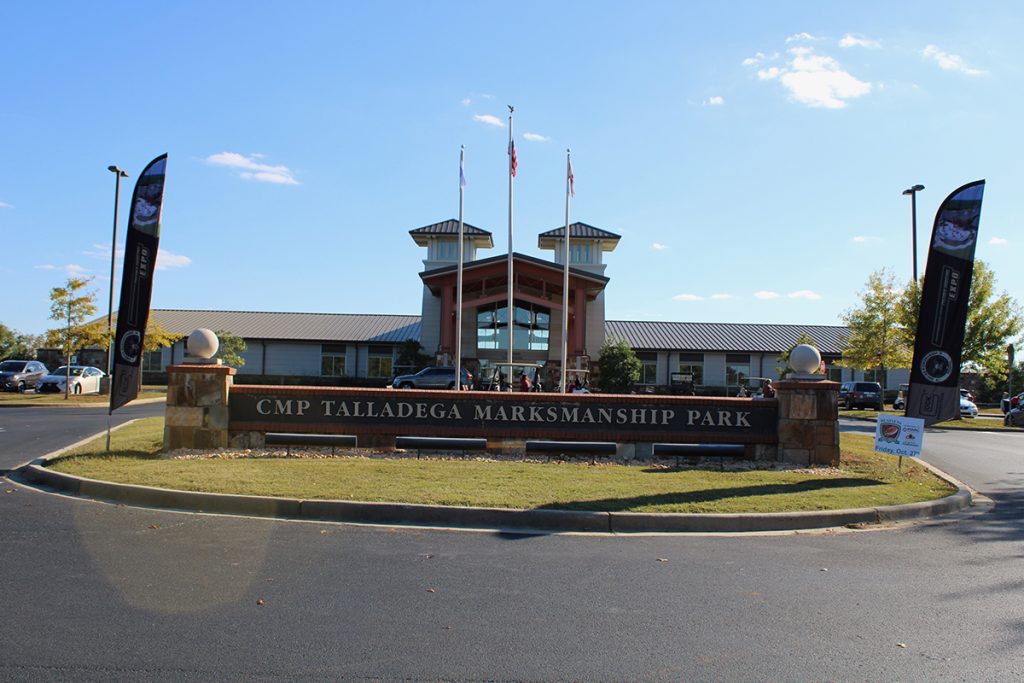 Over 100 guests attended the Expo, where they were able to meet with 17 different marksmanship industry and non-industry retailers to test out the latest products first-hand. The Expo also included exclusive door prize opportunities for those in attendance and the chance to fire CMP's own M1 Garand rifles and 1911 pistols.
"It was a great event, showcasing firearm vendors from across the country and showcasing the range," said Greg Raines, CMP Chief Commercial Officer. "We're already planning for the 2024 Expo, where we look to have triple the showing over the first year's numbers."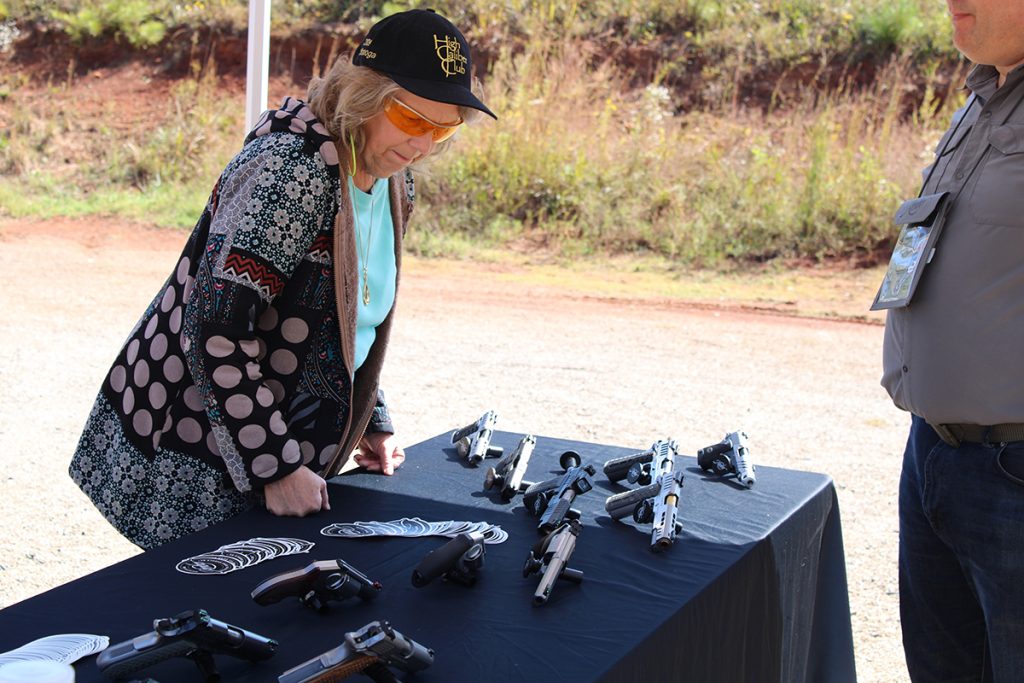 Some of today's leading manufacturers attended the inaugural Premier Shooting Expo, including a long-time supporter of the CMP and its programs – GLOCK, Inc.
"I've always been a firm believer in putting our product in a person's hands," said GLOCK's National Sales Manager, Bob Radecki. "To me, this is the best sales opportunity you can have – when you're interacting directly with the consumer and you're actually having the opportunity to show them your product, show them the benefits of your product and actually use it."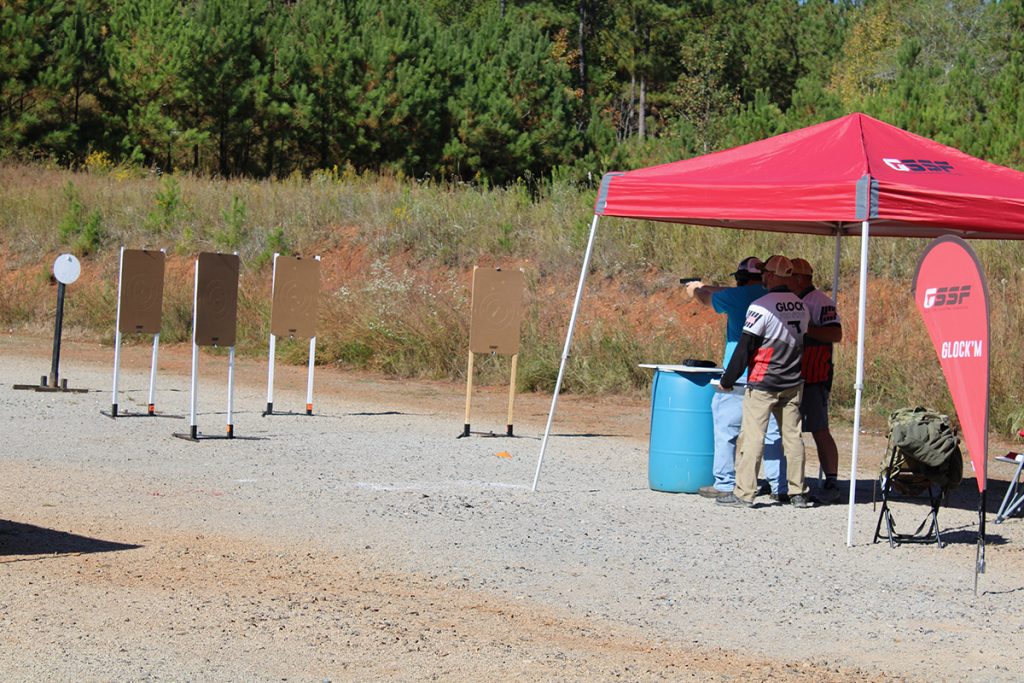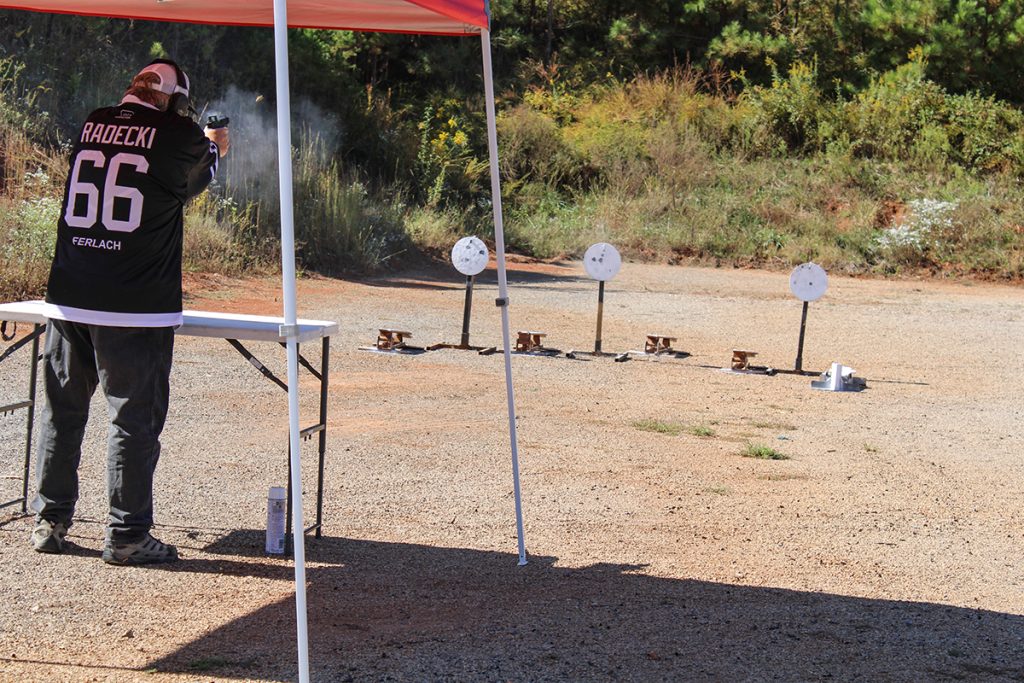 As Radecki praised Talladega's access to hotels and neighboring restaurants as well as its suitability for a dynamic event like the Expo, he thought back to his first visit to the park when the 600-yard electronic range was marked only by a lone piece of construction equipment on bare soil.
"We've been involved with the CMP at Talladega since before it was built," Radecki joked.
GLOCK has kept a close relationship with the CMP over the years – holding multiple GLOCK Sport Shooting Foundation (GSSF) National Championships at Talladega and recently presenting a check to the park for $50,000.
"We have a very good working relationship with the CMP," Radecki said. "The people that run the organization are easy to work with, and the facilities are outstanding."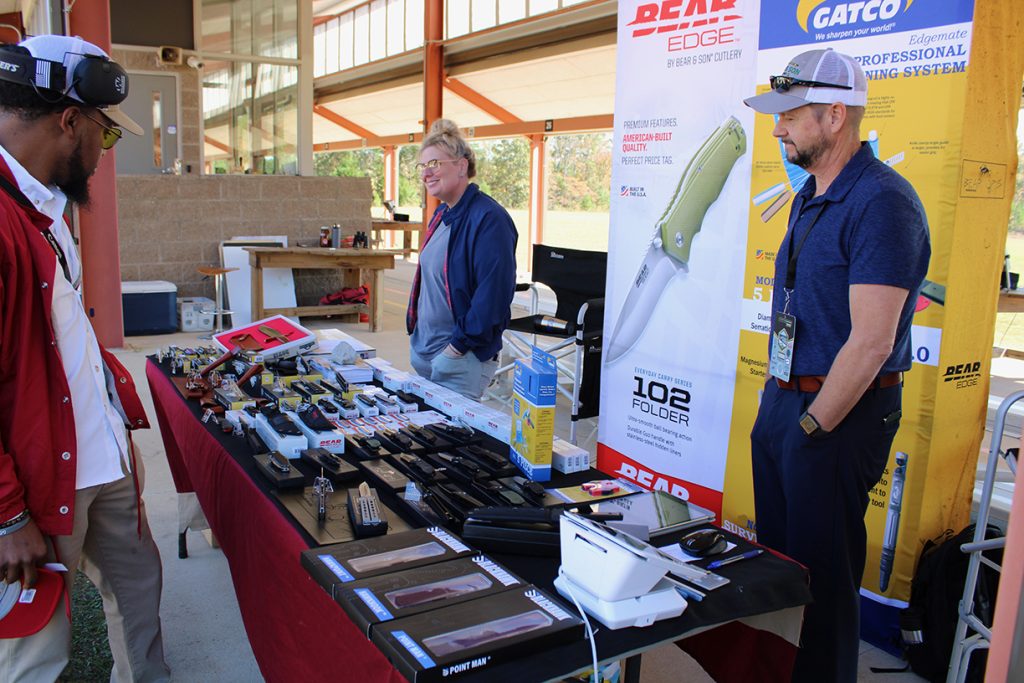 Along a fleet of pistols like the G21, G47 and the G20 10mm, GLOCK brought representatives of the GSSF to the Premier Shooting Expo. The team encouraged guests to participate in one of the assembled stages of their GSSF matches within one of Talladega's pistol bays – 10 rounds on GLOCK M-4 paper targets and a steel target, using a G47 with standard sights. Numerous visitors who had never fired in a GSSF match before took on the target setup, with GSSF experts nearby to ensure safety and to aid newcomers on the range.
"The GSSF is an outstanding way to get into competition," Radecki explained. "It's not overly complicated, so if you are a new shooter, it's not overwhelming. It's a good starting point."
The top scoring participant in the GSSF stage at the Premier Expo won a GSSF life membership. The match demonstration was just one part of the crowning objective shared by everyone at Talladega that day – supporting safe and enjoyable marksmanship activities for all.
"I'd like to see more people come out," Radecki went on about the CMP Premier Expo. "It's an excellent opportunity to try before you buy. We have a plethora of manufacturers here, so you can shoot the GLOCKS, competitor handguns – it's just a good opportunity to come out and have a nice day at the range where you can shoot a variety of things, and the cost is insignificant."
A seasoned competitor in his own right, Radecki took the opportunity to try out other vendor displays for himself, like the revolvers available through Kimber Manufacturing.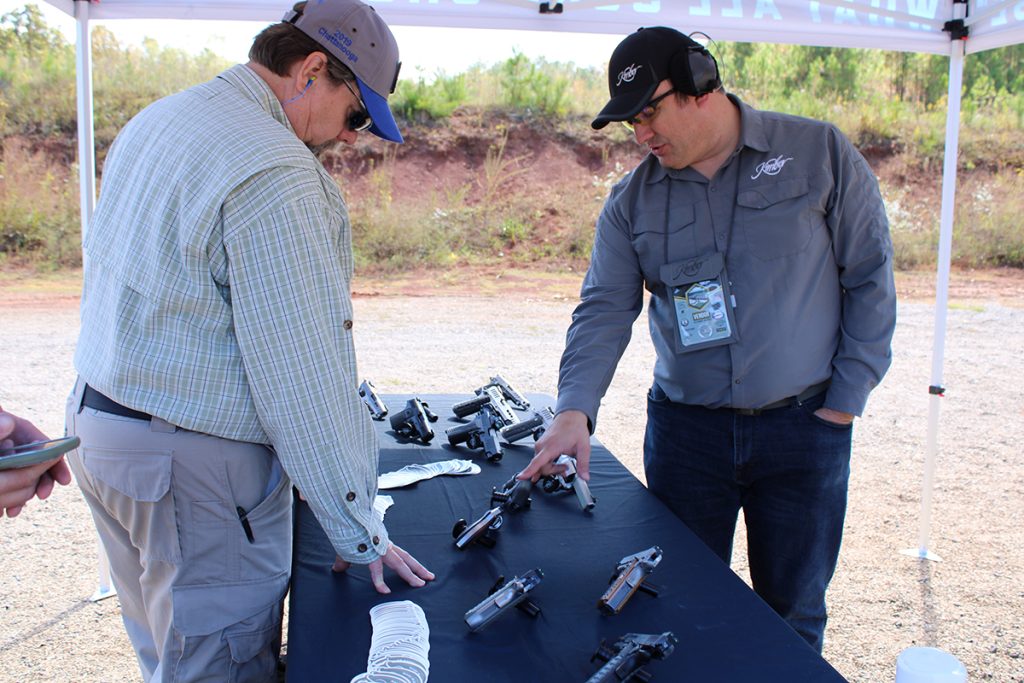 Kimber is known for its high-end 1911s and ultra-light hunting rifles, but at the Premier Shooting Expo, the company exhibited some of its newest firearms including the KDS9c concealed-carry 15-round capacity pistol, along with other 9mm like the R7 MAKO and the K6S Target and new K6XS lightweight backup.
"It's important that we connect with our core consumer. We value our core consumer – that's the reason why we are where we are," said Everett Deger, Marketing Director at Kimber Manufacturing. "Our preference is that people can get their hands on our products and test drive them, so to speak. That's our philosophy."
"I consider it essential," he went on. "Especially when you select something as personal as a firearm. You can buy shoes online and return them, but firearms are a much more personal purchase."
Kimber's corporate headquarters is located in Troy, Ala. – only a short drive from CMP's Talladega Marksmanship Park. According to Deger, the close proximity of the entities makes them natural partners in keeping marksmanship moving in a positive direction.
"The CMP is what I consider to be the anchor as far as firearm events and the civilian market," he said. "We're on the cusp of starting a more robust relationship."
"This is probably the first known event that we've supported the CMP at this facility," he added. "We supported the CMP earlier this year with presence at the Bianchi Cup, but we're looking forward to a launch debut event at Talladega in early March 2024 for the brand overall."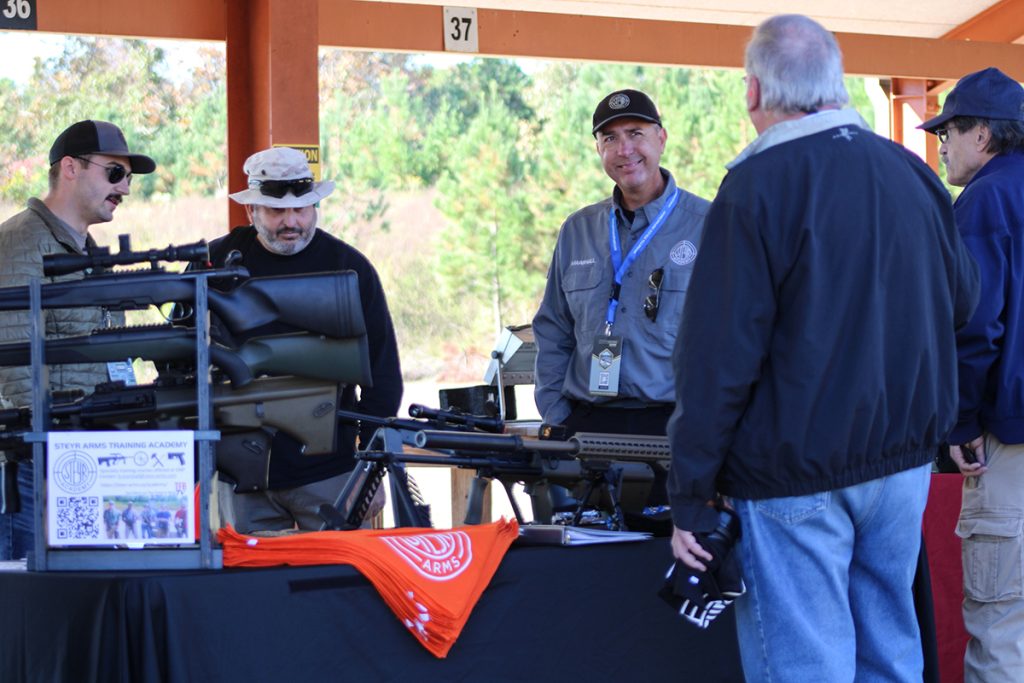 Other companies represented at the 2023 Premier Shooting Expo included Grizzly Ears (specializing in hearing protection for outdoor enthusiasts), Steyr Arms (another elite firearms retailer), Crosman Corporation (a principal manufacturer of air guns) and Volquartsen Firearms (an Iowa-based distributor of .22 rimfire products).
Like the vendors in attendance, consumers at the Expo hailed from Alabama and other areas of the country, including David Castle and Ronnie Davenport from Greenwood, S.C., who made a four-hour drive to Talladega.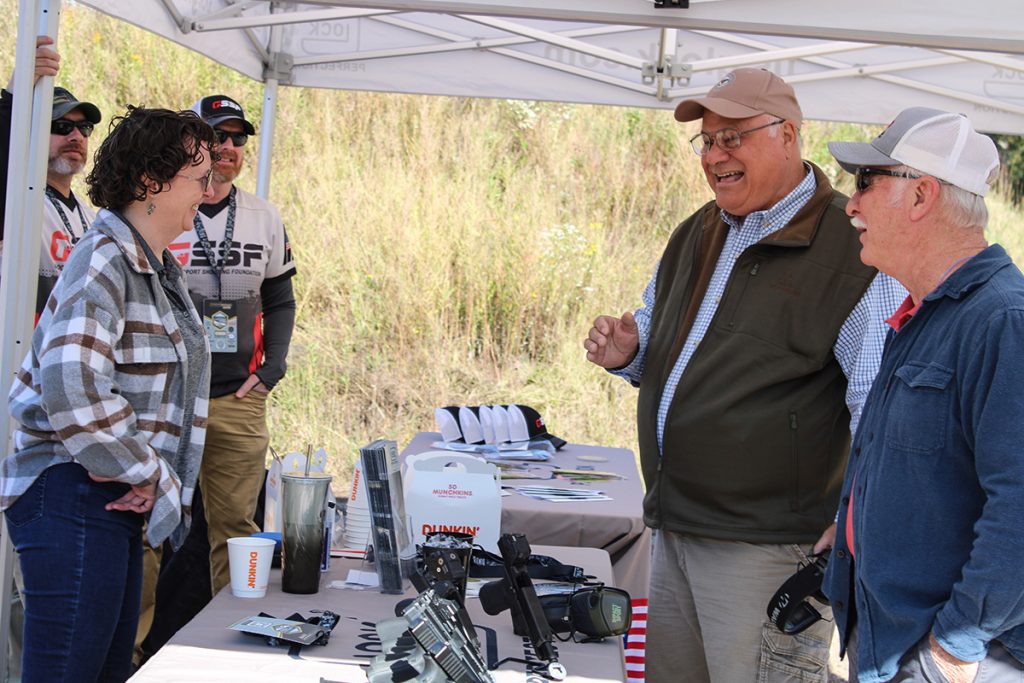 "We wanted to come because it was the inaugural event," Davenport said.
"The CMP has got a nice facility here, and it's well run," Castle added.
The pair met through their own local club years ago and quickly discovered a kinship and mutual desire to travel to the Talladega Marksmanship Park. After participating in the inaugural rimfire sporter rifle match when the park opened in 2016, the men – lovers of wood guns, especially – now make the trip to Talladega together twice a year to attend the annual Talladega D-Day and Talladega 600 events held at the facility.
Castle and Davenport spoke highly of the electronic targets located within Talladega, saying the shot placement monitors located at each firing point help them eliminate the need for a spotting scope. The use of the monitors allows participants to make quick adjustments without having to strain to see downrange.
"It makes you a better shooter," Castle said.
The duo said they were happy to visit face-to-face with vendors at the Expo as well as the CMP personnel they've come to know over the years. They plan to return to next year's Expo to see even more vendors around the park.
"We enjoyed it," Davenport said. "And it'll just get better and better."
Sharing the same sentiments were Alabama locals Jim Barton and Ben Jackson of Birmingham. After finding out about the Expo through the CMP's email newsletter, they knew they had to attend the event for themselves.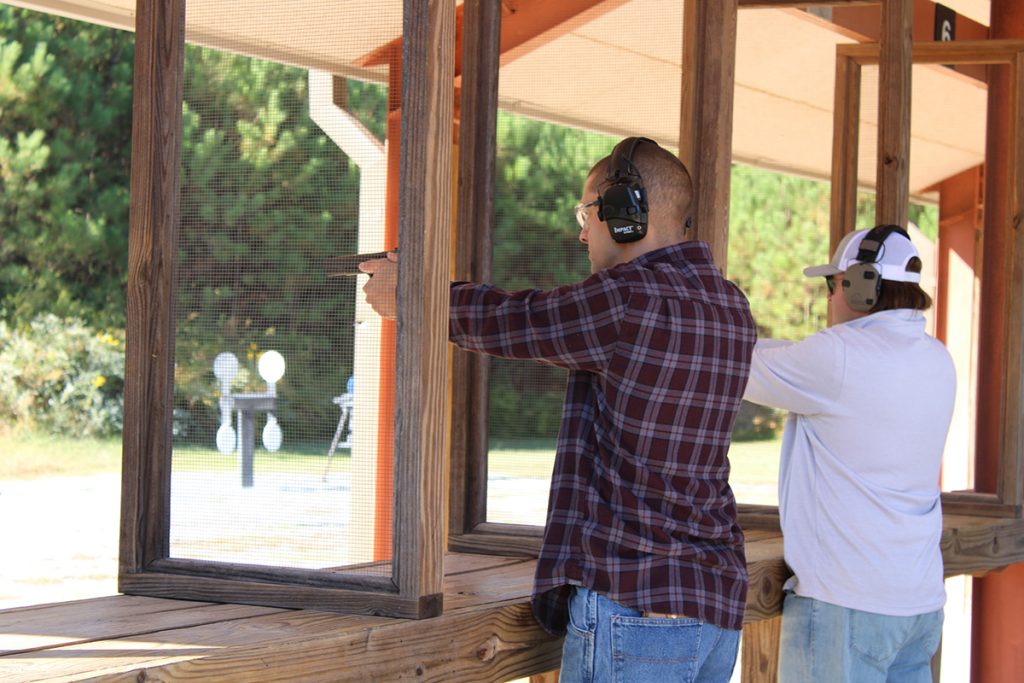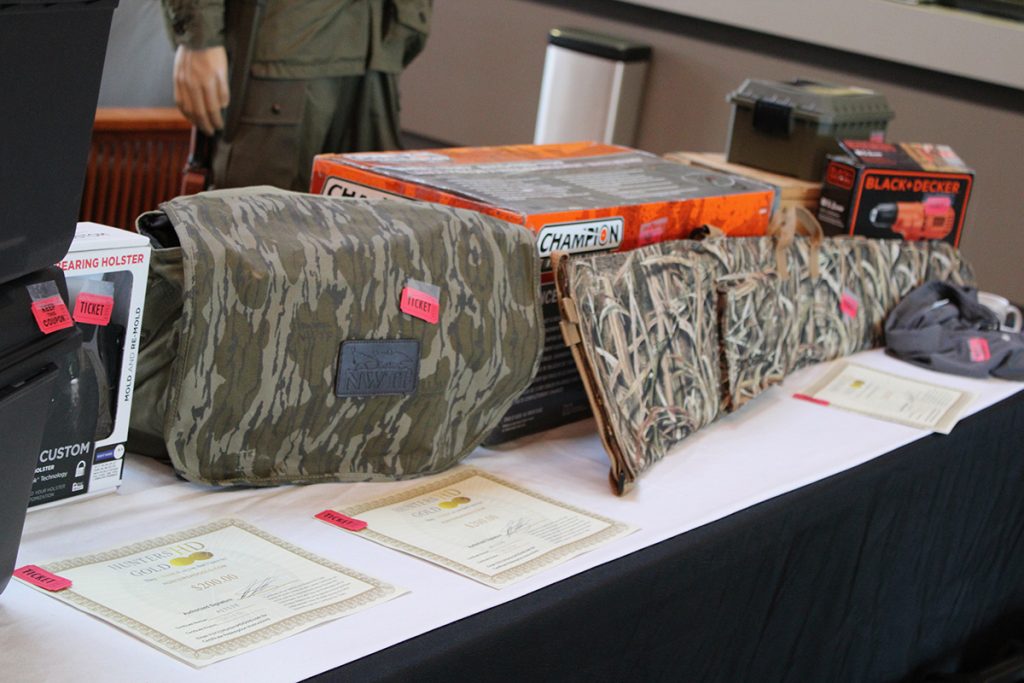 "We're both interested in the shooting sports and target shooting and hunting and such, so we thought it was a neat idea to come out here for the first Expo and see who else showed up," Jackson said. "And it turned out to be a beautiful day."
Both Jackson and Barton have been visiting Talladega regularly since its opening, enjoying the variation and flexibility available through the park's mix of rifle, pistol, archery and shotgun ranges. They also look forward to using the facility's Unknown Distance Range on their next visit.
"I think it's fantastic that a range of this quality, with this variety, is right here in Alabama," Barton said.
They went on to commend the CMP for compiling its own Expo to bring together industry favorites as well as some lesser known manufacturers.
"It gives you the chance to meet and talk with a lot of people," Jackson said. "I wasn't familiar with some of the vendors that were here. It's good to see."
"And we're eligible for door prizes," he said with a smile. "It's an added bonus."
If you couldn't make it to this year's event, be sure to keep an eye on the CMP's website and social media pages for updates on the next Premier Shooting Expo throughout the year! You can also find more info at https://thecmp.org/ranges/talladega-marksmanship-park/cmp-premier-shooting-expo/. Photos from the event are posted at https://cmp1.zenfolio.com/p147977056.