Ohio Local Bryan Scott Earns Nationally Recognized Marksmanship Badge
October 31, 2023
Civilian Marksmanship Program
▸
State Director
▸
Ohio
▸
Ohio Local Bryan Scott Earns Nationally Recognized Marksmanship Badge
By Ashley Dugan, CMP Staff Writer
Bryan Scott, 55, of Clyde, Ohio, has reached an accomplishment many set out to achieve but never attain – earning a Distinguished Rifleman Badge. It came unexpectedly through a hobby that started as a mere suggestion and blossomed into a persistent passion.
Distinguished Badges are the highest individual awards authorized by the U. S. Government for excellence in marksmanship competition. Badges, offered in a number of disciplines, are presented by the CMP after an individual receives at least 30 Excellence-In-Competition (EIC) "leg" points at qualifying matches. It's a symbol of consistent skill on the range and is a merit that is looked upon with great reverence in the marksmanship world.
Bryan first became involved in marksmanship as an adult through shotgun trap and skeet while in the Air Force at the Tyndall Air Force Base range in Florida. He had always liked firearms and shooting, so he decided to give it a try, just to pass the time.
"I became hooked and within a year was shooting some good scores," he said. "My best scores were a pair of 98 out of 100 clays in registered matches in both trap and skeet."
He soon moved on to Germany and a new base for three years where, unfortunately, they were without a recreational shooting range. As quickly as it began, his shotgun career had ended.
It wasn't until 2012 when a coworker told him about the Civilian Marksmanship Program's (CMP) Small Arms Firing School held during the annual National Matches at Camp Perry that he got back into the sport.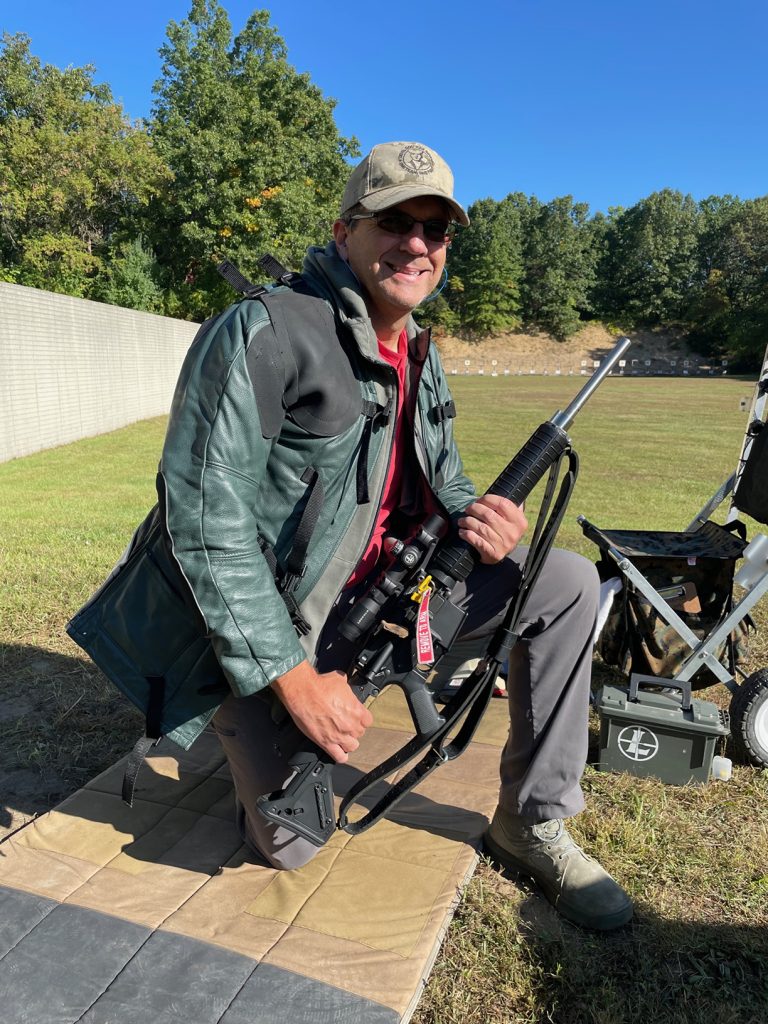 "Being a resident of the local area all my life, I knew that Camp Perry held the National Matches, but other than that, I really had no idea what they entailed or how to enter or even if it was open to novice shooters," he admitted. "I did [SAFS] for a couple years but didn't really get involved in competitive shooting other than that."
The Small Arms Firing School (SAFS) courses for rifle and pistol have been staple events at the National Matches since 1918, educating over 1,000 pistol and rifle participants each year. Formulated for those of any age, especially those new to marksmanship, the school is led by members of the U.S. Army Marksmanship Unit and other qualified civilian and military professionals. SAFS utilizes both classroom and live-fire training that covers basic instruction as well as a scope of competition skills, with an EIC match held at the conclusion of the course.
Knowing the benefits of SAFS, Bryan decided to introduce his oldest son to the course after he had enlisted in the Marines in 2015, in the hopes of preparing him for basic training. The positive experience during that trip motivated Bryan to sign up for other National Matches competitions, like the popular .22 caliber Rimfire Sporter Rifle Match.
"I really enjoyed it," he said. "I wanted to shoot more matches, so I purchased a Rock River NM rifle at Perry in 2017."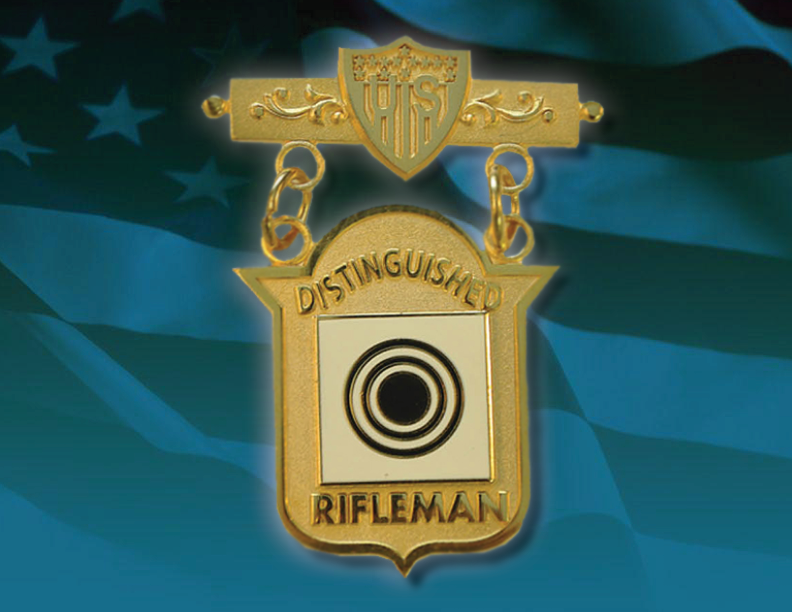 Though now equipped with a service rifle suitable for the many prestigious events of the National Matches, Bryan found himself stuck.
"I still knew nothing about the Distinguished Rifleman Badge and really didn't even know where to go to shoot matches," he said.
He decided to dive into the unknown and became a member of the nearby Sandusky County Sportsman's Club, where member Jesse Bragg held a monthly service rifle match. It was there that Bryan met other local marksmen who told him about the Toledo Area High Power Rifle League that got together twice a month for competition, from September to March. Bryan became a regular in the League and started to build his comfort and abilities with service rifle.
At Camp Perry that next summer, he showcased his hard work by earning his first four leg points in the SAFS EIC match and followed them up by earning 10 more a few days later in the National Trophy Individual match.
Despite reaching 14 points so quickly, it took two years to earn his next points. The following year, in June of 2023, his final three points to finish the journey to his Distinguished Rifleman Badge came from the place where it all started – Camp Perry.
But just because he was finally Distinguished didn't mean his marksmanship adventures ended. Bryan continues to compete in 30 to 35 matches a year through the Toledo League and competes in monthly matches at the Lima SABRES range. He even makes the hour drive to the Ashland Lake Gun Club's highpower matches as often as possible, along with the two-hour drive to the Alliance Rifle Club in Malvern to take part in its fall match. If that wasn't enough, he goes even farther to the Miami Rifle and Pistol Club near Batavia in Southern Ohio – a three-and-a-half-hour excursion.
Clearly, competitive shooting can be a big commitment. Whether its the hours in the car to spend hours on the range or the years of dedication to reach the highest honors the sport can give, Bryan doesn't mind. For him, it's not the accolades that keep him coming back for more – it's the people.
"The best part of shooting is the camaraderie of the other shooters," he said. "And, of course, I just like competing."
Find a Local Club: If you'd like to try competing on your own, you can find CMP Affiliated Clubs local to you by visiting the CMP website at https://thecmp.org/clubs/search-clubs/.
About the Distinguished Badge Program:
To earn a Distinguished Badge, a competitor must earn 30 Excellence-In-Competition (EIC) points or more in a qualifying competition. Individuals earn the 6, 8 or 10 "leg" points based on score and a percentage of match participation, with at least one "hard" leg, worth 8 or 10 points. Currently, the CMP administers Distinguished Badges for:
Service Rifle
Service Pistol
.22 Rimfire Pistol
Junior Air Rifle
International Shooter
Smallbore Rifle
Distinguished Marksman Badge
Distinguished Air Rifle and Air Pistol
Distinguished Service Revolver Badge
For others interested in learning more about the Distinguished Badge Program or how to earn one (or several!), find all the info on the CMP website at https://thecmp.org/competitions/distinguishedbadges/.