Mowrer, Milev Claim Wins at Expanding National Air Gun Championships
August 20, 2023
Civilian Marksmanship Program
▸
The First Shot
▸
Mowrer, Milev Claim Wins at Expanding National Air Gun Championships
By Ashley Dugan, CMP Staff Writer
CAMP PERRY, Ohio – In only its second year, the Civilian Marksmanship Program's (CMP) National Air Gun Championships are growing, thanks in part to its new home on the National Matches schedule.
The Air Gun Championships consist of two days of 60 shot competitions for Air Rifle and Air Pistol adult and junior athletes – all fired upon the electronic targets within the Gary Anderson CMP Competition Center. Also held concurrently with the individual 60 shot matches is a four-member team championship, while a three-round Team Elimination Match adds an exciting challenge to the lineup.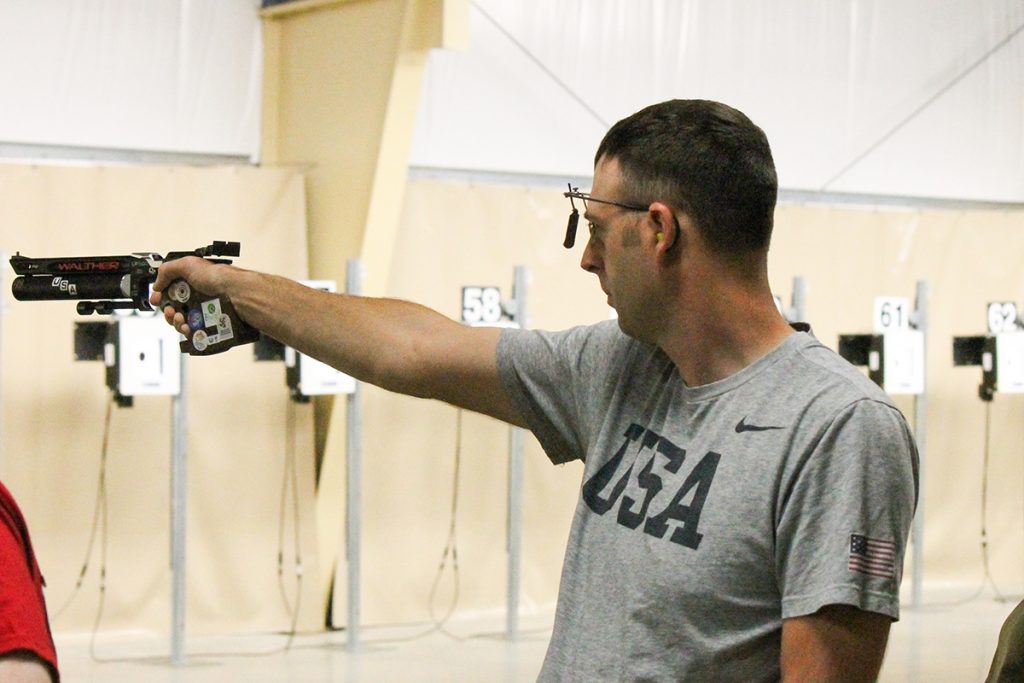 In 2023, the Championships were aligned with the CMP Smallbore series to allow athletes the opportunity to compete in both disciplines during their trip to Camp Perry. The change emerged as beneficial to athletes, with Air Pistol participation remaining steady and Air Rifle expanding by 50 athletes.
"The resulting number of participants in our Smallbore and Air Gun events is exactly what we had hoped for when we made changes to the National Matches calendar," said Katie Harrington, CMP program coordinator. "We had 130 athletes shooting both disciplines, so it only made sense to have these series take place at the same time."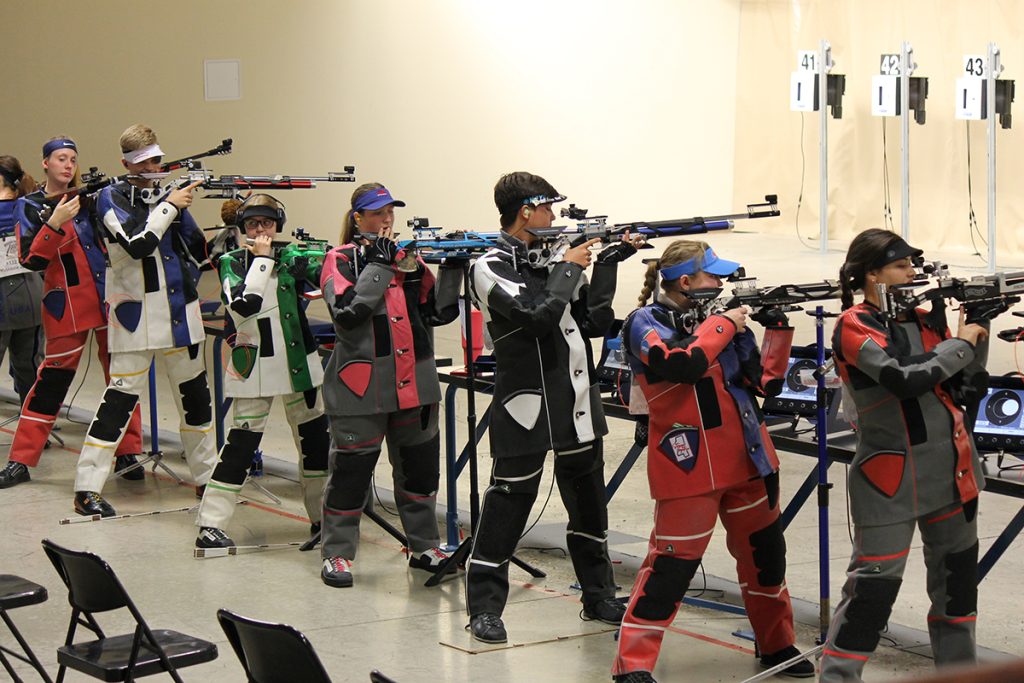 "It was encouraging to not only see those talented athletes on the range that we've become accustomed to," she went on. "But it was also promising to see new faces as we work toward bringing awareness to our sport and the opportunities it presents."
Such talented athletes participating in the Air Gun Championships included Olympians Staff Sgt. Nickolaus Mowrer, 34, of Colorado Springs, CO, and Staff Sgt. Sandra Uptagrafft, 52, of Phenix City, AL, who took first and third, respectively, in the Air Pistol individual match. Finding second was Jay Shi, 44, of Gilbert, AZ.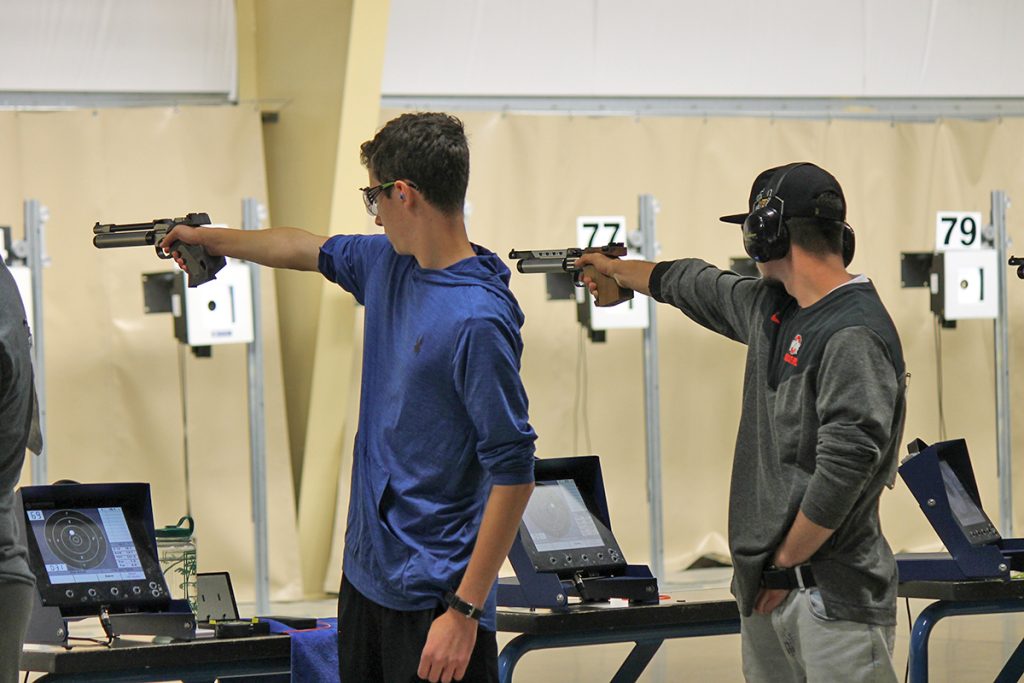 Also displaying skill on the line was Junior Air Pistol competition leader Nick Milev, 18, of Ossona, Italy, along with Blaine Simpson, 18, of Sidney, OH, who followed in second. Elie Arkin, 15, of Falls Church, VA, claimed third.
Joining talents, Mowrer, Milev, Emmert Traciak and Lutz formed USA Shooting to earn the Air Pistol 4-Member Team win with a commanding lead of 4551-122X. The Dream Team (Uptagrafft, Lake Yoke, Patrick Cannon, Ananya Bontha) took second, with 4253-65X, as NC/WV (Nate Gunn, Robert Peele, William Trowell, Eric Herrin) earning third.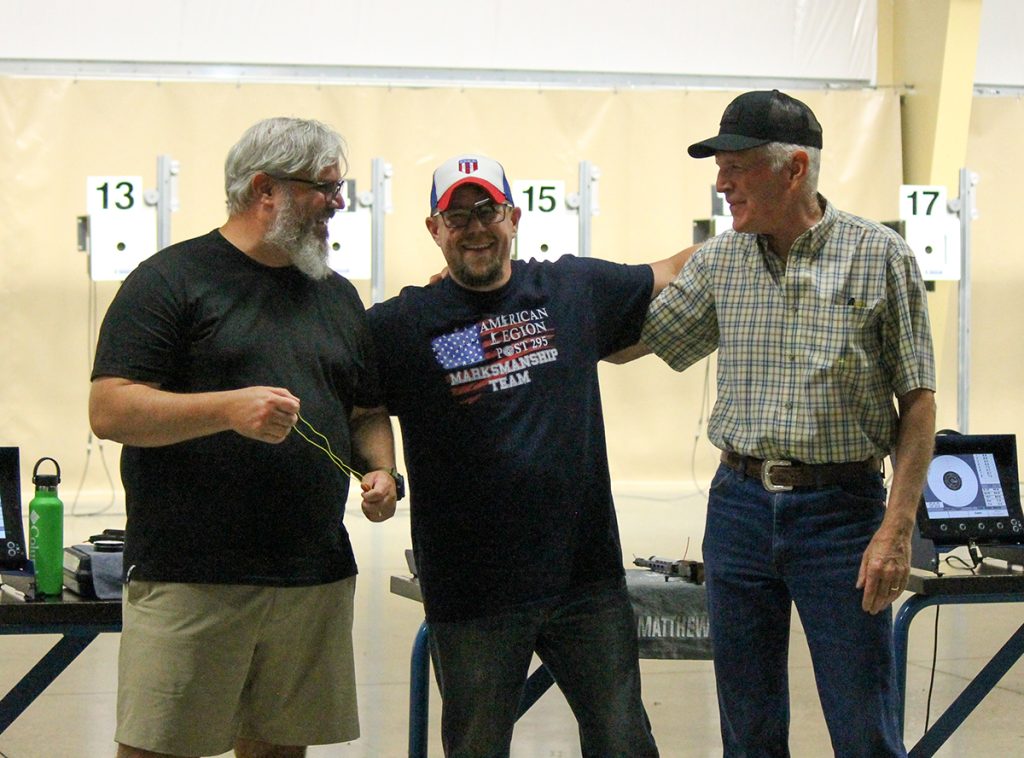 In the Air Pistol Team Elimination Match, USA Shooting earned the top spot, with members First Lieutenant Lisa Emmert Traciak, Anthony Lutz and Patrick Cannon finding the lead over Sights Unseen (Robert Delagrange, Marshall Mutumanje, Makezieanne Wygans). Team Old Guys (David Wisman, Darrell Filges, Matthew Muzik) earned third.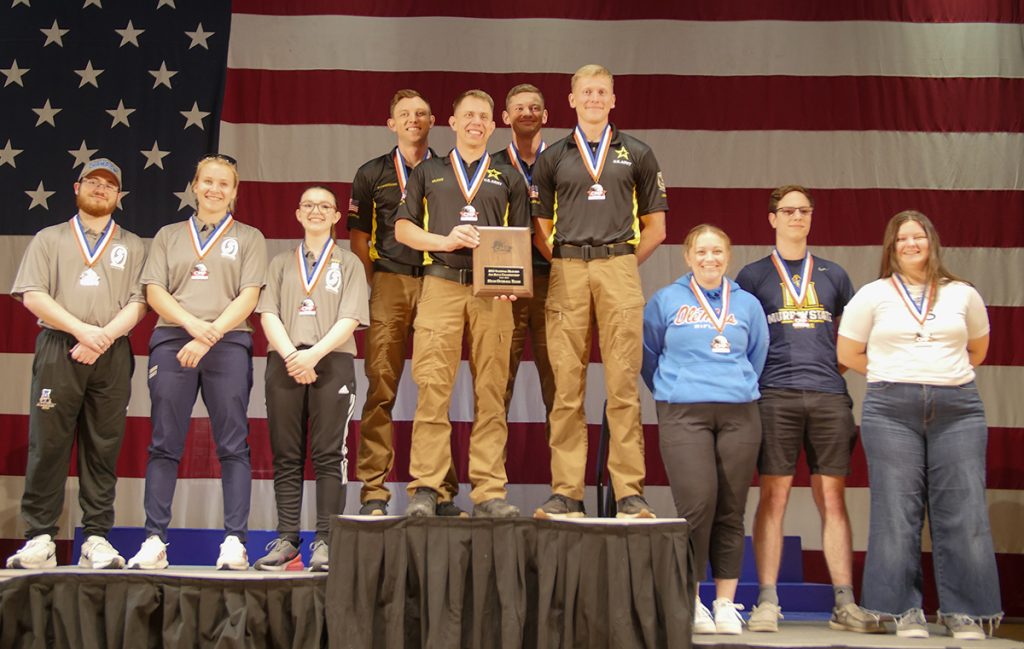 Taking gold in the Air Rifle Elimination event was the U.S. Army Marksmanship Unit (USAMU), with firing members Staff Sgt. Brandon Muske, Sgt. Patrick Sunderman and Spc. Jared Eddy. Following in second was Fast and Furious (SrA Peter Fiori, Kinga Aletto, Cecilia Ossi), as The Decent Three (Bremen Butler, Brandon Evans, Dylan Gregory) landed in third.
With Smallbore and Air Gun events running simultaneously, the CMP created a Three-Position Smallbore and Air Rifle Aggregate Championship for those who competed in both disciplines. Earning the inaugural win in the match was Cecilia Ossi, 21, of Annandale, NJ, with a score of 2421-60X.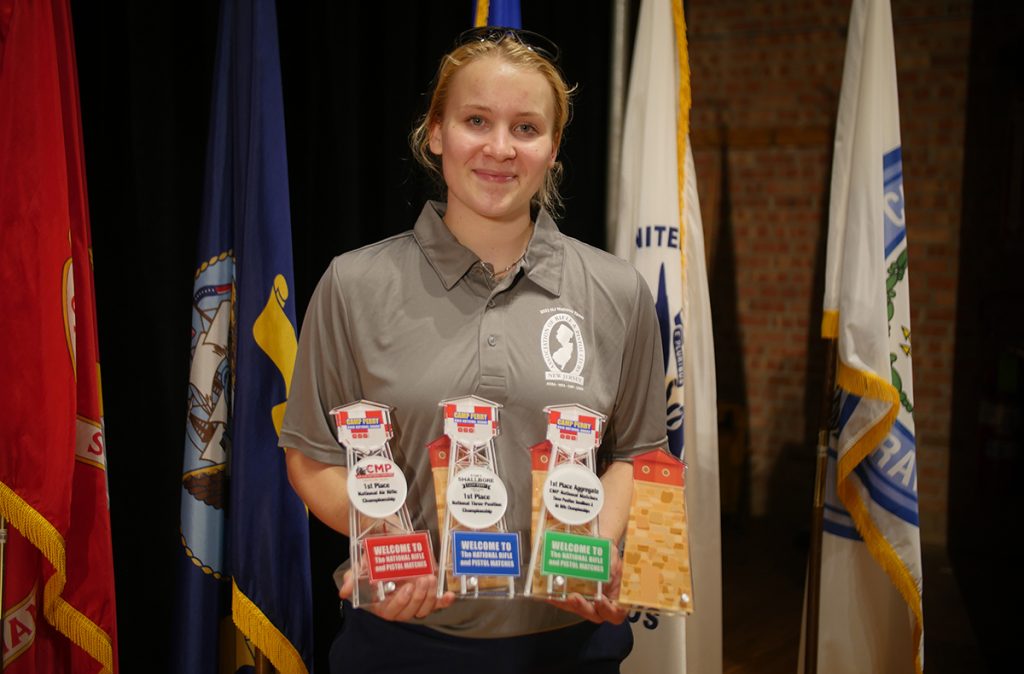 Ossi went on to lead the Air Rifle Open Category, beating out Staff Sgt. Brandon Muske, 29, of Fort Benning, GA, by just one point. SrA Peter Fiori, 23, of Lebanon, NJ, took third.
Overtaking the Junior Air Rifle Championship was Emma Periera, 19, of Chesapeake, VA, claimed in a tight contest – surpassing Jacob St. Hilaire, 16, of Needville, TX, by five-tenths of a point. Makenzie Larson, 46, of Wellington, CO, found third.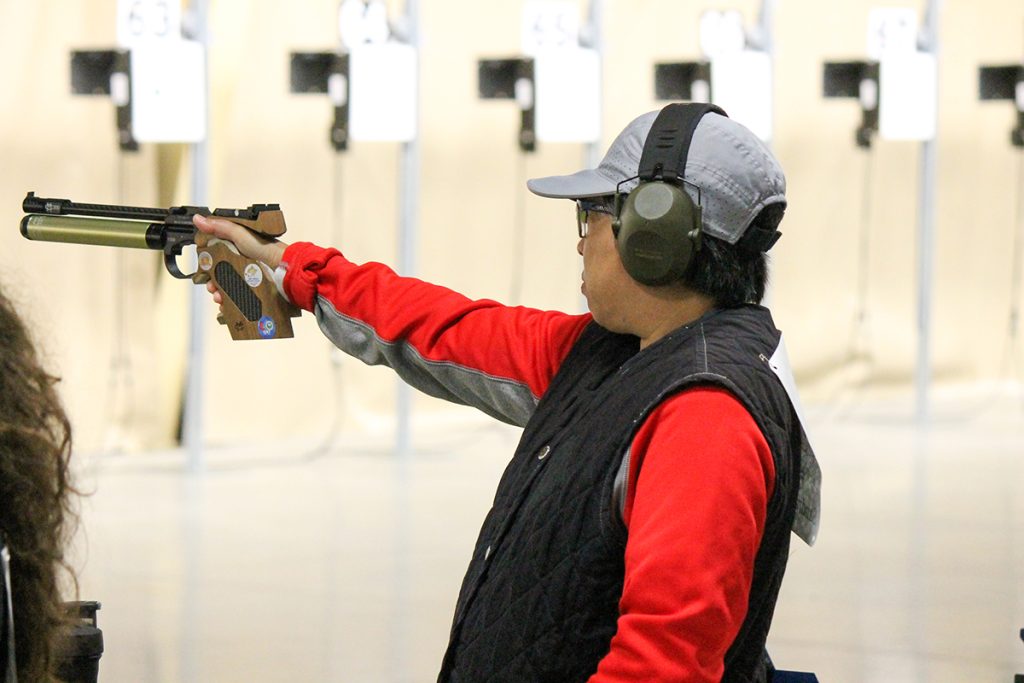 Staff Sgt. Muske joined his teammates (Spc. Jared Eddy, Sgt. Patrick Sunderman, Spc. Levi Clark) to earn the 4-Member Team Championship with a collective score of 4983.6. The Mid Team (Julianna Hays, Bremen Butler, Dylan Gregory, Anthony Hotko) led the juniors with a score of 4926.2, landing in fourth out of 21 total teams.
Find a complete list of results of the CMP Air Gun Championships on the CMP Competition Tracker page at https://ct.thecmp.org/2023NMAirSBresults. Photos of the matches may be viewed and downloaded for free at https://cmp1.zenfolio.com/f148616975.