Mess Hall Returns to Camp Perry
June 29, 2023
Civilian Marksmanship Program
▸
The First Shot
▸
Mess Hall Returns to Camp Perry
By Sheri Trusty, CMP Feature Writer
For the first time in several years, the National Matches at Camp Perry will feature a mess hall for competitors. The Shooter's Mess Hall will be managed by WP Catering and will offer a breakfast buffet and boxed lunches.
WP Catering owner, Mike Miller, owned the popular but now-closed Waldo Peppers restaurant in Port Clinton, Ohio, for several years. He is a longtime caterer for the Civilian Marksmanship Program (CMP).
"I've been catering for CMP for 12 years," Miller said. "I catered for the NRA when they were there, for the junior nationals at Gary Anderson, and for volunteer lunches."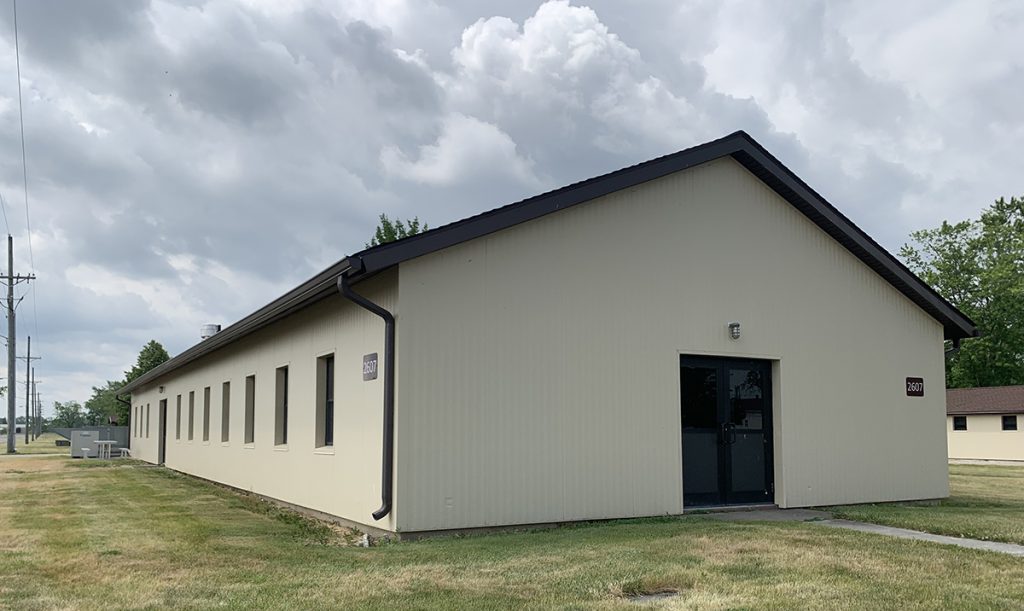 The breakfast buffet will feature eggs, breakfast meats, breakfast breads, hashbrowns and drinks. The Shooter's Mess will offer boxed lunches of cold-cut sandwiches or salads. Breakfast customers are welcome to dine in, but lunches are pickup only. Miller chose lunch options that will remain fresh during the competitions.
"They can pick them up and take them out to the range, and they'll still be stable to have out there," he said.
Shooter's Mess customers must preorder meals the day prior. Preorders must be made in person at the Shooter's Mess, which is located in building 2607. Preordering will give Miller much-needed feedback for next year's mess hall menu.
"We are trying to meet the customers in person so we can know their likes and dislikes," Miller said.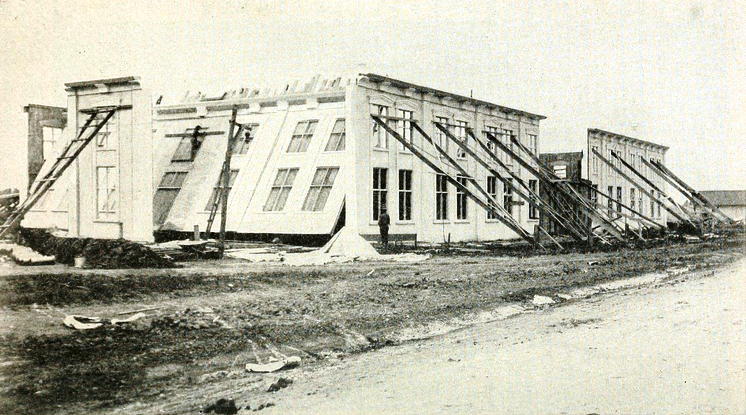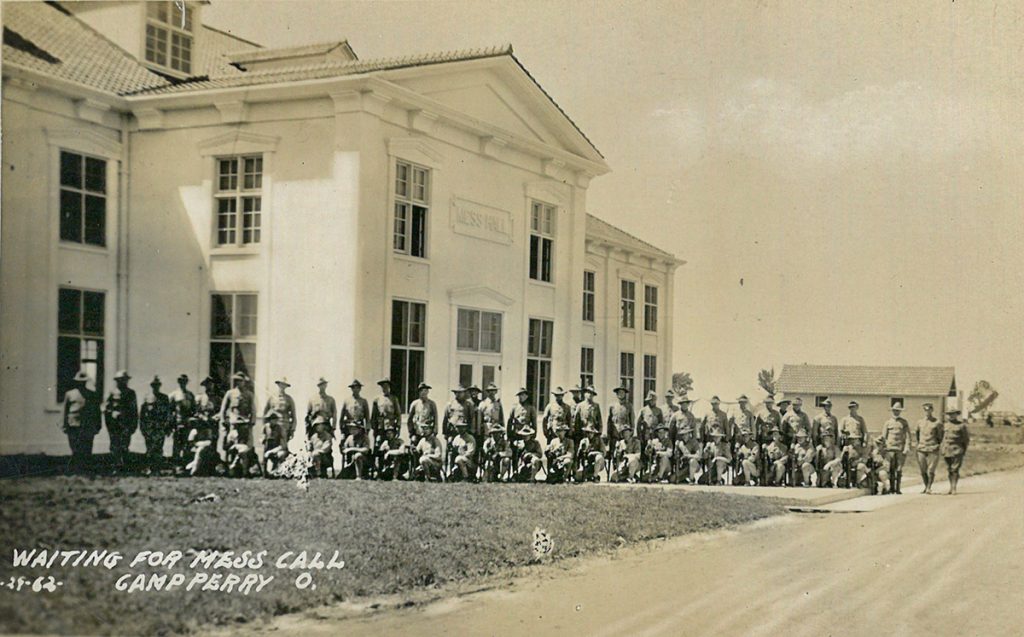 Miller's desire to connect with his customers mirrors the history of mess hall at Camp Perry, where generations of soldiers could pause from their service to enjoy a quick meal and the camaraderie of other service personnel. When Camp Perry's first mess hall was completed in 1909, it was considered an architectural wonder. The mess hall and a commissary storage building were erected with a revolutionary, tilt-up construction technique created by Robert Aiken, an architect-contractor from Illinois. Concrete walls were prefabricated and tilted up into place with jackscrews.
During World War II, Camp Perry served as a prisoner of war camp. German and Italian prisoners housed at the camp lived in relatively comfortable conditions with unexpected privileges, such as access to a canteen. Some of the prisoners worked in the mess hall, where they were supplied with ingredients to cook their native foods.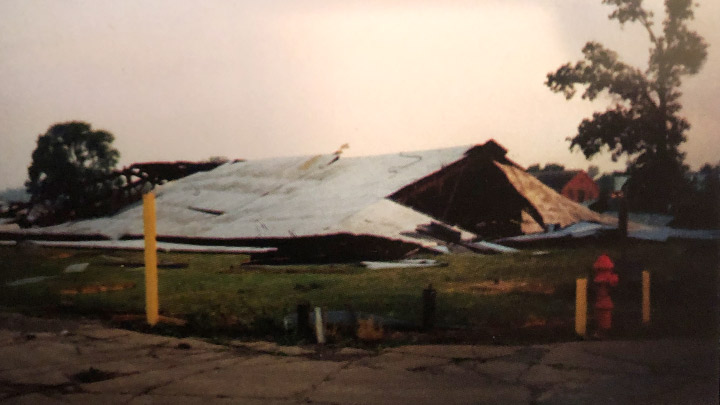 The architecturally significant 1909 mess hall was damaged by a F2 tornado just weeks before the 1998 National Matches Opening Shot Ceremony. The structure was eventually torn down, but the commissary storage building, now called Building 2009, still stands and was recently refurbished.
Now Miller and CMP are embarking on a new era of mess hall history at this year's National Matches. Miller said he is limiting Shooter's Mess hours this year but may expand them in the future.
"We'll only have breakfast and lunch the first year so we can get our feet wet," he said.
Pricing
Breakfast Buffet: $8
Boxed Lunch: $12
Drinks: $2
Menus change daily and will be posted in the Shooter's Mess to the right of the door. 
The Shooter's Mess will be open July 7 – Aug. 5 during the times listed below. Times are subject to change.
July 7th 8 a.m.- noon
July 8th 7a.m.- noon
July 9th 6 a.m.- noon
July 10th 6 a.m.- noon
July 11th 6 a.m.- noon
July 12th 6 a.m.- noon
July 13th 6 a.m.- noon
July 14th 6 a.m.- noon
July 15th 6:30 a.m.- noon
July 16th 7 a.m.- noon
July 17th 6:15 a.m.- noon
July 18th 6:45 a.m.- noon
July 19th 6:45 a.m.- noon
July 20th 6:45 a.m.- noon
July 21st 7 a.m.- noon

July 22nd 6 a.m.- noon
July 23rd 6 a.m.- noon
July 24th 5:30 a.m.- noon
July 25th 5:30 a.m.- noon
July 26th 5:00 a.m.- noon
July 27th 4:30 a.m.- noon
July 28th 4:30 a.m.- noon
July 29th 4:30 a.m.- noon
July 30th 4:30 a.m.- noon
July 31st 8 a.m.- noon
Aug 1st 7:45 a.m.- noon
Aug 2nd 7:45 a.m.- noon
Aug 3rd 7:45 a.m.- noon
Aug 4th 7:45 a.m.- noon
Aug 5th 6:45 a.m.- noon