Mark Your Calendars: Another CMP Western Games Set for October 2023
May 5, 2023
Civilian Marksmanship Program
▸
The First Shot
▸
Mark Your Calendars: Another CMP Western Games Set for October 2023
PHOENIX, Ariz. – Those who may have missed the Civilian Marksmanship Program's (CMP) Western CMP Games, CMP Pistol and CMP Highpower (HP) Matches at the Ben Avery Shooting Facility in early 2023 will now have another chance to attend the event this year!
After a program review, the CMP has decided to move the annual Western CMP Games back to its original October timeslot of the past. Although Western Games was recently held in March, the new Western Games is slated for Oct. 10-15, 2023. Registration for the October event will open in June.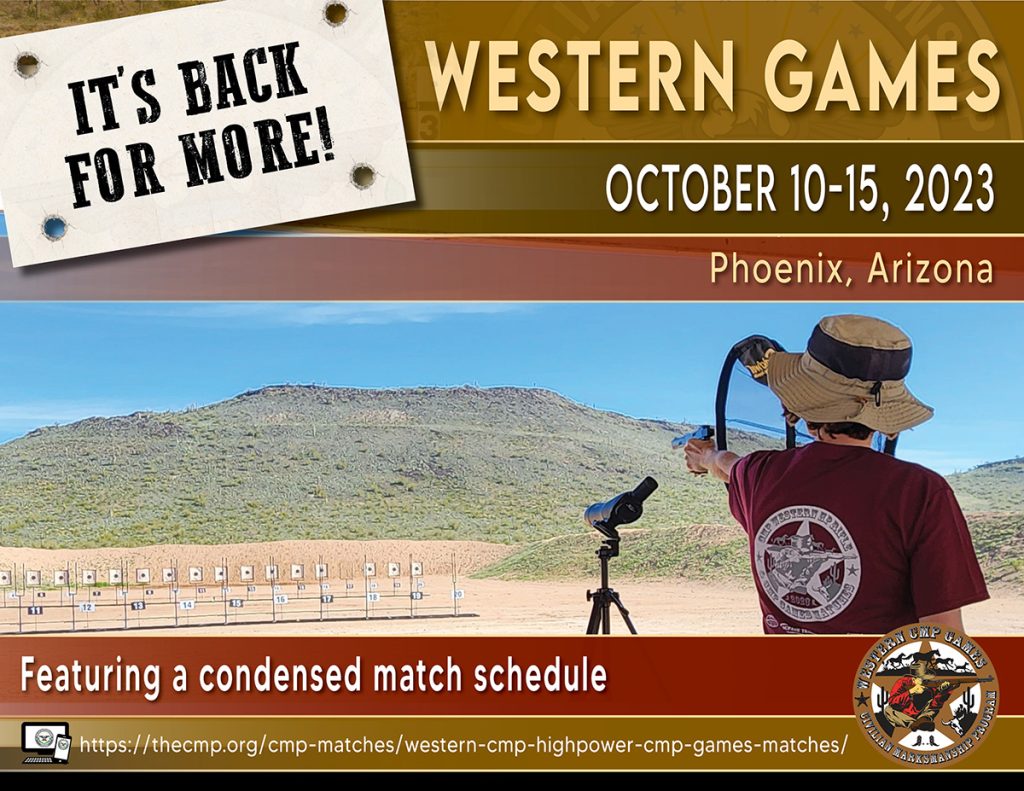 CMP's Western Games recreational marksmanship series is comprised of a full lineup of friendly, challenging rifle and pistol competitions on the range along with educational opportunities. The event is open to anyone with an interest in the sport – regardless of experience.
The decision to move Western Games was reached after the CMP conducted a survey on which timeslot competitors preferred: spring or fall. Though the results (155 submissions) indicated spring was favorable (65%) versus fall (34%), the concluding outcome was based on cost to host the event – with Spring Training for baseball causing inflated expenses for hotels, rental cars and flights in the earlier months of the year. An October event will mean more affordable travel/accommodations for guests to Western Games and, in turn, will allow more competitors to be able to enjoy the events at Ben Avery.
The fall Western Games will be comprised of a condensed schedule of events, including:
CMP Match Pistol 2700
EIC Service Pistol
.22 Rimfire Pistol
EIC Service Revolver
Military & Police Service Pistol and 1911 As-Issued Pistol Match
Garand, Springfield, Vintage & Modern Military Matches
Carbine Match
Rimfire Sporter Match
Mid-Range 3X600
80 Shot Rifle
2-Man Rifle Team
EIC Service Rifle
Questions on the rescheduling of Western Games may be directed to Christina Roguski at croguski@thecmp.org or 419-635-2141 ext. 714. More information about the Western CMP Games may be found on the CMP website at https://thecmp.org/cmp-matches/western-cmp-highpower-cmp-games-matches/.
About the Western CMP Games, CMP Pistol and CMP HP Rifle Matches:
The annual Western CMP Games and Highpower Matches includes popular CMP events like the Garand, Springfield, Vintage Military, Modern Military, Rimfire Sporter and Carbine rifle competitions as well as pistol opportunities like the Match Pistol 2700, .22 Rimfire Pistol, EIC Pistol, 1911, Military & Police Service Pistol, 900 and a Service Revolver EIC Match. Educational experiences are also held by trained instructors in the classroom and on the range.
Outside of the Games schedule, the CMP Highpower Matches include 80 Shot competitions, a team match, Service Rifle EIC matches and a Mid-Range 3×600 Rifle event for Match Rifle, Service, F-Open, F T/R or AR Tactical rifles.