Emmert Traciak Earns Repeat Wins and New Career Breakthroughs in 2023
August 17, 2023
Civilian Marksmanship Program
▸
The First Shot
▸
Emmert Traciak Earns Repeat Wins and New Career Breakthroughs in 2023
By Ashley Dugan, CMP Staff Writer
Markswoman 1st Lt. Lisa Emmert Traciak, 27, of the Army National Guard, is an inspiring individual. Her abilities in bullseye, sport and air pistol have transcended her from a young athlete who simply found a new hobby to becoming a decorated national and international competitor who has loftier goals in mind – all while collecting impressive milestones along the way and using her experience to encourage others on the range.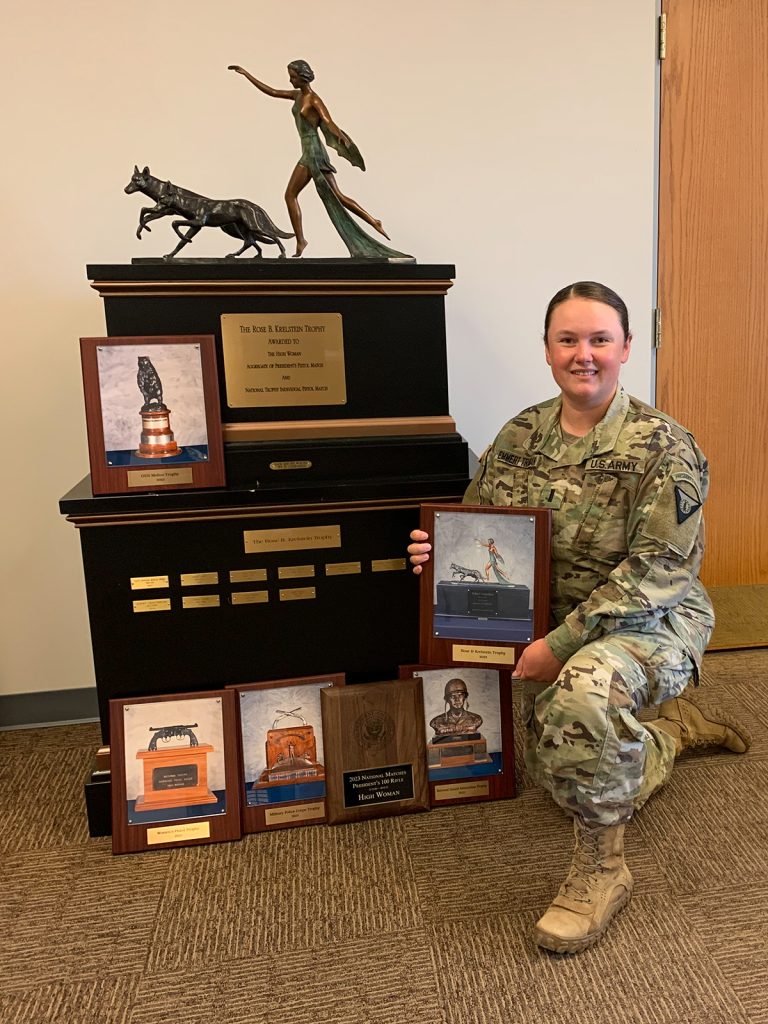 At the 2023 Civilian Marksmanship Program (CMP) National Pistol Matches at Camp Perry, Emmert Traciak took home several awards including repeat high woman titles in the Pistol 2700 Aggregate and within the President's Pistol Match, all while adding Military Police Corps (highest individual in the National Trophy Team match) and the General Mellon (highest Army competitor National Trophy Team) trophies to her collection.
Her high score in the National Trophy Individual Match not only marked her fourth National Women's Pistol Trophy in her career but also brought a national record as she fired a score of 287-14X. The score was four X-shots above the previous record, which she had previously held from last year's performance in the event.
Moreover, she earned her third win for the National Guard Association Trophy as the highest scoring Guardsman in the National Trophy Individual event and her third consecutive Rose Krelstein Trophy as the high woman in the President's/National Trophy Individual Aggregate – reaching a score just one point shy of the current national record, which she set herself in 2022.
"Camp Perry was my very first match as a junior and is still one of my very favorite matches to shoot! I love the community and Commercial Row," she said, enthusiastically.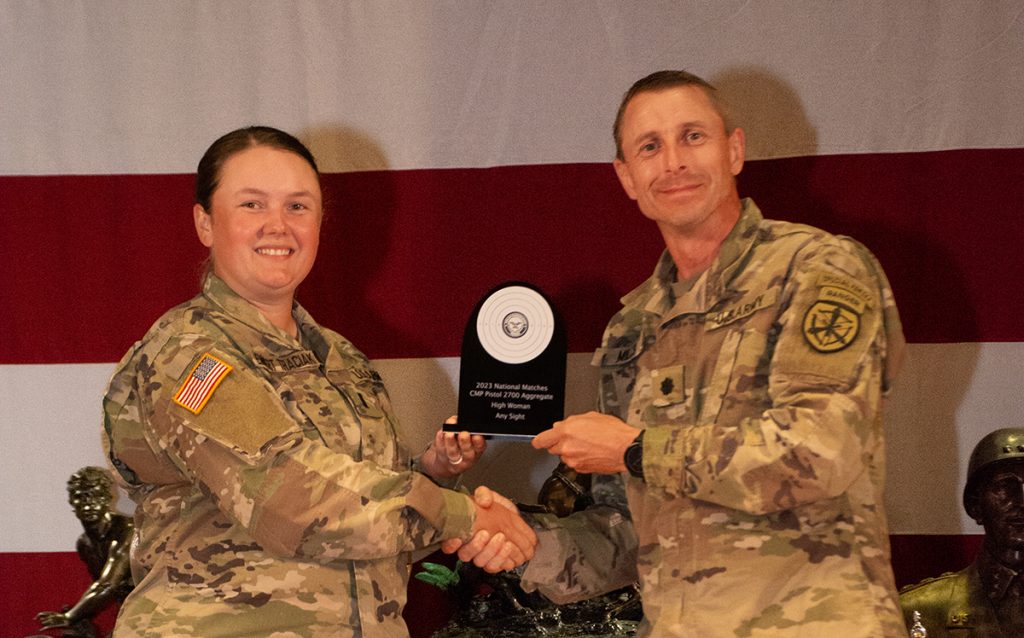 She earned her President's Hundred Tab in 2018 after finishing within the Top 100 participants in the President's Pistol Match and has repeated the feat ever since. She trains each year for Camp Perry by spending more time shooting .45 rapid fire than she normally would, with the philosophy that if she can shoot rapid fire, she can shoot timed fire.
"Probably the most important thing I do though is visualization," she said. "This year, I did not get a lot of transition time to practice up on bullseye, so I spent time thinking through my process and seeing the sights align and feel the trigger pull."
She went on, "We have all heard the joke about leaving 10 points at the gate when you shoot at Camp Perry, but that's the challenge, isn't it? If you can focus on what you know and shoot your average, then you are ahead of the game!"
Double-Distinguished in Service Pistol and .22 Rimfire Pistol, with only a few Excellence-In-Competition points to go to earn a 60 Shot Air Pistol Distinguished Badge – even firing in CMP's National Air Pistol events while at Camp Perry – Emmert Traciak has proven her versatility.
"My favorite thing about marksmanship when I started and now is the mental challenge," she said. "Shooting the center of the target is a very simple concept, but creating a mental space where you can consistently hit the X is a constant challenge. You have to stay positive, believe in yourself and focus on the outcome you want. Even one stray thought can completely change the outcome of a shot."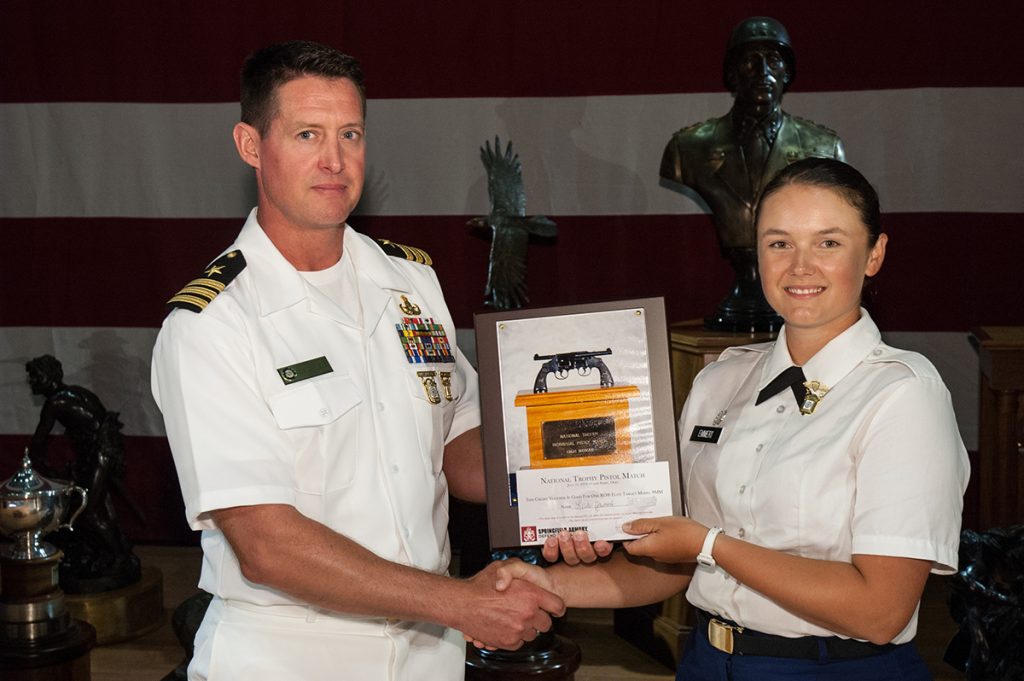 Growing up in Michigan, Emmert Traciak began in marksmanship when she was 13 years old after attending a junior camp at nearby Ottawa Sportsman Club. Admittedly, she didn't really want to attend the camp, at first.
"My parents made me go," she has joked in the past. "But I ended up loving it."
Soon after, she joined the junior shooting team where she competed in bullseye pistol matches. Eventually, she became acquainted with the All Guard team after competing in their competitions – a connection that, along with her talents and training, helped her become a member of the team herself in 2018.
"Seeing them get to compete in a National Guard capacity really inspired me to join the military," she said. "One of the main reasons I wanted to join was because of the Service Pistol Team and further opportunities for advanced marksmanship that the military offered."
Though her grandpa was in the Navy, she's the first of her family to join the Army. Being in the Guard has allowed her an abundance of training advancements and, since it's part time, also allows her to do other things she enjoys like teaching piano – her focus while in college at Spring Arbor University in Michigan.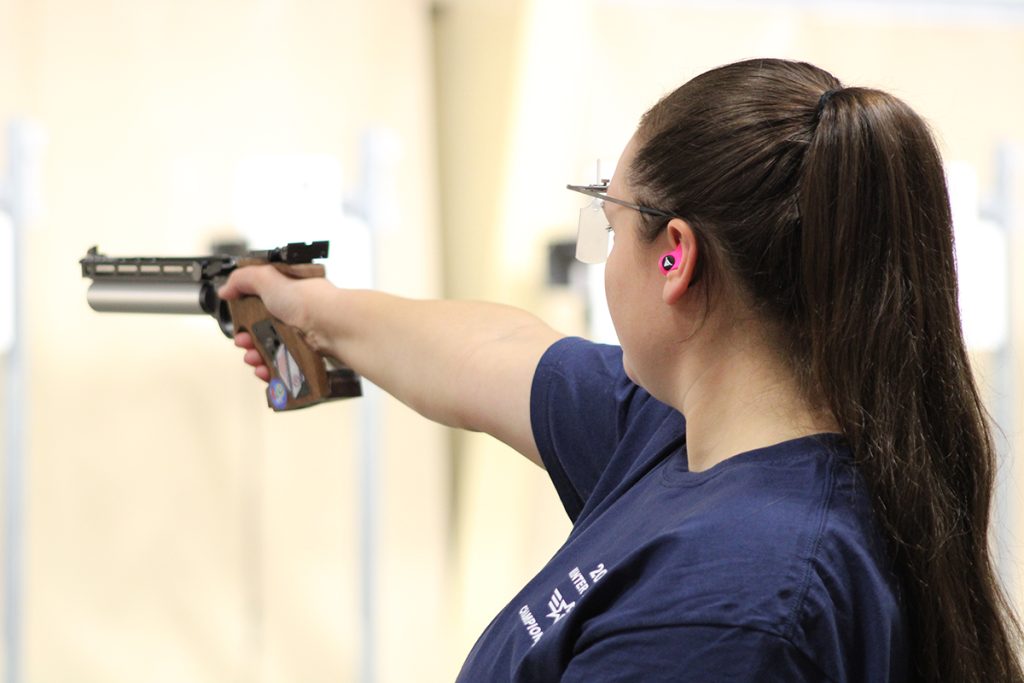 Besides excelling in outdoor competitions, Emmert Traciak has excelled in indoor air pistol after gaining interested in Olympic-style competitions back in 2019. She has become so invested in the sport that she made the decision to move to Colorado in the summer of 2022 to train full time at the Olympic Training Center.
Five months after her move, she was on the USA Shooting National Team for sport pistol and, most recently, was added to the air pistol team where she has shown talent – earning silver in the Women's 10m Air Pistol event at the 2022 Winter Air Gun Championships and turning around to reach gold at the 2023 USA Shooting National Championship in the same discipline.
For her, moving from bullseye competition to air was simple and even advantageous to her game.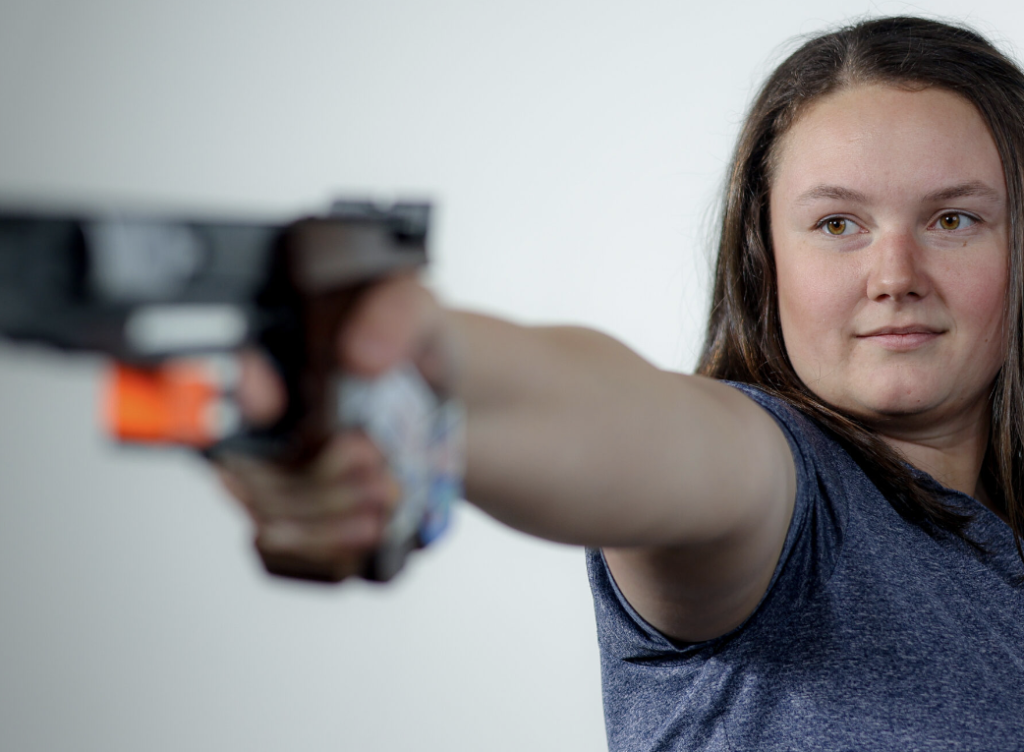 "There is a lot of overlap in the skills between these two sports, so I had a leg up going from one to the other," she said. "Though there are a few differences that needed to be worked out."
Such differences include the large calibers in bullseye and heavier trigger weights, meaning the need to grip the gun a little more to stay in control. In air pistol gripping too hard can make a steady hold much more difficult.
"There is a lot of opportunity for cross training between the two though," she added. "I saw a big improvement in my .45 when I started consistently training air. It's something I recommend all bullseye shooters try."
Along with her own motivation, the ease in shifting disciplines came from the positive reinforcement she received from those around her.
"I had fantastic coaches that helped me make this transition smoothly," she said.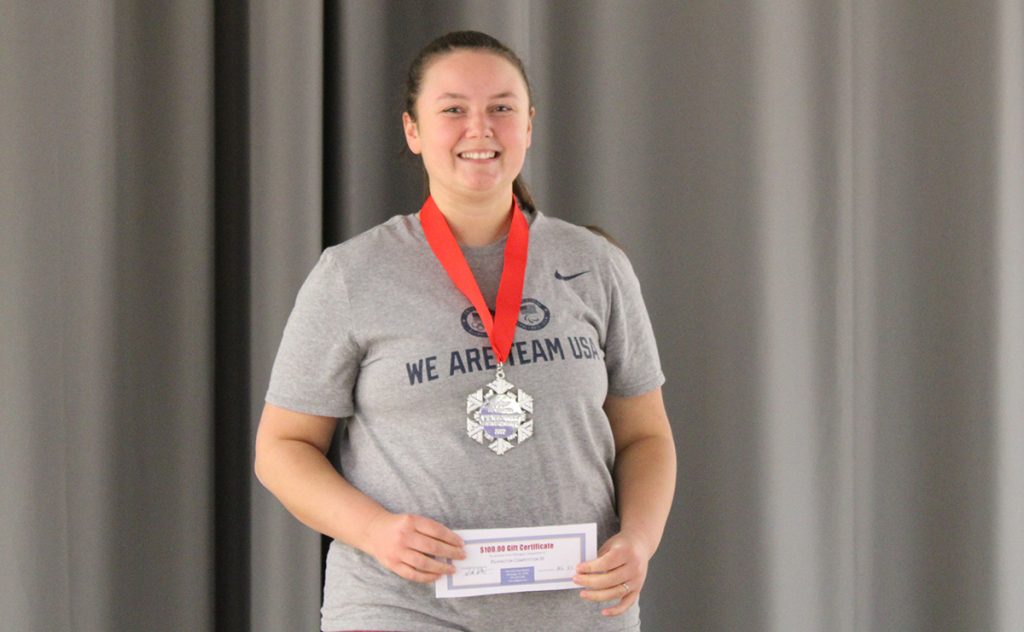 With her coaches at the Olympics Training Center, she's now able to train five or six days a week, including about three hours a day actually shooting in addition to workouts, reading and meditation/mindfulness practice – a curriculum developed by her coach, Brenda Silva.
"Starting with my long-term goals, we broke down those goals into the everyday steps I need to be taking to develop the necessary skills I need," Emmert Traciak explained. "Both Brenda and the National Team coach (Jason Turner) help push me in training and answer my many questions."
"They are also a second set of eyes on the range," she went on. "It can be difficult to diagnose your own problems. Having someone who knows the sport so well guide you is so important."
Through the National Team, she's able to compete internationally at World Cups and World Championships and was even selected to the Pan American Games Team for both sport pistol and air pistol for 2023. She credits her big move across the country in assisting with her recent accomplishments.
"After moving to Colorado and training at the Olympic Training Center, I saw a big jump in my scores," she admitted.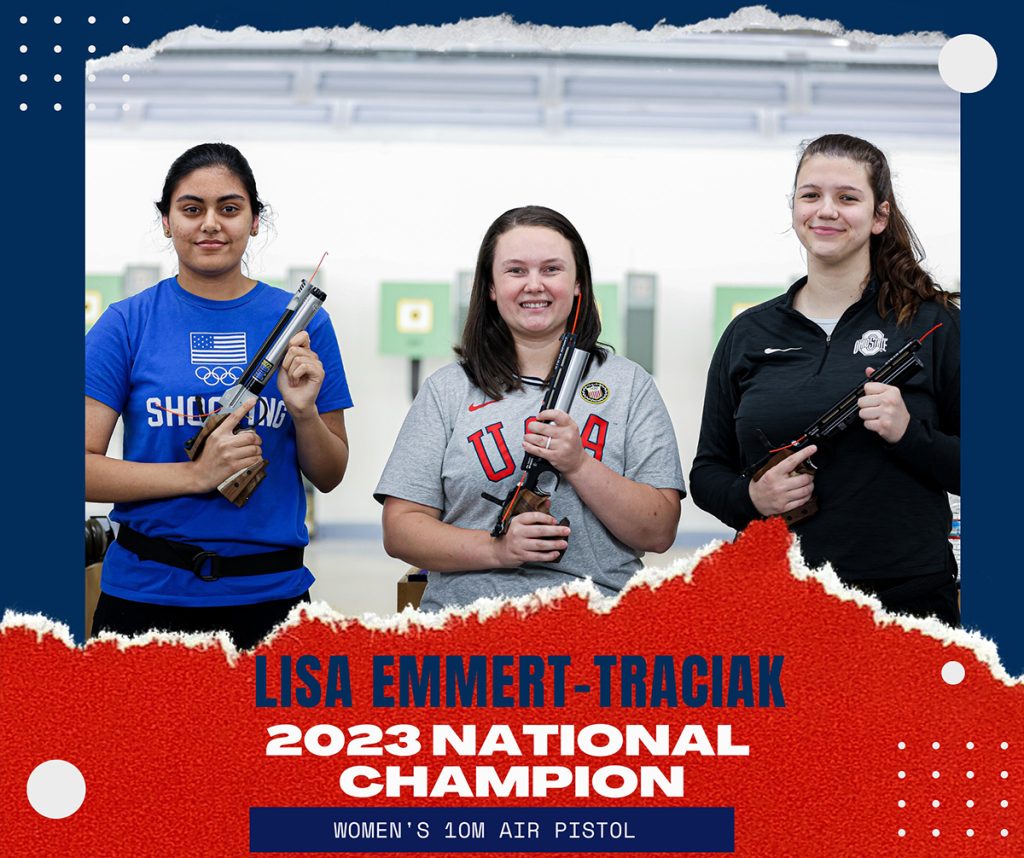 Along with reaching the 2024 Olympics, Emmert Traciak is set on encouraging more individuals on the range. Beginning this year, she decided to run her own camps for youth and adults in sport, air and bullseye pistol, tailored to the group's needs. It's her way of passing on her knowledge to those looking to create their own marksmanship careers while also inspiring others to join the sport.
"I had SO MUCH help when I was a junior just getting into bullseye. I could not be doing the things I am now without some amazing people who helped me get here," she said. "I love that I get to be one of those people for juniors now!"
Outside of juniors, there's another group she's hoping to inspire.
"Why let the guys have all the fun?" she joked. "Even though I have been one of the few women on the range, since day one, I have enjoyed the community and the sport. I love doing well as a woman, and I hope that encourages more woman to shoot pistol!"