CMP to Present Up to $335,000 in Scholarships to Senior Students in 2024
October 6, 2023
Civilian Marksmanship Program
▸
The First Shot
▸
CMP to Present Up to $335,000 in Scholarships to Senior Students in 2024
By Ashley Dugan, CMP Staff Writer
To continue its efforts in supporting young marksmen and women across the nation in their future endeavors, the Civilian Marksmanship Program (CMP) is happy to announce it will award up to $335,000 for the 2024-2025 school year.
Through this year's Scholarship Program, the CMP will be providing $300,000 toward graduating senior athletes, with the Garand Collectors Association providing a $30,000 donation and the Talladega Superspeedway in Alabama contributing an additional $5,000 to be distributed amongst recipients.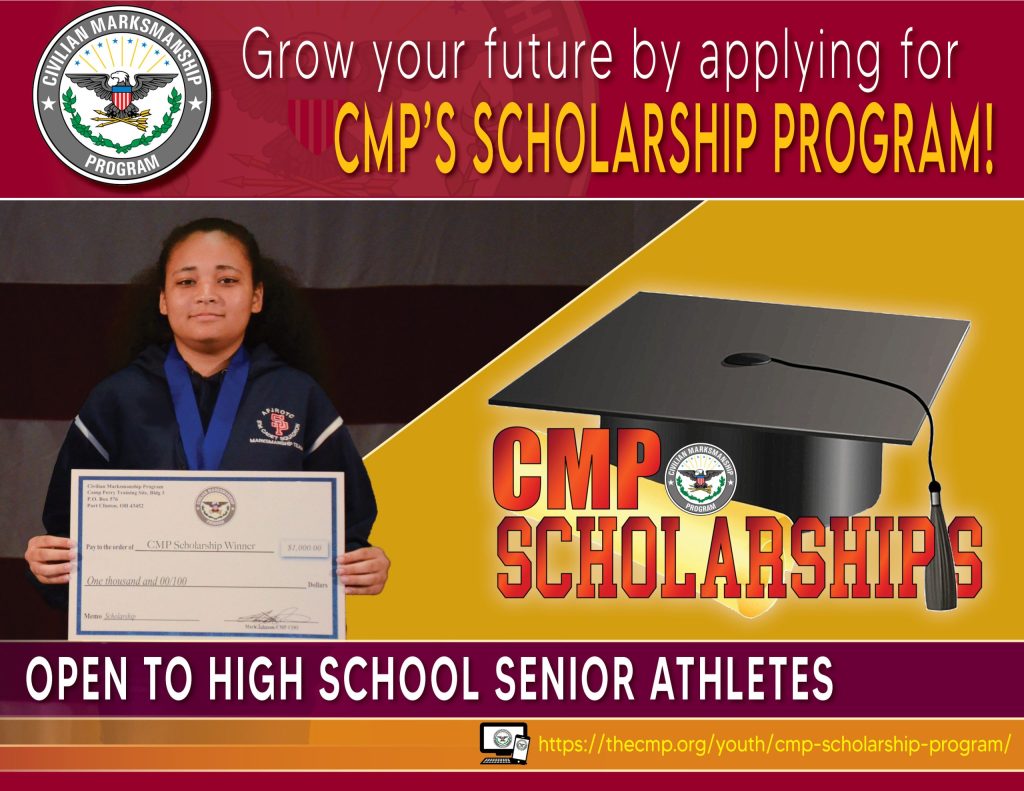 Each year, high school student-athletes involved in marksmanship programs are encouraged to apply for CMP Scholarships – a program that lends economic support to young marksmen and women who have shown dedication on and off the firing line. These scholarships may be used to pursue post-secondary or vocational programs, community colleges or university educations as well as trade schools to cover a variety of interests.
Since 2005, the CMP Scholarship Program has presented $1,000 one-year scholarships to high school seniors based on merit, humanitarian efforts, extracurricular activities and marksmanship participation. In 2020, the CMP added one $5,000 scholarship, the Carolyn Hines Memorial Scholarship – awarded to the top applicant who best embodied the values of Dr. Hines, who was instrumental in shaping the program.
Last year, the CMP added four $20,000 scholarships awarded to the top applicants ($5,000 over four years to each recipient). These scholarships honor past notable CMP Board members Judith Legerski, Jon Bengston, Harry Sieben and the late Dr. Carolyn Hines, who were all devoted to sustaining youth activities. Winners will be decided by the Scholarship Committee after carefully reviewing each application.
Such items evaluated by the Committee include:
Past and present rifle or pistol competition history, awards, involvements and future expectations for the sport.
Extracurricular activities.
A nomination/recommendation letter from a coach or instructor.
A minimum GPA is not required to apply, though academic achievements will be considered when awarding scholarships. Students may submit the necessary applications and associated documents via an online source as a convenient organizational hub.
Along with the traditional $1,000 scholarships, $5,000 scholarships and four $20,000 scholarships, Local Scholarships will also be presented to students located near CMP's facilities in Anniston and Talladega, Alabama, as well as Port Clinton, Ohio. For these local scholarships, no marksmanship experience is required.
The deadline to apply for any of these CMP Scholarships will be March 31, 2024. A link to the online application portal and other scholarship information can be found by visiting https://thecmp.org/youth/cmp-scholarship-program/.