CMP Offers Junior Air Rifle Training to Youth, Taught by Former NCAA Athletes
September 27, 2023
Civilian Marksmanship Program
▸
State Director
▸
Ohio
▸
CMP Offers Junior Air Rifle Training to Youth, Taught by Former NCAA Athletes
By Ashley Dugan, CMP Staff Writer
CAMP PERRY, Ohio – After last year's successful run, the Civilian Marksmanship Program (CMP) will again host a youth club focused on introducing the shooting sports (three-position sporter air rifle) to local juniors – the Junior Rifle Club. The 2023 club will present the same beneficial training sessions as in the past, though restructured to better accommodate those interested in participating.
Air rifle is a sport open to a wide range of individuals. With no recoil, air rifles are a perfect introductory firearm to new marksmen and women, a safe activity for those with disabilities and a fun way for older adults to stay active. Dedicated youth athletes are even eligible for college scholarships (with many schools hosting NCAA rifle programs) or trips to international competitions held around the world – including the Olympic Games.
CMP's Junior Rifle Club, intended for youth ages 10 and above, will operate through a semester format, with the fall session beginning Tuesday, Oct. 3. Each training will be held within the 80-point electronic target indoor air gun range at the Gary Anderson CMP Competition Center – located on the grounds of the Camp Perry National Guard Training Base, just west of Port Clinton.
Those involved in the Junior Rifle Club will experience 10 weeks of instruction, covering:
Firearm safety,
Basics of the sport,
Strategies to compete successfully,
Tips on becoming a well-rounded athlete and
More information on how to take air rifle skills and apply them toward college scholarships, travel or even the Olympic stage.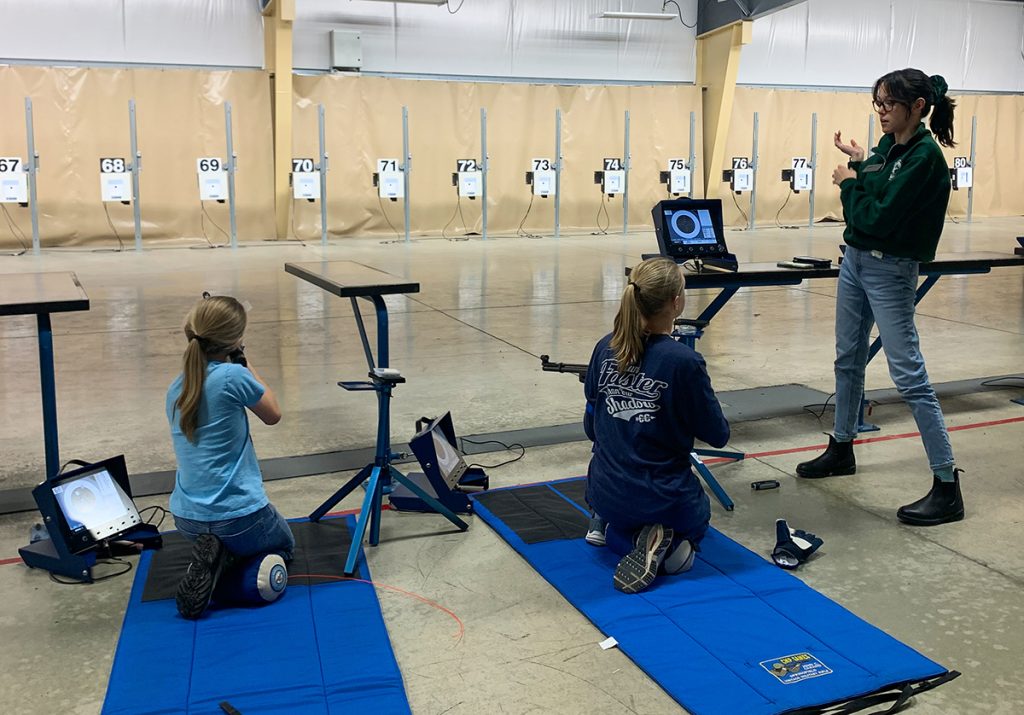 Each training is led by former NCAA Division I rifle athletes, including CMP's junior rifle camp coordinator Ryan Hinson, who was an athlete at Morehead State University, along with CMP program coordinator Alana Kelly, who was previously a member of the University of Mississippi team.
At the conclusion of the 10-week semester, participants in the Junior Rifle Club will compete in a real air rifle competition against other youth athletes from across the country. Participants will also receive a special shirt designed just for Junior Rifle Club members.
Don't own an air rifle? No problem. The CMP will provide all equipment, with participants only responsible for the cost of rifle pellets available at the range.
If you'd like to become involved in the Junior Rifle Club or if you have questions, contact Ryan Hinson at rhinson@thecmp.org or call 419-635-2141 ext. 707. You may also, simply, attend the open public range session held on Tuesday, Oct. 3, at 5 p.m. at the Gary Anderson CMP Competition Center. 
Additional Open Marksmanship Times. For all ages and experience levels, the Gary Anderson CMP Competition Center is open by appointment only Monday through Thursday, 9 a.m. to 3 p.m., along with open periods every Tuesday evening from 5 to 8 p.m. (no appointment necessary). The CMP Competition Center is also available for local groups to hold meetings or conferences. 
For questions or to make an appointment at the Camp Perry location, please call Catherine Green at (419) 635-2141, ext. 704.
Outside of the range, guests to the facility may also browse the filled displays of authentic Olympic and other memorabilia from the career of celebrated American marksman, Gary Anderson, or shop the retail center for equipment and memorabilia needs. Learn more about the CMP's air gun competition centers at https://thecmp.org/ranges/cmp-competition-centers/.