CMP Mid-Range Event Gains Attention at 2023 National Long Range Matches
August 31, 2023
Civilian Marksmanship Program
▸
The First Shot
▸
CMP Mid-Range Event Gains Attention at 2023 National Long Range Matches
By Ashley Dugan, CMP Staff Writer
CAMP PERRY, Ohio – The Mid-Range 3×600 event at the annual National Matches was met with great interest from individuals on the range, growing to over 100 participants in its inaugural year. Featuring three stages of slow prone record shots from 600 yards for adult and juniors, the event was part of the Civilian Marksmanship Program's (CMP) Long Range series at Camp Perry.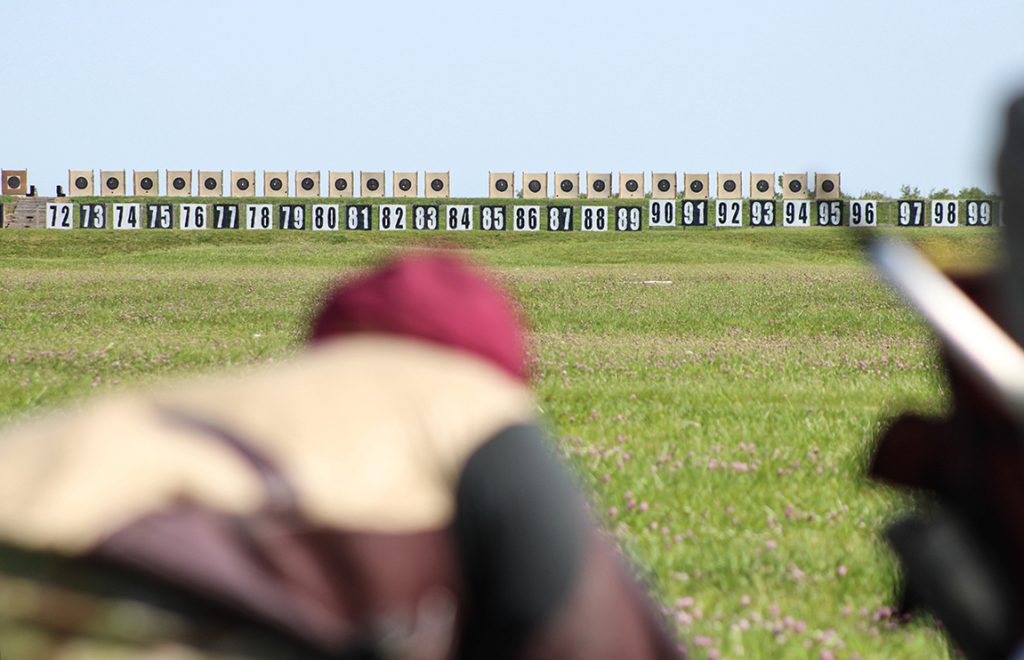 "We were very excited for the turnout this year," said Sara Rozanski, CMP highpower coordinator who facilitates the Long Range events. "This is a program we're looking to put more focus on, and we really hope others consider giving it a try during their trips to Camp Perry each summer."
Topping the Mid-Range 3×600 leaderboard in various classes were:
Match Rifle: SSG Ben Cleland, USA – 600-46X
Service Rifle: SSG Jacob Blackburn, USA – 598-29X
F-Open: Jason Shiew – 597-31X
F T/R: LtCol Michael Walters, ANG (ret.) – 591-23X
AR Tactical: 1LT Frank Holtzhauer, ARNG – 599-32X
Palma Rifle: SP4 Adam Fitzpatrick, USA – 600-46X
Leading the first Mid-Range 3×600 was Staff Sgt. Ben Cleland, 30, of the U.S. Army Marksmanship Unit, with a score of 600-46X. Cleland admitted Mid-range is one of his favorite types of matches to shoot, with distances no different than those used in service rifle matches and added challenges that make them even more enjoyable to shoot.
"It's a true precision game," Cleland said.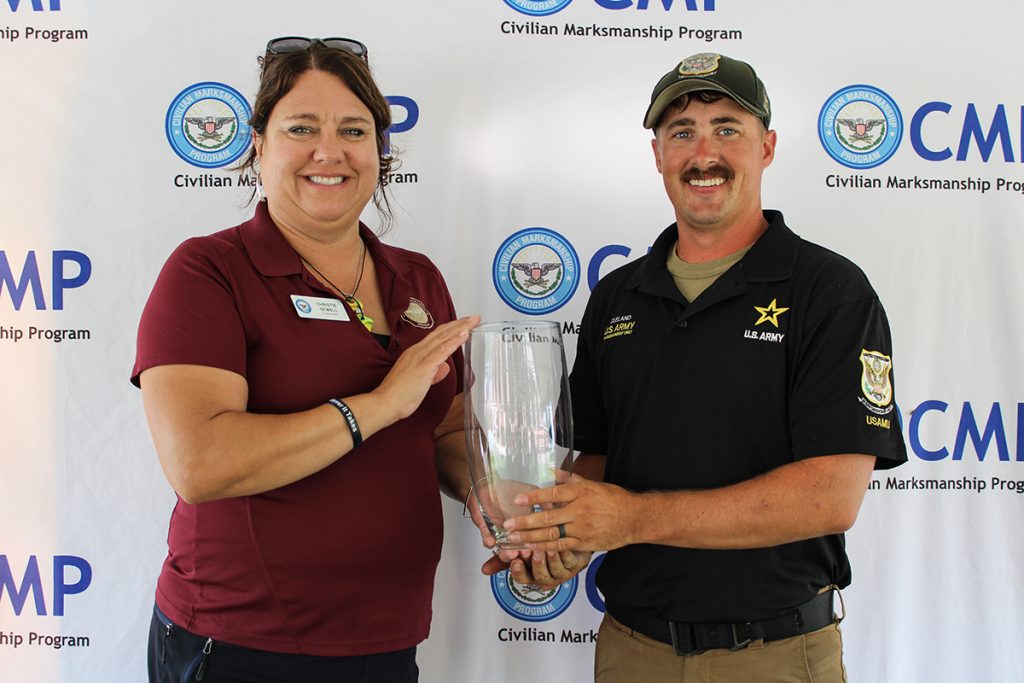 "It's kind of like smallbore with a lot more wind, in my mind, so I really enjoy shooting that," he went on. "If you're on it, you can shoot some really big scores and have some great performances, but it's still very challenging."
According to Cleland, Mid-range has been growing over the last few years – gaining traction in the marksmanship community. In essence, the match can be seen as a gateway for service rifle competitors into Long Range events, using the same ranges and distances as regular highpower events.
"More people are getting interested in it," he said of the Mid-range discipline. "It's not so hard moving from one rifle to the other, as far as shooting goes. The hard part is showing up at Camp Perry with that many different guns, well prepared."
In the match, Cleland used his 6mm rifle that he built himself. It's a quality piece of equipment that gave him confidence on the firing line and helped lead him to the overall win.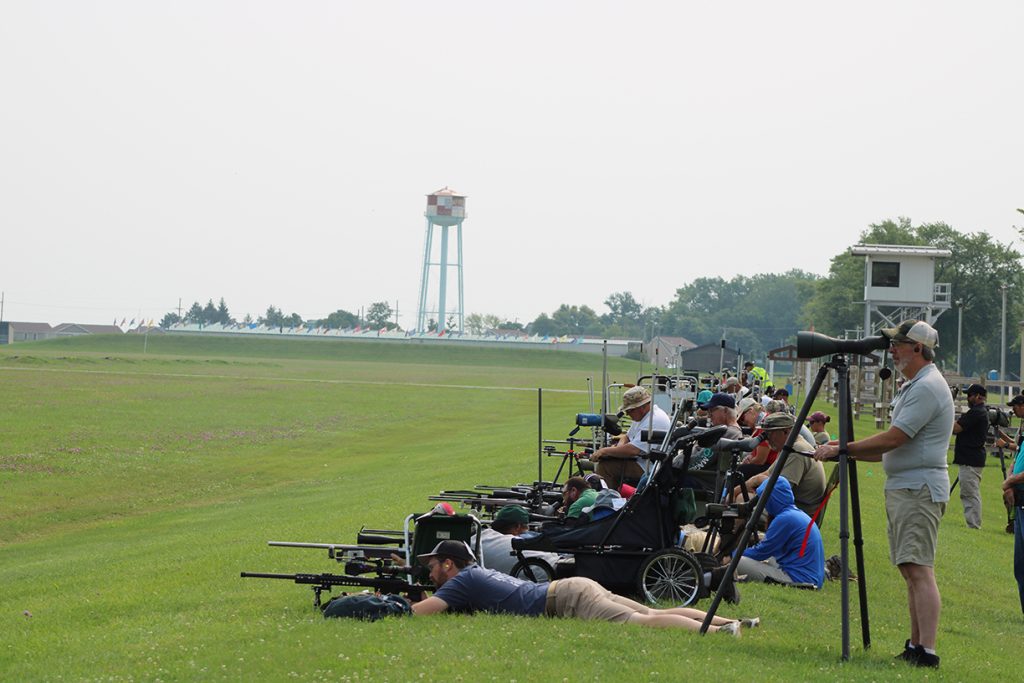 "I was shooting a gun that's capable of shooting way better than I am, which makes me look good," he joked.
Also helping him to look good is, as he describes, a hectic schedule during the year to remain at the top of his game – staying late after practice to work on both himself as well as his equipment to make sure each is performing to the best of its abilities.
"You can go out and lose a match, and that's fine if someone shot better than you – that's great. They did good and you didn't do as good, that's the way it should be," he explained. "But if you go out and you feel like you had a perfect performance, but you didn't shoot well for whatever reason, whether it's equipment or something else, that's the kind of failure that, in my mind, just isn't acceptable. It basically just says I didn't put enough work in in the beginning."
Scores on the line were extremely tight in the Mid-Range match, with the first seven places separated by only one point. The top three competitors were determined by x-count, with Cleland finding the win by a margin of seven Xs overall.
"For one, everybody there were really good shooters – very experienced," Cleland said of the close match scores. "The conditions were moderately challenging. It wasn't crazy windy, for Camp Perry, but it wasn't a give-me."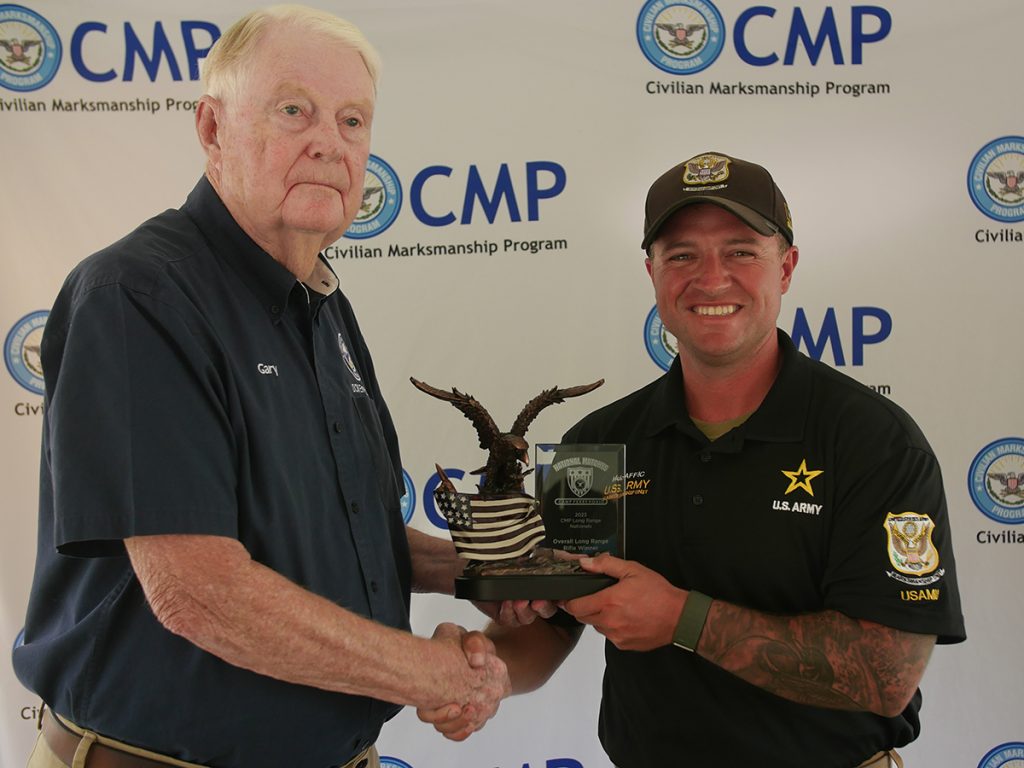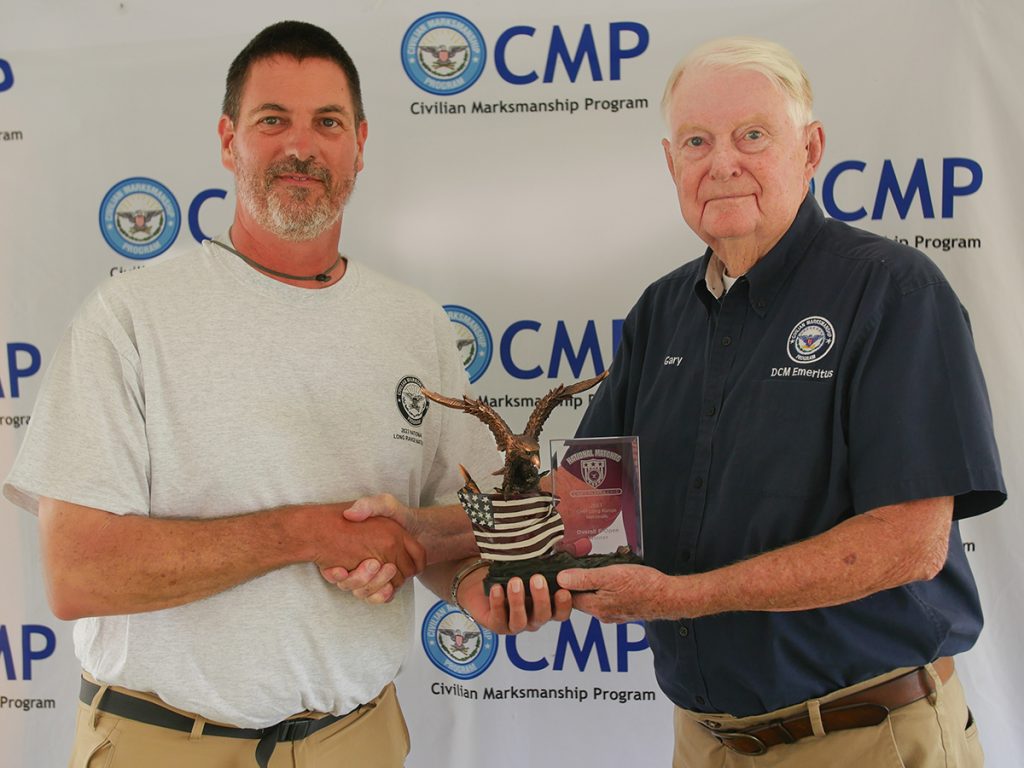 With plans of expansion in the future, the CMP Mid-Range program will be a fixture at the National Matches – leaving even more competitive opportunities for those individuals looking for new conquests on the range.
"I hope that it continues to happen and that it grows," Cleland added. "I think that it's a really good measuring tool for marksmanship abilities."
Outside of Mid-Range, the National Long Range events included five days of individual and team 1,000-yard matches for Long Range, Service, Palma, Match, F-Open, F-T/R and AR Tactical classes. Daily awards were presented to overall winners of each match as well as to the top junior, woman, senior and grand senior participants. Overall aggregate awards were also determined for those who competed in all events in the Long Range series.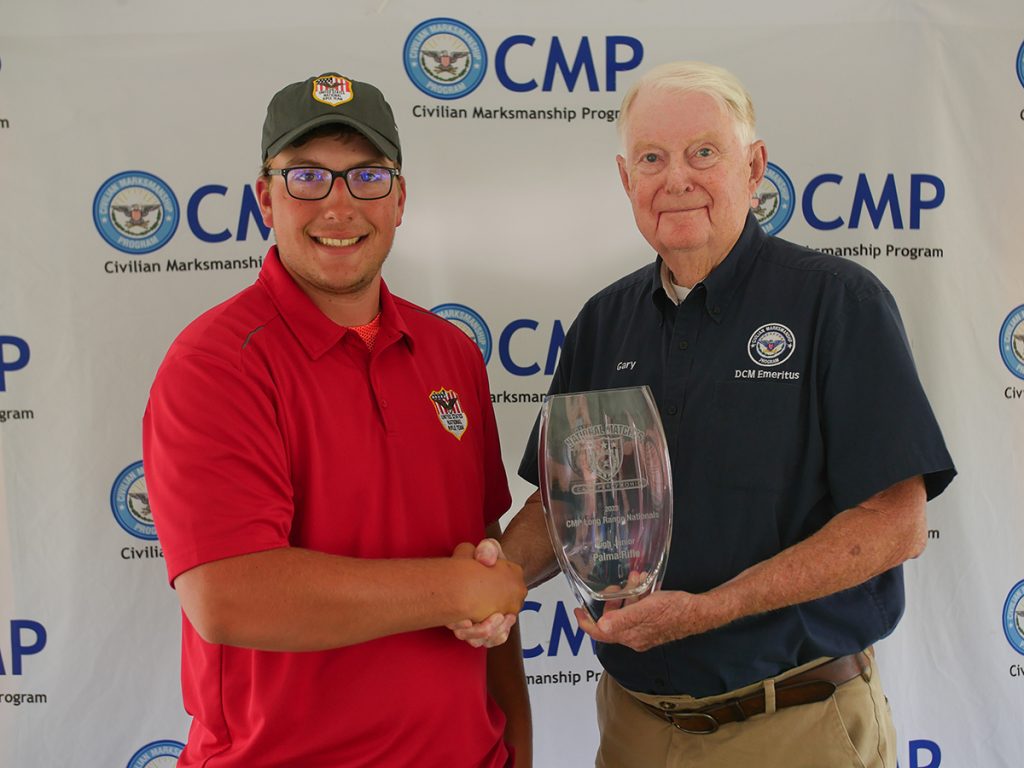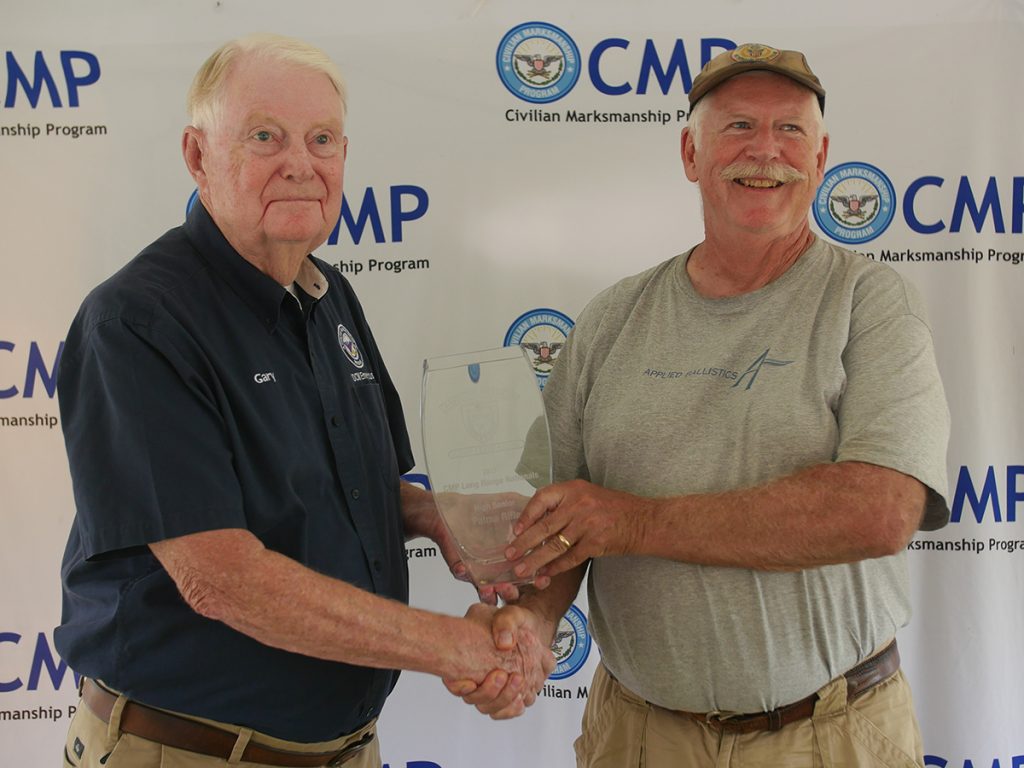 Individual Long Range Aggregate winners included:
Long Range: SSG Jarrod McGaffic, 33, Fort Benning, GA – 1643-89X
Service Rifle: SP4 Dustin Carr, 22, Fort Benning, GA – 1615-74X
Palma: SP4 Adam Fitzpatrick, 27, of Columbus, GA – 1635-99X
F-Open: Kenneth Livengood, 69, Palmerton, PA – 1623-61X
F-T/R: Jack Dean, 50, Cape Coral, FL – 1609-58X
AR Tactical: Only one competitor participated in this class.