CMP Instructor Leads Texas Rifle Championship 
August 10, 2023
Civilian Marksmanship Program
▸
State Director
▸
Texas
▸
CMP Instructor Leads Texas Rifle Championship 
By Ashley Dugan, CMP Staff Writer
In his own words, Danny Arnold, 57, of Norman, Oklahoma, has "been competing under the CMP umbrella since the very beginning."
Danny shot his first Excellence-In-Competition (EIC) match in 1993, back when the Civilian Marksmanship Program (CMP) was under the Director of Civilian Marksmanship title, and rolled right into competing in the CMP's EIC matches when his club, the Oklahoma City Gun Club, began sanctioning monthly events. Danny was the Highpower Director at the time and would take a week's vacation from work just to help with the competitions.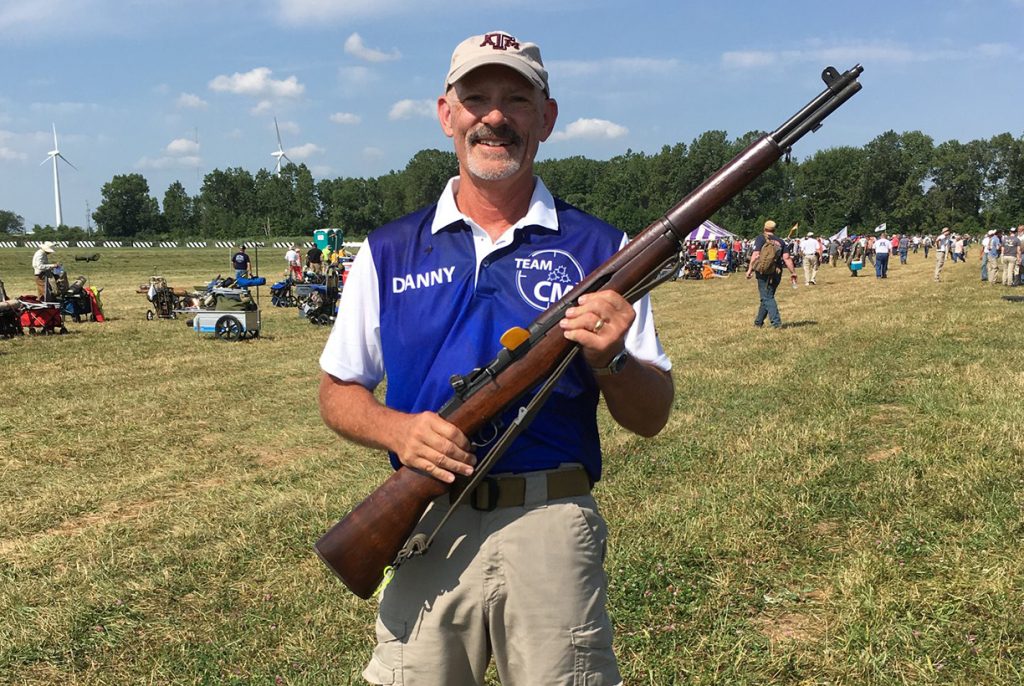 A talented athlete, Danny has been a Distinguished Rifleman since 1996 through earning the necessary points at EIC matches, and he holds a High Master classification. Today, his involvement in marksmanship has evolved beyond the firing line, now serving different training and competitive capacities for the CMP, like as an advisor to the rules committee and calling matches at some of CMP's Travel Games and the annual National Matches at Camp Perry.
"My job description reads something like, 'May perform other duties as required,' so I never know what's around the corner," he joked.
Proving that he knows exactly what he's doing within the sport, in April 2023, Danny melded back into his competitor gear to earn the overall win in the Texas State Rifle Association's (TSRA) Service Rifle Championship 50-shot event – earning a score of 494-16X.
The TSRA Service Rifle Championship 50 Shot Match features 10 shots standing and 10 shots rapid-fire sitting at 200 yards, 10 shots rapid-fire prone at 300 yards and 20 shot slow-fire prone at 600 yards. The TSRA Championship weekend also includes an 80-shot match, a 2×30 team event and pistol EIC competitions.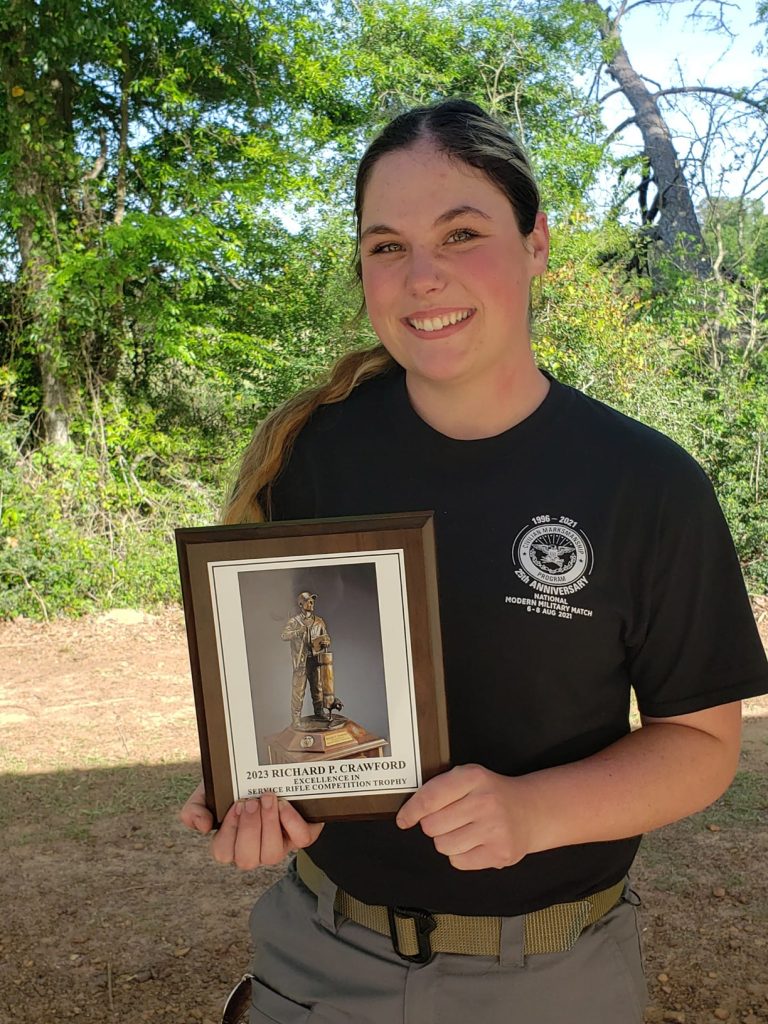 In the 80 Shot championship the day before his win, Danny had come in third place – three points behind winner and decorated markswoman, Charisma Owen. At age 20, she has become the first junior as well as the first female to win the TSRA 80 Shot match throughout the championship's history.
Charisma is a talented force on the range, having earned her Distinguished Rifleman Badge in 2019 at age 16 and currently working toward Service Pistol and .22 Rimfire Pistol badges. Danny trained with her at the Oklahoma City Gun Club (the closest range to Owen, even though she lives in Texas) and has known her for almost a decade.
Her success made him proud, and his own finish gave him confidence about going into the 50 Shot EIC match the next day – that is, until he walked out of his motel room that morning and saw the conditions.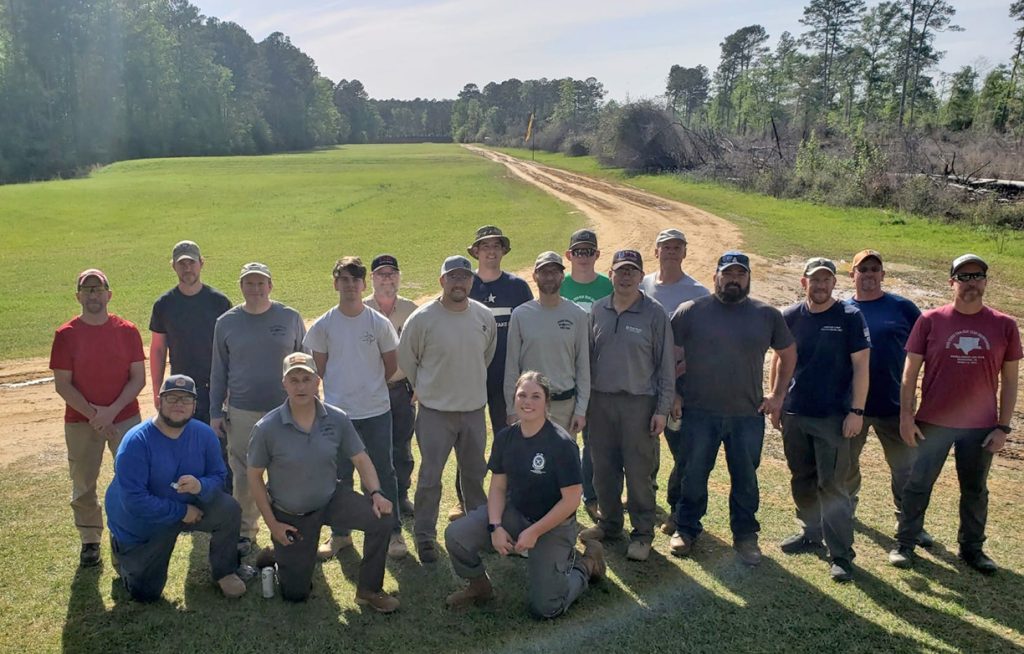 "The forecast said that the rain was going to end at about the time that the match started, so I headed for the range," he explained. "While everyone was unloading their gear, I stayed in my truck. Sure enough, it started raining harder."
"I got my Distinguished badge a very long time ago, so heading home was looking pretty attractive compared to spending the next couple of days drying out my gear," he added.
He had a decision to make – get back on the road or unload and compete. Luckily, the rain eventually settled down to a light sprinkle, so Danny unpacked and pushed his gear to the 200 yard line.
"After being ready to shoot early in the morning and then prepared to leave because of the rain, I was what I would call emotionally flat, which, as it turned out, was a good place to be," he said. "In standing, I really wasn't thinking about anything, and the shots were going right in there."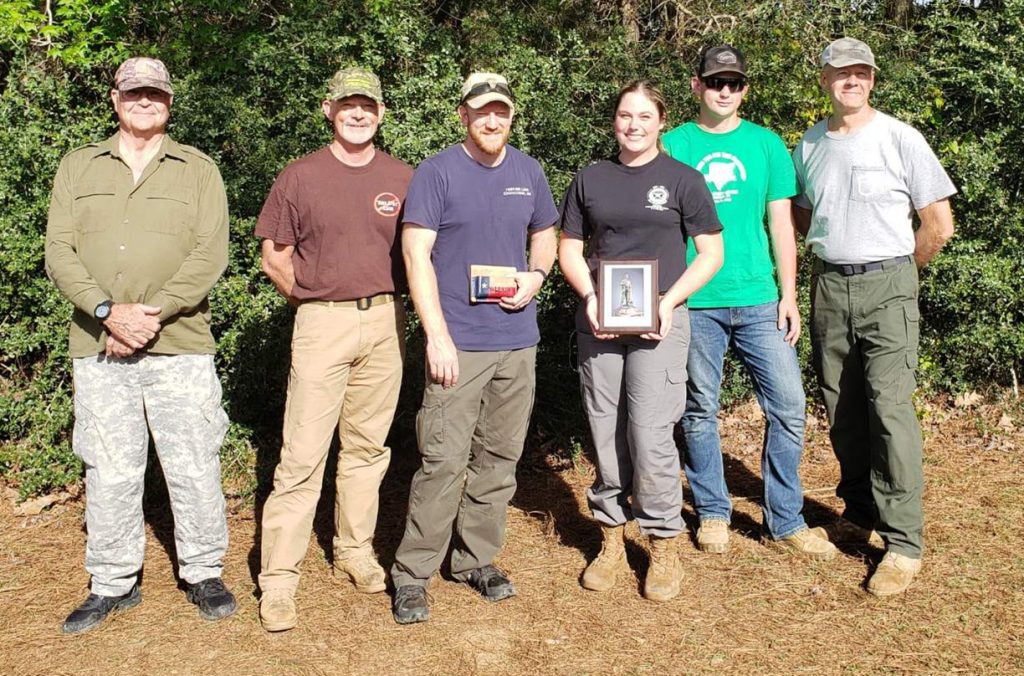 His sitting group was tight, but high, and he finished with a score of 100-1X. Though he didn't feel especially poised at the 300 yard line, he still ended with 100-9X. Once back at the 600 yard line, conditions wavered with a steady velocity – enough to put any competitor into the 9-ring.
"My target puller that day was working hard, so I could shoot fast and keep up with the conditions," he said. "At the 600, whoever is pulling the target has almost as much to do with the final score as the competitor. Slow target service means that the person shooting has to spend more time on the spotting scope and making adjustments to keep up with changing conditions than a competitor that has a fast target puller."
"It's really a team effort, even though you're competing against each other."
When he's not firing for record on the range or instructing others, Danny stays dedicated to his practice. He dry-fires four to five times per week when he's able and occasionally makes a two-hour round trip to the range for an hour practice session. There, he takes 40 shots standing to condition himself for a 20 shot match, with additional shots in the sitting and prone positions. When the weather permits, he live-fires at 200 and 300 yards, but when he can't go outside, Danny utilizes an indoor range with his .22 LR upper – firing 60 shots in standing (since no recoil is involved).
As for competing, he tries to get out as often as his schedule and the conditions allow.
"Shooting when it's cold isn't nearly as fun as it used to be," he joked. "Where I currently live, there are two 600 yard and two reduced distance ranges within a two-hour drive, so there's usually a match on any given weekend."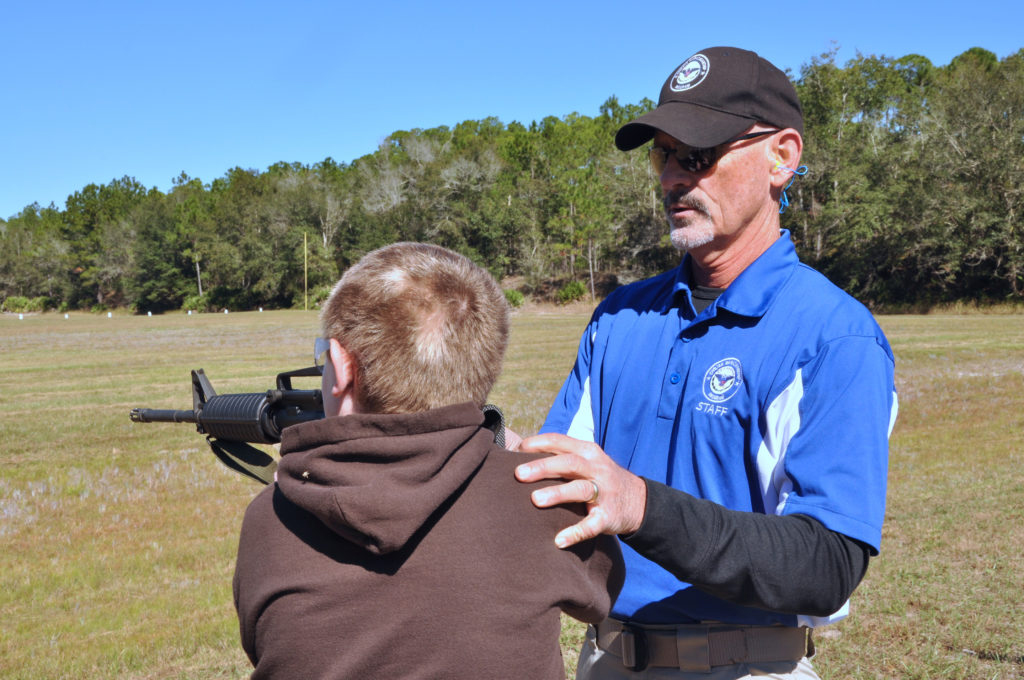 Danny began his marksmanship career with the University of Oklahoma Smallbore Rifle Team from 1986 to 1988, eventually transitioning into highpower in 1989 with a match rifle. Since then, he has made the prestigious President's Hundred (a celebrated mark for the top 100 scorers of the President's Rifle event at the National Matches) eight times, with one Top 20 finish, and has accrued state and regional championship wins. He even made the honorary Elihu Root National Civilian Rifle Team in 2014, which recognizes the six highest scoring civilian competitors of the National Matches. Additionally, he's part of the NRA's 495 Club and has also been a member of trophy-earning teams during the National Matches.
During the National Matches at Camp Perry, Danny competed in the 2400 Aggregate and Trophy Matches. Behind the firing line, he helped to lead training classes and called the Rimfire Sporter Match, Games matches and Long Range rifle events. Learn more about the CMP National Matches at https://thecmp.org/cmp-national-matches/.