CMP Armorer Chris Knott Earns Own Distinguished Rifleman Badge
April 14, 2023
Civilian Marksmanship Program
▸
The First Shot
▸
CMP Armorer Chris Knott Earns Own Distinguished Rifleman Badge
Chris Knott, 29, of Gadsden, Ala., has surrounded his life with marksmanship. Most days, he suits up as a specialist in the Army or as one of the talented armorers within the Civilian Marksmanship Program's (CMP) Custom Shop. Other times, he finds himself taking his rifle talents outside the maintenance realm – not only readying triggers for others on the range but also pulling triggers himself in competition.
It's a recent passion that led him to earning his U.S. Army Distinguished Rifleman Badge at the 2023 U.S. Army Small Arms Championships in March. The badge is an honor that many strive to achieve, but for Chris, it was an unexpected ambition.
Distinguished Badges are the highest individual award authorized by the U. S. Government for excellence in marksmanship competition. Badges, offered in a number of disciplines, are presented by the CMP after an individual receives at least 30 Excellence-In-Competition (EIC) "leg" points at qualifying matches.
For Chris, earning a badge manifested, purely, from showing up for work – along with some encouragement from a fellow marksman.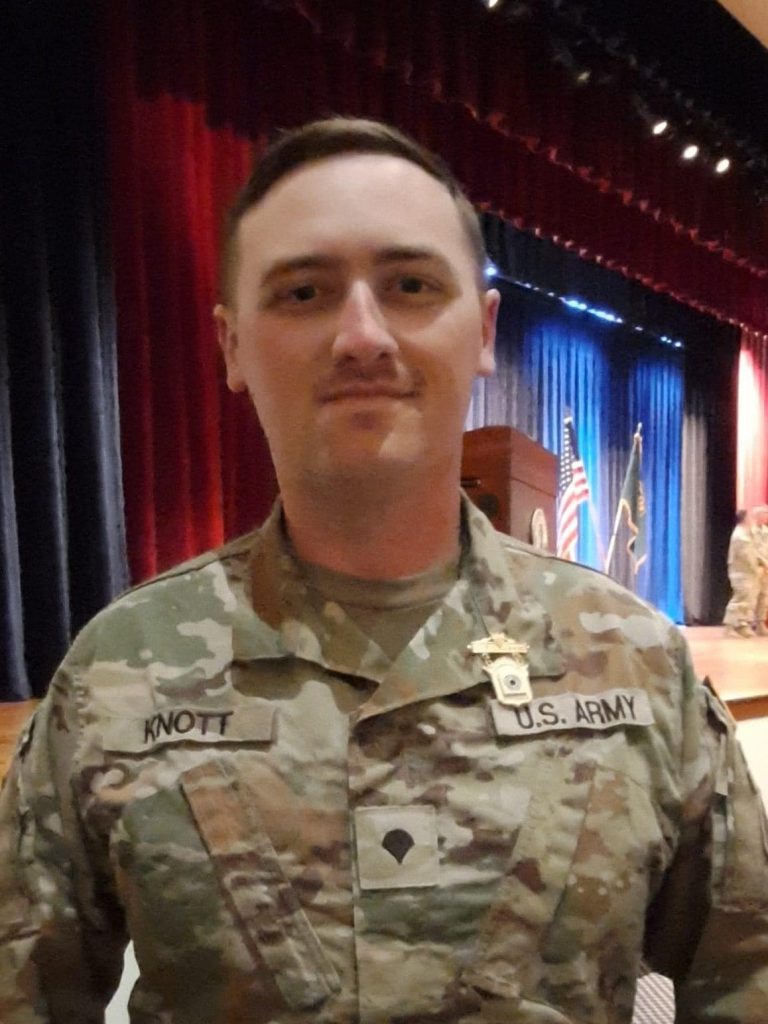 "Embarrassingly, I had no knowledge of the Distinguished Program until I started traveling for the CMP," he said. "It didn't really become a goal until I shot my first EIC match at the CMP Western Games in 2018. Nick Till, to whom I owe much thanks and appreciation, asked if I would like to shoot the match."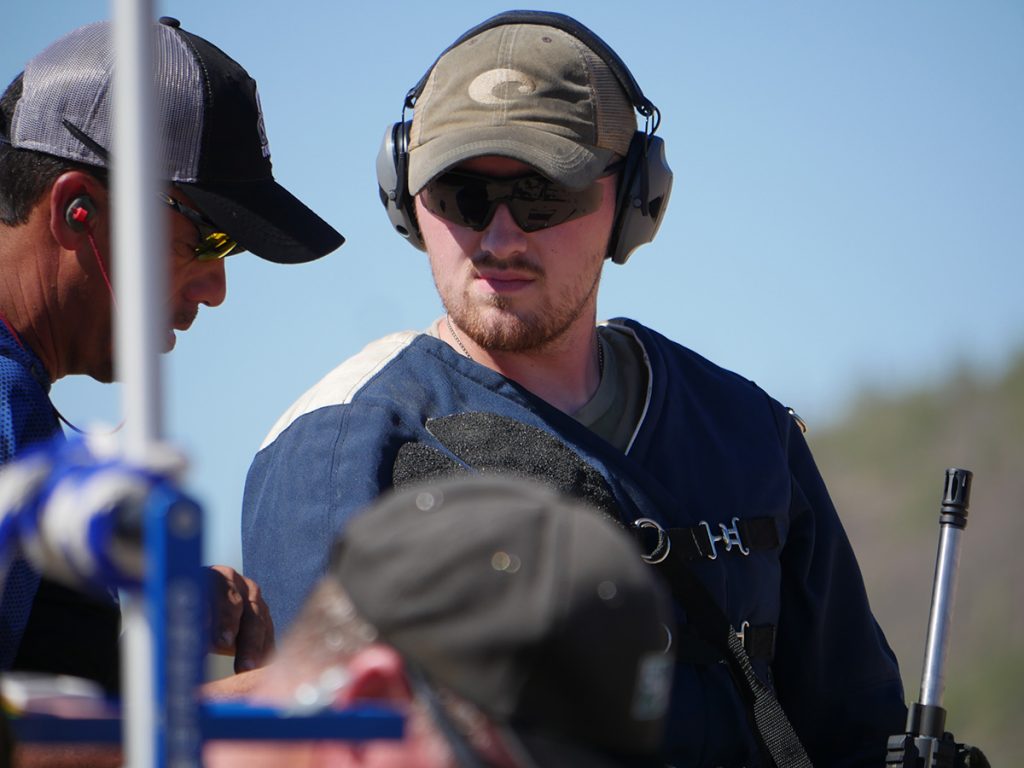 Chris admitted he was somewhat intimidated to compete in the EIC match (which is fired at 200, 300 and 600 yards) since he had never fired beyond 300 meters. Till, a decorated marksman and regular figure at CMP events, insisted Chris give the competition a try and even offered the use of his rifle for the match.
With everything borrowed except the clothes he wore to the range that day (including a shooting coat, ammo and other equipment), Chris fired a score of 484-13X and was the top Non-Distinguished competitor – earning a 10-point leg.
"From there, the hunt was on," Chris said.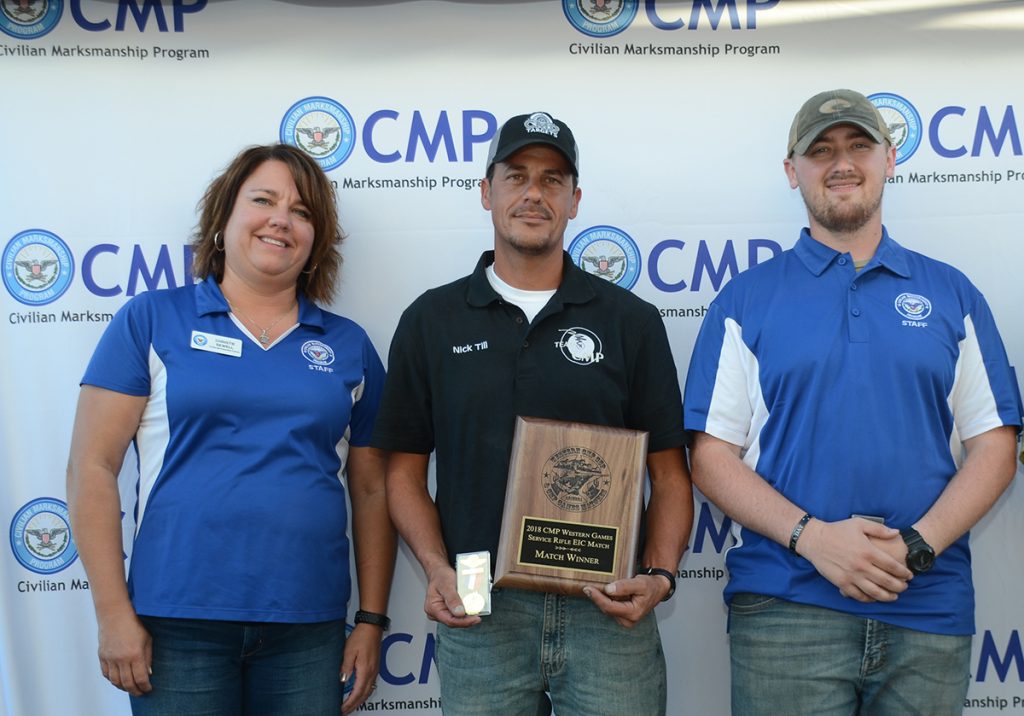 Though the hunt for a badge was new, Chris's beginnings in marksmanship started at a young age, after he received his first BB gun at five years old.
"There wasn't a soda can in the neighborhood safe after that," Chris joked. "My love for marksmanship started there and continued to grow."
His first shots fired in competition were when he joined the Albertville High School Army JROTC Rifle Team. That was also when Chris first became familiar the CMP.
"Being as that I am an avid lover of history, I was mostly interested in the purchase of an M1 at the time, instead of the wealth of marksmanship knowledge the organization had to offer," he admitted.
Chris competed in sporter class three-position air rifle all four years of his high school career, graduating as team captain. He didn't compete again until after he started working for the CMP.
His first match since high school, his first highpower competition and his first trip to Camp Perry all came during the 2016 National Matches when he competed in the National Vintage Rifle Match. Since then, Chris has done his best to make time to fire in CMP events.
"The vintage sniper match (one of the CMP's most popular Games rifle events) is one I will never turn down an opportunity to shoot," he said.
When it comes to practice, Chris joked that he doesn't do it enough.
"Most of my trigger time comes from shooting shop guns at Talladega Marksmanship Park for the company," he said. "But I like to dry fire as often as I can. Most competitors will agree that is the key to success, and it's free."
Chris also obtains time on the range from his involvement in the Army, which began in January 2015 when he signed up for the Alabama Army National Guard. In August of that same year, he left for Fort Jackson, S.C., for basic training. He was then sent to Ft. Lee, Va., for his Advanced Individual Training (AIT) for the 91F MOS as a small arms/artillery repairer. He was assigned to the 1-167th Infantry Battalion Forward Support Company and stayed there until recently, when he was transferred to the 20th Special Forces Group Sustainment Battalion.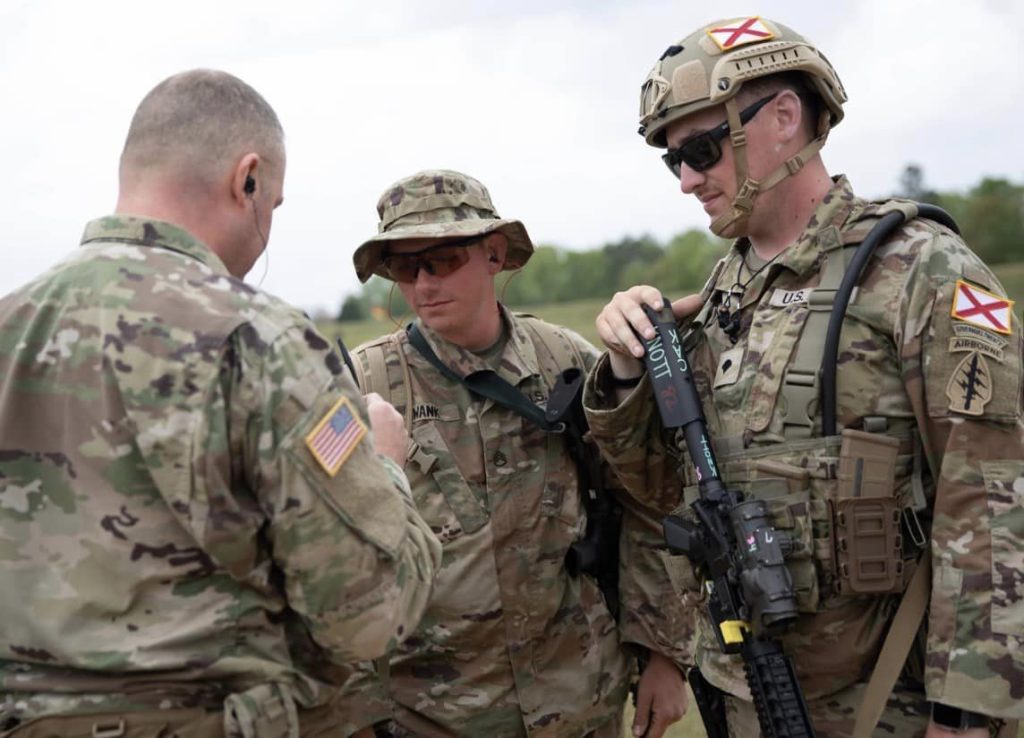 In late 2020, he was recruited to the Alabama National Guard Lethality Group where they also run the state marksmanship team and put on a state marksmanship competition known as the TAG Match. There, individuals have the opportunity to earn an honored "Governor's Twenty" tab.
With his military career and his responsibilities as armorer, Chris undoubtedly keeps a full schedule, but he wouldn't have it any other way.
"Working for the CMP has been an amazing experience," Chris said. "I have loved every second of it, and it has afforded me so many opportunities to compete and learn. I would not be where I am as a competitor today if it were not for the opportunities I've received here and the amazing people I have met along the way that have helped me and mentored me."
Like his journey toward a Distinguished Badge, Chris's start at the CMP also came on a chance encounter after he returned home from AIT in February of 2016. He was looking for work, and as fate would have it, he ran into the son of Mike Long (CMP's current 1911 manager) at a Recruit Sustainment Drill that same month.
"He told me I should apply for the CMP, and that next week I came and filled out an application," Chris explained. "I started the following month in the Custom Shop."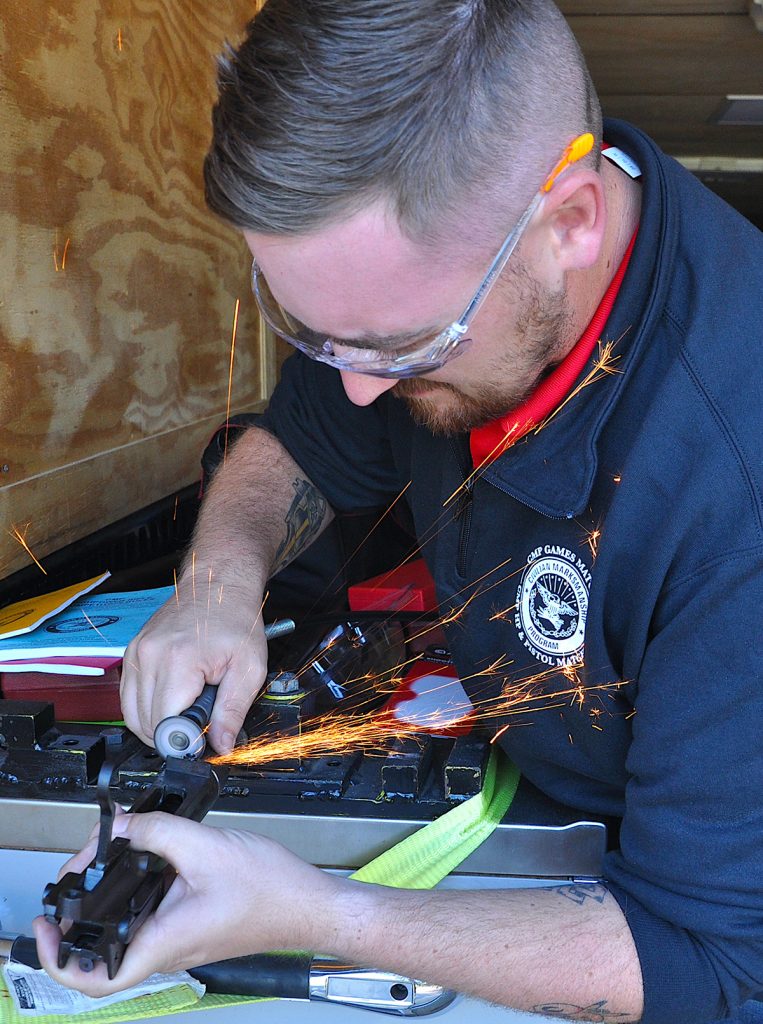 Now, Chris works hard within the Custom Shop to bring back to life the rifles that are sent in from around the country to be restored. He also travels to many CMP events, ensuring safety through rifle inspections and repairs. His downtime allows him to leave the armorer's trailer to join likeminded individuals on the range – all brought together to enjoy the sport they love.
"Being a competitor and armorer helps me bridge the gap between the inspection table and the firing line," he said. "I see things from both sides of the coin when it comes to equipment, firearms and the rules that govern what we can and can't use on the line. It helps me relate to the competitors that we work so hard to take care of."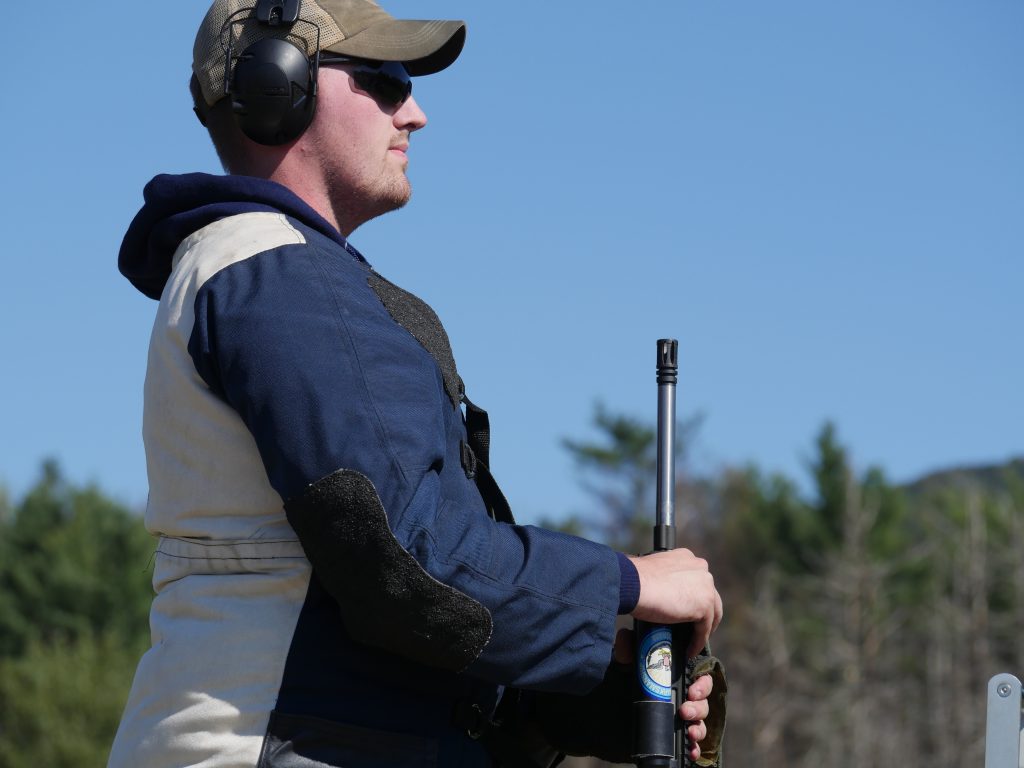 From here, Chris is set to continue as one of CMP's armorers and will still be found competing at events across the country, as his time allows. Though he's now among the elite list of the Distinguished Riflemen and women, Chris remains humble and remembers those who helped him reach his prominent achievement.
"I would just like to include a shout out of thanks to Nick Till for starting me on the hunt for the badge and to the Alabama Lethality Group, specifically SSG James Ruddick, the State Marksmanship Coordinator, for the chance to compete for the state of Alabama and the opportunity to get the points I needed on the Army side of things," he said. "If not for them, I wouldn't be as far as I am today."
What's next for Chris? "My biggest match of the season starts at the end of the month. I will be one of four Alabama National Guard members representing the state at the 52nd Winston P. Wilson Small Arms Championship at Camp Robinson, Arkansas, hosted the National Guard Marksmanship Training Center. We face off against 64 other 4 man teams from across the nation" said Chris. We wish you the best of luck!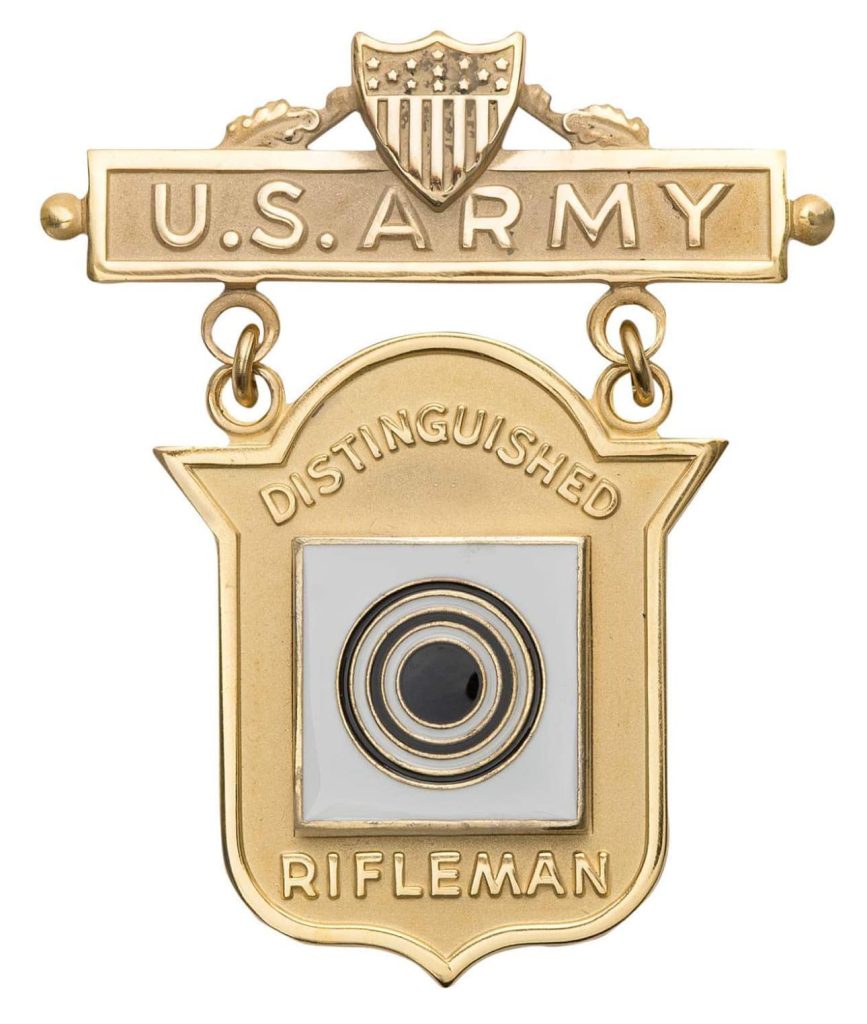 Find out more about the Distinguished Program.
Want to learn more about the Distinguished Badge Program? Visit our website at https://thecmp.org/competitions/distinguishedbadges/ or email competitions@thecmp.org for more details. Upcoming EIC Matches can be found on our website at https://ct.thecmp.org/app/v1/index.php?do=matchRegistrationListUpcoming. CMP Director Emeritus, Gary Anderson, recently wrote an article titled "America's Distinguished Badges: Golden Symbols of Marksmanship Excellence" which can be viewed at https://thecmp.org/wp-content/uploads/2023/03/Americas-Distinguished-Badges-Golden-Symbols-of-Marksmanship-Excellence.pdf.