Champions are Built
March 4, 2023
Civilian Marksmanship Program
▸
The First Shot
▸
Champions are Built
Submitted by Rich Weiser, Scopos Architect / WFHS Titan Rifle Assistant Coach
I will start with the fact that I am biased about the athlete this article pertains to; however, I am writing this as her coach, not her father. This article is about work ethic and how an 8-year-old decided what she wanted to do with her life and has worked every day to make that dream come true. She has one vision to shoot in the NCAA and the Olympics. WVU Rifle, please pay attention!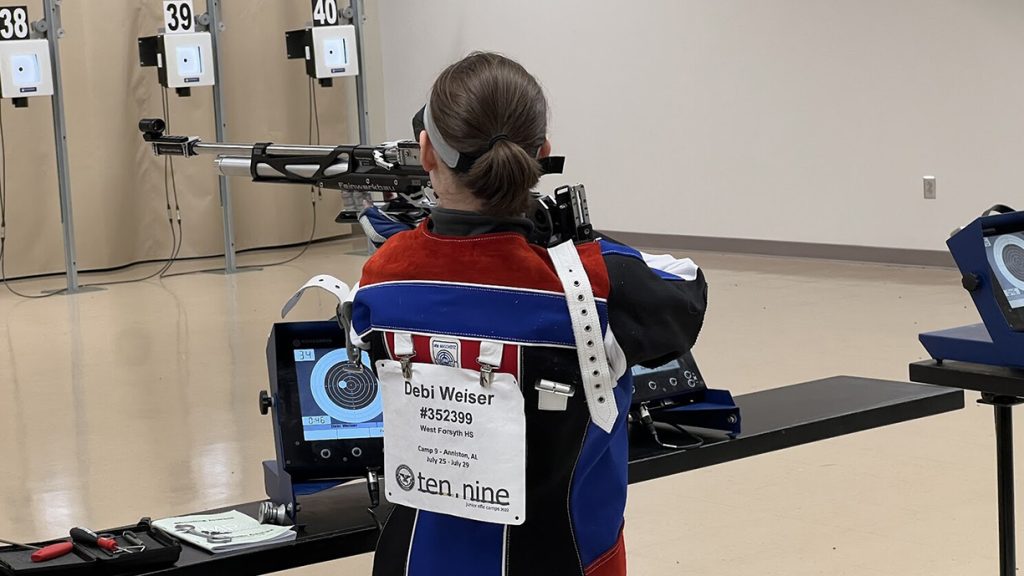 Debi "Heatstroke" Weiser joined JROTC and started competing in the sporter class Varsity team as a freshman, never missing a match. She took home the team's top competitor for most of the season, consistently setting personal records. Selected as an individual for the CMP Southeast Regionals her freshman year, the season was cut short due to COVID, and the remainder of the season was canceled. During COVID, she would practice Smallbore twice a day, five or more days a week, to keep her skills sharp.
In her sophomore year, she served as Platoon Sergeant for the WFHS JROTC Titan Rifle team. Accolades followed at ridiculous rates but what I saw wasn't her scores or medals. I saw the building of character. She increased her work ethic. The season was also cut short by COVID interference, so there wasn't an opportunity to travel to any National matches, but her work ethic showed, and she excelled at Summer Camp. She won the 9/11 Winston-Salem Public Safety Demonstration and WS/FCS District Champion.
Things changed in her junior year; shooting training became everything to her. Putting in three hours or more a day of trigger time. She practices other positions, but her favorite is standing. Our motto has become "Standing Wins Championships," which also proved true in her junior year. She pushed harder to defend her district title, set a district record, and win the North Carolina American Legion State Championship. All of which she accomplished.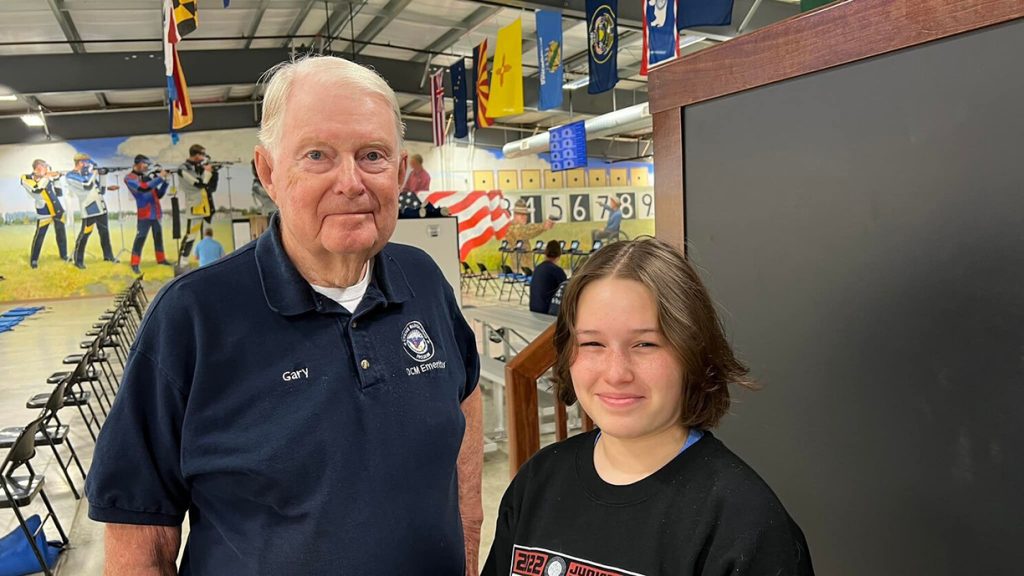 She led her team as the captain to the 4th Brigade Best of the Best match and the U.S. Army JROTC National Championships. She won by 19+ points to win the 2022 NC American Legion State Championship. She earned an at large bid as an individual to the CMP National Championships and Junior Olympics. She took a silver medal that weekend for her performance in Standing (her best and favorite position). Over her junior year, she had earned a total of 10 EIC points. The weekend of Nationals alone, she increased that another 10 EIC points, leaving her just ten shy of her distinguished badge. She even met Gary Anderson that weekend! She decided she had accomplished everything she had set out to achieve in Sporter class and retired her beloved rifle Killgarah. During her final shot at Nationals, she looked back at me being her Dad and coach and smiled. She knew in her heart she had the shot. She looks back, and aims to check her NPA, and fires. Due to the way the scoring technology works, you hear the pellet hit the Electronic Scoring Target just a split second before it registers on the monitors. That split second lasts hours for the competitors and the spectator. Monitor registers 10.9.
Utilizing technology from Orion Scoring System and moving over to Precision class shooting with a Feinwerkbau GmbH 800x, she began practicing twice a day for 90 minutes at time over the summer. I acted as her coach and her father by watching and analyzing Olympic/NCAA shooting footage, she taught herself the use of the gear and rifle. We trained harder than match conditions could ever be, utilizing PsyOps training. We blasted music at just barely safe for the human ear. The playlist would include everything from the music she hates to loves. I would torture her with Country, adding in the Wiggles, Alvin and the Chipmunks, me and my wife would even throw paper airplanes at her while she trained. It was all in good fun, but it was mental preparation.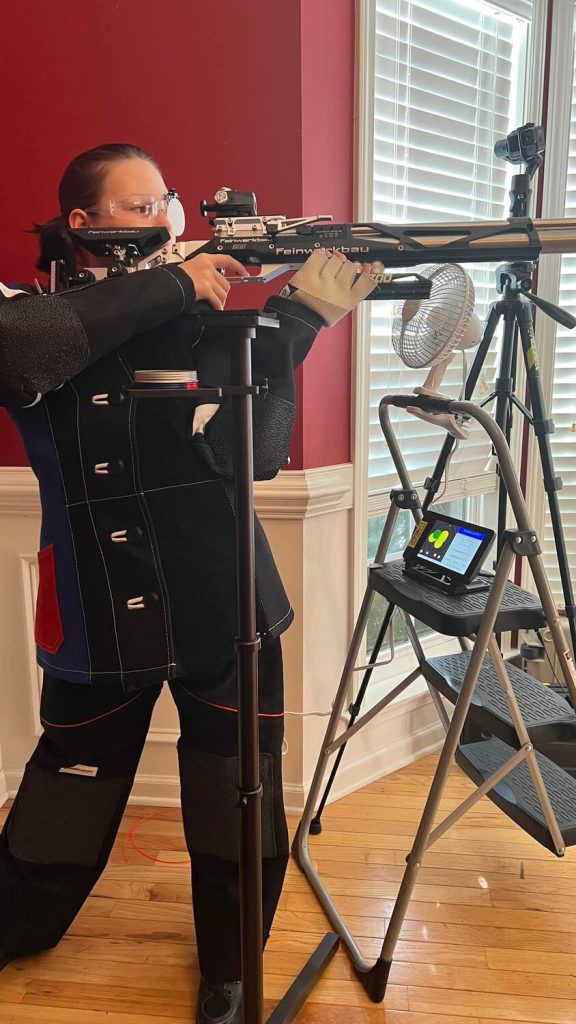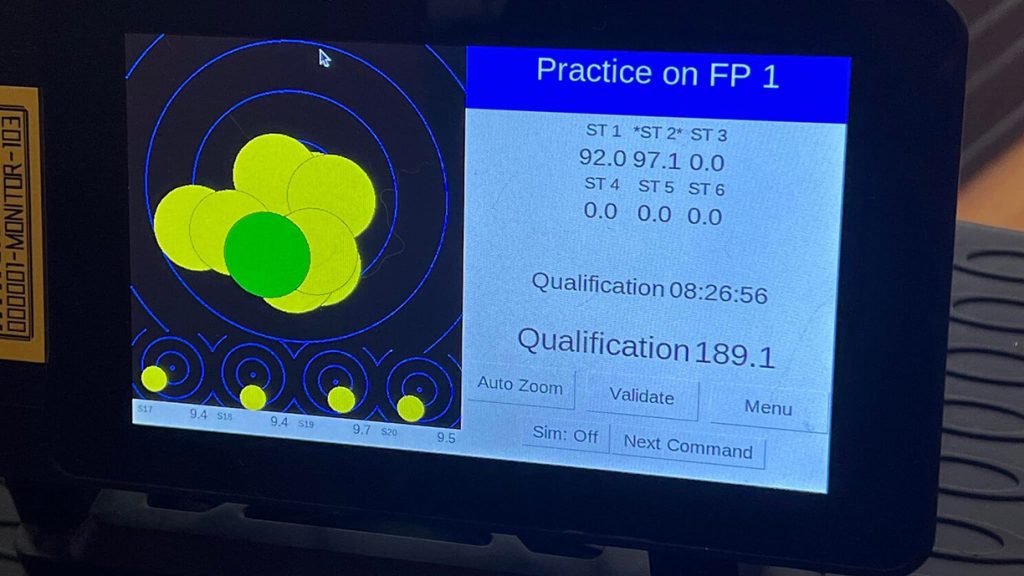 In August 2022, we traveled to Summer Camp at the CMP in Anniston, Alabama. Having never shot kneeling or prone simply due to space limitations here at the house, she had trouble with her gear. Rather than get frustrated as she previously would have, she improvised and adapted. After a decent first-ever prone score and a very impressive first-ever Standing score in true match conditions, she ripped off her shooting jacket. She decided to shoot without it because it wasn't feeling right to her in the kneeling position. She finished strong and was assigned her counselor for the week. Matthew Harrington, a fantastic CMP camp counselor, stepped in and became a true mentor to her. They took apart and re-assembled her rifle a minimum of three times I counted over the week to get the fit right. She showed growth as an athlete by listening and applying the lessons he taught her over the week.
Friday, the last day of camp. Emotional for the campers because they are saying goodbye to their counselors who have become mentors to them. The CMP camp counselors should be congratulated for how they help develop the kids' character and marksmanship. It's match day. Time to demonstrate what you've learned.
8:52 AM: First sighter shots down range. Debi sights in for her first precision match. She's in the prone position. She dials in, closes her eyes, and visualizes each step of her shot plan to make it automatic. Her first 3-Position 20 shot match ever. She was on the last lane with all other precision competitors who also have fantastic work ethic and had put up excellent scores during the week, all to her left. However, she was by herself. It wasn't her right side missing a competitor, or the left side competitor's being separated from her. It was because she used her PsyOps training to be alone in the match. She "cleared the mechanism," as we call it. Tuning out everything but her and the target. She becomes one with the rifle.
9:00 AM: First record shot down range. I have it recorded. The whole match became a blur. Shot after shot, she shook off a bad shot and then would register four or five excellent shots in a row before having another minor setback. At the end of prone qualifying, she sat in 6th place.
Moving on to the Standing position, she got even calmer. I could see the experience and effort she has focused on in this position kick in. Taking her time, rejecting shots she didn't have locked in, and making on-the-fly adjustments when she recognized a pattern by a few clicks here or there from the lessons she learned, some on her own, some from me; but definitely from her counselor. Shot after shot, her confidence level increased. The scores reflected that. I honestly do not remember her position at this point. I was more proud of how she handled each shot. She took three years of competitive shooting techniques in sporter class, which are not the same; threw them out the window and learned how to work in precision.
Kneeling: Gaining several places on the leader board, she held strong in a position she had struggled with earlier in the week. Scoring high enough to let her finish in fourth place overall in the qualifier.
The new 3PAR start from zero rules would be used and only the top 8 competitors make finals. Anyone at this point can win the match. The athlete must keep the emotions in check and heart rate down. 5 x 3 shots in a limited period in prone and kneeling followed. The crowd built up, stomping and clapping to cheer on the competitors. At the end of kneeling, Debi was in third place, down 4.9 points. A dramatic difference to make up for precision air rifle. 50 seconds. One shot down range. For each shot, another competitor is eliminated as the scores rule them out. Repeat.
5 of 8 eliminated. We are down to the top three finalists at this camp. These are the people with the hardest work ethic I've ever seen. Debi's in 3rd. Sitting on the bubble. She looks back at me. This time it wasn't for a shot correction, just a reminder, the non-verbal coaching we are allowed to do. I pointed 1 finger to the sky, then touched my eye. Our reminder that she has one goal, her One Vision to shoot in the NCAA Rifle. She gives me a confirmation nod.
We wait on the range officer to give the command. The crowd is going crazy with banging, cheering, and stomping on the bleachers at a furious pace. However, while the crowd is deafening, the match conditions are no worse than Debi has ever trained. She is not having a "Heatstroke" like she almost did the first day of camp wearing the wrong kind of shirt under her shooting jacket. No, this was calm. She looked different. I watched her execute her brand new shot plan she had only created that week without thinking. It was again, her and her rifle as one. One shot. The load command is given. Start. Debi fires first. Her shot landing at a great 10.7.
Seconds turn to minutes. Debi is just patient. She's waiting for the leader's shot. She pulls the trigger, and the sound of the pellet hitting the target rings out. 9.5. Scoreboard updates, Debi moves into first place, taking home the gold medal in her first ever 3 PAR Precision match.
Debi showed she can adapt to anything this sport could throw at her. She puts in the hours. She studies. She practices in her head.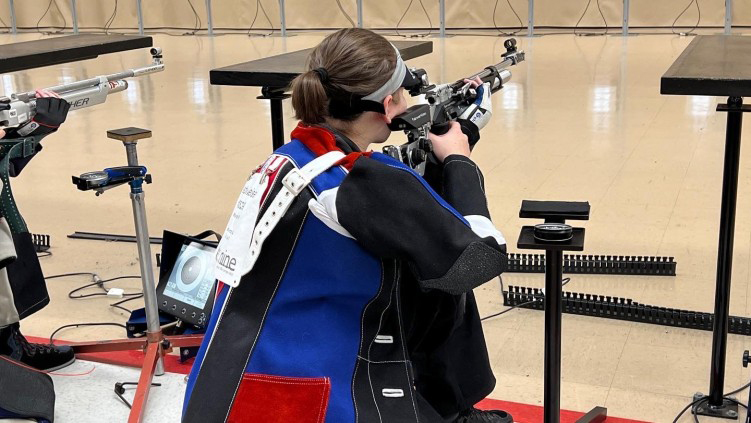 WVU Rifle did you see this? She only has five visits. Sticking with her moto; she does have One Vision only to have to use one of those visits. Tell Molly McGhin hello for her please. She has now been a counselor for her at back-to-back summer camps in Anniston, Alabama.
Full Disclosure: I'm Debi's Dad. I work for Shooter's Tech, the makers of Athena. She is in not endorsed by them at all. She helps me beta test new features in development only. However, I am also her coach and have never seen anyone work hard on one dream. Watch out, NCAA Rifle, she's coming!
We realize there are not a ton of precision class matches in our area, and we have to travel rather far to get to matches. She decided she could not leave her team behind and simply sent an email saying "I'm back" to her Senior Army Instructor and me, indicating she is also shooting sporter class this year. This is not a recommended approach, but everyone must set their own path. Colleges are always watching. She could not stand the thought of not competing. I am not sure who retired shorter, her or Tom Brady.
Her making the Junior Olympics and CMP National Championships in her junior year is a major accomplishment. She took home silver in standing and 10th place overall. That puts her in the top .25% of the top 1% of all juniors in sporter class in the country. The "Elite, Best of the Best."
I can't wait to see what she does in precision class. Her next goal is the Olympics. I would never bet against her. WVU Rifle, how about an invite?
Thank you, CMP, for the work you do for young athletes. You teach far beyond just marksmanship, you teach character and sportsmanship.
UPDATE: Debi earned Junior Air Rifle Distinguished Badge #1657 in December 2022. Congratulations!
MORE FROM THE AUTHOR: Be sure to check out Weiser's related article, Champions are Built: Athena, A Coach's Perspective, at https://www.scopos.tech/news/athena/champions-are-built.html.
Interested in attending a CMP Junior Rifle Camp this summer? Visit our website at https://thecmp.org/youth/junior-air-rifle-camps-and-clinics/ for dates and locations and registration information.