Coats Brown Memorial Trophy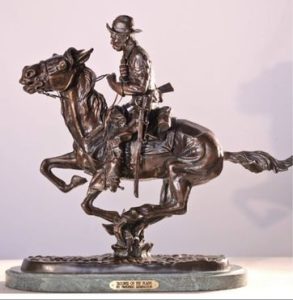 The Military Marksmanship Association Coats Brown Memorial Trophy will be awarded annually to the highest scoring individual in the CMP Long Range Matches at Camp Perry, Ohio. Coats Brown's accomplishments with the Army Marksmanship Unit are worthy of commemoration, and it is a fitting tribute to his lasting legacy in high power rifle competition.
The trophy itself is a 100% American bronze replica casting of Frederic Remington's "Trooper of the Plains", mounted on a green marble base. Originally cast in 1908, Remington's statue cavalry soldier and horse storm briskly through the wild country. The horse, caught in mid-flight over sagebrush, is an accomplishment of artistic mastery, as all four legs are rendered off the ground. With a yank of the reins and a Remington .44 cal model 1875 pointed across his torso, Remington has depicted this soldier of the wilderness at full speed. The soldier is also armed with a cavalry saber and Model 1873 "Trapdoor" Springfield Carbine. A picture of the trophy is attached. Note that there will be a fine wooden base made for the trophy that is not depicted in the picture. The trophy is 26″ high, by 29″ wide, by 11″ deep and was first awarded in 2018.
AWARDED TO: THE HIGHEST SCORING INDIVIDUAL IN THE CMP LONG RANGE MATCHES.
| | | |
| --- | --- | --- |
| 2023 | SSG JARROD MCGAFFIC, USA | 1643-89X |
| 2022 | SP4 ADAM FITZPATRICK, USA | 1643-94X |
| 2021 | SSG VERNE CONANT, USA | 1436-80X |
| 2019 | SSG AMANADA ELSENBOSS, USA | 1641-95X |
| 2018 | SFC SHANE BARNHART, USA | 1244-71X |