Coast Artillery Trophy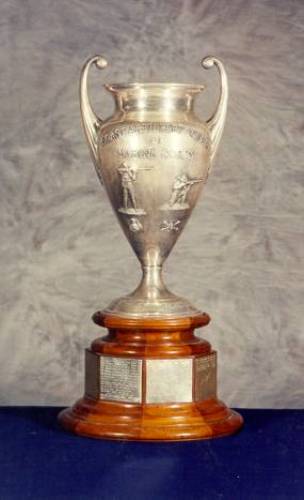 NATIONAL TROPHY INDIVIDUAL RIFLE MATCH
The Coast Artillery Trophy was presented to the NBPRP by the commandant, United States Marine Corps, in 1961. The trophy is a sterling silver cup with figures of Marines, standing and kneeling, firing rifles. Officers and enlisted members of the Coast Artillery Corps presented the trophy to the Marine Corps in 1923 in appreciation of its training the Coast Artillery Team for the National Matches from 1910 to 1922.
COAST ARTILLERY TROPHY WINNERS
AWARDED TO: HIGHEST SCORING MARINE COMPETITOR (ACTIVE OR RESERVE)
| | | |
| --- | --- | --- |
| 2023 | MSGT WAYNE GALLAGHER, USMC | 495-18X |
| 2022 | GYSGT CHAD RANTON, USMC | 493-23X |
| 2021 | SGT CHRISTOPHER WILLIAMS, USMC | 496-23X |
| 2019 | SSgt STEPHEN FERGUSON, USMC | 492-24X |
| 2018 | Sgt CHRISTOPHER WILLIAMS USMC | 492-16X |
| 2017 | MSgt JUSTIN SKARET, USMCR | 494-16X |
| 2016 | SGT JAMES MINTURN, USMCR | 488-12X |
| 2015 | SSgt TIMOTHY SNYDER, USMC | 491-20X |
| 2014 | MSGT JULIA CARLSON, USMCR | 492-22X |
| 2013 | SSgt ERIC SWEARINGEN, USMCR | 497-23X |
| 2012 | GySgt SEAN BELL, USMCR | 492-13X |
| 2011 | SGT MARK WINDMASSINGER, USMC | 491-20X |
| 2010 | SSGT DANIEL DUITSMAN, USMC | 489-15X |
| 2009 | CWO4 JAMES FRALEY, USMC | 488-14X |
| 2008 | GySgt RONFUCHS, USMCR | 495-20X |
| 2007 | SSgt JASON BENEDICT, USMC | 497-22X |
| 2006 | CW02 BILLY WILLIAMSON, USMC | 493-21X |
| 2005 | Sgt JOHN GODWIN, USMC | 492-10X |
| 2004 | SSgt JEROME BOSTICK, USMC | 296-09X |
| 2003 | Sgt JEROME BOSTICK, USMC | 496-24X |
| 2002 | SSgt DAVID KARCHER, USMCR | 494-19X |
| 2001 | GySgt NELSON OCASIO, USMC | 493-18X |
| 2000 | Sgt WILLIAM JANSSEN, USMC | 494-23X |
| 1999 | Sgt ROBERT MANGO, USMC | 492-22X |
| 1998 | Sgt JULIA WATSON, USMC | 295-18X |
| 1997 | SSgt ALEXANDER ARRIETA, USMC | 494-20X |
| 1996 | GySgt JEFFREY N. SCHAFER, USMC | 493-17X |
| 1995 | | 496-17X |
| 1994 | SSgt JERRY McGRAW, USMC | 492-18X |
| 1993 | SSgt KEVIN R. KISTLER, USMC | 493-19X |
| 1992 | Sgt CLINT R. HABECK, USMC | 494-11X |
| 1991 | Sgt BILLY RAY WILLIAMSON, USMC | 490-18X |
| 1990 | Sgt DENIS W. DeMILLE, USMC | 294-24X |
| 1989 | LtCol WALTER SMITH, USMCR | |
| 1988 | MSgt RANDY P. HICKS, USMC | 490-13X |
| 1987 | GySgt FRANCISCO ALBERT, USMC | 494-14X |
| 1986 | Sgt DANIEL K. JONES, USMC | 490-15X |
| 1985 | SSgt DONALD L. HEUMAN, USMC | 494-14X |
| 1984 | MGySgt RUSSELL E. MARTIN, USMC | 488-22X |
| 1983 | Col KENNETH J. ERDMAN, USMCR | 486-10X |
| 1982 | Sgt MICHAEL A. KEEME, USMC | 487-14X |
| 1981 | Sgt JOHN W. JOHNSON, USMC | 494-23X |
| 1980 | WO ROBERT L. BUSHER, USMC | 493-20X |
| 1979 | MGySgt F.V. KRUK, USMC | 477-11X |
| 1978 | Sgt DENNIS E. GHISELLI, USMC | 490-15X |
| 1977 | LtCol THOMAS J. EBNER, USMCR | 488-11X |
| 1976 | MGySgt RUSSELL E. MARTIN | 489 |
| 1975 | LtCol CHARLES A. REYNOLDS, USMC | |
| 1974 | MGySgt MELVIN E. DUNHAM, USMC | 479 |
| 1973 | MSgt RUSSELL E. MARTIN, USMC | 488 |
| 1972 | 1stLt RICHARD N. JEPPESEN, USMC | 488 |
| 1971 | CWO2 M. PIETROFORTE, USMC | 488 |
| 1970 | MSgt RUSSELL E. MARTIN, USMC | 484 |
| 1969 | GySgt FRANK V. KRUK, USMC | 484 |
| 1967 | SSgt ROBERT L. GOLLER, USMC | 471 |
| 1966 | WO M. PIETROFORTE, USMC | 250 |
| 1965 | Sgt GILMER MURDOCK, USMC | 250-33 |
| 1964 | GySgt LAWRENCE FITZPATRICK, USMC | 249 |
| 1963 | 1stLt ROBERT J. MAGUIRE, USMCR | 248 |
| 1961 | Cpl ROBERT S. KLINE III, USMC | 247 |
| 1960 | GySgt BEN L. HARSHMAN, USMC | 248 |