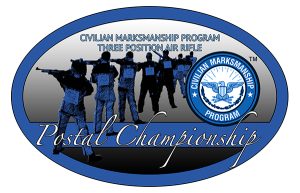 2015-2016 CMP National Postal, State, Regional and National Championships
The CMP sponsors Three Position Air Rifle Championships that include a postal, State Championships, Regional Championships and a National Championship.   These matches are designed to give all junior shooters around the country an opportunity to compete in a national level match, as well as to create shoulder-to-shoulder matches for juniors to attend. The series of matches has three different phases:
Phase 1: Dual Qualification – Postal and/or State Championship
CMP National Postal Championship
CMP sponsors a nation wide three position air rifle postal (mail-in or correspondence) competition for all junior programs including all JROTC, 4H, Boy Scouts, and junior clubs. The top shooters in these matches will qualify for the CMP Regional Championships. This is a 3x10 match and the cost of this postal will be $5.00 per competitor. Registration begins on 1 November 2015.
CMP State Championship matches are shoulder-to-shoulder matches held on the state level. These matches are hosted either by the CMP State Director or State Director appointed match director. Each state's team winners in Sporter and Precision, as well as the top individual, will qualify to participate in one of the CMP Regional Championships.
Athletes are encouraged to compete in both the postal and state matches.
The CMP Regional Championships will occur in three different locations around the country. Athletes qualify for this match through the CMP State Championship matches or through the CMP Postal match. This match will consist of a practice, check-in and equipment control day followed by two days of 3x20 matches. A final will be held on the last day for the top 8 individuals in sporter and precision.
Regional Qualifiers please visit the Regional Championships page.
The CMP National Championship is the final event in the CMP three-position air rifle championships. Qualification for this match comes form the CMP Regional Championships as well as the State 3PAR Junior Olympic matches. This match will consist of one 3x20 with finals for the top eight shooters in sporter and precision.
Important Dates:
Event
Location
Dates
CMP State Championships
National
1 November 2015 – 31 January 2016
CMP Postal Competitions
National
1 November 2015 – 31 January 2016
CMP Regional – Western
Sandy, UT
31 March 2016-2 April 2016
CMP Regional – Southeast
Anniston, AL
7-9 April 2016
CMP Regional – Northeast
Camp Perry, OH
7-9 April 2016
CMP National
Camp Perry, OH
26-28 June 2016 (Sporter)
29 June 2016- 1 July 2016 (Precision)