GSM Master Instructor Training and Certification
About GSM Master Instructor Training and Certification
Experienced rifle marksmanship instructors and shooters who would like to receive advanced training and be certified as "Master Instructors" to teach CMP-sanctioned Garand, Springfield and Vintage Military (GSM) Rifle or Rimfire Sporter Clinics are invited to apply to attend a CMP Master Instructor Training Workshop.
Workshops are periodically held at CMP North (Camp Perry, OH) and CMP South (Anniston, AL) and in conjunction with the CMP Travel Games.
October 15, 2020 Oklahoma Games Oklahoma City, OK
November 17, 2020 Talladega 600 Talladega, AL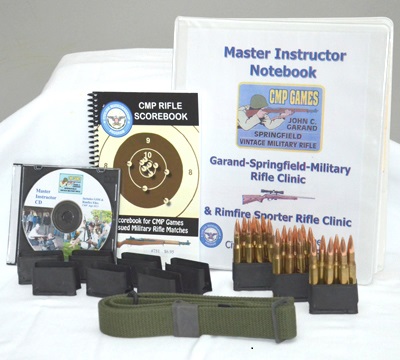 CMP-sanctioned GSM rifle clinics teach basic and intermediate rifle marksmanship skills to new and beginning shooters so they can participate in general shooting sports activities and GSM and Rimfire Sporter Matches on a safer and more rewarding basis.
About the CMP Master Instructor Certification Program
The CMP Master Instructor certification program trains and certifies advanced shooters and instructors as Master Instructors who are qualified to teach specific marksmanship instructional topics using training material and curricula developed and provided by the CMP.
The CMP currently recognizes these Master Instructor certifications:
JMIC (JROTC Marksmanship Instructor Course) Master Instructors who teach rifle marksmanship instruction to JROTC instructors.
Garand-Springfield-Military Rifle Master Instructors who are trained to teach and organize GSM Rifle or Rimfire Sporter Clinics.
For more information about CMP GSM Master Instructor training workshops, please contact Kim Filipiak at [email protected] or by phone (419) 635-2141 ext 706.
WHO CAN ATTEND A MASTER INSTRUCTOR TRAINING WORKSHOP
GSM Master Instructor students should possess the following general qualifications:
Association with a shooting club or shooting range where the Master Instructor will have opportunities to teach Sanctioned Rifle Clinics.
Experience teaching rifle marksmanship as a coach or instructor.
Experience competing in John C. Garand, Springfield or Rimfire Sporter matches at national and club levels.
Experience as a competitive service rifle shooter (desired, not required).
Desire to teach marksmanship to new shooters and to help them get a good start.
If you are interested in becoming a CMP GSM Master Instructor and meeting the challenge of helping new shooters get a good start, you are encouraged to apply to become part of a fast-growing group of Master Instructors who are being trained at these workshops.
CMP-affiliated shooting clubs are encouraged to designate and send a club instructor(s) who can be trained to teach clinics at their club. Clubs may wish to consider providing financial assistance to one of their instructors to attend this course.
WHAT TO BRING
Dress for all phases of the workshop is informal. Workshop participants will be expected to do some position and dry fire work with M1 Garand or Springfield rifles so you may want to bring your own shooting jacket and glove, etc.
Participants attending the Camp Perry, Ohio, or the Anniston, Alabama, workshops do not need to bring their rifles. Rifles will be provided there by the CMP. Students at Phoenix, Camp Butner and any other workshops will usually be required to bring their own rifles; check with CMP staff coordinator for rifle requirements.
Students in the Camp Perry and Anniston workshops will also have opportunities to fire the new AR-type air rifles in the CMP's new National Match Air Rifle events.
Instructors who have experience in teaching Garand or other rifle clinics may wish to bring examples of their own teaching materials or training aids.
REGISTRATION AND FEES
To register for the CMP GSM Master Instructor Training Workshop, please complete the 2020 APPLICATION FORM and submit the completed form online or fax it to (419) 635-2573.
You may also mail your completed form to:
CMP, Attn: Kim Filipiak
P. O. Box 576
Port Clinton, Ohio 43452
There is a $135.00 registration fee that you may send to the CMP or pay at the time you check in for the workshop. Registration includes a notebook, thumb drive, sling, 10 clips, 20 dummy rounds and a CMP Rifle Scorebook (NLU 751). If you are repeating the course, you will pay the $135.00 registration fee.
There must be a minimum of 10 students in a class or it will be cancelled.
---
FOR WORKSHOPS IN ANNISTON, AL:
Individuals who attend the Master Instructor course at Anniston, Alabama, must arrange their own housing.
The CMP will provide a lunch both days.
---
FOR WORKSHOPS IN CAMP BUTNER, NC:
Follow these directions to enter Camp Butner and drive to Range 4:
From Interstate 85 South or North, take Exit 191 Butner-Creedmoor Hwy 56 West.
Proceed approx 1/2 mile then turn right on 33rd Street.
Proceed 2.1 miles turn left at the intersection onto Old Rt. #75 Road.
Proceed approx 1/2 mile turn right onto Range Road. Proceed 2.2 miles turn right into Range #4.
(You can also find directions to the range on the North State Shooting Club web site at www.northstateshootingclub.com)
The CMP will provide a lunch on Friday.
Individuals who attend the Master Instructor course must arrange their own housing. Competitors who plan to stay overnight near Camp Butner should stay in the Butner or Raleigh, North Carolina areas. There are numerous motels in this area, some of which give discounts to North State Shooting Club Match participants. Please mention that you are attending the CMP/Creedmoor Cup Matches. Motels are available at Exit 191 on I-85.
FOR WORKSHOPS IN CAMP PERRY, OH:
Individuals who attend the Master Instructor course at Camp Perry can have on-base housing or arrange their own housing. Housing on base is $55.00 per night. The CMP will provide breakfast and lunch.
FOR WORKSHOPS IN OKLAHOMA CITY, OK:
For directions to the Oklahoma City Gun Club, click here.
Individuals who attend a Master Instructor course must arrange your own housing. The CMP will provide a lunch on Wednesday.
If you are available to assist with the New Shooter Clinic, we would appreciate your help during that time.