Ranges
Since the beginning, the Civilian Marksmanship Program has dedicated itself to providing safety education and presenting gun enthusiasts of all disciplines with venues to learn and grow in marksmanship. Over the years, the organization has proudly developed new and innovative ways to offer these individuals with the best opportunities available.
With state-of-the-art technology and some of the most pristine facilities in the world, the CMP has lived up to its mission and continues to raise the bar each and every day.
Talladega Marksmanship Park
The CMP's "Home of Marksmanship", the CMP Talladega Marksmanship Park is a 500-acre outdoor marksmanship facility in Talladega, Alabama, and is open to the public (no Membership required). The park is the first of its kind in the country and is one of the most sophisticated in the world – housing electronic targets similar to those used in the CMP air gun ranges. Each firing point is equipped with electronic targets and monitors, allowing shooters and spectators to see scores without the use of a scope. The targets raise and lower from the control tower, meaning there is no pit duty at Talladega Marksmanship Park. Marksmen on the line may shoot at 200, 300 and 600 yards without ever having to move firing lines or go down range to change paper.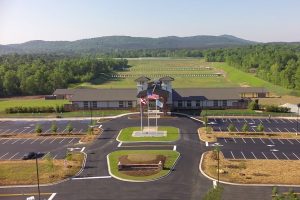 The range also contains pistol and shotgun opportunities, including a 5 Stand Field and Sporting Clays. At the heart of the facility stands 13,000 square feet of stunning craftsmanship in the CMP Park Club House. Guests are treated with a back patio area that overlooks the 600-yard range and beautiful mountain views.
With incomparable accuracy and unparalleled convenience, the range is sure to impress even the most experienced shooter.
For more information on the Talladega Marksmanship Park, click here.
CMP Targets at Petrarca Range
CMP Targets at Petrarca Range is located at Camp Perry in Port Clinton, Ohio. This range features new electronic rifle and pistol targets, marketed by CMP Targets, with technology provided by Kongsberg Target Systems (KTS) on Petrarca Range at Camp Perry.
CMP hosts several events and matches throughout the year. During the National Matches held in July/August, the range is open in the late afternoon once firing is complete on Rodriguez Range. The range is also open several Mondays for Open Public Marksmanship, where only a small fee will be required to fire upon some of the most advanced marksmanship technology available today.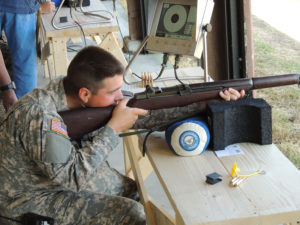 Camp Perry is located on the shores of Lake Erie, only six miles west of Port Clinton on State Route 2. The entrance is marked by its signature stone towers.
To learn more about the CMP Targets at Petrarca Range, click here.
Air Gun Ranges (Competition Centers)
The CMP has constructed two highly advanced air gun ranges: the Gary Anderson CMP Competition Center in Camp Perry (Port Clinton), Ohio, and the CMP South Competition Center in Anniston, Alabama.
Each range contains 80, 10-meter firing points equipped with electronic targets that instantly display shots on monitors located next to each shooter. Spectators may also stay a part of the action via large monitors around the facilities. These advanced ranges have attracted some of the most decorated marksmen in the country – having hosted Olympic trials and other prestigious events.
Marksmanship Nights are held at each range – allowing anyone to come fire, whether using personal air rifles or pistols or renting from the CMP. Our air ranges provide a safe, relaxed atmosphere that allow experienced marksmen to hone their skills in a controlled environment and are also the perfect places for new shooters to learn how to shoot on a gun that is easy to use, exerts virtually no recoil and is just plain fun.
For more information on our air gun ranges, click here.
CMP Mobile Air Gun Range
In addition to the stationary ranges in Ohio and Alabama, CMP has constructed a portable air gun range in an effort to expand its outreach to shooters around the country. The mobile range has 60 firing points and uses the same electronic target technology found in the static air gun ranges. The mobile range is designed to cater to virtually any space, allowing our state-of-the-art marksmanship opportunities to become available practically anywhere imaginable.
For more information on the Mobile Range, click here.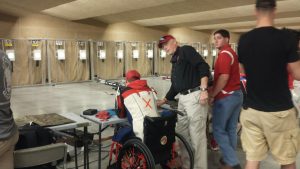 Find a Range Near You
If you are unable to make the trip to one of our ranges, CMP Affiliated Clubs with educated members and adequate facilities can be found all across the United States. Whether seeking air gun, pistol, rimfire sporter rifle, smallbore rifle or highpower, new and experienced marksmen alike are bound to find a place able to assist in improving skills and enhancing knowledge of the sport.
To find a CMP Affiliated Club Range, click here.