John Leinberger
LINN, MISSOURI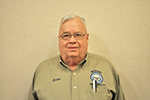 State Director Info
Background
Member of NRA Junior Rifle Club at Nederland, Colorado 1950-1952. Qualified as Expert with M1 Rifle 1960 at FT ORD, CA. Have worked with Junior Rifle Camps every year since 1954. 8 camps at Abilene, KS. and approximately 45 camps in Missouri. Attended CMP Master Instructor Class at Reno, Nevada. Served as a CMP Master Instructor to train High School JROTC Instructors and inspected ranges for several years. I have helped Sommer Woods with 3 of the smaller air rifle clinics in Missouri and helped with a large week-long clinic at Linn, Missouri (There were 51 shooters from 9 States.) I have served as the Junior Activity Director for the Missouri Sport Shooting Association since 1985. I was a Class B Coach in the NRA and later a Level 3 International Rifle Coach with NRA, USA SHOOTING, AND CMP. I have attended all the COACH CONFERENCES at the U.S. OLYMPIC TRAINGING CENTER since 1984 and have attended all the CMP DIRECTOR Work Shops Since 2001. Rifle Coach at State Technical College, Linn, MO. for the Air Rifle Club.
Awards
• 1960 Qualified as Expert with the M-1 Rifle, Ft. Ord. California. • 1998 Instructor of the Year for the Missouri Sport Shooting Association. • 2001 Service Award for the Year for the Missouri Sport Shooting Association. • 2005 Sportsman of the Year Award for the Missouri Sport Shooting Association. • 2009l Of Fame Award – Missouri Sport Shooting Association. • 2016 I received a CMP Service Award for 15 years of service.
Personal Info
My wife (Grace Leinberger) passed away January 2015. I have two sons, Kendall Goben and Lucas Leinberger. Both sons were members of the Army Marksmanship Unit and have competed internationally. Lucas was NCAA All American and was on the United States Military Academy Rifle Team.
Reasons
To promote Safety and the Shooting Sports. Shooting is a lifetime sport that may be enjoyed by all, regardless of age or gender. It is a sport that is enjoyed by persons with physical challenges. It teaches a person to set goals, achieve goals, set priorities and to have self-discipline.
Goals/Hopes
I would like to see marksmanship programs in the public school system that would teach young people safety and the responsibility of handling a firearm. This should start in the grade schools with air rifles. Competitive programs should also be used to keep students interested in the programs. We need more qualified instructors and coaches to work with junior shooters. Many people do not realize that shooting is a NCAA Sport. They are surprised to know that air rifle is a collegiate and Olympic sport. They do not know that shooting scholarships are available. We need to educate the public about how safe the shooting sports are.
---
CMP & Green Valley Rifle & Pistol Club Set to Host Bianchi Cup Action Shooting Competition in 2023
HALLSVILLE, Mo. – The Civilian Marksmanship Program (CMP) is excited to announce the addition of the Bianchi Cup International Pistol Tournament, the second longest running pistol championship in the world, to its match schedule in 2023. The CMP Bianchi Cup is set to fire May 23-26 at the Green Valley Rifle & Pistol Club in Hallsville, Missouri, and is sure to be the action pistol competition of the year!
"The Bianchi Cup has been one of the most prestigious pistol events in history," said Jim Henderson, CMP pistol coordinator. "The CMP is very excited to be involved, and we look forward to not only bringing what we do to the Bianchi Cup but expanding our presence in the very popular sport of action pistol!"
An annual event since 1979, the CMP Bianchi Cup is proud to have MidwayUSA, an industry leader in shooting, hunting and outdoor activities, as the title sponsor. The Bianchi Cup is comprised of four events, including:
The Practical Event, where competitors fire at distances from 10 yards to 50 yards under varying time limits from the shooting line.
The Barricade Event, where competitors fire at targets on either side of the barricade at different distances and under varying time limits from within shooting boxes and behind barricades.
The Falling Plate Event, where competitors fire at eight-inch round steel plates arranged in banks of six at distances from 10 to 25 yards under varying time limits.
The Moving Target Event, where competitors fire from within shooting boxes at distances ranging from 10 to 25 yards at a target moving from left to right, with the target exposed for six seconds.
Competitors shoot from both standing and prone positions and are also required to shoot with both strong and weak hands at various stages. There are no makeup shots in the Bianchi Cup, adding to the difficulty of the event.
"It is an honor for CMP to host this historic, respected action pistol event," said Christie Sewell, CMP programs chief. "Everyone at CMP is looking forward to working with the Green Valley Rifle & Pistol Club to make this year's Bianchi Cup a huge success."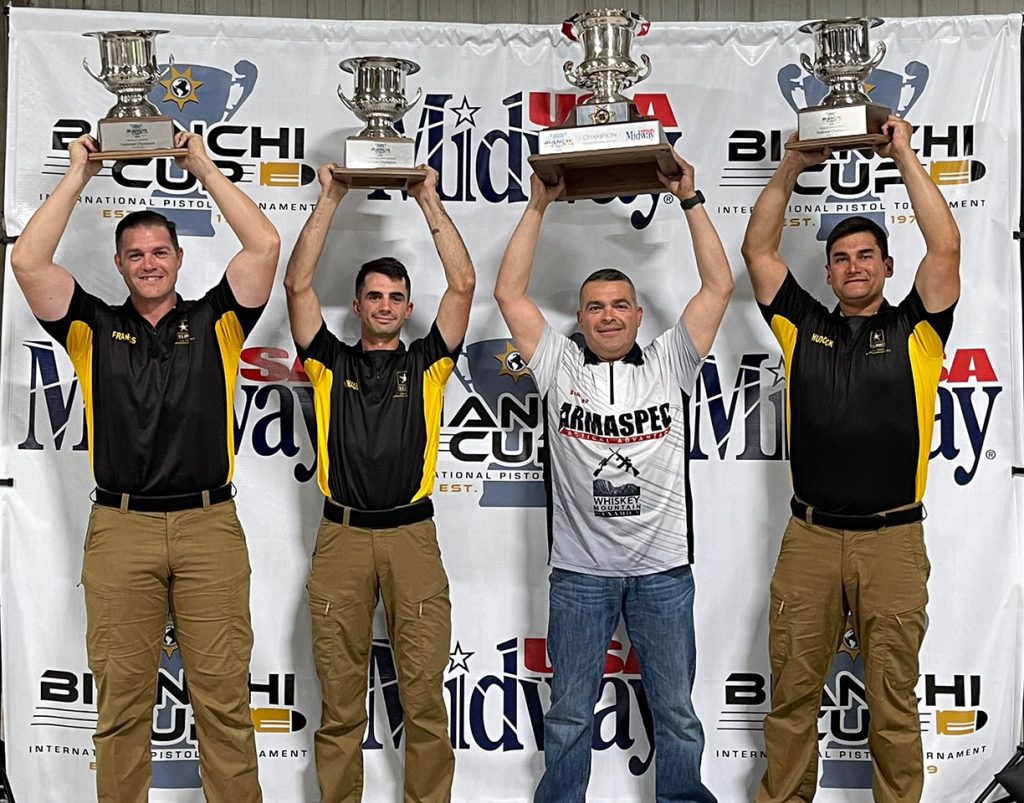 With the advent of the new CMP Action Pistol Program, we have created the CMP Action Pistol Competition Rules. Most of these rules are similar to what are currently being used but competitors are encouraged to review the CMP Rules. There are changes in significant areas, such as allowable equipment and pistol modifications. Please familiarize yourself with these new rules to help eliminate any confusion on match day. An electronic version of the CMP Action Pistol Competition Rules will be posted on the CMP website at https://thecmp.org/competitions/cmp-competitions-rulebooks/.
About the Bianchi Cup:
The Bianchi Cup was created by Ray Chapman (a WWII Marine veteran, law enforcement officer and IPSC champion of the 1970s), and famous holster maker, Major General of the California National Guard, law enforcement officer and Hollywood cowboy John Bianchi. While discussing the current state of pistol competitions that were being held across the country at the time, Bianchi and Chapman realized there was a need for an event that featured a mix of International Practical Shooting Confederation (IPSC), Police Pistol Combat and precision pistol shooting styles – an idea that became the Bianchi Cup.
Over the years, the championship has become internationally recognized by top shooters from around the world, helping to create one of the fastest growing disciplines in the action shooting community. For details on the 2023 CMP Bianchi Cup, visit the CMP website at https://thecmp.org/competitions/cmp-pistol-program/cmp-bianchi-cup/.
About the Green Valley Rifle & Pistol Club:
The Green Valley Rifle & Pistol Club, formerly the Chapman Training Academy, was named after Ray Chapman before his passing in 2008. The club has been the annual host of the Bianchi Cup since its inception. The origin of the club days back to the 1930s and has played a major role in the creation of the practical shooting discipline. The facility holds several ranges, including two movers, a Bianchi barricade, two 50-yard Bianchi practical ranges, a 250-plus yard rifle range and a falling plates range. Learn more through the range's website at https://www.gvshoot.com/.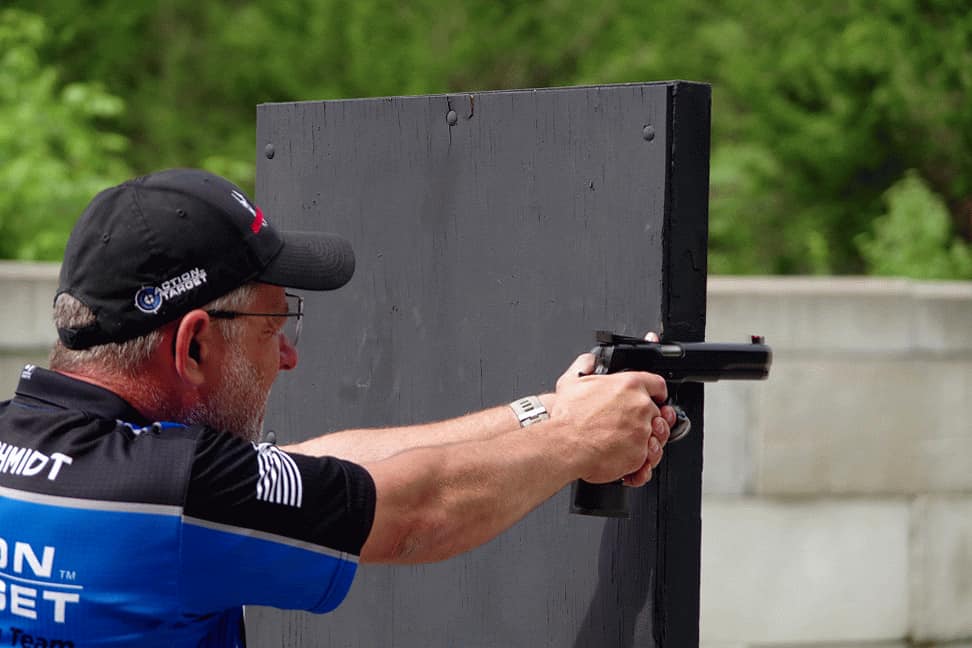 Upcoming Matches
10/25/2019 – 10/26/2019
2019 Show Me Shootout
Ozark High School JROTC
Ozark, MO
2/28/2020 – 2/29/2020
2020 MO Junior Olympic 3PAR State Championship
Ozark High School JROTC
Ozark, MO
Welcome to Missouri's CMP State Director Page
Follow this page for the latest updates and news in the state of Missouri.