CMP COLLEGIATE RIFLE TEAM FEATURE: UNIVERSITY OF AKRON
January 5, 2021
Civilian Marksmanship Program
▸
College Connection
▸
CMP COLLEGIATE RIFLE TEAM FEATURE: UNIVERSITY OF AKRON
CMP plans to feature each of our country's great Rifle Teams and learn a little bit more about collegiate rifle marksmanship. Stay tuned this week as we feature the University of Akron Rifle Team!
The University of Akron Zips made their first NCAA Championship appearance as a team in March 2020 – topping a record-setting season that came to an abrupt halt when the pandemic emerged. The team was ranked in the Top 10 all season and reached a program-high No. 4. The team also achieved its highest finish in the Great America Rifle Conference since joining the league in 2015.
In 2016, the University of Akron played host to the first NCAA National Championship to include both smallbore and air rifle competitions at the same range. The range built for that inaugural championship now travels to the NCAA host site each year.
Zips athlete Andre Gross was the runner-up in the 2019 NCAA Rifle Championship smallbore competition. Head coach Newt Engle has been with the team for over 40 years – beginning as an athlete before taking his current position in 1977. Engle took over for Nancy Worsencroft, who coached the team from 1968 to 1977 and was the university's first female coach as well as the first female head coach in the USA, with an all-male team.
The Zips began the 2020-2021 season with a fifth place ranking and have so far tallied a record of 5-1 for the season. In their most recent match against Army, the Zips reached a team total of 2365 out of 2400 – two points shy of the school record.
---
College Coach
Name: Newt Engle
Hometown: Canton, Ohio
College Coach for: The University of Akron, Ohio
Were you a shooter before coaching? With absolutely no previous rifle experience, I joined the UA rifle team in the fall of 1974. I won the Lake Erie Intercollegiate Rifle Championship (LEIRC), which was only smallbore back then, in 1975 as a sophomore, again in 1976 as a junior and finished in second place my final season of 1977. I was appointed team captain in 1976 and 1977.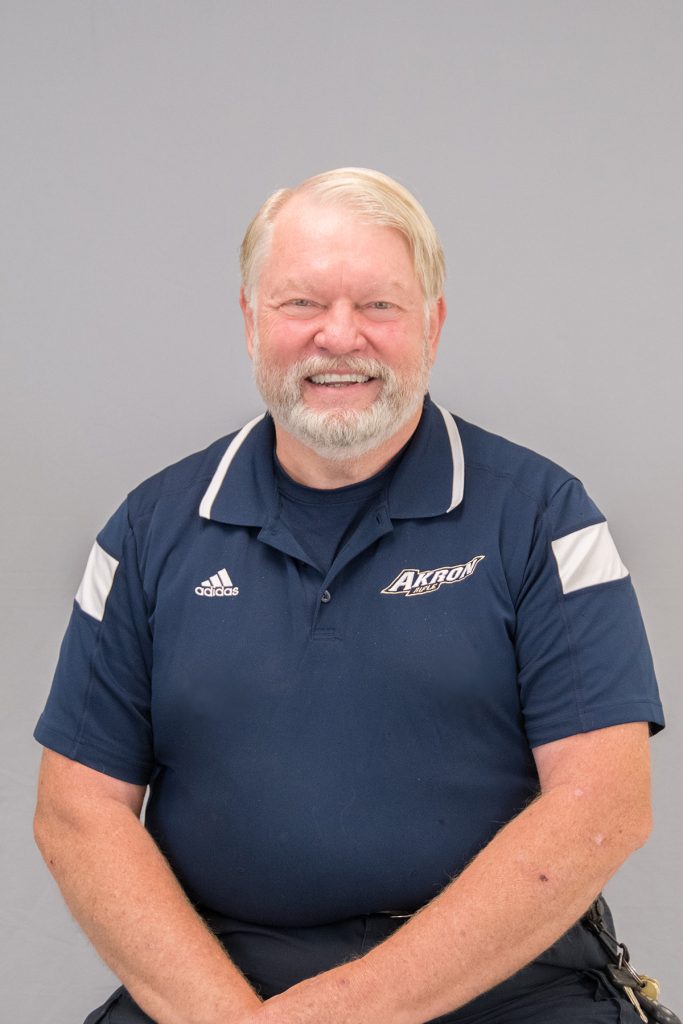 My senior year in college (1977), my coach, Nancy Worsencroft, suffered an injury and asked me to take over as the team coach. Reluctantly, I agreed, but only until she came back. Still waiting… J
Favorite reason for coaching: Selfishly, it keeps me young. Being around college students is invigorating and rejuvenating. I totally enjoy their excitement for our sport and for life in general. Watching my team members (which has included my two daughters) experience collegiate life as a Division I athlete while they transform from high school kids to young adults ready to conquer the world is amazing. Then being appraised of how they are doing after graduating with jobs and families is equally wonderful. I received a long-awaited engagement notice just this morning.
What is a day as your shooter like? Wake up in the morning knowing your coach is actively interested and following your progress in the classroom. I have often said, "I don't know of any rifle athlete who has graduated with a degree in rifle." Thus, get up early and be darn good and ready for classes. Finish classes by early afternoon so you can get two to three hours of good trigger time on the range. Either Coach Newt or Coach Connor will be there to make sure things are going your way. Attend a team meeting (virtual of course) every day at 5:30. Don't be late or, God forbid, absent. Get a good meal, get in some physical conditioning and get some good sleep. Repeat tomorrow.
What is your biggest challenge as a coach? Head work. The recruits joining the team are coming to Akron with quite a bit of experience. They know where all the parts and pieces go and know how to rough in any of the positions. Some know how to think, some do not. But, all can use advice or training on what should be going on between their ears – sometimes for rifle related issues, sometimes for life in general.
Either way, Connor and I are here to help do what I call "load the hard drive." We spend considerable time giving advice on how to play the game. The challenge is everyone is playing the game differently and needs different advice. So, we give them what we have and then help them choose what works best for them. When it works, and it always eventually does, the results are simply magic – for both rifle and life.
Advice for junior shooters wanting to compete in college. Be the squeaky wheel! Referring to the old adage, "The squeaky wheel gets the oil." There are hundreds, if not thousands, of rifle recruits, and only a few dozen college rifle coaches. If you are really serious about shooting in college, do not be shy about contacting coaches. And, for goodness sake, earlier is better – no later than the very beginning of your junior year of high school. Secondly, be sure you want to compete in college. You have the choice of being on a club team or a NCAA team. If you don't know the difference, call a coach. Somehow or someway, it is more than likely possible for you to realize your dream. But, be heard!
Advice for college athletes and graduating college seniors. I know it is cliché, but remember from where you came. Be sure to give your parents a big hug, and say thanks. Be sure to thank your junior and college coaches. Live your life, enjoy your job and look for a junior or collegiate program that will benefit from your help. I know it is a really busy time of life for everyone, but try to find the time to stay hooked in the shooting sports just a little by offering to help. The rewards are remarkable.
Any additional comments/stories/advice you'd like to add? After 46 years with this team as an athlete or coach, anyone who knows me knows I have a story for just about anything. So here is my Top 10…
Had you worried for just a minute there, didn't I? Well, I won't bore you with any long-lost episodes in my rifle life, but I will say it has been, and continues to be, one heck of a ride. I wouldn't change a thing.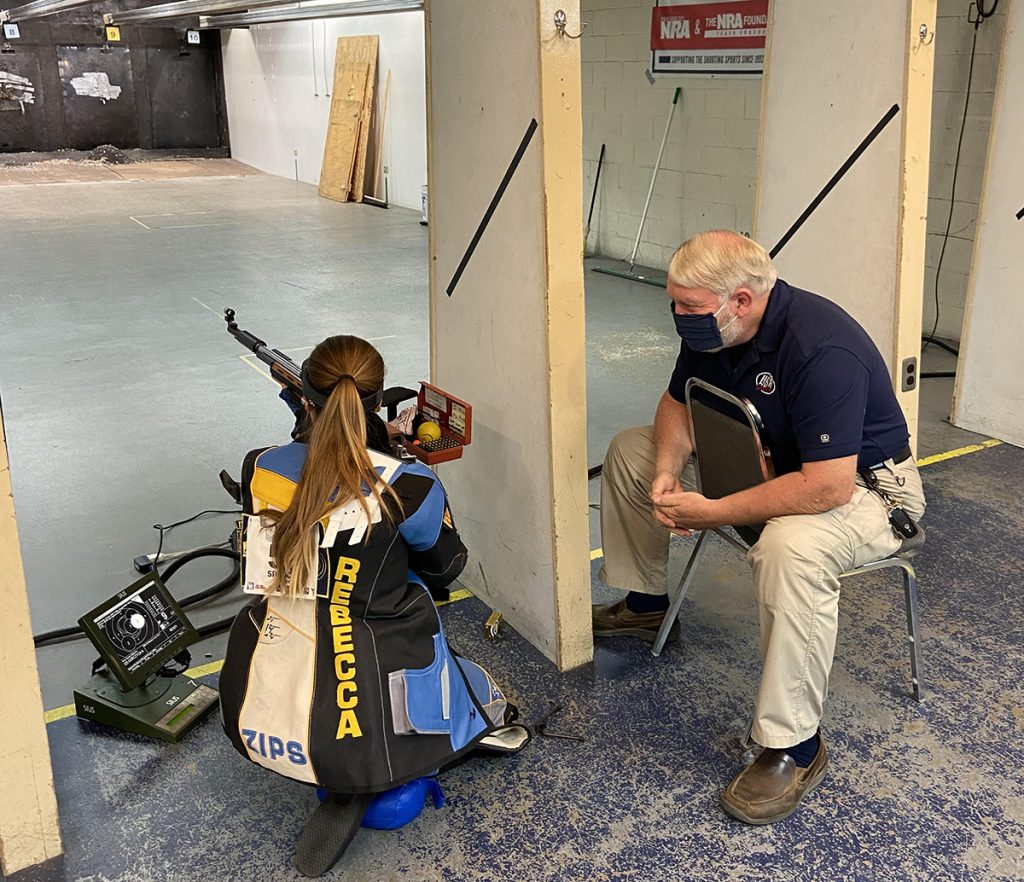 ---
Assistant College Coach
Name: Connor O'Mara
Hometown: Honeoye Falls, NY
Assistant College Coach for: The University of Akron
What college did you shoot for? What do you have a degree in? I competed for The University of Akron and also graduated from The University of Akron with my Bachelor of Science of Mechanical Engineering.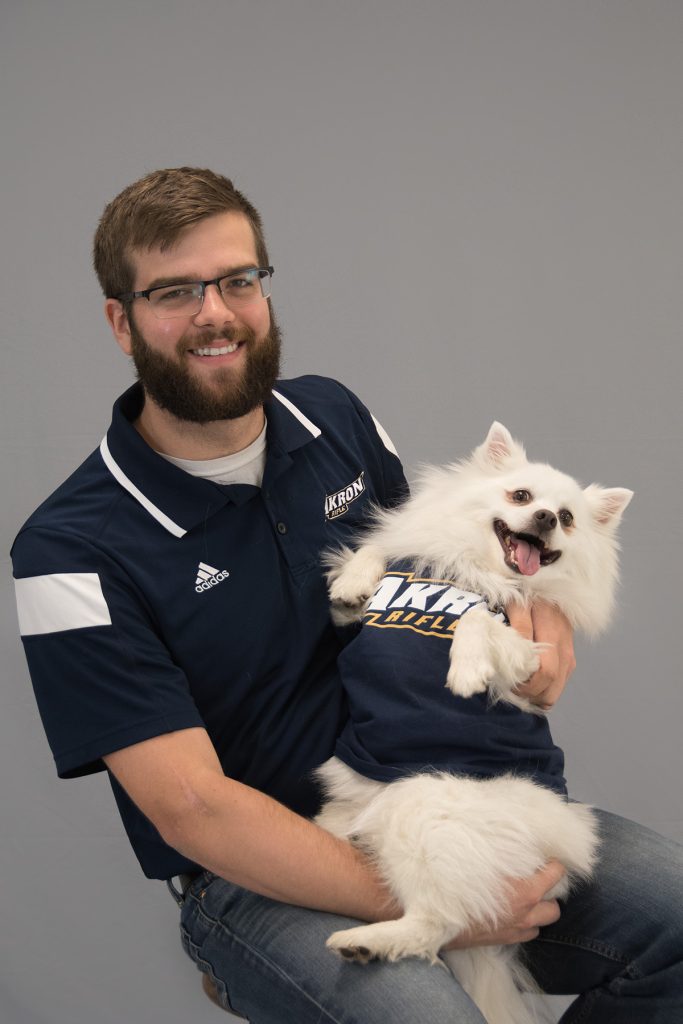 Favorite reason for coaching: My favorite reason for coaching is watching these athletes grow, both athletically and personally. Not only in the mechanical and mental aspects of shooting, but also watching them grow into being the best they can be for themselves in the world.
What is a day as your shooter like? On Monday through Thursday, training is rather open-ended, with a block time from noon to 5:30 p.m. Athletes are given the direction that they are to train for three hours during that time. Athletes are able to train at times that is convenient to their schedules this way. A short team meeting begins at 5:30 p.m. every day.
What is your biggest challenge as an assistant coach? My biggest challenge as an assistant coach is trying to understand how to help each athlete. Every single one of them is different, needs different things and needs to be spoken to in a different way (sometimes multiple different ways). There is a bit of trial and error in understanding what each athlete needs and how to get them what they need efficiently. Stereotypically, engineers do not make the greatest of people-persons, but this position absolutely requires it.
Advice for junior shooters wanting to compete in college? Some advice for juniors wanting to compete in college would be to do what you can to make sure you know how to study effectively and can maintain decent organization. This will benefit you for the entirety of your collegiate career and into your professional career.
An additional piece of advice would be, while it may feel to you like you're pestering coaches with updates on your competitions during recruitment, you're not. We love to see the scores, and honestly, some stuff gets lost in the inboxes during the NCAA season. So, do your best to keep up the communication between a prospective coach/assistant coach.
Advice for college athletes? While college athletics is a full time commitment, don't forget to enjoy yourself in the moment. From the words of Ferris Bueller, "Life moves pretty fast. If you don't stop and look around once in a while, you could miss it"
Advice for graduating college seniors? As you leave the program, do your best to give back to the community that brought you up and molded you into the person you are now. To relate this to myself, after graduation, I went back to Rochester and helped out as a junior coach for the Rochester Rifle Club – the junior club that gave me the opportunities that led to my tenure at The University of Akron.
Any additional comments/stories/advice you'd like to add? All Gas, No Brakes. Go Zips.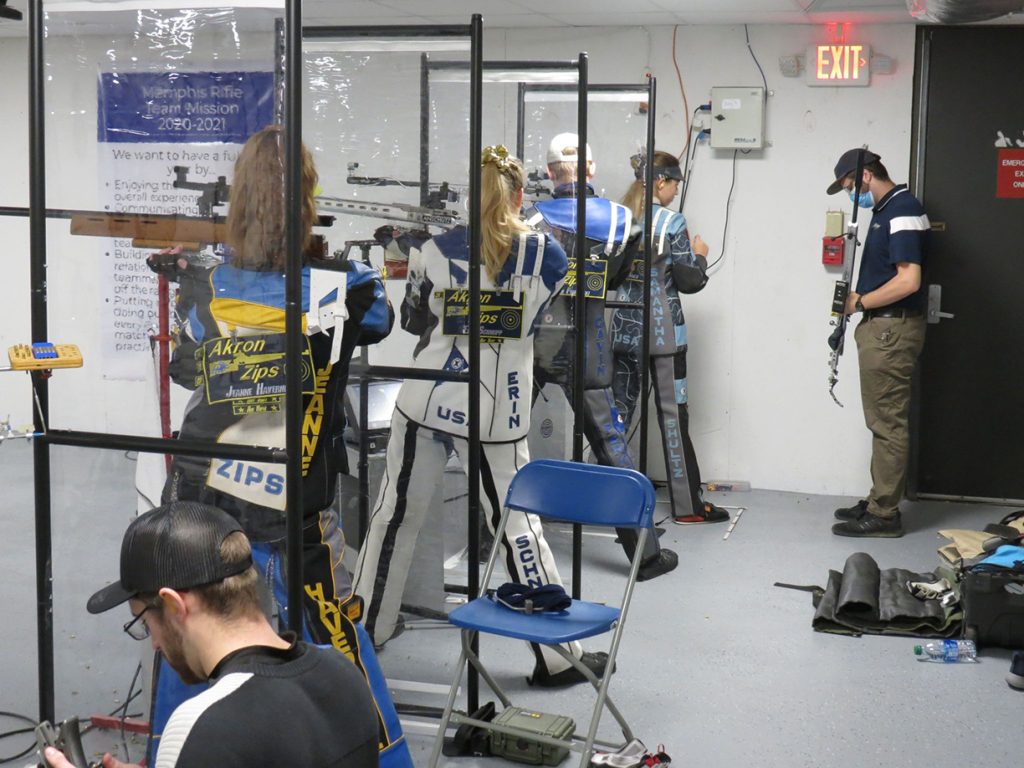 ---
College Athlete
Name: Rebecca Spencer
Hometown/Junior Team: Avella, Pennsylvania, Frazier Simplex Rifle Club
What is your major? I'm majoring in Psychology, with a minor in Spanish. I chose psychology because I love thecomplexity of the mind. I also chose to minor in Spanish after learning about a study abroad opportunity where I ended up going to Spain in June of 2019. My favorite class so far has been positive psychology.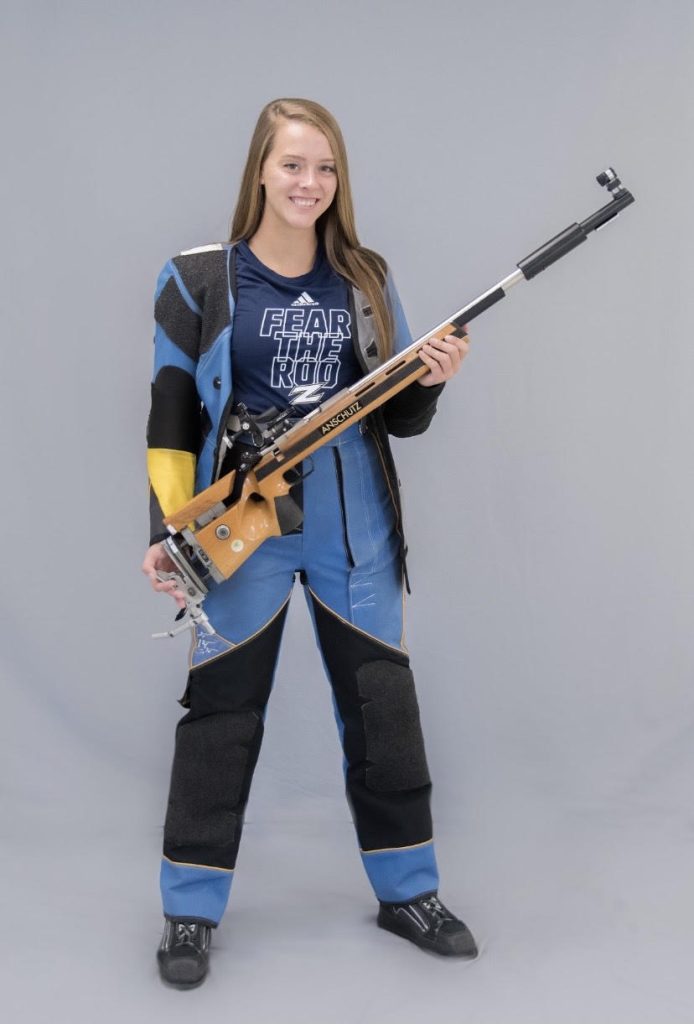 Favorite junior match? My favorite junior match was Jos (Junior Olympics) in Colorado Springs. I loved being able to travel to Colorado and having the opportunity to shoot at the Olympic training center.
Do you have a lucky charm that you have on the line with you when you are shooting? I have several sticky notes attached to my stand that act as reminders for me throughout my Match, such as "trust my hold" and "trigger."
What is a practice day like for you? Practice days are always different for me. I mainly try to focus on things that may not have felt right either during the previous match or even the day before. However, I always make sure to focus on having the right mentality during every single training session.
What has rifle taught you? Rifle has taught me to work hard and have patience. When you put in the time and effort to this sport, it will eventually pay off. Also, with this being my senior year on the team, I learned to have gratitude for everything rifle has brought me.
Any additional comments/stories/advice you'd like to add? My advice to shooters would be to surround yourself with people who want to see you succeed. They'll help push you to be the best you can be. Also, don't be afraid to ask for help, no matter what level of shooting you may be at.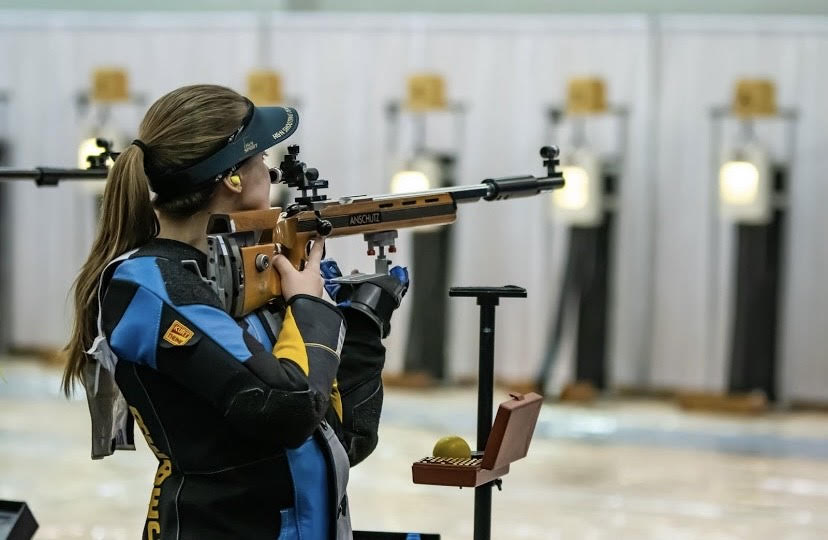 ---
College Athlete
Name: Jeanne Haverhill
Hometown/Junior Team: Coopersburg, Pennsylvania, Ontelaunee Junior Rifle Team
What is your major? I am a Public Relation and Sports Management double major. I have chosen Public Relation as my major because I enjoy advocating for things that bring me joy, and I just recently added my second major for my future plan of becoming a rifle coach. I love the sport of shooting and want to continue having it in my life.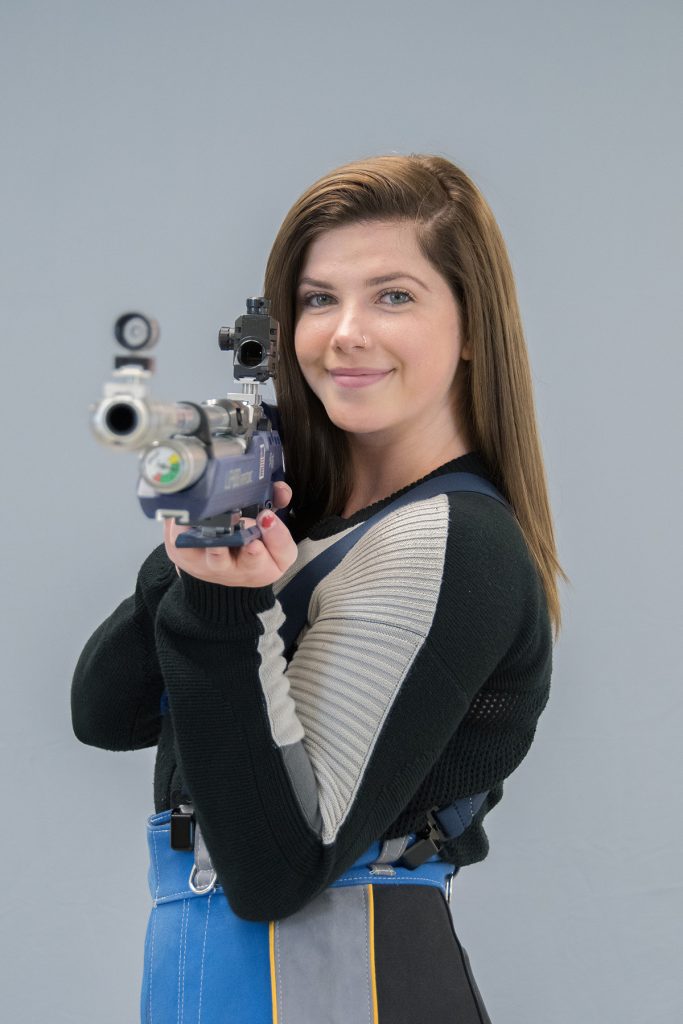 My favorite class I have taken so far is Intercultural Communications. I was able to use my past experiences during the class and learn how different cultures communicate.
What other clubs/sports/hobbies did you have in high school? In high school, I was a part of my school's rifle team and robotics club. My hobbies include hiking, kayaking and sleeping.
Do you have a mantra or saying? A mantra I have is "Do not look where you do not want to go." This allows me to stay positive and only think about what I can control in the moment.
What is a travel match like for you? A travel match is a chaotic, organized mess. It is also a lot of time in the van with my teammates trying to occupy each other. I like to have a routine and make sure I have everything I need while traveling and make sure I will not be stressed looking for my butt plate or sling. During the match, I like to focus on every individual shot and make sure I can do anything I can on each shot.
Advice for new competitors joining the sport? My advice for new competitors is to try and shoot as many matches as you can, even if it's a prone match or 3P air rifle. All matches help you in a multitude of ways. I would use different matches to help with match pressure. I used outdoors matches to help with sight clicking and being put into stressful situations, like running out of time.
Any additional comments/stories/advice you'd like to add? A piece of advice I'd like to give is to make sure all your equipment is ready and is working properly. This is a mental check that you can use to relieve stress at a competition.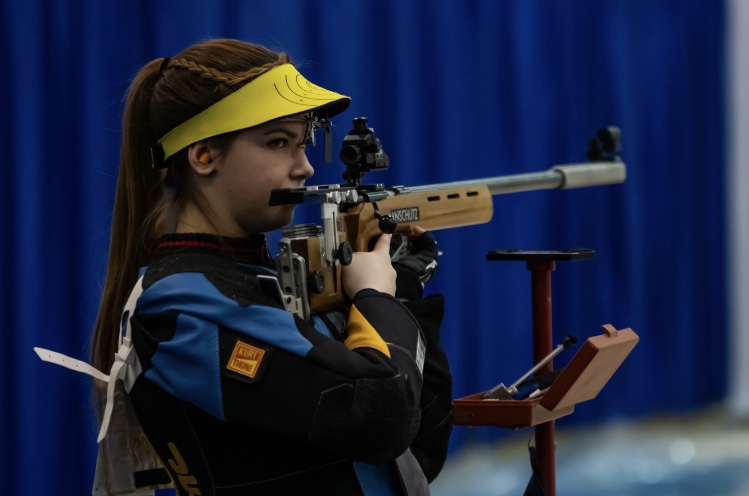 ---
College Athlete
Name: Brendan Seitz
Hometown/Junior Team: Milford, Massachusetts, Maspenock Rod and Gun Club and Taunton Marksmanship Unit
What is your major? Biomedical Science. I have always loved learning about what happens in our bodies and how they work. My favorite class is most likely Biology right now. In the grand scheme of things, I would like to work in a hospital someday because I love helping people who are in need of care.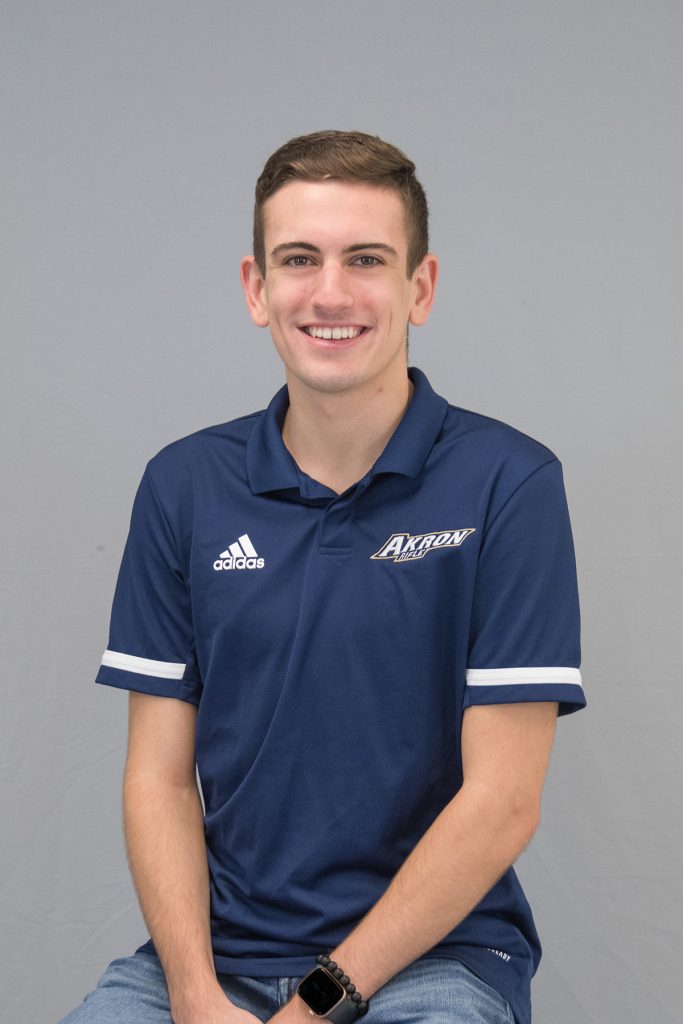 What/who got you involved in rifle? When I was younger, I was shooting BB Gun well, and my parents mentioned that there was a junior team at my club down the road. At the first practice, my coach said that he'd get me a D1 rifle scholarship. We didn't believe him, yet here I am on Akron's team.
How many hours a day, and days per week, do you practice? Typically, I shoot four days a week and at minimum three hours each day. Then, I have a match each weekend, whether it is at home or away. Depending on what my training plan for the day is will determine which gun I train with that day.
What is a week at college like? A week at college is basically school, school, school, school, a little bit of rifle, school, some more rifle, a rifle match, school, then hopefully some relaxing – and sometimes I can put sleep in that busy schedule. Rifle creates a nice break in the week, and it honestly relaxes me. It allows me to pause my busy schedule and do something I enjoy.
What is the biggest life lesson you have learned from rifle? The biggest thing that rifle has taught me is patience and self-discipline. Throughout my rifle and school career, I have been taught to not worry about one bad day or one bad shot. The good days and good shots will come, with practice and patience. The more you practice, the easier it will be to have your very best performance. This transfers over to my schoolwork too.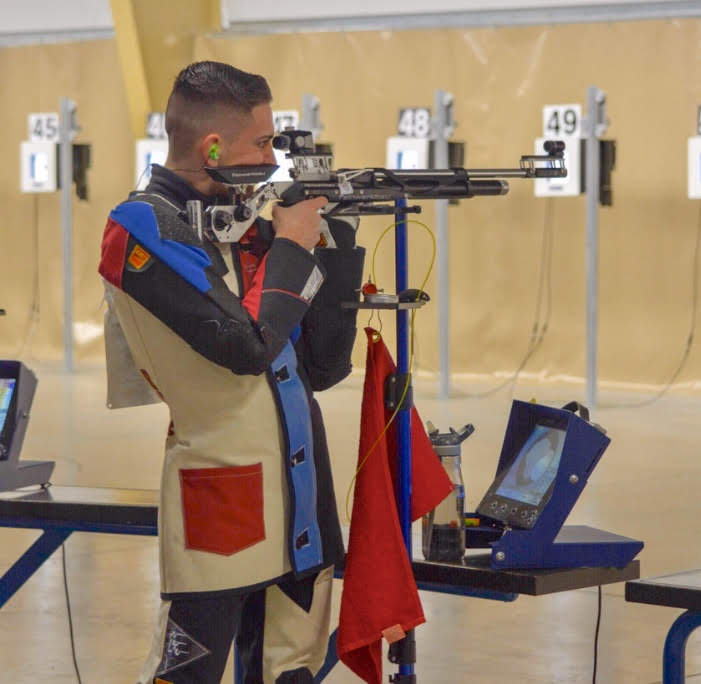 ---
College Athlete
Name: Antonio Remedios
Hometown/Junior Team: Medina, Ohio, Ashland Eagles Junior Rifle Club
What is your major? I'm currently enrolled in two majors, Mechanical Engineering Technology and Homeland Security and Emergency Management. I am interested in both fields, particularly mechanical design within mechanical engineering technology, and the homeland security part of homeland security emergency management.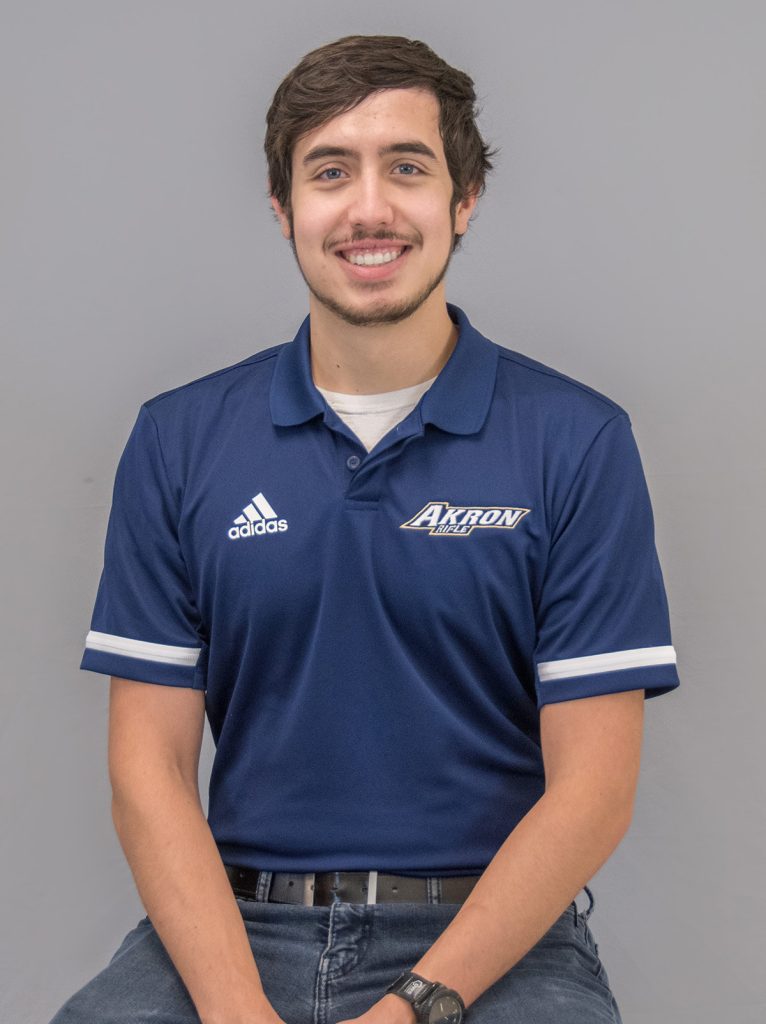 Currently, my favorite class is actually my physics courses. It's very satisfying to complete the physics equations and use math to display why or how things work the way they do. But, I have taken many great classes like introduction to terrorism, hazardous weather or introduction to counter terrorism.
How old were you when you got involved in rifle? I was about 13 years old when I got involved via my local 4-H club, and I just kept going from there.
Favorite rifle and stage? I love shooting smallbore. My favorite position is prone, as I have always been very good at it. I plan on continuing to shoot it after college, just for fun, and maybe even picking up 300-meter fullbore to boot.
What do you do outside of rifle to train and better yourself? Outside of rifle, I like to work out, but I found it's equally, or sometimes more important, to rest and not overwork yourself. It's also important to help manage other aspects in your life to help deal with stress and things like that. Making a simple plan for your week helps with this a lot.
Future plans/goals for rifle and life? As previously mentioned, I plan on continuing my competitive shooting career into 300 meter competition. Of course, competitive shooting will be much more of a hobby of mine by this point as I will be busy building my career in engineering as well as life and a family, but I plan on never stopping shooting.
Any additional comments/stories/advice you'd like to add? I encourage anyone with interest or goals to pursue competitive shooting. It's a wonderful hobby where all sorts of lessons can be learned and applied to all aspects of life. Great lifelong friends will be made, not to mention it's a lot of fun.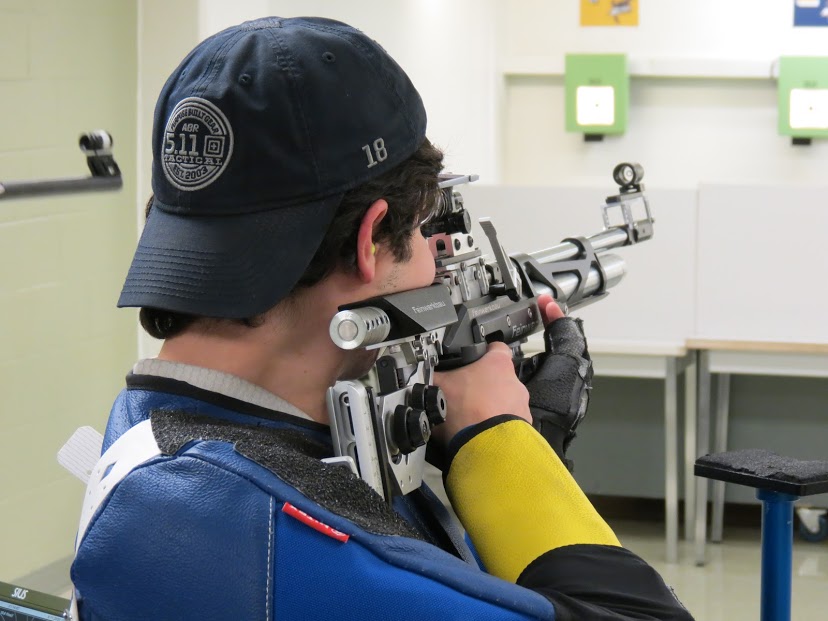 ---