William McMillan Trophy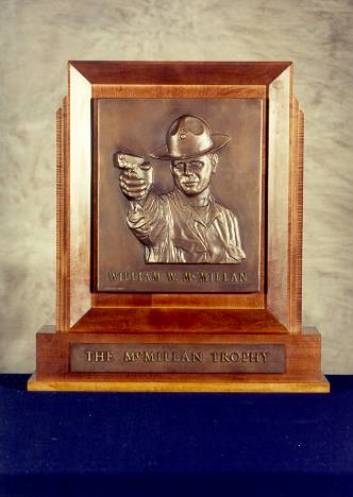 NATIONAL TROPHY PISTOL TEAM MATCH
The William McMillan Trophy was presented by the U.S. Marine Corps to the NBPRP in 1978 for award in the Service pistol competitions sponsored by the NBPRP. The trophy honors Lieutenant Colonel William McMillan, and outstanding Marine Corps shooter for over 20 years.
MCMILLAN TROPHY WINNERS
AWARDED TO: MARINE (WITH HIGHEST AGGREGATE SCORE – ACTIVE OR RESERVE) IN THE NTI-NTT AGGREGATE.
NATIONAL RECORD: GySgt Brian Zins USMC, 585-19X, 2007
| | | |
| --- | --- | --- |
| 2023 | MSGT JASON HEDRICK, USMCR | 555-15X |
| 2022 | SSGT ANTHONY RUGGIERO, USMCR | 558-15X |
| 2021 | Sagt ANTHONY RUGGIERO, USMCR | 549-10X |
| 2019 | GySGT JASON HEDRICK, USMCR | 569-18X |
| 2018 | GySgt JASON HEDRICK, USMCR | 560-18X |
| 2017 | GySgt JASON HEDRICK, USMCR | 557-11X |
| 2016 | GySgt JASON HEDRICK, USMC | 520-23X |
| 2015 | MSgt BARRY WORSTER, USMC | 573-21X |
| 2014 | SSGT JONATHAN SHUE, USMC | 569-17X |
| 2013 | SSGT JONATHAN SHUE, USMC | 572-19X |
| 2012 | SGT LUIS ESPARZA, USMC | 574-16X |
| 2011 | Cpl PEYTON HERBERT, USMC | 565-19X |
| 2010 | SSgt JASON HEDRICK, USMCR | 562-12X |
| 2009 | SGT BEN FOOTER, USMC | 572-10X |
| 2008 | Cpl BEN FOOTER, USMC | 554-13X |
| 2007 | GySgt BRIAN ZINS, USMC | 585-19X |
| 2006 | GySgt BRIAN ZINS, USMC | 573-20X |
| 2005 | GySgt RICHARD GRAY, USMC | 568-15X |
| 2004 | Cpl KEVIN MOORE, USMC | 567-20X |
| 2003 | Sgt ROBERT PARK, USMC | 573-21X |
| 2002 | GySgt BRIAN ZINS, USMC | 570-23X |
| 2001 | CORP ROBERT S. PARK II, USMC | 569-21X |
| 2000 | SGT KEITH SANDERSON, USMC | 568-18X |
| 1999 | SSGT ROBERT IMM, USMC | 557-15X |
| 1998 | MSG LEE PIPKIN, USMC | 562-17X |
| 1997 | SGT JASON MEIDINGER, USMC | 564-20X |
| 1996 | SGT JASON MEIDINGER, USMC | 568-12X |
| 1995 | MSGT ROBERT PARKER, USMC | 569-22X |
| 1994 | CWO3 PAUL MALSBURY, USMC | 570-23X |
| 1993 | SGT BRIAN H. ZINS, USMC | 572-20X |
| 1992 | GYSGT MITCHELL R. REED, USMC | 580-15X |
| 1991 | CAPT MARK J. WILLIS, USMC | 569-16X |
| 1990 | SSGT MITCHELL R. REED, USMC | 575-20X |
| 1989 | MSGT RICARDO RODRIGUEZ, USMC | 578-20X |
| 1988 | SGT MITCHELL R. REED, USMC | 577-19X |
| 1987 | MSGT RICARDO RODRIGUEZ, USMC | 566-16X |
| 1986 | SGT MITCHELL R. REED, USMC | 567-18X |
| 1985 | SSGT SHERMAN E. PITTS, USMCR | 571-13X |
| 1984 | SGT JACK D. CASEMAN, USMC | 573-19X |
| 1983 | SGT JAMES E. FERGUSON, USMC | 558-11X |
| 1982 | SSGT DOUGLAS VAN DYKE, USMC | 573-22X |
| 1981 | SSGT DAVID BAILEY, USMC | 564-14X |
| 1980 | SSGT RONALD ZALEWSKI, USMCR | 575-16X |
| 1979 | SSGT DAVID L. BAILEY, USMC | 568-21X |
| 1978 | GYSGT STEVE E. EDMISTON, USMC | 573-20X |