When Hunter's Dream Trophy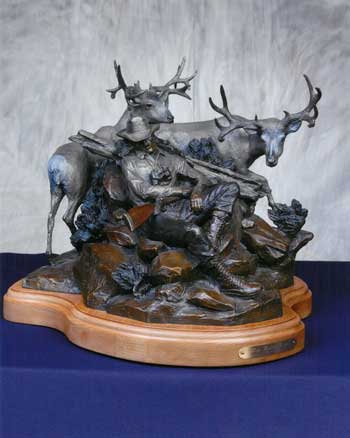 WHEN HUNTERS DREAM TROPHY (HIGH SENIOR)
NATIONAL TROPHY INDIVIDUAL RIFLE MATCHES
The When Hunters Dream Trophy was purchased by the CMP in 2013. It is awarded to the highest scoring Senior competitor in the National Trophy Individual Rifle Match. The bronze on walnut trophy depicts a resting hunter who envisions the conquest of well-earned game.
WHEN HUNTER'S DREAM TROPHY WINNERS
AWARDED TO: THE HIGHEST SCORING SENIOR COMPETITOR IN THE NATIONAL TROPHY INDIVIDUAL RIFLE MATCH
NATIONAL RECORD: Hugh "Buddy" Reich, 496-19X, 2019
| | | |
| --- | --- | --- |
| 2023 | RONALD PORTER | 492-22X |
| 2022 | LARRY STONECIPHER | 494-22X |
| 2021 | ROBERT GILL | 494-21X |
| 2019 | HUGH REICH | 496-19X |
| 2018 | JIM O'CONNELL | 488-20X |
| 2017 | RICHARD ZOLNOWSKY | 491-22X |
| 2016 | JIM O'CONNELL | 491-22X |
| 2015 | RICHARD ZOLNOWSKY | 482-15X |
| 2014 | DWIGHT BECHERER | 484-10X |
| 2013 | DAVID SULLIVAN | 492-20X |
| 2012 | ROBERT LANGHAM III | 484-11X |
| 2011 | GEORGE MORGAN | 293-07X |
| 2010 | ROBERT SKETEE | 486-06X |
| 2009 | ED MANK | 492-15X |
| 2008 | ED MANK | 486-19X |
| 2007 | JIM O'CONNELL | 490-15X |
| 2006 | ED MANK | 484-10X |
| 2005 | JAMES O'CONNELL | 481-12X |
| 2004 | JAMES O'CONNELL | 296-09X |
| 2003 | ED MANK | 489-16X |
| 2002 | ROBERT DELCOTTO | 482-15X |