U.S. Coast Guard Memorial Trophy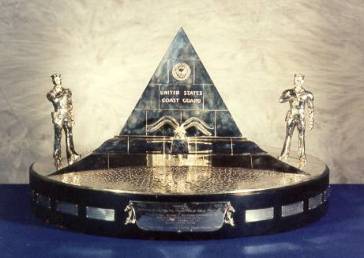 NATIONAL TROPHY PISTOL TEAM MATCH
The Coast Guard presented the U. S. Coast Guard Memorial Trophy to the NBPRP in 1957. This trophy commemorates Coast Guard personnel who lost their lives while in the Service. It is a replica of the Coast Guard Memorial located in Arlington Cemetery, with statuettes of Coast Guard personnel holding service pistols on either side of a central pyramid. The pyramid is cast in bronze and heavily plated in silver with an oxidized finish.
U.S. COAST GUARD MEMORIAL TROPHY WINNERS
AWARDED TO: HIGHEST SCORING RESERVE COMPONENT TEAM
| | | |
| --- | --- | --- |
| 2023 | ALL GUARD RED | 1082-27X |
| 2022 | ALL GUARD RED | 1085-23X |
| 2021 | ALL GUARD RED | 1099-26X |
| 2019 | USMC RESERVE | 1103-28X |
| 2018 | ALL GUARD RED | 1068-15X |
| 2017 | USAR – BLACK | 1065-19X |
| 2016 | ALL GUARD- RED | 1104-27X |
| 2015 | ALL GUARD GOLD | 1128-39X |
| 2014 | ALL GUARD GOLD | 1063-20X |
| 2013 | USAR BLACK | 1103-28X |
| 2012 | ALL GUARD PISTOL TEAM POWELL | 1083-22X |
| 2011 | ALL GUARD GOLD | 1054-17X |
| 2010 | USMCR | 1101-20X |
| 2009 | USAR BLACK | 1053-20X |
| 2008 | USAR BLACK | 1019-14X |
| 2007 | USAR BLACK | 1071-27X |
| 2006 | USAR BLACK | 1066-23X |
| 2005 | USAR BLACK | 1105-28X |
| 2004 | USAR BLACK | 1102-29X |
| 2003 | ALL NATIONAL GUARD | 1103-24X |
| 2002 | USAR BLACK | 1112-23X |
| 2001 | USAR BLACK | 1118-32X |
| 2000 | USAR BLACK | 1093-26X |
| 1999 | ALL GUARD GOLD | 1099-28X |
| 1998 | USAR BLACK | 1094-31X |
| 1997 | ALL GUARD GOLD | 1130-32X |
| 1996 | ALL GUARD BLUE | 1112-23X |
| 1995 | US ARMY RESERVE BLACK | 1117-32X |
| 1994 | NATIONAL GUARD BUREAU BLUE | 1111-33X |
| 1993 | ALL GUARD BLUE | 1110-33X |
| 1992 | ALL GUARD BLUE | 1123-28X |
| 1991 | US COAST GUARD MEMORIAL | 1115-29X |
| 1990 | ALL GUARD BLUE | 1119-30X |
| 1989 | US ARMY RESERVE BLUE | 1104-28X |
| 1988 | ALL NATIONAL GUARD BLUE | 1121-37X |
| 1987 | ALL NATIONAL GUARD BLUE | 1126-27X |
| 1986 | ALL NATIONAL GUARD BLUE | 1132-33X |
| 1985 | US ARMY RESERVE BLUE | 1122-35X |
| 1984 | US ARMY RESERVE BLUE | 1134-33X |
| 1983 | ALL NATIONAL GUARD BLUE | 1114-28X |
| 1982 | ALL NATIONAL GUARD BLUE | 1120-28X |
| 1981 | ALL NATIONAL GUARD BLUE | 1120-26X |
| 1980 | ALL NATIONAL GUARD RED | 1117-25X |
| 1979 | ALL NATIONAL GUARD BLUE | 1116-31X |
| 1978 | ALL NATIONAL GUARD SILVER | 1131-36X |
| 1977 | ALL NATIONAL GUARD RED | 1115-32X |
| 1976 | US ARMY RESERVE BLUE | 1096 |
| 1975 | US NAVY RESERVE | 1116 |
| 1974 | US ARMY RESERVE GREEN | 1110 |
| 1973 | ALL NATIONAL GUARD SILVER | 1135 |
| 1972 | US ARMY RESERVE GREEN | 1135 |
| 1971 | US ARMY RESERVE BLUE | 1117 |
| 1970 | US ARMY RESERVE RED | 1134 |
| 1969 | 1ST US ARMY RESERVE | 1118 |
| 1967 | US ARMY RESERVE GOLD | 1122 |
| 1966 | US NAVY RESERVE | 1126 |
| 1965 | US NAVY RESERVE | 1122 |
| 1964 | 6TH ARMY RESERVE | 1107 |
| 1963 | US ARMY RESERVE BLUE | 1134-38X |
| 1962 | US MARINE CORPS RESERVE GOLD | 1128 |
| 1961 | 6TH ARMY RESERVE | 1109 |
| 1960 | 6TH ARMY RESERVE | 1109 |
| 1959 | US ARMY RESERVE | 1085-19X |
| 1958 | US ARMY RESERVE | 1106-28X |
| 1957 | US ARMY RESERVE | 1101 |